Morgan Stanley recently claimed that Waymo could be worth $70B by 2030. In the article it's a bit unclear as to whether that $70B is what it could be worth now or by 2030. We think Waymo is a great asset and does have substantial value we think the $70B valuation at present is a stretch but by 2030 is pretty spot on. We think Waymo is likely worth about a quarter of that $70B now. It's a valuable asset for Google (NASDAQ:GOOG) (NASDAQ:GOOGL) but not a game changer.
First, we need some perspective on the global auto and OEM parts market. In 2017 the global OEM auto parts market is only worth about $832B total. That is it. That is the complete market for every single OEM auto part that is sold to the major manufacturers to build all of their vehicles. Considering that OEM auto parts suppliers trade at about one times sales that would mean Waymo at $70B now by itself would account for almost 10% of the entire OEM auto parts market. Denso is the world's largest auto parts manufacturer and it only has around 4% of the total OEM parts market and is worth $35B. Projecting Waymo to somehow capture 10% of the entire market in a short period of time seems highly implausible.
Of course, it's possible that the OEM auto parts market would grow substantially. Perhaps Morgan Stanley is thinking that self-driving system will be additional parts that are supplied to manufacturers and the entire OEM parts market will grow. We would also question that assumption if it was the case.
The idea that new vehicle prices will rise substantially because new technology is included seems far fetched. First, we highly doubt a large number of consumers will suddenly be OK with paying a substantial premium to the cost of new vehicles to have a self driving. Indeed, how many people have say an extra $10,000 laying around that they would feel like spending on a new vehicle. Second, history shows that when adjusted for inflation and wage growth new car prices have pretty much stayed stable. Yet, look at the difference in standard equipment and technology that was on a 1950s Chevrolet compared to a Honda Accord of today. Despite all the technological advances the price hasn't changed dramatically.
So what is Waymo worth now? Well, let's walk through our assumptions and our valuation. Keep in mind we are trying to get a general ballpark number and you could certainly argue for making some changes here or there with our assumptions.
Valuing Waymo
In the near future self driving cars are likely to be limited to higher income auto markets and given the expense of human drivers probably a large part of the trucking industry. For our calculations of the total addressable market we projected car sales in 2030 for the US, Europe, and Japan as well as global heavy truck sales. We used current sales figures for each region and then used a .75% annual growth rate for US and Europe and a 0% growth rate for Japan and for global heavy truck sales.
We think by 2030 perhaps as many as 50% of new vehicles sold will have some type of self driving feature. New technology for vehicles has followed a fairly similar adoption pattern throughout the years. Take the introduction of air conditioning for example. In 1954 the first modern type A/C system was introduced by Nash. By 1968 about 50% of new vehicles sold had a modern type A/C system. Fast forward to the newest technological improvement for vehicles that has gone mainstream, the self parking feature. In 1990 the first parallel parking car was developed. By 2003 the first self parallel parking feature was included in a commercial vehicle (the Japanese marker Toyota Prius). Self parking features become widespread option in luxury brand vehicles around the 2006 to 2009 period and probably by around 2012 became a more mainstream option available on mass market brands like Ford, Nissan, and of course Toyota. We can see that whether it's the 1950s or the 2000s the timeline for new technology to become mass market is pretty similar. Right now Tesla has an "almost self driving" feature in a commercial vehicle and plenty of other companies have non-commercial self driving vehicles roaming the streets. So, we are probably right at the front of the adoption curve. By 2030, expecting to see perhaps 50% of vehicles in developed markets sold seems like a reasonably aggressive assumption.
The software and hardware for self driving cars cost around $150,000 however Waymo has recently brought the price down significantly by reducing the cost of the expensive LIDAR hardware used. This has brought the total cost of the system down to around $80k. Another 90% reduction in costs would bring the system down to around $8000 (or around $6000 in today's money assuming 2% inflation).
Right now, there are about seven major self-driving players. You have Apple (NASDAQ:AAPL), Tesla (NASDAQ:TSLA), Ford (NYSE:F), and General Motors (NYSE:GM) largely working on self-driving systems on their own. You then have an alliance of BMW, Intel (NASDAQ:INTC), Mobileye (soon to be part of Intel), and Delphi (NYSE:DLPH). Another major alliance is Daimler, Audi, ZF, Bosch, and Nvidia (who is also working with Toyota). The final alliance is Waymo, Fiat Chrysler (NYSE:FCAU), and Lyft (who is also working with GM). Uber is also working on a self driving cars but we doubt it will make a meaningful contribution. It is incinerating cash at an astonishing rate subsidizing rides by about 60% at its core business. Plus, the company is partnered with FCAU anyway. For our valuation we assume the market for self driving cars gets split equally in seven ways.
We believe that due to the high tech nature of self-driving systems that the margins the companies earn will be better than typical Tier 1 OEM auto parts suppliers. We think perhaps aerospace parts suppliers offer the best comparison, as airplanes are generally more complex and technologically advanced then cars. We used the average operating margins for the 15 largest aerospace component manufacturers.
Finally we used the average effective US corporate tax rate of approximately 25%, an 18 times earnings multiple, and a discount rate of 10%.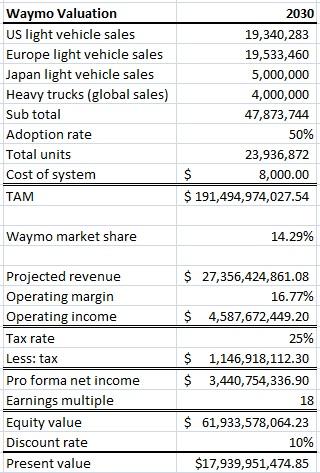 We get an equity value of around $62B in 2030 which discounted back to the present at a 10% rate is worth about $18B.
Considering what we know about the auto supplier market we think this valuation passes the "smell test" and everything fits in with the industry. It would make Waymo into one of the larger auto parts suppliers but the valuation isn't so great as to be indicative of a distorted market.
Disclosure: I am/we are long GOOGL.
I wrote this article myself, and it expresses my own opinions. I am not receiving compensation for it (other than from Seeking Alpha). I have no business relationship with any company whose stock is mentioned in this article.