As I pointed out in a recent article, the global EV market is starting to begin its rise out of niche market status and is now steadily making inroads into the path to becoming a global mainstream product. Last year, an important milestone was reached given that EV sales made up about 1% of total global car sales. This year will probably be the first year when a million EVs will be sold, which will be another significant milestone. In my personal opinion there will be a few hundred million EVs on the global roads by about 2050.
Regardless whether we go by my personal view, or other more or less EV bullish outlooks, one thing that is certain is that it is a steadily growing trend, which means that investors need decent avenues to participate in the trend. With Tesla (NASDAQ:TSLA) being the only pure EV producer, while for most other car makers EV sales still make up a relatively minuscule part of their overall business, avenues for direct participation is limited. It is in large part thanks to the limited opportunities to take part in the EV story that Tesla stock is now trading as if it was one of the top five automakers by sales volumes, even though last year it only sold some 76,000 units, with this year being the first year that it will record six-figure unit sales. It is in large part because of this overcrowding into this one stock that I'm inclined to believe that for the longer term playing the EV story indirectly is a much better option compared with Tesla. Lithium mining is of course the most obvious choice when considering an indirect way to participate.
There is no guarantee that Tesla will become the number one global EV maker in the longer term, never mind number one car maker overall.
Judging by market cap, Tesla is now America's number one car maker, with the recent market cap in the $61 billion range, while Ford (NYSE:F) is trading at $45 billion and GM (NYSE:GM) is trading at under $53 billion. GM sold 10 million cars last year globally. Tesla has its near-term sights set on selling 500,000 cars per year, perhaps as soon as next year. That is still 20 times fewer cars than GM sells each year. Furthermore, it is currently impossible to tell whether there is enough demand for Tesla's three main car models to sustain or even grow annual sales of 500,000 or more.
This might be the first source of danger of a major Tesla stock sell-off. Tesla's sales story was always presented as being one of not enough production capacity to fulfil demand. Now Tesla is set to take a major leap in terms of expanding its production capacity. Assuming that the Model 3 deliveries will start on time within a few months, we will be able to see whether the queue will continue to grow or start to shrink dramatically as more deliveries than new deposits will mean that demand is not there to sustain the desired near-term goal of selling half a million cars per year. If this will be the case, it will most likely lead to a major drop in Tesla stock value.
If Tesla will fail to sustain sales of half a million cars per year in the shorter term, it will not only fail to catch up to its stock valuation within a reasonable timeframe, but it will also likely fail to remain on top of the global EV sales rankings, with many other companies most likely overtaking it within a few years. Last year Tesla had 10% of the total global EV market, while there is some hope that next year it might take as much as a third of the EV market, if it will achieve sales of half a million cars. Fact is that most other car makers are just starting to put the pieces into place in order to compete for EV market share, as I mentioned in my last article on the global EV outlook. I will not go into detail with regard to the signs that point to many companies now going beyond what in reality has been an exercise in probing the global EV market, to actually competing within this growing market, because I covered it in my last article on the subject. I expect that starting with the beginning of next decade, Tesla will not be the only EV maker which will sell in the six-figure unit range. In fact, I think that many of its main competitors will be in that range, and perhaps a few of them will even surpass Tesla's current near-term goal of selling half a million EVs per year at some point in the next decade.
Global EV sales will continue to rise at a steady and robust pace, meaning that investing in Lithium miners is equivalent to investing in all EV sales, rather than just Tesla.
While it is still very uncertain whether Tesla can reach half a million unit sales per year and maintain sales at that level in the near term and surpass that level in the longer term, there is far more certainty in my view with regard to total global EV sales.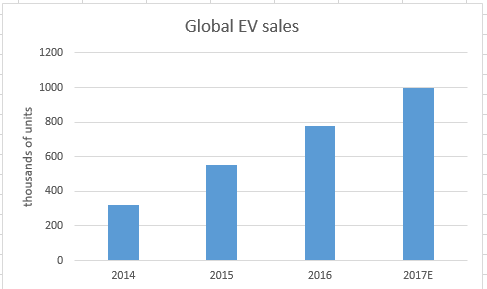 Data source: Inside EVs.
Global yearly EV sales growth is in a steady upward trend, as we can see. The rate of growth from year to year may fluctuate somewhat, but on average it has been gaining reliably for some years now, and all signs indicate that this will continue to be the case for the foreseeable future.
What this means for lithium producers is that they can count on a steady long-term demand growth trend, making lithium producers an integral part of a long-term growth industry. It in effect means that it is the most secure investment for those who want to take part in the long term EV growth story. The only alternative is to go with the Tesla story, which is the only pure EV producer. All other carmakers cannot currently be traded based on their performance in the EV market, because their current EV product lineups reflect an attempt to probe this niche market, not to compete in it. I think it might take another decade or so before we get a clearer picture with regard to which current automakers will emerge as EV leaders and see where Tesla will fit within that mix. At that point investors will be able to choose their EV producing champion, but not until then.
Tesla profitability a remaining question mark, while biggest lithium player has proven profitability track record.
Albemarle (NYSE:ALB) is the main lithium producer that many people think of when investing in a well-established company participating in this expected boom. It is not a pure lithium play by any means, but it is currently the biggest lithium producer which we can invest in and the lithium portion of the business is growing much faster than the company's overall revenues.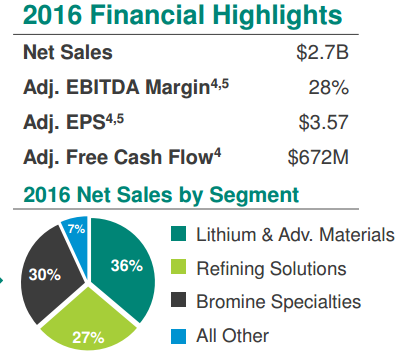 Source: Albemarle.
With lithium making up more than a third of Albermarle's current revenue source and growing further in the future, it is an obvious investor target as a way to play this trend. It is also an option which has proven profitability on its side. For the first quarter of the year, it announced net income of $62.7 million on revenues of $722 million. Lithium sales revenue increased by 31.5% compared with the same quarter from last year, while overall revenue increased by 10%.
Tesla on the other hand has been mainly recording quarterly losses since it started ramping up car sales back in 2013. For the latest quarter it announced a loss of $330 million on revenue of $2.7 billion. This of course comes within the context of very strong sales growth, with total revenues more than doubling compared with the same quarter from last year. Then we have the commencement of the much-anticipated Model 3 production and deliveries, which will completely change the company's cost and revenue structures, therefore we cannot base our profitability assumptions on past quarterly results.
Truth is that Tesla's ability to profitably produce and sell EVs will not be confirmed or debunked until the ramp-up to production capacity of half a million cars will be complete, after which we will have to wait a few quarters for confirmation of profitability or lack of it. This is the second point of investment risk, where the potential effect of an undeniable confirmation of lack of profitability could send Tesla stock into a tailspin. As I mentioned above, the first potential trigger would be the realization once production capacity of half a million cars per year is in place, that there is nowhere near enough yearly demand for Tesla cars to operate its production facilities at full capacity. Both of these potential pitfalls are likely to have their effect in the next two years. There is of course a chance that things will go well for Tesla in terms of both profitability and demand. But then again, there is also a chance that it will go wrong on both fronts. There is simply no way of knowing at this point in time.
Too much Tesla growth factored into current valuation.
As I pointed out in a recent article, global EV sales are set to most likely be in the million unit range this year. Based on growth rates from the last few years, we can assume that we may perhaps see average yearly growth of perhaps about 30% per year going forward. This means that in about a decade or so we may reach the 10 million EV sales per year mark. Some may argue that we may in fact see faster growth, but I personally think there are quite a few headwinds which need to be accounted for. For one thing, the current global EV subsidy network is providing as much as $7-10 billion to EV customers as a means to support EV sales, assuming average total subsidies of about $7,000-10,000 per unit. I personally see no chance whatsoever that there will be a continued willingness to subsidize EVs at current levels in a decade's time, especially if yearly sales will increase ten-fold by then. There are other factors such as EV costs versus ICE cars and infrastructure issues which will make it difficult for EVs to penetrate certain markets around the world and within individual national or regional markets.
Assuming that Tesla will be super successful in increasing its current EV market share from the current 10% to 20% by then, that still means that Tesla sales will be in the 2 million unit range, while it is now trading at a similar valuation level with the likes of GM or Volkswagen (OTCPK:VLKAY), both of which are currently recording yearly sales in the 10 million unit range. There are of course other factors that need to be factored in when looking at company valuations, but nevertheless it does beg the question of just how much more return people buying Tesla stock today can expect if they were to hold on to it for the next decade or so.
This is especially so given that Tesla is in the process of constantly diluting its shares through new issuance. The total number of shares increased from 132.7 million in the first quarter of 2016 to 162 million shares in the last quarter, which is an increase of 22%. We can assume that Tesla will continue to dilute going forward in order to finance the continued expansion of car sales, as well as the continued improvement of its charger network and continue with R&D and so on. Albemarle on the other hand saw its basic shares outstanding decline from 112.26 million, to 111.99 million, and its diluted shares rise from 112.77 million to 113.29 million for the corresponding period. Long-term debt also declined from $2.12 billion to $1.4 billion for the period. It is not such bad performance for a company that is seeing significant revenue growth.
One thing I want to clarify before I move on is an assumption I made of Tesla not surpassing the 20% of total global EV market in a decade's time. It is true that Tesla could potentially take as much as a third of the total global EV market next year and in 2019 with help from the release of the Model 3. Having said that, I do not think that it will be easy to maintain that market share going forward. It is in part going to happen due to pent-up demand for the Model 3, which was announced years ago and in part due to a huge expected leap in Tesla sales from less than 80,000 units last year, to as many as half a million units next year or in 2019, which I believe will be followed by a period of stagnation at best. The rest of the world's EV makers will most likely continue collectively on the same steady path of increasing sales by about 30% per year, meaning that Tesla will start to lose market share again after this initial expected leap.
Another way to look at it is from a market by market point of view. China will most likely continue to belong to domestic EV makers, just as it does today, due in large part to Chinese government policy. Tesla managed to get about 3% of the Chinese market last year. Europe may be legally and institutionally open to outside EV competition, but culturally speaking its main markets will be dominated by domestic brands, just as it is the case right now. For those not familiar with Europe, it may be hard to understand the current of product nationalism that is obvious as soon as one walks into any local grocery store or looks at the cars being driven on the local streets, but it is a significant factor affecting consumer choices there. Tesla managed to get 7% of the EV market in Europe last year. The only major market where Tesla can hope to be dominant is here domestically in the US. But even here I doubt that the likes of GM and Ford will just cede the EV market to Tesla, without putting up a serious longer-term effort to also gain market share in this growing market. Not to mention that there will likely be outside, overseas competition moving in as well. The way I see it, given the limitations of the other markets when it comes to Tesla sales, it will have to capture about half of the US market in order to take about 20% of the global EV market share in a decade's time.
While with Tesla the only thing that we know for sure is that we have at least over a decade of spectacular sales growth factored into the current valuation, that is not the case with Albemarle, which I chose as an alternative lithium mining investment comparison, as an indirect means to play the growth in EV sales. Its current P/E ratio of 45 is considered to be high when not factoring in the potential for growth, but given the kind of growth we are seeing in lithium demand, as well as in Albemarle's own financial reports, as I already mentioned, it may not be such an expensive stock if one is thinking of holding for a prolonged period. It is in effect just a few years ahead of itself in terms of valuation.
Unlike Tesla, which is the only viable bet on an actual EV producer, lithium-related stocks are more diverse. I recently covered Uranium Resources (NASDAQ:URRE), which is a uranium and lithium explorer. It is the opposite of Albemarle in terms of what it offers as a potential lithium investment option. It is significantly more risky since it does not currently have proven production. It is in the process of evaluating its lithium resources, with some promising results. It has a market cap of only $40 million, compared with Albemarle's $12 billion, which speaks for itself. Unlike Albemarle which is not financing itself through stock dilution, Uranium Resources is doing it on a significant scale. In the first quarter of 2016 there were less than 5 million shares outstanding, while now there are 21.6 million shares, as of the first quarter of 2017.
I by no means brought up the example of Uranium Resources in order to promote it as an investment option worth considering. I just wanted to contrast the difference between the option of investing in direct EV production, where Tesla is the only choice, regardless of investor profile, versus lithium miners, where there is something like Uranium Resources for those who are looking for an adrenaline ride, or Albemarle for those who are more risk-sensitive, who want a more conservative option. This is one of the stronger arguments in favor of the indirect participation in the EV story in my view. It allows for investors to self-select themselves into the investments where they will find their like-minded peers, which I think is especially important for the more risk-sensitive investors who might not necessarily enjoy a very wild ride.
When factoring in potential pitfalls, such as potential demand shortfalls, unproven profitability, as well as the potential to eventually be out-competed in the growing EV field by at least a few of the dozens of potential EV competitors across the world, Tesla does seem like a bumpy option. Problem is that for those looking into direct EV investment participation, there is currently no alternative. The indirect participation in the EV story, with the likes of Albemarle or others, which have their fortunes increasingly tied to the overall global EV market, should see a far more steady upward climb, compared with Tesla. Tesla might be the hotter shorter-term bet right now as we anticipate a huge leap in sales, but once that leap will be completed, it might face some significant headwinds and disappointments, with investors potentially having to ride out a volatile period as they will await the next leap forward, which might not come for some time, and when it will come, it might not be as exciting as the current leap that we are on the cusp of. Or perhaps it will be, in which case it might greatly outperform the broader global EV market, and the lithium miners tied to it in the longer term.
Disclosure: I/we have no positions in any stocks mentioned, and no plans to initiate any positions within the next 72 hours.
I wrote this article myself, and it expresses my own opinions. I am not receiving compensation for it (other than from Seeking Alpha). I have no business relationship with any company whose stock is mentioned in this article.
Editor's Note: This article covers one or more stocks trading at less than $1 per share and/or with less than a $100 million market cap. Please be aware of the risks associated with these stocks.