To start off this piece right, we want to note that we are bearish on the price of crude, which can be considered a risk to the share price. This is a misconception in the crude-by-rail thesis which we detail below. Still, we want to have some (even if nominal) exposure to the MLP oil patch play. We think the company is a niche business that should do well even if oil prices fall by 20% or more.
USD Partners LP - (NYSE:USDP)


USD Partners LP is an MLP that was created by US Development Group LLC with the intent on acquiring, developing, and operating energy-related transportation assets. Its primary business is in rail terminals and other high-quality midstream infrastructure. It also provides railcars and fleet services to customers who desire to transport hydrocarbons by rail.
Business Model
The company is a growth-oriented 'logistics' MLP primarily for the upstream oil and gas industry. Nearly all of its cash flows derive from multi-year, take-or-pay contracts (deliver or pay a penalty) for crude oil terminal services. Those services include:
Railcar loading services

Storage and blending in on-site tanks

Other logistical services
It has the capacity to load up to two 120-railcar unit trains per day in Hardisty, Alberta. Another large terminal in Casper, Wyoming, has 100K barrel per day capacity, six large storage tanks for 900K barrels, as well as ethanol destination terminals in San Antonio and West Colton, CA. It also recently acquired the Stroud terminal in OK for access to the Cushing, OK, storage facility and pipeline to refiners on the coast.
Its other much smaller operating segment is Fleet Services, which operated nearly 3,000 railcars at year-end.
The company has no direct commodity exposure although future growth and contract renewal are, of course, dependent on the viability of the upstream oil and gas industry.
Thesis - Western Canada Exposure, Pipelines, and Customer Losses
If oil continues to fall, it is likely that the return on investment for new pipelines will fall, leading to greater reliance on crude-by-rail. There remains a shortage of pipeline transportation for Canadian tar sands into the U.S. The oil sands are a better opportunity than U.S. shale plays as the asset life is significantly longer (30+ years). The exposure to Canadian oil sands makes it less sensitive to the vagaries of oil prices (see below added discussion about oil sands).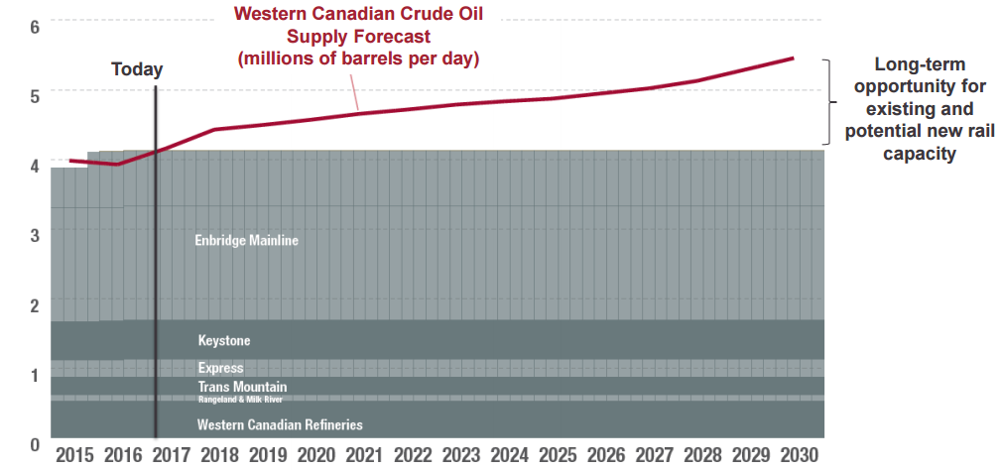 (Source: Investor Presentation)
The value of rail over pipelines is relatively unknown by most investors.
For one, the movement of oil by rail is cheaper than pipelines with lower fixed costs, and it's less capital-intensive. It is also readily scalable.

Faster delivery than pipelines by two-thirds (<10 days v. 30 days) with flexibility to choose destination market once the train load is completed.
One of the arguments is that the cost of production of Canadian oil sands is higher, and usage comes down on lower oil prices. But the oil sands producers have been decreasing their production costs substantially. For example, Suncor (NYSE:SU) stated last fall that the cost per barrel had declined 18% in 2016 compared to the year before, at $22.15. Other operators showed similar declines and low levels of breakeven production cost: Syncrude at $27.65, Cenovus (NYSE:CVE) down 30% since 2014, and MEG Energy (OTCPK:MEGEF) down 14% at $7.76 per barrel.
Necessity is the mother of all inventions - Plato
When the price of a barrel of oil was over $80, oil producers would spend recklessly in order to extract it. When oil fell sharply in 2014, producers were forced to adapt quickly or they would find themselves bankrupt. Today, oil companies are much more prudent with capital. New technologies are reducing the breakeven costs quickly. But efficiency standards by producers are also dropping that price. Management teams are using far less labor on each rig than they did previously, helping reduce operating costs.
Some of the weakness in the shares has been due to the approval of new pipelines. However, we would argue that approval does not equate to construction. With our bearish call on oil, we think many of these pipelines do not break ground (more later).
The overall thesis appears to be correct, with pipelines nearing capacity and with new production projects starting in oil sands areas likely to further increase output and stress, coupled with lower oil prices, the pipelines construction could be delayed. The new output will need takeaway capacity, meaning a mode of transportation south to the refiners.
Its terminals in Hardisty (Canada) and Casper (Wyoming) are scalable and can be expanded for additional capacity should conditions warrant. This would be a much faster "time to market" than the construction of new pipelines.
Lastly, much has been made about the announcement of a lost customer in the fourth quarter.
We do have renewal risk as online stream businesses do, including a near-term contracting opportunity, resulting from the scheduled expiration of a customer contract for our Casper terminal at the end of August.

While that customer did not exercise this option to extend for another three year term, they invested in real takeaway infrastructure and originally committed at the terminal to create advantaged access to discounted feedstock for their refineries. They've stated they continue -- will continue to use the facility, and are actively involved in negotiations with us to do so.
First off, we think this is priced in at this point. Second, there is plenty of demand that should replace the lost customer bandwidth. Management noted that it is in 'active dialogue' with the customer and other customers to utilize the space.
But most importantly, the customer is still the most active shipper at the terminal today. They simply chose to not lock-in rates and are instead paying spot prices. But they still have two weeks to get back to USDP with their renewal declaration and lock-in rates for the next three years. Management decided to notify the unitholder base of the potential loss of the customer. Clearly, the customer could be attempting to be a tough negotiator and trying to squeeze out better terms from USDP.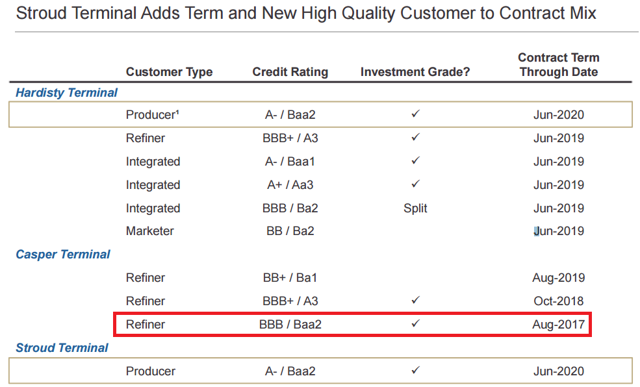 (Source: Stroud Investor Presentation)
The next re-contracting process will occur in October 2018.
Stroud Acquisition
On June 5th, the company announced the acquisition of a new oil destination terminal in Stroud, OK. The deal would help facilitate rail-to-pipeline shipments of crude from the company's flagship Hardisty, Alberta, terminal to Cushing, OK, and ultimately to the Gulf Coast for refining.
Along with the acquisition, it entered into a new multi-year take-or-pay contract with "an investment grade-rated, multi-national energy company." The revenue from the new contract equates to a 2.5x 2018 estimated adjusted EBITDA multiple associated with the acquisition.
Two days later, it announced a secondary offering for $34.8 million at $11.60 per unit with an option for an additional 450K units. The release stated:
Net proceeds from the Offering (including any proceeds from the exercise of the underwriter's option to purchase additional Common Units) will be used by the Partnership for general partnership purposes, including to repay outstanding indebtedness incurred under its revolving credit facility, a portion of which was used to fund the purchase price for the acquisition of a crude oil terminal in Stroud, Oklahoma. Amounts repaid under the revolving credit facility may be re-borrowed to fund future acquisitions, expansion capital expenditures and for general partnership purposes.
The unit price of partnership fell sharply after the announcement from $13 to the low $11 range.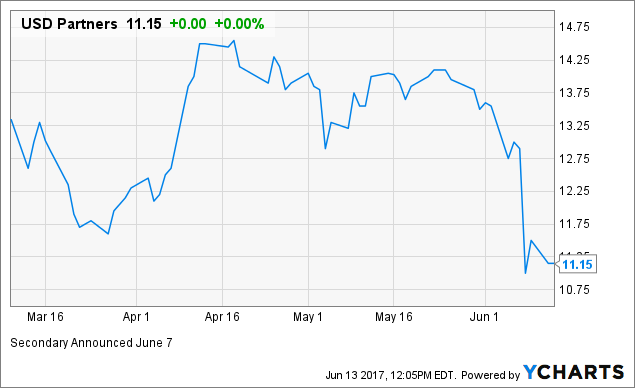 USDP data by YCharts
The secondary has made some investors call in to question the safety of the distribution. Management on the Stroud acquisition call and presentation did reaffirm its goal of increasing the distribution by 5% to 10% this year. If the distribution were to be cut now that there will be an increase of units outstanding by 18% (@$1.34 each), or an annual cost of $4.62 million at the current rate, management would look foolish and lose all credibility.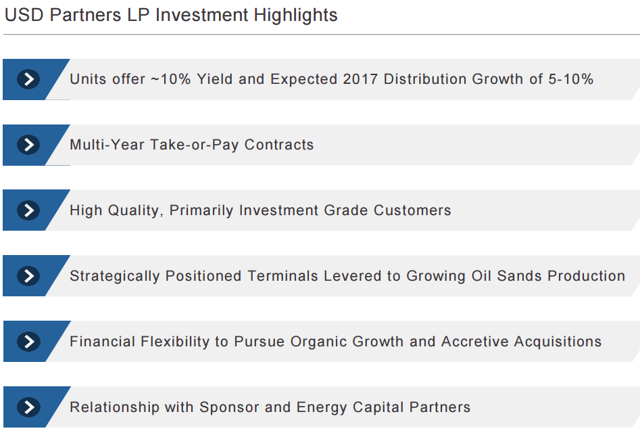 (Source: Stroud Investor Presentation)
Threat From Pipelines
One of the largest rationales for not owning the shares has been the threat from new pipelines, taking away the need for rail-to-pipeline transit of crude. The Keystone Pipeline, one of the most contentious, is the obvious crude takeaway from the mix.
Ironically, Goldman Sachs authored a note in 2013 titled "Getting Oil Out Of Canada" which said that moving crude oil out of Alberta by rail was not economically viable. However, Goldman Sachs was the largest backer of the recent Stroud deal and is part owner of USD Partners LP itself. We would rather be on the side of where Goldman puts its money.
The Keystone is also far from a done deal. In fact, this will be a multi-year effort and county-by-county fight through South Dakota and Nebraska before the last leg even starts to be built.
Production from some of the served areas is also down making the high capex cost of the construction of pipelines not economical. As CEO Dan Borgen stated on the call:
I think the other side is we have had a production -- when all of those pipelines were originally contemplated, whether the Energy East, TMX, XL, any of those, production in Canada was estimated to be 2.7 million barrels; its south of 2 million barrels today. So the driver demand for long term high cost pipelines are something that could be debatable; so one, it's a high price alternative; two it takes some time to get in place; and the need and demand is now, and we are uniquely situated with 200 -- approximately 40,000 barrels a day of permitted capacity that can come out of and help deliver Canadian production to refining centers uniquely situated in the Gulf Coast, United States.

So, it is an alternative, don't misunderstand me. Clearly, it's an alternative. But it's out there a few years and it's expensive, and it's got some headwinds.
The flexibility and the cost advantage of rail over pipe are likely to keep the volumes on rail, at least over the next several years. Rail helps create some flexibility to the energy company. Most investors think of the choice energy companies have between the two options as an 'either/or' statement. Typically, energy firms think of it as a source of flexibility.
Pipelines offer the ability to transport a constant flow of crude from point A to point B. Rail offers far greater destination flexibility for crude products. In fact, our research indicates that what typically occurs is energy firms splitting their inventory between the two in order to bring higher-quality product to the market faster (through rail). In terms of quality of product, rail offers the ability to segment and keep segregated lower-quality sludge from higher-quality light sweet crude.
Other Risks
Many unitholders are concerned about the 'call right' provision in the prospectus. Specifically, it states:
If at any time USD Group LLC and its controlled affiliates own more than 80% of the then-issued and outstanding limited partner interests of any class, USD Group LLC will have the right, which it may assign to any of its affiliates or to us, but not the obligation, to acquire all, but not less than all, of the common units held by unaffiliated persons at the market price calculated in accordance with the terms of our partnership agreement. As a result, you may be required to sell your common units at an undesirable time or price and may not receive any return on your investment. You may also incur a tax liability upon a sale of your units. USD Group LLC is not obligated to obtain a fairness opinion regarding the value of the common units to be repurchased by it upon exercise of the call right. There is no restriction in our partnership agreement that prevents our general partner from issuing additional common units and exercising its call right. USD Group LLC may use its own discretion, free of fiduciary duty restrictions, in determining whether to exercise this right. As a result, a common unitholder may have his common units purchased from him at an undesirable time or price. Please read "Our Partnership Agreement - Limited Call Right."
This is a common clause in many MLP structures. It is effectively a mechanism to 'go private' if the company conducts a variant of a leveraged buyout or if it gets acquired and would want to collapse the structure. We believe the clause should not be a factor for investing as USDP does not even have close to 80% of the units.
Another misconception is the step-up in the ratio of the distribution between the limited partners and the general partners. They have a bit of an odd structure whereby they utilize a two-class method for distribution to the limited and general partners. Any net income in excess of distributions to their limited partners, general partner, and the holder of the incentive distribution rights (IDRs) is distributed according to the following percentages and levels:
The recent distribution increase to $0.335 put the split at 85% to 15%, from 98% to 2%. But that split is only on the small portion in the second target distribution. Additionally, this is primarily a calculation for their IDRs. The common unitholders (LPs) will still receive the full $0.335 amount this quarter, not a pro-rated amount. In other words, the $0.335 is net of the distribution to the general partners.

(Source: 10-K)
Upcoming Opportunities
The company has noted that its major partners have positive project development that should help support volumes to USDP.
Suncor: production is set to rise by one-third between now and 2019. Fort Hills construction is now 76% complete with first oil flow expected by the end of this year.

Cenovus: In the second half of 2016, they added 80K bpd of gross production capacity as well as resumed construction at Christina Lake Phase G, which would add another 50K bpd in 2019.

Canadian Natural (NYSE:CNQ): Two projects coming online by 2020 which could add significant bpd flow, including Horizon 3 and Kirby North.

Gibsons: Recently commissioned 2.9m barrels of new storage capacity at Hardisty, ahead of schedule.
Management has nearly 1.2m bpd of targeted capacity from eight different producers. Three of these producers are already current customers.
As noted above, Western Canada (Alberta) export pipelines are nearing capacity with Keystone and Express now both above 100% utilization. Mainline - which is much larger than the other two - is nearing capacity with average volume at 2,600 Mbpd.
Meanwhile, there are proposed long-haul pipeline additions but the construction of which has hit many roadblocks. The opposition to new pipelines from environmentalists is just one of the factors slowing new construction.

(Source: Company Presentation)
Lastly, Western Canadian crude prices trade at a discount to other spot prices around the globe, including the refining areas of the Gulf Coast. The discounts are expected to widen which would incentivize greater use of rail.
Earnings
Recent operating results show the strength of the business in the face of 'weak' commodity prices.
Total revenue for the first quarter rose 5.3% YoY to $27.75 million. Operating expenses were down to $18.5 million, off 1.5%.

Adjusted EBITDA came in at $15.3 million with distributable cash flow of $12.25 million. 96% of that was generated from take-or-pay contracts.

Adjusted EBITDA and distributable cash flow all rose in the first quarter, up 6.6% and 12%, respectively.
Balance Sheet and Distribution
The company carries $210 million in long-term debt, with about $10 million in cash and equivalents ($4.2 million being restricted). It has $400 million in total borrowing capacity under its current credit agreement. In the first quarter, it repaid the outstanding term facility and has the full $400 available for liquidity.
The partnership is in compliance with its financial covenants with no debt maturities under its senior secured credit facility until July 2019.
The company intends to pay a minimum quarterly distribution of at least $0.2875 per unit. Its most recent distribution is $0.335 per unit or an addition $7.6 million per quarter. That equates to $1.34 per year, which is up 1.5% from the fourth quarter and 8.9% relative to the third quarter of 2016. The first quarter increase is the eighth consecutive quarterly distribution increase.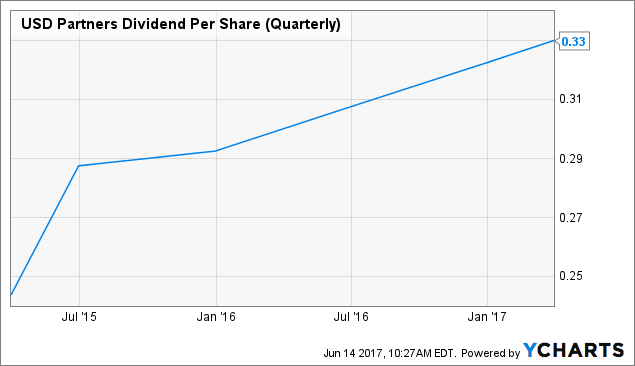 USDP Dividend Per Share (Quarterly) data by YCharts
On the fourth quarter call, management noted that it is well-positioned for future growth and believes it will be able to deliver as much as 10% distribution growth in 2017.
With distributable cash flow of $12.3 million or $0.74 per unit, the distribution of $0.33 is well covered by over 2.0x. Over the trailing four quarters, it has generated distributable cash flow of:
| | | | | | |
| --- | --- | --- | --- | --- | --- |
| | 1Q16 | 2Q16 | 3Q16 | 4Q16 | 1Q17 |
| DCF | 0.4613 | 0.5355 | 0.6128 | 0.6600 | 0.7400 |
| Distribution | 0.3075 | 0.315 | 0.3225 | 0.33 | 0.335 |
| Coverage | 1.50 | 1.70 | 1.90 | 2.00 | 2.21 |
The units issue a K-1.
Conclusion
We think the units of USDP embed a discount for the prospect of future pipeline expansion and oil price weakness. The risks of new pipelines and potential loss of a major customer this summer are likely weighing on the price. We see the units as cheap and a good value at these levels, as we feel the risks to the firm are overblown.
Granted, there are substantial risks when investing in commodity-related securities and we like to do so in niche areas that provide some insulation to the volatility of oil prices. The niche space of crude by rail is small but the strategic realities of the flexibility and economic incentives make the industry viable for many years.
The company is still in the early innings and could see significant distributable cash flow growth over the next several years as it benefits from the Stroud acquisition and remains an option for producers. The upside here strongly outweighs the downside even if oil prices slide into the $30s.
Note: To get these types of articles as soon as they are published, just click on the "Follow" button next to my profile and choose the "real-time alerts" option.
Marketplace Service For Those Hunting For Yield
In April 2016, we launched our marketplace service Yield Hunting: Alternative Income Investing dedicated to yield/income investors who wish to avoid the froth associated with most of the equity market. We encourage investors to utilize the free two-week trial in order to benefit from our yield opportunities within closed-end funds, business development companies, and other niche areas. Our goal is to construct a "low-maintenance portfolio" with a yield in excess of 8% on a tax-equivalent basis with capital gain optionality. The core portfolio is now up 26.6% over the trailing year through the end of May and generates a high-single-digit yield, while taking approximately half the risk of the S&P 500 on price and one-third on NAV. For safe and reliable income streams, check out our unique marketplace service.
To subscribe to Yield Hunting: Alternative Income Investing, click the link below:
Disclosure: I am/we are long USDP.
I wrote this article myself, and it expresses my own opinions. I am not receiving compensation for it (other than from Seeking Alpha). I have no business relationship with any company whose stock is mentioned in this article.
Additional disclosure: The commentary does not constitute individualized investment advice. The opinions offered herein are not personalized recommendations to buy, sell or hold securities. As I have no knowledge of individual investor circumstances, goals, and/or portfolio concentration or diversification, readers are expected to complete their own due diligence before purchasing any stocks mentioned. The strategies discussed are strictly for illustrative and educational purposes and should not be construed as a recommendation to purchase or sell, or an offer to sell or a solicitation of an offer to buy any security. There is no guarantee that any strategies discussed will be effective. The information provided is not intended to be a complete analysis of every material fact respecting any strategy. The examples presented do not take into consideration commissions, tax implications or other transactions costs, which may significantly affect the economic consequences of a given strategy. This material represents an assessment of the market environment at a specific time and is not intended to be a forecast of future events or a guarantee of future results. This information should not be relied upon by the reader as research or investment advice regarding the funds or any security in particular.