By Darrell W. Watters & Jenna Barnard, CFA & Mayur Saigal
Janus Henderson's fixed income professionals explain why another rate hike in 2017 is unlikely.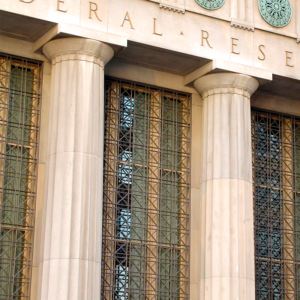 As expected, the U.S. Federal Reserve (Fed) raised its target benchmark rate by 25 basis points (bps) Wednesday. The widely anticipated move was the fourth such tightening in the last 18 months, as the Fed seeks to bring its federal funds target rate off historical lows and back toward a normal range. The Federal Open Market Committee (FOMC) cited continued improvement in the labor market and a moderate rise in economic activity as justification for the hike. The Fed held its long-term target rate intact, along with its estimates for gross domestic product growth and inflation, while the estimate for unemployment was modestly reduced.
Wednesday's most recent tightening puts the federal funds target range at 1.0% to 1.25%. FOMC officials predict the central bank will raise the rate to 2.9% by the close of 2019, according to its dot plot survey. The Fed's dot plot illustrates the funds rate projections of all members of the FOMC. That is drastically different from market expectations, says Head of Fundamental Fixed Income Risk Mayur Saigal. According to Fed funds futures, markets are pricing in approximately two more 25 bps hikes over the same period. When comparing market expectations to the dot plots in each of the previous three calendar years, the market view has been more accurate than that of the Fed. Today's market outlook is more realistic as well, he says.
Head of U.S. Fundamental Fixed Income Darrell Watters agrees that the Fed's desire to tighten further will be tested, primarily by stagnant economic data. Core consumer price inflation, which excludes the more volatile food and energy sectors, touched post-crisis highs in January but has receded in recent months. May's 1.7% inflation rate was the lowest reading since June 2015. Although the Fed acknowledged the sequential slowdown in inflation, they expect it to normalize after unexpected changes in the costs of wireless communication plans and pharmaceuticals roll off. As a result, the Fed will closely monitor inflation, which could result in a reassessment of the FOMC's dot plot, which remains out of line with market expectations.
Still, Co-Head of Strategic Fixed Income Jenna Barnard is concerned that the Fed's hike comes in the face of headline inflation that peaked in February 2017 and is likely to continue declining for the rest of this year. Wage growth has also begun to taper off, she says. Mr. Watters adds that despite a tight labor market and decent economic growth, accelerating wage growth is lacking. Downward pressure on commodities pricing presents another significant problem for the inflationary outlook, he says.
If inflation does continue to decelerate at the current pace, deflation may once again become a concern, Mr. Watters says, and the Fed will be forced to extend the process of normalization. In our view, the odds of a recession are now higher than the odds of the reflation trade returning. As such, the Fed could risk policy error in tightening further when the economy is not yet strong enough to handle it. Ms. Barnard is also mindful of this risk. She believes that the Fed's obsession with headline unemployment figures over other key data points stands apart relative to other global central banks and has the potential to lead to policy error at some point.
The Fed's preference is to normalize interest rates before it turns its focus to its balance sheet, which ballooned from less than $1 trillion in 2008 to roughly $4.5 trillion today. However, in the event the economy continues to evolve in a positive direction, the central bank has laid out a plan to shrink its portfolio, possibly beginning before year-end. The central bank plans to reinvest proceeds exceeding a set of rising caps. This approach will curtail the Fed's purchase of Treasurys, which in turn could lead to higher rates, i.e., another approach to a tighter monetary policy. To avoid a repeat of the so-called taper tantrum in 2013, Fed officials have been actively preparing the market for a slow unwinding of its portfolio, and plan to execute a "gradual and largely predictable decline" in its reserve balances, which consist of Treasury securities, agency debt and agency mortgage-backed securities. Investors should expect the Fed to remain active in the market for a long time, says Mr. Watters, in an effort to avoid disruption in the Treasurys market.
Through the remainder of the year, Mr. Watters and Mr. Saigal anticipate the Treasury curve to continue to flatten, as the rate market expresses fear of recession and policy error and amid a robust global demand for yield. They are closely watching the disconnect between the more subdued views of the rate market and the exuberance in equity and credit markets. However, Mr. Saigal believes that if Washington, D.C., successfully executes on growth-enhancing reforms, rate expectations will ratchet up again and Treasury yields will likely sell off. With the current consensus that the reflation trade is over, this turn of events would likely be a significant shock to the fixed income market.
Disclosure: Please consider the charges, risks, expenses and investment objectives carefully before investing. Please see a prospectus or, if available, a summary prospectus containing this and other information. Read it carefully before you invest or send money.
The views presented are as of the date published. They are for information purposes only and should not be used or construed as an offer to sell, a solicitation of an offer to buy, or a recommendation for any security or market sector. No forecasts can be guaranteed. The opinions and examples are meant as an illustration of broader themes, are not an indication of trading intent, and are subject to change at any time due to changes in market or economic conditions. There is no guarantee that the information supplied is accurate, complete, or timely, nor are there any warranties with regards to the results obtained from its use. It is not intended to indicate or imply in any manner that any illustration/example mentioned is now or was ever held in any Janus Henderson portfolio, or that current or past results are indicative of future profitability or expectations. As with all investments, there are inherent risks to be considered.
ETFs distributed by ALPS Distributors, Inc. ALPS is not affiliated with Janus Henderson.
Mutual funds distributed by Janus Henderson Distributors
Janus Henderson Investors © 2001-2017. All rights reserved.