Shale oil drillers who generally couldn't deliver positive net income at $100/bbl oil continue drilling campaigns easily funded by debt and equity issuance. But while presentations by many of these companies show decent shale oil well rates-of-returns, or IRRs, with WTI at $50/bbl and even $40/bbl and below, these presentations typically omit such all-in costs as infrastructure build (gathering lines, water disposal, etc. etc) and, of course, the big one: interest payments on debt.
Let's take a look at a few shale oil drillers in order to make my point. The chart below shows how interest rate expense for several shale oil operators has ballooned (or not so much) over the past 6 years:
| | | | | | | |
| --- | --- | --- | --- | --- | --- | --- |
| | FY11 | FY12 | FY13 | FY14 | FY15 | FY16 |
| Continental Resources (NYSE:CLR) | -$77 | -$141 | -$235 | -$284 | -$313 | -$321 |
| Whiting Petroleum (NYSE:WLL) | -$46 | -$75 | -$113 | -$171 | -$334 | -$558 |
| Pioneer Resources (NYSE:PXD) | -$31 | -$36 | -$184 | -$184 | -$187 | -$207 |
| EOG Resources (NYSE:EOG) | -$210 | -$213 | -$235 | -$201 | -$237 | $-282 |
Source: Company Q4FY EPS reports.
Some companies have obviously grown debt at a much faster pace than others. Note Continental and Whiting originally operated primarily in the Bakken, which initially suffered from exit capacity constraints and now is competing head-on with the Permian Basin where Pioneer Resources has a strong presence and for which EOG has pivoted from the Eagle Ford.
But the point is that some of the shale oil companies have taken on large debt obligations in order to keep drilling. And all that drilling puts more oil on an already over-supplied market. And that pushes down the price of the commodity that they have to sell in order to service the debt. It is a vicious circle, and it will be the debt-and-equity holders that get caught holding the (empty?) bag when the music stops.
In the meantime, we can see the affect all this production is having on prices. Today is a case-in-point. The EIA weekly inventory report came out and in what is typically a seasonal "big-draw" time of year, withdrawals were only -1.66 million bbls as compared to average analyst estimates of -2.3 million bbls. As a result, and despite OPEC's (and Russia's) attempt to prop-up prices (they cannot), U.S. crude oil storage is still significantly above the top of the 5-year range: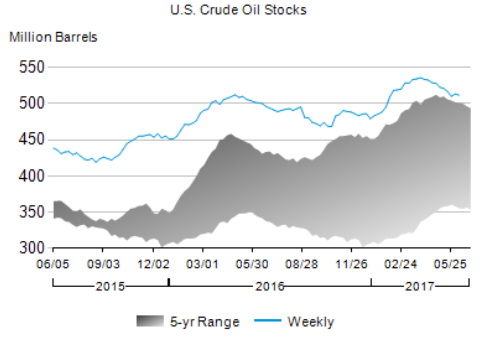 Source: EIA Inventory Report
And it is no surprise that Brent and WTI, once again, sold off big-time: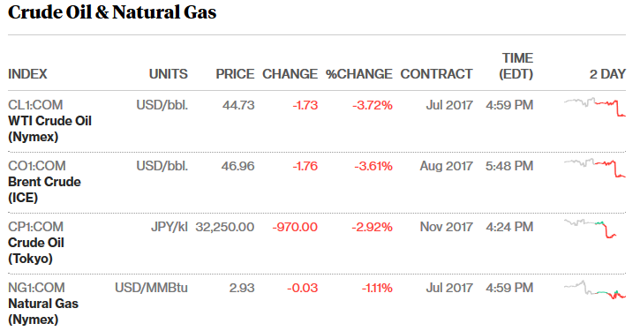 Source: Bloomberg
Yet U.S. crude production continues its relentless push higher and at 9.33 million bpd is up over 600,000+ bpd from just 1-year ago:

Source: EIA
But of course the debt obligations are not going away regardless of the price of oil, and considering the WTI CME futures price is under $50/bbl out to mid-2021, some of these companies are going to struggle. If the Fed continues to raise interest rates, the struggle may become more of a strangle as these companies attempt to refinance (another word for delaying the day of reckoning).
Here are a couple example debt maturation profiles:
Continental Resources' Debt Maturation Schedule: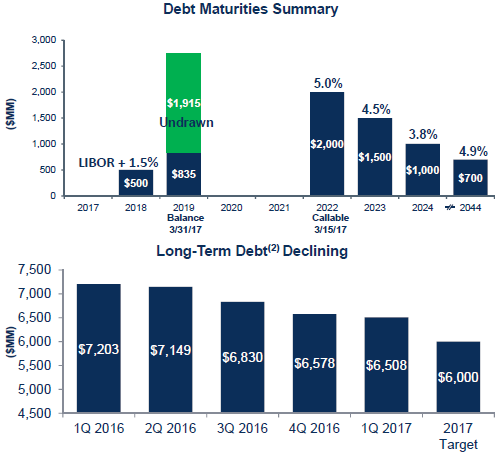 Source: May 2017 Investor Update (available here).
Whiting Petroleum's Debt Maturation Schedule: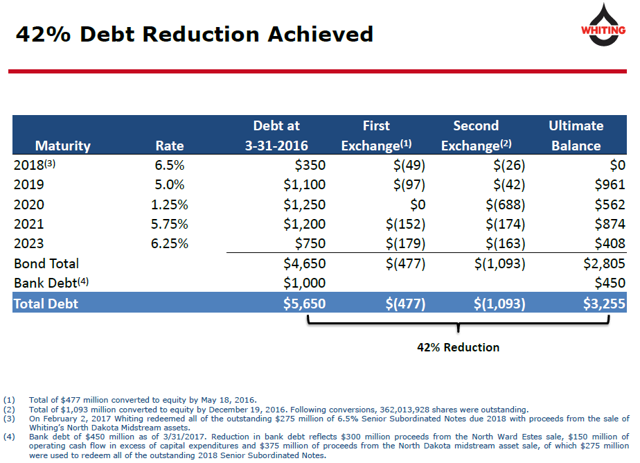 Source: June BofAML Presentation (available here).
Note that Whiting's first maturation is in 2019 as it redeemed the 2018 6.5% notes by selling its North Dakota Midstream assets.
Summary & Conclusions
The shale oil drillers have been taking advantage of easy money on Wall Street - both debt and equity - to fund drilling campaigns that are forcing down the price of the commodity which is expected to repay those debt obligations. In the meantime, sometimes massive equity offerings have in many cases diluted shareholder value even further while executive pay is very high and bonus plans frequently are pegged to production growth - many times while losing money on each "growing" bbl.
While +$50/bbl hedges may protect these producers awhile longer (see U.S. Shale Firms More Exposed to Falling Oil Prices As Hedges Expire), I would not want to hold the debt and/or equity in these companies come the 2020-2022 timeframe. Some companies may face significant hurdles earlier than that.
Investors are advised to take a close look at the debt maturation schedules as opposed to the presentations which typically show very attractive IRRs at $50/bbl or even $40/bbl WTI, but frequently don't include a primary cost of drilling these shale oil wells: interest expense.
A comparison of the 5-year stock charts for the 4 companies discussed in this article is shown below. NOTE: I am not picking on, or promoting, any of the four companies shown. They are emblematic of the winners and losers within the industry as a whole. Investors should do due diligence on any shale oil company they may hold as a "much lower for much longer" oil price scenario appears highly likely. As a result, I continue to prefer midstream operators that throw off significant distributions and that will benefit from increasing production (i.e. volume growth).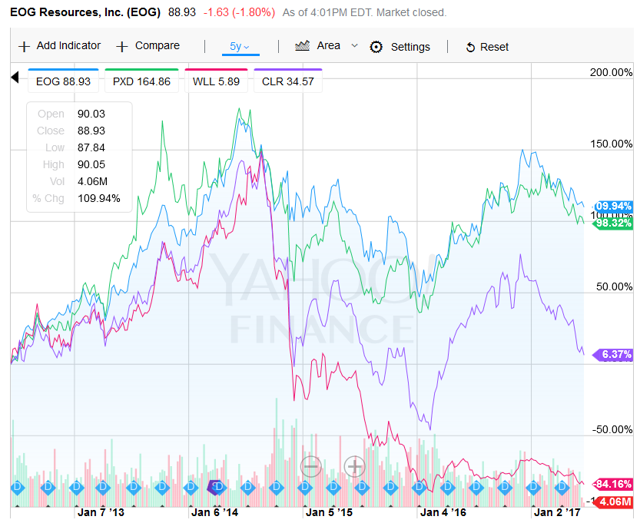 Disclosure: I/we have no positions in any stocks mentioned, and no plans to initiate any positions within the next 72 hours.
I wrote this article myself, and it expresses my own opinions. I am not receiving compensation for it (other than from Seeking Alpha). I have no business relationship with any company whose stock is mentioned in this article.
Additional disclosure: I am an engineer, not a CFA. The information and data presented in this article were obtained from company documents and/or sources believed to be reliable, but have not been independently verified. Therefore, the author cannot guarantee their accuracy. Please do your own research and contact a qualified investment advisor. I am not responsible for investment decisions you make. Thanks for reading and good luck!