With 23.4% in year-to-date returns, Stanley Black & Decker (SWK) has been amongst the best large-cap performers in the industrials sector (XLI) so far. However, unlike many other stocks in the Industrials space, I believe SWK continues to be a very attractive investment proposition. And when I say that, just a caveat that I am not highlighting a trading opportunity. This investment thesis is targeted towards investors with at least a two to three-year time horizon. I have delved into SWK's qualitative aspects to define its moat and quantitative aspects to understand its value, explained in better detail below.
End-markets are not bleeding
Stanley Black & Decker is one of the few industrial companies that are not exposed to end-markets experiencing either a down cycle or a recovery from a down cycle. And in contrast to some other industrial companies such as Deere (DE), which sourced its growth outside the US in the last quarter, Stanley's growth has been highest in its core market of the US & Canada. Since this is also the region that rewards the highest margins, no wonder the company upgraded its earnings. With two new acquisitions under its belt, the continued buoyancy in its stock may also be a byproduct of the precedent it has set in the past.
Past success in acquisitions
When it comes to acquisitions, SWK comes with an established credibility. For example, when Stanley Works acquired Black & Decker in 2009, it had projected cost synergies of $350 million. However, the company's streamlining of supply chain operations were so efficient that it ended up saving $500 million over the course of a few years. The acquisition, in fact, has become an important case study on successful integrations. Fast forward to 2017 and the firm has completed two major acquisitions - Newell Brands and Craftsman. With the Craftsman acquisition, a lot of its focus has revolved around streamlining the supply chain as well. SWK has continued to affirm its growth projection of $100 million a year for the next decade but it is still early days. From a valuation standpoint, I am just going to stick with the company projections for growth.
Economic moat
I have a strong moat rating on Stanley Black & Decker. Much of this rating can be attributed to the strength of its brand. In a market where Chinese competitors are constantly trying to attack pricing, SWK has managed to sustain a premium price for its tools due to the kind of rich American quality it gets associated with. And this is a deliberate strategy in that the company does spend some time, money and effort to emphasize this message. While the publicity of being "Made in US" appeals to the emotion of customers, its innovation machine which churns at least 100 features every year that never existed in the market, cements the rational view for higher pricing. The company's number one market position and increase in return on equity since 2011 are further evidence of its strong moat.
Valuation
I do not believe in coming up with a single figure for the valuation of a stock and instead rely on a range to guide my ratings. The reasons are practical. The terminal value is highly sensitive to assumptions and the assumptions themselves will be affected by uncertainties in the market. An alternative approach assigns probability weights to different scenarios but I am going to stick with a range in the case of Stanley Black and Decker. Also, note that Stanley Black & Decker has a reputation for transparency and giving out detailed information. It would be foolish on my part to claim to know better than the managers themselves. I have therefore relied on their estimates to value the stock and tweaked only by leaning on the more conservative side. In its recent investment conference, the company guided an average organic revenue growth of 4% - 6% and earnings per share growth of 10% - 12% over the next five years. Just to stay more conservative I decided to go with the base case of a 10% earnings growth for the next three years and then a sudden dip to the slower long-term growth rate of 4%. Due to the sensitivity of the terminal value, I have varied the risk premium so that the cost of capital varies over 8% - 12%. My target range for this stock is between $121 and $179.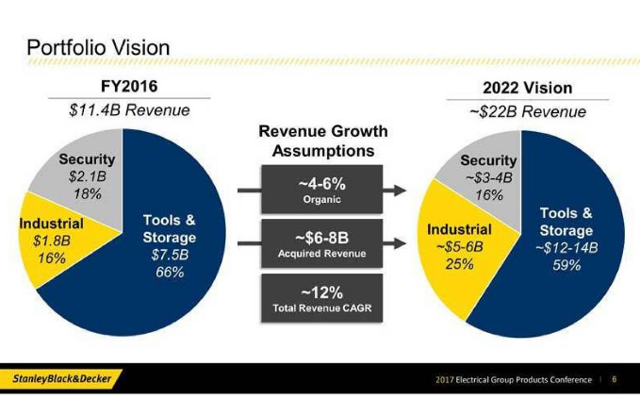 Investment thesis
Stanley Black & Decker is one of the few industrial stocks with end-market exposures that are more forgiving. A sharp management handling two major acquisitions, improving productivity and pricing, and fewer macroeconomic headwinds are major factors for optimism on the stock. While valuations may not seem compelling given recent uptick, compared to some other players in the industrial space, they are quite reasonable. I, therefore have a BUY rating on this stock.
Note: Excluding assumptions, figures are from company filings, and the Company's FY2016 and FY2017 Investor Day events held in May every year.
Note: If you find the article interesting, hit the follow button on top, right next to my name. I would highly appreciate it!
Disclosure: I/we have no positions in any stocks mentioned, and no plans to initiate any positions within the next 72 hours. I wrote this article myself, and it expresses my own opinions. I am not receiving compensation for it (other than from Seeking Alpha). I have no business relationship with any company whose stock is mentioned in this article.