Introduction
The publicly traded Health Insurance (HI) industry has $371.9B in market capitalization and $130.7B in quarterly revenue. The industry is a hugely important part of the healthcare complex and stands at the center of many of the most important social, policy and technology issues of day. Despite these factors, the HI industry is relatively thinly followed in terms of receiving in-depth and insightful coverage. The industry is also frequently misunderstood - much of the discussion that we see is based on political viewpoints instead of on data. Finally, the industry in the midst of a major transition from conventional HI to a new form that we will label Health Solutions Provider. This transition will require reshaping relationships with patients, providers, pharma/biotech and regulators alike and thus provide opportunity for some and risk and disruption for others.
We have been planning to write a series of articles on the HI Industry ever since the publication of our series on the relationship between Big Data and Healthcare - Can Big Data Fix Healthcare and Healthcare and the Internet of Things. However, we had been hesitant to proceed given the uncertainty generated by ongoing attempts to "repeal and replace" the Affordable Care Act (ACA). After all, who wants to spend the time and effort required for detailed analysis and writing, only to discover rule changes that render the work quickly obsolete? Indeed, our analysis of the plan passed by the House showed major potential impact not just on the ACA and associated Medicaid expansion but on traditional Medicaid as well.
However, reading through the Congressional Budget Office's scoring of the revised plan ultimately changed our thinking. Just one look at the diagram below was sufficient. Implementation of a plan with the impact described in this diagram strikes us as unlikely. In other words, the idea of signing into law a plan which would return uninsured percentages to pre-ACA levels is unlikely to be feasible.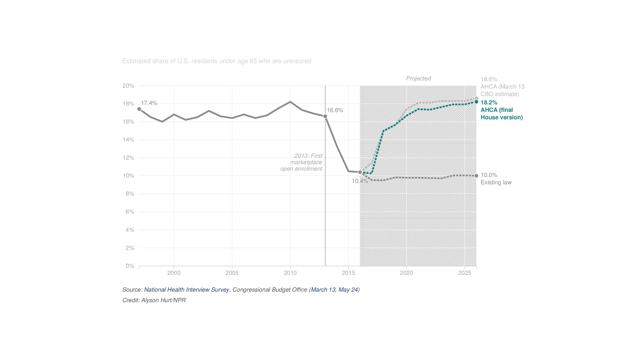 Several early reports suggest that the Senate Republicans may be taking a quite different approach involving "a transition plan to stabilize markets over the next several years".
Much of the recent discussion has focused on the extraordinarily high costs of the healthcare complex in the USA. An alternate view would be to examine its contribution to GDP growth. How many industries have strong concurrent growth in revenue, profits and high wage employment? Note carefully that we are NOT arguing that this growth is "healthy". We ARE arguing that making large changes in a small amount of time with few transition plans to an industrial complex with huge revenues, profits and employment seems unlikely. Thus, we plan to initiate a regular series on the publicly traded HI complex that includes both detailed coverage of the individual companies as well as a "360 degree" view of key factors such as demographics, epidemiology and technology that will drive industry restructuring.
We would also note that the HI industry has significantly outperformed the S&P 500 over the recent five-year time period. The graphs below display the stock price curves for Cigna (NYSE:CI) and for UnitedHealth (NYSE:UNH) but many members of our HI universe show similar stock price action.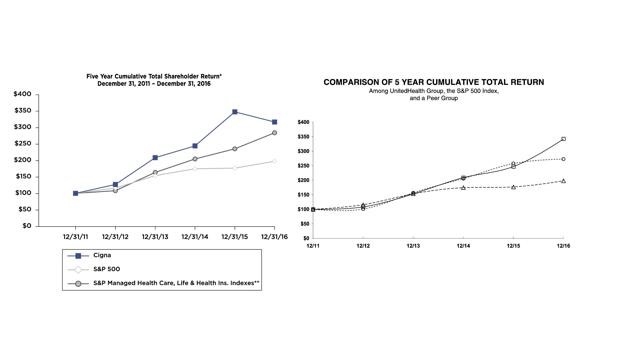 Thus, as investors facing a potential shortage of well-priced growth scenarios, we are interested in exploring two questions: (1) what factors have been responsible for the past outperformance, and (2) can we expect this trend to continue and provide a lucrative destination for new cash?
A Little Perspective from the History of Health Insurance
There is often considerable insight to be gained by a close study of the history of a subject and HI is certainly no exception. In particular, in our upcoming series of articles, we will closely examine three aspects:
The emergence of the "Blues" in the late 1920s/early '30s. There seems to be the popular notion that in the "golden" past, there was little need for HI. But the history of Blue Cross and Blue Shield (aka the Blues) actually shows us that coverage of expenses for Doctors visits as well as for Hospital stays was widely necessary in the 1920s and 1930s as ordinary families could not afford needed care. We will examine the role of the Blues in the early development of Medicare and Medicaid and also examine how the Blues came to be granted extraordinary special tax status and exemptions. Finally, we will examine the rather controversial conversion of many of the Blues from "non-profit" to "demutualized" or publicly traded status. Interested readers should consult the following articles: a version of history written by the Blues themselves A History of the Blue Cross and Blue Shield Companies and a more skeptical version written by the Consumers Union Blue Cross and Blue Shield a Historical Compilation.
The evolution of Medicare from a costly implementation disaster to a widely popular Program. The Medicare legislation was initially passed in 1965 after a more than quarter century long struggle against determined opposition. The opposition was led by the American Medical Association (AMA) which labeled Medicare as "Socialized Medicine" and various conservative politicians. Notable examples of conservative pronouncements range from Ronald Reagan "if you don't stop Medicare then we'll spend our sunset years telling our children what is was once like in America when men were free" to Newt Gingrich "our cuts will ensure that Medicare will wither on the vine." Sounds kind of familiar even today, doesn't it? The initial implementation was rife with execution problems and arguably the concessions made to the AMA in terms of payments laid the roots of medical cost inflation that plagues our healthcare system to this day. That aside, a steady set of improvements have been launched over a more than 40-year period. The result is a program that has very high ratings on aspects such as "favorable opinion", "program importance to nation" and "working well for most seniors" according to a recent series of detailed opinion polls summarized in the article Medicare as Reflected in Public Opinion. The interested reader should also carefully review Millenson's article "Medicare, Fair Pay and the AMA: The Forgotten History" to gain some additional penetrating insights.
Health Insurance Tax Entanglements - A backbone component of the current USA health system is employer-based HI known as employer sponsored insurance (ESI). What seems to be little known or understood is that: (1) this system is an artifact of World War II efforts to avoid inflation by capping wage increases (benefits such as HI were substitutes for raises and were supposed to be temporary in nature), and (2) that this system has created a massive tax subsidy which ranks with the mortgage interest deduction in its scale of drains on federal and state tax revenue. Estimates vary, but Gruber's paper The Tax Exclusion for Employer Sponsored Health insurance suggests that the annual cost is on the order of $250B, which is quite close to the estimate of $260B generated by the Tax Policy Center. A number of other excellent articles and papers have been published on the topic over the years. We would suggest that the interested reader start with the NPR article/Podcast The Huge (and rarely discussed) Health Insurance Tax Break. As the Trump administration pursues Tax reform and HI "reform" initiatives, this subsidy may prove a "juicy" target with major potential implications for patients/consumers, HI companies and corporations offering employee healthcare alike. Perhaps it is time to reexamine the question why are regular companies in the health insurance business?
The Big Picture
The numbers associated with healthcare and health insurance spending in the USA are staggering - you really need to look at the big picture before diving down further. One view of that bigger picture is provided by the table below which shows demographics, Medicare and Medicaid covered lives and overall spending and commercial HI benefits coverage.
| | | | | | |
| --- | --- | --- | --- | --- | --- |
| | 2012 | 2013 | 2014 | 2015 | 2016 |
| Demographics | | | | | |
| USA Population | 313.9M | 316.2M | 318.6M | 320.9M | 323.1M |
| Medicare | | | | | |
| Beneficiaries | 50.8M | 52.5M | 54.1M | 55.5M | 57.7M |
| Expenditures | $466B | $492B | $505B | $540B | $591B |
| % of GDP | 2.9 | 3.0 | 2.9 | 3.0 | 3.2 |
| Medicaid | | | | | |
| Beneficiaries | 58.9M | 59.8M | 65.1M | 70M | 72.2M |
| Expenditures | $422.7B | $445.4B | $497.2B | $545.1B | $581.1B |
| % of Firms Offering HI | | | | | |
| | 61% | 60% | 61% | 57% | 55% |
Some surprising observations from this table include: (1) the slow but significant decline of commercial covered lives that has been ongoing since the early 2000s, and (2) the ongoing expansion of the Medicaid program both in terms of beneficiaries and expenditures. Medicaid expenditures are set to match Medicare expenditures despite the demographics associated with a rapidly aging population. Calls for "Medicare for All" have received a fair amount of publicity, remember Bernie Sanders? A lesser known strategy involves "Medicaid for All" and we will be closely watching the likes of the Nevada situation.
The Publicly Traded HI Universe
The underlying focus of this series of articles will be the publicly traded universe of domestic HI "pure plays". Our current universe is summarized in the table below:
Company

Ticker

Market Cap.

Quarterly

Revenue

Subscribers

Delta 52 Week High

Average Volume

UnitedHealth

UNH

$172.9B

$48.7B

49.3M

-0.53%

3.3M

Aetna

$49.1B

$15.1B

23.7M

-0.47%

2.5M

Cigna

CI

$42.2B

$10.4B

15.7M

-0.56

1,3M

Humana

$33.6B

$13.7B

14M

-1.52%

1.4M

Anthem

$49.5B

$22.3B

40.6M

-0.84%

1.5M

Centene

$13B

$11.7B

12.1M

-2.58%

1.9M

Molina

$3.8B

$4.9B

4.8M

-2.97%

1.5M

WellCare

$7.8B

$3.9B

4.2M

-3.3%

341K
We will provide continuing coverage of this universe on a regular basis, beginning with a series of articles focusing on each of the individual companies. We readily acknowledge that the HI industry is amazingly complex and that many other players are involved, but we chose to limit the universe for now.
The Non-Public Players
As in other parts of the healthcare complex (e.g. the hospitals), significant segments of the HI industry are not publicly traded and some have special forms of not-for-profit status and special tax exemptions. We will examine two hugely important examples - Kaiser Permanente and the Blue Cross/Blue Shield family. We will endeavor to understand the similarities and differences between these entities and our publicly traded universe. This may be especially interesting as the dividing line between these companies and some of our universe is more than a little blurry. An excellent New York Times article from 2014 provides an overview of the situation that is well worth reading. Note that the summary table entry for Kaiser places them solidly in the league of top HI providers despite a highly concentrated geographic footprint.
| | | | | | |
| --- | --- | --- | --- | --- | --- |
| Company | Operating Revenue | Net Income | Subscribers | CapEx | Acquisition |
| Kaiser | $64.6B | $3.1B | 11M | $2.8B | Group Health |
Mergers and Acquisitions
2015 was a banner year for HI mega-merger announcements led by Anthem/Cigna in a deal valued near $50B and Aetna/Humana in a deal valued near $37B. Ironically, Centene's $6.8B takeover of Health Net, which would have been major news in most years, was to some extent "lost in the noise". However, 2016 and 2017 have turned out to be the years of mega-merger blockage and dissolution - e.g. the Court of Appeals affirmation of the blockage of Anthem/Cigna and the blockage of the Aetna/Humana deal. We will examine a number of key issues such as:
What motivated the mergers - The stated justifications seem to fit into the categories of economies of scale, increased leverage in negotiations with doctors and hospitals and diversification of lines of business.
How and why were the deals blocked - An odd but powerful coalition between the American Medical Association, state insurance commissioners and consumer groups emerged to play a key role in influencing the courts and the Department of Justice.
What path(s) forward might we expect - E.g. subsequent (but different) M&A announcements, increased focus on new (often highly technological) business initiatives and/or re-deployment of capital in the form of share buybacks or special dividends.
Each of mega-merger M&A activities had significant associated termination fees - a $1B payment from Aetna to Humana and a looming $1.8B fee from Anthem to Cigna (which will no doubt lead to extensive litigation). Aetna has also already paid a $75M termination fee to Molina which would have acquired portions of Aetna's Medicare Advantage business as part of the Aetna/Humana deal. It also remains to be seen what (if any) changes in direction will be pursued by the Department of Justice (DoJ) under the Trump administration. There seemed to be the suggestion from Anthem that somehow the deal would be allowed to proceed. More recent evidence suggests that the DoJ plans to "stay the course" on these particular deals but, as we know, the door may be opened for alternative M&A opportunities - stay tuned!!
Legal and Regulatory
It comes as no surprise that there are always numerous legal and regulatory issues surrounding the HI industry. As we discussed above, mergers and acquisitions alone have created a host of legal issues resulting in key cases going to the Court of Appeals and perhaps even the Supreme Court. However, the key case that we plan on watching carefully is the whistleblower case Poehling v. UnitedHealth Group, et. al. This case alleges that Medicare has been overbilled by perhaps on the order of billions of dollars as the result of insurers "cherry picking" extra diagnosis that lead to higher payments/reimbursements. The New York Times has written an excellent article on this topic that is well worth reading. It should be noted that: (1) the lawsuit was filed under the False Claims Act which could lead to triple damages, (2) numerous other HI companies potentially pursued similar practices, and (3) the original lawsuit dates to 2011. It should also be noted that the lesser known case Swoben v. United Healthcare also remains pending after a 2016 decision by the 9th Circuit Court of Appeals. As we mentioned in the section on Mergers, one of the key questions will be the "vigor" with which Trump's Department of Justice chooses to pursue these cases.
The Provider Side
A key component of many aspects of the HI business is the nature and number of provider relationships. We will examine several key initiatives ranging from "narrow" and tightly controlled provider networks to accountable care organizations (ACOs) and joint ventures. The goal is to migrate away from traditional fee-for-service payment models to alternative models that result in alignment of incentives and payment based on service quality. There is a natural "dynamic tension" between the HI companies and providers and we plan to closely examine the possibilities for: [1] "win-win" relationships between increasingly powerful entities and [2] substantially different approaches such as the HI companies becoming providers or providers creating integrated insurance offerings (as is already the case with Kaiser). We suggest a close reading of the White Paper Implementing Value Based Insurance Products - A Collaborative Approach to Health Care Transformation
Pharma/Biotech Manufacturers
High prices on new drugs and serial price increases on existing drugs have been a frequent and contentious topic with numerous articles being written e.g. The Drug Industry is Addicted to Price Increases and Why Our Drugs Cost so Much and extensive negative publicity generated during the recent presidential election. As in the case of providers above, there has been a flurry of activity now falling under the name of "Value Based Contracting" aimed at addressing the issue. The HI industry is driving this activity as after all - they are the "payers". An excellent paper entitled Rewarding Results : Moving Forward on Value-based Contracting for Biopharmaceuticals has been written on the topic and summarizes many of the early deals and makes a number of insightful suggestions and projections about the path forward. These early initiatives already involve key drugmakers and drug categories e.g. hypercholesterolemia (Amgen (NASDAQ:AMGN)/Repatha and Sanofi (SNY)/Praluent)], hepatitis C (Gilead (NASDAQ:GILD)), diabetes (Eli Lilly (NYSE:LLY)/Trulicity) and rheumatoid arthritis (Amgen/Enbrel).
Geographic and Service Footprint
When we think of the largest HI companies we often think of pervasive behemoths, but the current reality is significant fragmentation along several dimensions including geography and service offerings. Indeed, this reality is well reflected in the work undertaken by the AMA that was designed to derail both the Anthem/Cigna and Aetna/Humana mergers. The AMA has authored and regularly updates a document entitled "Competition in Health Insurance: A comprehensive study of US markets". Specific addendum were written focused on Anthem/Cigna and Aetna/Humana. A key aspect of these documents is that they provide BOTH state-level and metropolitan statistical area (levels of analysis of HI power concentration. The astute reader will understand how this level of analysis is linked to the footprint maps provided by the HI companies in their financial reports. The key message is that market power is local. In the case of Molina, although it may not be perfectly clear from the footprint map below, the significant core presence really involves six states and Puerto Rico (the ones colored light brown on the map such as California, Illinois and Florida). Our goal is to effectively combine these and other pieces of information to generate a holistic picture of each HI company that can subsequently be used to understand the company's growth opportunities and potential strategic fit for M&A opportunities. A small-scale version of this is sometimes provided by individual HI companies - the map below from Centene provides a low granularity version of the services/geography overlay: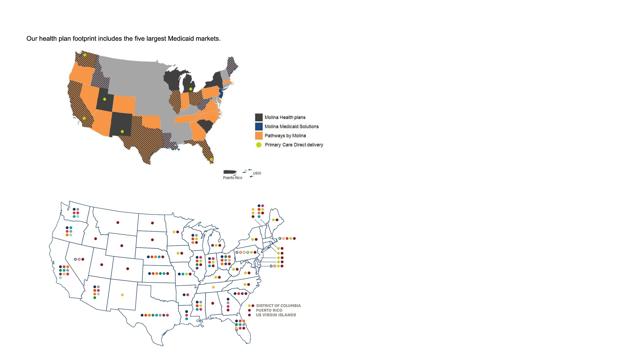 Follow the Money - Analyzing the Underlying Financials
We will provide in-depth analysis of each HI company's revenues, costs, margins, operating cash flows and earnings and develop a set of industry and business segment-specific comparative metrics upon which we will rank the companies. A brief, top level summary is provided in the table below:
| | | | | | |
| --- | --- | --- | --- | --- | --- |
| | Quarterly Revenue | Medical Loss Ratio | Operations Cost Ratio | Stock Buyback | Operating Cash Flow |
| Centene | $11.7B | 87.6% | 9.8% | ANU | $1.2B |
| Molina | $4.9B | 88.4% | 8.9% | no | $719M |
| Aetna | $15.1B | 82.6% | 16.0% | Yes | $899M |
| Cigna | $10.4B | 80.3% | 20.5% | Yes | $1.5B |
| United | $48.7B | 82.4% | 14.4% | Yes | $6.5B |
| Humana | $13.8B | 84.5% | 11.4% | Yes | $4.2b |
| Anthem | $22.3B | 83.7% | 14.3% | Yes | $2.7B |
| WellCare | $3.9B | 83.0/89.4% | 7.7% | no | $394.5M |
We plan to explore in depth a number of HI-specific measures which are key indicators and/or concepts for the business. One example is the so-called Medical Benefits Ratio (MBR) or Medical Loss Ratio (MLR). Under rules introduced in the ACA, there is mandatory reporting of MLRs and at least 80% of premium revenues must be spent on "healthcare claims and quality improvement". Another key issue for our discussion will be the widely varying margins associated with different services. Using the example of UnitedHealth, the margins on OptumInsight are substantially higher than the margins for other segments and services. We would expect to see the HI companies vigorously pursuing paths to maximize the uptake of these higher margin services.
Corporate Bond Financing and Alternative Opportunities
A key aspect of HI operations is cost effective capital raising. This has become increasingly important as several companies needed to raise billions in fresh capital in order to pursue the proposed mega-mergers that were discussed above. We will explore the corporate bond stack of each company in our HI universe for several reasons: (1) examining the bonds as potential investment opportunities, and (2) looking at trends in bond prices and examining the terms and conditions of new issues. We view bond price trends as strong indicators of the bond market's current "verdict" concerning the financial strength of individual HI companies.
Innovation and New Market Entrants - The Technology Imperative
As we previously discussed in the articles Can Big Data Fix Healthcare and The Case of Mobile Healthcare and Chronic Disease, we expect that new technology such as Big Data and Artificial Intelligence (AI) will play a major role in optimizing current service offerings, enabling new offerings and enabling new "partnerships" between HI companies, patients and healthcare providers. A few relevant details are captured in the diagram below from Aetna: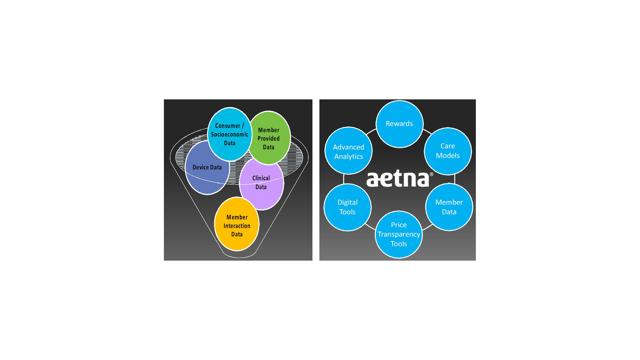 We will also examine the potential technological "double-edged sword" - i.e. technology could enable new competitors to enter and disrupt a highly fragmented industry. We will use OscarHealth and Castlight Health (NYSE:CSLT) as case studies of the possibilities and pitfalls awaiting new entrants.
The Shape of Things to Come
The logical implications of the combination of technological, business, social and health policy imperatives are clear - what we currently view as the typical role of the HI company (collecting premiums, authorizing/denying procedures, reimbursing providers, etc.) is undergoing fundamental changes. Each of the HI companies in our universe has different starting points and transition speeds, but there is broad agreement on several of the key aspects. These aspects include: (1) a deep and continuous relationship with aligned incentives between the HI and the patient (often now viewed as the "consumer"); (2) a deep and continuous relationship with aligned incentives between the HI and its core network of providers; (3) a much expanded view of the nature of healthcare with extensive focus on healthy lifestyles; and (4) expansive use of mobile technology with tremendous and continuous effort placed on data collection and analysis of provider and consumer information alike. Examples from Aetna and Cigna presentations are depicted below: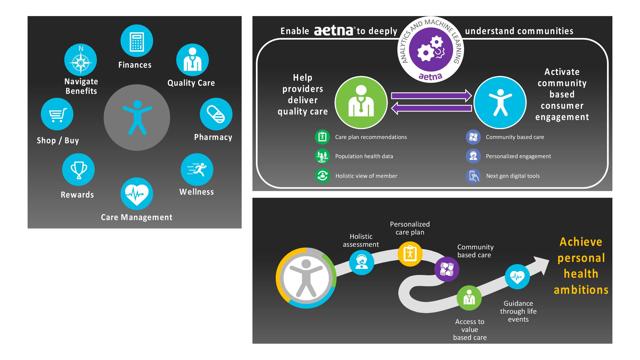 Conclusions
The publicly traded universe of health insurance companies has substantially outperformed the S&P 500 over the last five years. Thus, in the continual search for compelling opportunities, we set out to carefully examine the following questions - (1) what was responsible for this outperformance, (2) is the outperformance likely to continue, and [3] which HI investments are likely to be the best places to put new cash to work. We acknowledge the cloud of uncertainty caused by a combination of political maneuvering (e.g. "Repeal and Replace") and rapidly escalating costs which have led some observers to suggest much larger changes such as "single payer". However, in view of the tight linkage between HI companies and the associated healthcare complex, we tend to doubt the fundamental disruption of one of the few industries delivering revenue, profit and high wage employment growth. We propose to initiate ongoing coverage of a select set of companies which we have identified as our HI universe. In addition to coverage of specific companies, we will also provide an ongoing series of articles with in-depth discussion of a range of key related issues including: the history and evolution of HI; the merger-and-acquisition environment; legal and regulatory issues; the underlying financials and key/unique metrics; the differences between non-profit HI players and our public universe; the nature of competition including geographic and services segmentation; and the role of technology and the potential for new market entrants. Finally, our continuing series will place considerable focus on the likely evolution of the HI players in terms of the changing shape of their relationship with technology, providers and patients/consumers alike.
Endnote
The universe that we will follow contains the following companies and tickers: UnitedHealth, Cigna, Anthem, Humana, WellCare, Aetna, Centene and Molina.
Disclosure: I am/we are long THQ, THW, HQL, VHT.
I wrote this article myself, and it expresses my own opinions. I am not receiving compensation for it (other than from Seeking Alpha). I have no business relationship with any company whose stock is mentioned in this article.
Additional disclosure: I am not a financial advisor and I am not offering you financial advice. I strongly suggest gathering information from multiple sources, doing your own due diligence and making your own informed decisions.