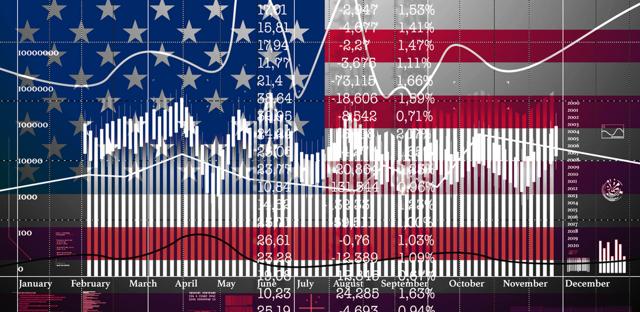 Source: Google Images
Review
Today on Seeking Alpha, there were multiple times that lower performance for retail sales and the consumer price index (CPI) were mentioned. In the morning, it was stated that the core CPI was lower and that retail sales dipped.
Soon-after the initial reports, it was stated that the Treasury yield had dropped after soft retail sales and CPI numbers, and that retail sales fell broadly in May, but were still up 4 percent year-over-year (Y/Y). Just before the market close, it was stated that the Federal Reserve Bank of Atlanta increased its second quarter gross domestic product (GDP) estimate (GDPNow) to 3.2 percent after the retail sales and CPI reports.
Specifically, within the last related Seeking Alpha update, it was stated:
"Following this morning's retail sales and CPI reports, it's back up to 3.2% - curious, as both prints came in shy of expectations, with retail sales posting the weakest month since January 2016."
Upon review of the retail sales and CPI reports, it is clear that both results in May support the expectation for a continued economic expansion thesis. Before getting into the numbers, it is important to understand that retail sales and CPI both report unadjusted and adjusted results. Adjusted results are based upon seasonality.
For the CPI the methodology states the following:
"For analyzing short-term price trends in the economy, seasonally adjusted changes are usually preferred since the eliminate the effect of changes that normally occur at the same time and in about the same magnitude every year-such as price movements resulting from changing climatic conditions, production cycles, model changeovers, holidays, and sales. This allows data users to focus on changes that are not typical for the time of year."

"The unadjusted data are of primary interest to consumers concerned about the prices they actually pay. Unadjusted data are also used extensively for escalation purposes. Many collective bargaining contract agreements and pension plans, for example, tie compensation changes to the CPI before adjustment for seasonal variation. Bureau of Labor Statistics advises against the use of seasonally adjusted data in escalation agreements because seasonally adjusted series are revised annually."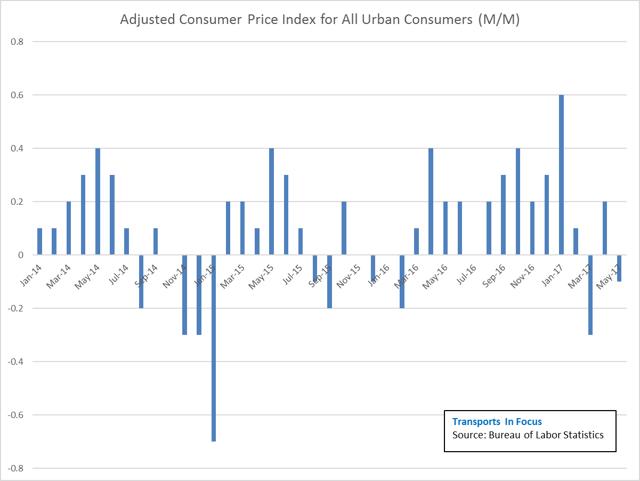 The CPI report typically highlights the seasonally adjusted month-to-month (M/M) information in its overview section of the report. This is based upon the "short-term" nature of the M/M comparison, but is not the most accurate way to interpret the trend over a longer time period. The above graphic depicts the -0.1 percent decline from April.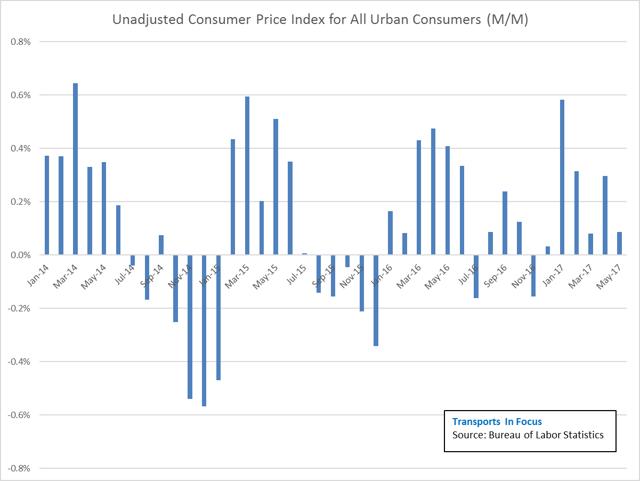 More importantly for investors, is the longer-term trends that have taken place, which are based on the actual prices paid for goods. When taking into consideration the bigger picture, there has been a trend supporting increasing inflation over the past two and a half years. Unadjusted, the CPI has risen by 1.4 percent through May, placing the U.S. on track to possibly see 2.5 to 3 percent inflation for 2017. For all of 2016, the CPI increased by 2.1 percent on an unadjusted basis.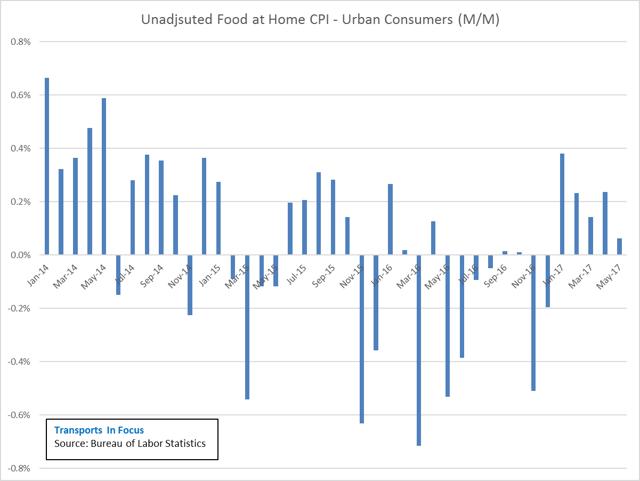 As an example, food at home CPI information on an unadjusted basis is more relevant for grocery industry companies as the information is directly translatable to increasing transaction purchases based upon improving purchased food prices. The first five months of 2017 has witnessed substantial improvement from 2016, and is part of the reason why analysts are bullish on The Kroger Company's (NYSE:KR) earnings due out tomorrow.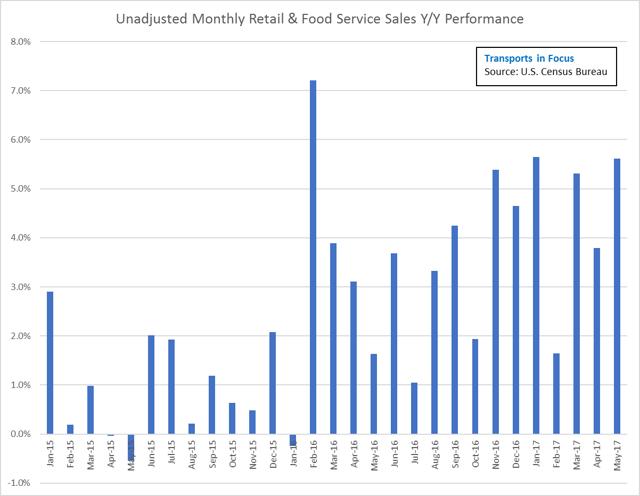 The same argument can be made regarding the retail sales data. As this information is based on sales estimates, I find it more valuable to compare Y/Y and year-to-date (YTD) information on a not adjusted basis. Excluding motor vehicles and parts, retail and food service sales were up 5.2 percent from last year in May.
For the first five months of 2017 and excluding motor vehicles and parts and gasoline, retail and food service sales were up 3.4 percent. On an aggregate basis, they were up 4.4 percent. Overall, retail and food service sales are on track to come in somewhere from 3 to over 4 percent. During 2016, the aggregate total was a 3.3 percent increase from 2015.
The resulting increase by GDPNow from 3 to 3.2 percent should come as no surprise as 2017 has witnessed sustained improvement from the previous year. There of course could be lower revisions at some point, and/or the actual results could come in lower. With the increased revision for the first quarter, if GDP growth does come in around 3 percent, 2 to 3 percent growth for the year will remain a possibility.
Summary
This brings me to what I believe to be an important point. Do we need 3 or 4 percent GDP growth to justify increasing stock prices? For some companies I believe we do, but for others, growth around the 2 percent level still is enough for justified double-digit stock price growth.
Some quick examples include Amazon.com (NASDAQ:AMZN), Prologis (NYSE:PLD), Home Depot (NYSE:HD), Calavo Growers (NASDAQ:CVGW), Adobe Systems (NASDAQ:ADBE), Canadian National (NYSE:CNI), among others. There are also many companies which are undergoing changes, directly or indirectly, which may be impacting net sales in the short-term, but will pay off over the mid-term; including The Boeing Company (NYSE:BA), Fresh Del Monte Produce (NYSE:FDP), CF Industries (NYSE:CF), Cal-Maine Foods (NASDAQ:CALM), Bunge (NYSE:BG), etc.
Then there are companies within transports, that have been lagging other peer performance, notably trucking and container shipping industries. These segments are dealing with unique challenges for their markets, which may be clearing in the near-term serving as potential catalysts for stronger performance; possibly within the next year.
In all these respects, there have been and will continue to be solid investment opportunities whether the U.S. economy continues to grow at or close to 2 percent. If we do get acceleration towards the 3 percent level, great, a broader swath of companies will obviously benefit.
Based on all these moving pieces, there are many critiques questioning the stability of the U.S. economy. I don't blame those looking for weakness, the longer the rally goes, the more of a toll it takes on us all regardless of what our expectations or ideals.
Additionally, there are tangible items worth paying attention to including automobile and housing sales, which provide a strong driver for economic growth. There are debt issues for consumers, students and businesses. There are gaps between income classes.
But when I look at the underlying demand indicator trends, including volume and pricing for transports, combined with retail sales and CPI, I do not see a looming recession, nor do I even see signs of weakening nor declining performance. In fact, I see the opposite and would counter that it is more likely to see further acceleration for the U.S. economy.
Disclosure: I am/we are long ALL COMPANIES LISTED, EXCEPT KR.
I wrote this article myself, and it expresses my own opinions. I am not receiving compensation for it (other than from Seeking Alpha). I have no business relationship with any company whose stock is mentioned in this article.