The Russian ruble has been outstandingly strong against a harsh macro backdrop over the last several months. For example, when oil prices plunged after the last OPEC deal, the ruble showed remarkable resilience. This dynamics strongly contradicts the long-term positive correlation between these two assets.
RUBUSD(white) and Brent futures(purple). Source: Bloomberg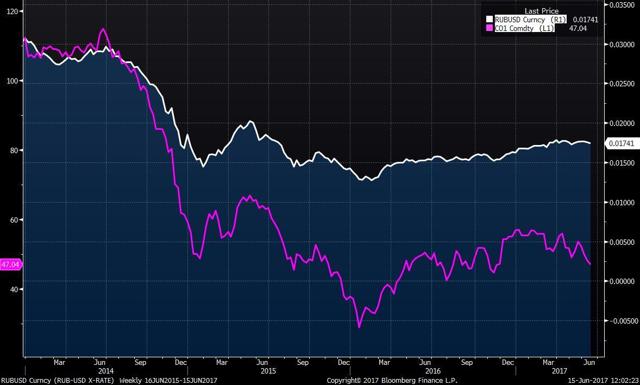 The ruble equally ignored CBR (central Bank of Russia) rate 0.75% cut, Trump-trade unwind and Ministry of Finance USD market purchases. In the same time, Russian ruble-nominated equity index MICEX lost more than 20% and the largest Russia-dedicated ETF RSX broke down its wide 6-months consolidation.
RSX ETF(green) and MICEX index(white). Source: Bloomberg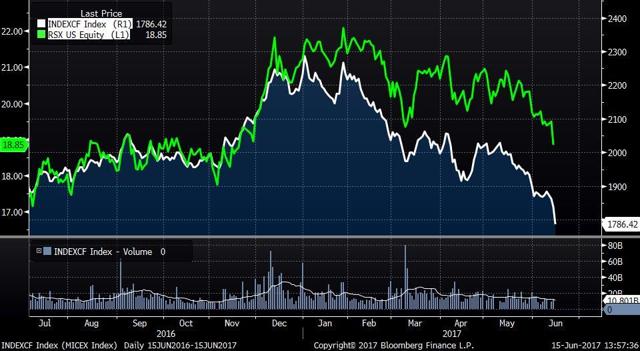 This phenomenon has several explanations:
1) High ruble rates provide lucrative carry-trade opportunities. Being short the dollar against the ruble earns you an 8.5-9% carry. Other things being equal, buying ruble is a nice place to earn some income.
2) Strong OFZ (Russian government bonds) market. Foreign investors have been increasing their share (30.1% as of April 1) in OFZ this year. And the ruble demonstrates strong correlation with OFZs. Assuming 4% inflation, real rates in OFZs are very strong at the moment.
Russian Ruble spot(blue) and 10y OFZ yield(yellow). Source: Bloomberg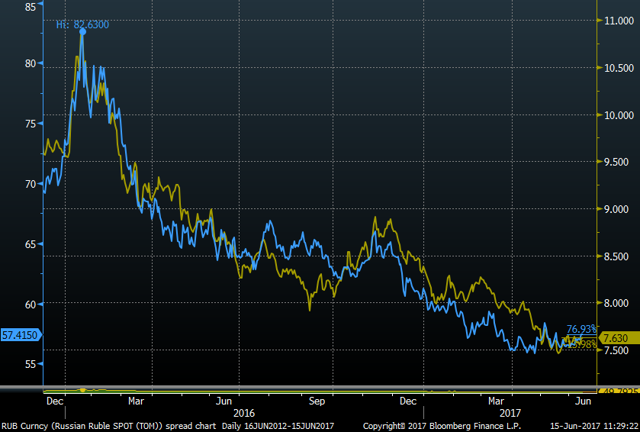 3) Current account
Surplus in Million USD. Source: Bloomberg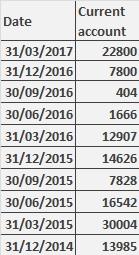 4) Weak USD supports other currencies in general. The dollar trend is debatable, and it is a great theme for a large separate article.
Influence of most of these is starting to fade:
CBR is about to continue cutting its key rate. Inflation is close to CBR's target of 4%, economy needs a softer credit to grow. Meanwhile, FED is hiking, and interest rate spread is shrinking. So, carry trade becomes less attractive.
There are talks about new prospective sanctions that can include restrictions on Russian government debt. If implemented this will definitely hit hard OFZs and imminently dampen the ruble.
Import starts to grow and export revenues decrease as ruble strengthens. So, It's reasonable to expect current account surplus to decrease next quarter.
Moreover, we have several seasonal headwinds coming:
July is an intense dividend distribution period for Russian equities. Companies will pay approximately USD 18-20 Bln this summer. Substantial part of this sum will be converted to the dollars. It's done to pay dividends for ADRs; similarly many offshore Russian equities' shareholders routinely convert local stocks dividends from rubles to other currencies.
Summer is a holiday season. People travel abroad and sell rubles to fund their USD and EUR priced vacations.
Thus, it's a great opportunity to open a macro ruble short, given a number of fundamental discrepancies and clear triggers:
Imposition of new sanctions
OPEC deal that once again failed to support prices
Yesterday's FED rate hike and a CBR rate cut coming this Friday
Risk of CBR's interventions is minute as the weaker ruble is required to balance the budget and supports the stagnating economy.
Disclosure: I am/we are short RUBLE FUTURES. I wrote this article myself, and it expresses my own opinions. I am not receiving compensation for it (other than from Seeking Alpha). I have no business relationship with any company whose stock is mentioned in this article.