When there's blood in the streets, it means load up - or something to that affect. But not always, which is I why I want to make sure this sector wide pullback in the tech department is for real. And, I mean for real in the sense of that's all it is - a pullback. If it was something worse, I would be concerned about the rug being pulled out from underneath some already well-priced securities, which would lead to a different strategy.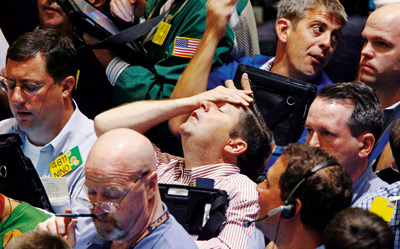 What gives me some confidence in this pullback is the overwhelming response from buyers when the price of these stocks found oversold territory on each of the intra-day drops. For example, Micron (MU) has found support in each of these drops. This can be noted by the long bottom wick on each of the last couple of candles as well as the bounce back above the 20-day moving average.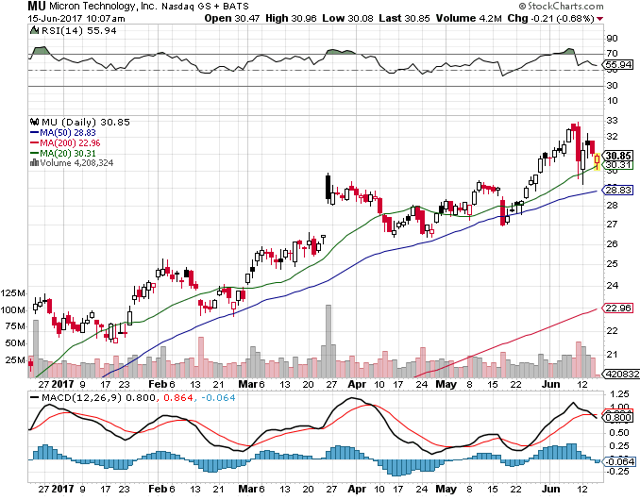 This means buyers are stepping in as shares become priced well below a good sale. With Micron's earnings just two weeks away combined with expectations for a blowout quarter and excellent forward guidance, buyers are stepping in and building positions in order to capitalize on the longer term move Micron will make the rest of the year. I, too, bought shares on this pullback as well as $33 and $35.50 calls to position myself for a movement in shares immediately after earnings.
Moreover, Micron has been in a steady channel for over the last year. This has been a strong trend to which I am playing to and the reason for my confidence. If you notice around the last two earnings (circled in red), shares have worked back to the middle of the channel just prior and the earnings market day (the morning after earnings) brought them to the high side of the channel. I'm only going to play to the June 30th dated calls because as we see after earnings, the following week settles down and heads sideways. The top side of this channel is just above $36 and therefore is my post-earnings target.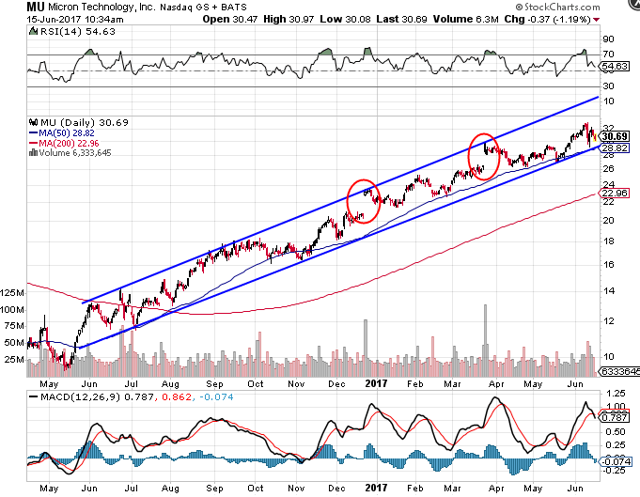 Another such example is Facebook (FB), as it has gotten hammered in the tech battle also.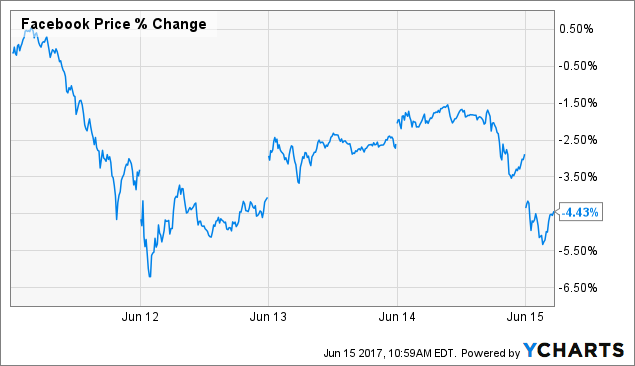 FB Price
data by
YCharts
There are two days in particular which buyers stepped in heavily on the lows.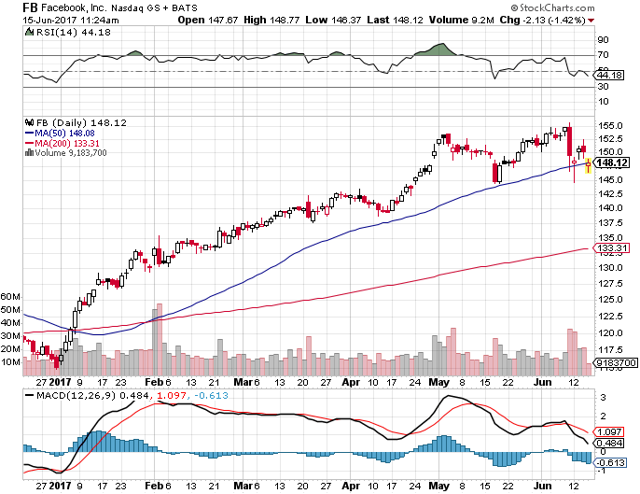 Only a month ago I suggested buying the dip on Facebook. If you missed this opportunity, there's another one staring you in the face here. My only concern is Facebook's ability to close above the 50-day moving average ($148.08) on Thursday. If it does, it's a sign of another strong close. If it doesn't I would look to see if it is able to close above the moving average in the next day or so. The 50-day has been strong support all the way back to the beginning of the year. If this breaks on volume I would consider not stepping in until the next support is found.
Finally, the last - and possibly most - impacted of my covered companies is Skyworks (SWKS). This has taken a decent beating over the last week.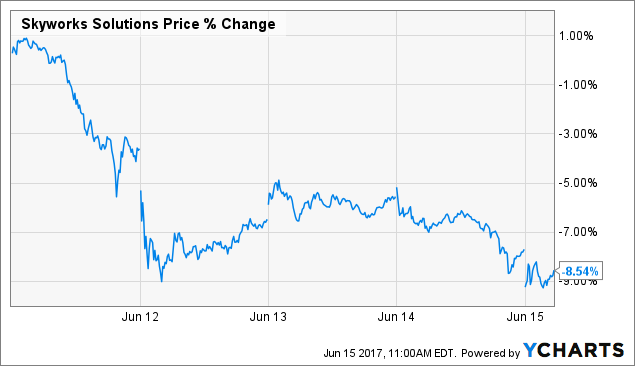 SWKS Price
data by
YCharts
Similar to Facebook and Micron, Skyworks had buyers step in over the last few days. However, on Thursday morning Skyworks remained below its 50-day moving average. The reason I don't revere this too much is because of the low volume in which it broke through the support.
However, Skyworks has had a nice run over the last several months, so a pullback of this magnitude isn't unhealthy. This would be my definition of a buying opportunity if one had been waiting for an opportunity since late April/beginning of May.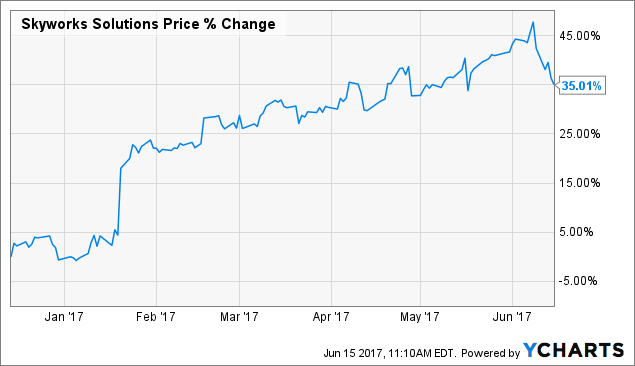 SWKS
data by
YCharts
Of course, Apple (AAPL) has been fueling some of Skyworks' panic selling as well.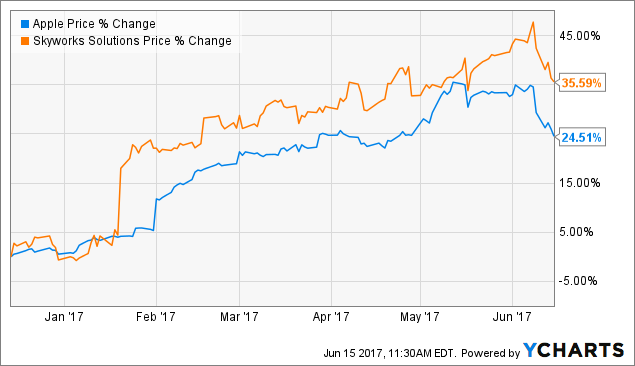 AAPL
data by
YCharts
Concerns over iPhone 8 orders slowing compared to 7 or tech in 8 not being solid enough to create good enough reasons to upgrade or defect from Android are at the forefront. Whatever the case, Skyworks is feeling the heat as Apple is one of their largest customers, even as the company diversifies.
This tech pullback may be reaching its end as volume is drying up as the week goes on as noted by the Thursday mid-day volume (which is not even a quarter or fifth of the recent volume). Friday likely may be less volume and would confirm the tech sector is headed back upward as long as buyers - which they have done in the last week - step back in full. This pullback may be your best friend if you've been watching for some opportunities to open a position in Micron, Facebook or Skyworks. I consider each of them a buy on this dip, especially Micron as earnings are expected to be great, and as I said last week "there's still meat left on the bone" especially after shares have presented themselves even cheaper.
If you'd like to be made aware of my opinion and analysis in the future on Micron, Facebook, Skyworks and other tech companies, then I encourage you to follow me by clicking the "Follow" link at the top of this page next to my name.
Disclosure: I am/we are long MU, FB,SWK.
I wrote this article myself, and it expresses my own opinions. I am not receiving compensation for it (other than from Seeking Alpha). I have no business relationship with any company whose stock is mentioned in this article.