Cyber threats continue to dominate headlines and corporations have grown increasingly reliant on outsourcing their IT needs onto the cloud instead of investing in their own infrastructure and servers. The reasons include that it's simply not cost effective for a growing number of companies to maintain an IT staff on hand to deal with all the cyber threats that currently exist. From an economic perspective, it's also much cheaper for a many businesses to run their applications in the cloud, which doesn't require the infrastructure and operational costs of a server farm to handle deployments of applications on a regional or global basis or an IT department to troubleshoot compatibility issues, deal with upgrades, and install patches for multiple software providers. Adding to this trend is the increasing comfort customers have in the security of the cloud based services. This migration has led to a healthy increase in the software as a service (SAAS) business especially, for example, in Customer Relationship Management (CRM). If SaaS is a new term for you, it basically means applications on demand in the cloud that are a pay per use or a subscription based model. One of the most well known beneficiaries of this migration to SaaS applications is Salesforce.com Inc. , which is a completely customizable web-based sales manager platform.
Customer Relationship Management Growth Prospects
According to Zach's, Salesforce.com has a forward 5 year growth rate of 27.07% and has shown no signs of slowing. In 2016, Salesforce.com gobbled Implisit Insights, Ltd. and BeyondCore in 2 strategic acquisitions engineered for revenue growth. Other players like SAP, Oracle (NYSE:ORCL) Microsoft (NASDAQ:MSFT) Pegasystems, and Zendesk (NYSE:ZEN) are experiencing similar growth prospects. Growth through acquisition seems to be the theme in this sector and highlighted by fellow Seeking Alpha blogger who suggested in December 2016 that Salesforce.com should look to Marketo, SAP should acquire Splunk (NASDAQ:SPLK) and that ORCL and MSFT should take a stab at Workday (NYSE:WDAY). Bessemer Venture Partners (BVP) cloud computing index has 42 companies in the index, and what is interesting to note is that over 30 companies have greater than a $1.0 billion market capitalization and this index has handily beat the S&P 500 since Jan 2011. The BVP cloud computing index as of 5/12/17 is up 224.6% versus 90.1% for the S&P 500. This index highlights the potential for growth and possible consolidation with so many players over $1.0 billion in market capitalization. Although the chart below has not been updated by Gartner Group, it hasn't changed much in terms of percentage, but clearly illustrates how many players are in the "Others" category and ripe for consolidation.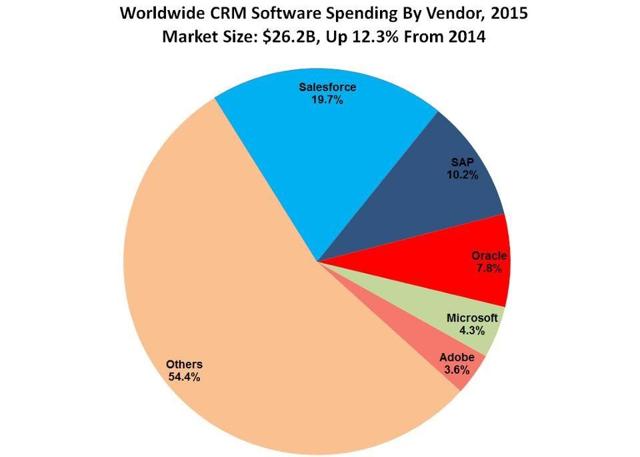 Key Growth Factors
Data protection requirements driving cloud adoption
With the increasing concerns about cyber security and data protection, CRM's customer bases are expanding largely due in part to the exponentially growing need to protect sensitive company data as hackers have become more and more focused on corporate targets. The expanding customer base in CRM sees SaaS providers as part of the solution to protect their data. According to Forbes, by 2018 a "typical IT department will have the minority of their apps and platforms (40%) residing in on-premise systems." In house IT of many companies simply cannot compete with the internal and external cyber threats. Additionally, the costs of operating services and storing data in the cloud are actually cheaper when factoring in the costs of managing the company network. Even smaller cloud based service providers like Intercloud (NASDAQ:ICLD) are seeing excellent opportunities in this space.
Cloud Security concerns no longer a barrier but needs improvement
Almost 90% of businesses are now using the cloud-based services in some form to store their data. High profile hack attacks, like those undertaken against Target and Sony, are still on the minds of consumers but businesses are quickly becoming aware that the best way to combat the cyber threats is to embrace cloud computing because most of the noteworthy attacks have been breached through internal company specific servers as opposed to cloud-based servers. Most cloud service providers' capabilities include filter-based, cyber security solutions such as smart firewalls, intrusion and threat prevention systems, and denial of service solutions. However, these filter-based, cyber security solutions still fail from 3% to 10% for known cyber attacks and most of the time for unknown cyber attacks and zero-day vulnerabilities. Most of the exposures lie in the mobile realm, where cloud applications handle more than 80% of mobile data traffic.
Speed and Access to reliable low cost bandwidth
In the past couple of years, the speed of cloud services has gone up dramatically allowing the CRM market to expand to smaller rural business owners. According to CEO Rory Cutaia, this increase in bandwidth and speed has been a "massive enabler of cloud based apps."
Artificial Intelligence integration driving new application
Artificial Intelligence (AI) and advanced analytics are clearly growth drivers of CRM in the long run but the fear of losing all your data in a cyber attack drives the purchasing decision versus all the cool tools that AI brings to a company.
Unlocking the power of interactive video
It should be clear that growth in this CRM market segment is robust and consolidation is happening now and ripe to continue in the near and distant future. Some other specialty niche companies riding the trend towards cloud based CRM might also be ripe targets for consolidation. One interesting highlight is nFuze (OTCQB:FUSZ), which could experience exponential growth based on an expected sales pipeline of $16 million after it launches its flagship product Notify CRM later this month. Company spokesperson Nick Cannon, the host of Americas got Talent, is expected to bring other celebrities into the fold to expand their base of celebrity centric videos. FUSZ is bringing to market a disruptive technology that uses interactive video presentations within a CRM environment to assist salespeople in actually closing sales instead of simply tracking their progress. As simple as this concept is, CEO Rory Cutaia quipped "this is a category killer in Customer Relationship Management. CRM provides management with tools to track sales people and manage a sales force. What CRM doesn't do is give a person a tool to sell or close a deal." The concept behind their lead product Notify CRM is using video that is interactive as the primary means of communication with customers because the engagement is over 600% higher over a traditional e-mail. Rory goes on to say "video alone is 80% higher over email and the celebrity video we did for Nick Cannon's valentines' video set never before seen engagement rates."
Cloud Apps for Virtual Routers and Switches
Just recently, the Wall Street Journal highlighted cyber security as "the biggest challenge to Industrial IoT development." Forbes has also chimed calling for the market to reach $267 billion by 2020. For those that have never heard of the Internet of things (IOT), these are the little sensors and chips in physical devices that can turn on and off and network to the internet. These devices are imbedded in automobiles, airplane engines, water sensors, grid power switches, and medical devices. Keeping these devices free from malicious hackers could be an issue of life and death. It's not hard to imagine the car accelerator malfunctioning at the wrong time, or a sensor on the jet engine giving a false reading, or a water sensor malfunctioning to ruin a crop, or an operating robot to cut in the wrong spot. Currently, IoT also is relying on filter based cybersecurity solutions to analyze patterns and data packets and then quarantine suspicious activity. CFO Tim Larkin of Intercloud Systems commented on how serious this issue is and said "it's no longer a financial issue, if these medical devices malfunction it's a matter of life and death. There needs to be a mandate to make these devices secure and we believe our proprietary software comprised of virtual routers and switches are up to the task." ICLD is working with a focused group of customers in the healthcare marketplace taking advantage of their virtual routers and switching technology to monitor patterns and flow in medical devices at the node level and then quarantine them until they are analyzed. This technology could be expanded beyond intravenous pumps, pacemakers, and ventilators and also help ensure the safety of operating robots. The medical segment seems to be just the tip of the iceberg with this technology.
Consolidation Binge
On Gartner's matrix below, that leaves about 40% of other niche players like Lithium, ServiceNow (NYSE:NOW), Freshdesk, CRMNEXT, eGain (NASDAQ:EGAN), Sugar CRM, Eptica, mplsystems, bpmonline ripe for consolidation. On May 30, 2017, Vista Equity Partners bought Lithium Technologies, Inc. for an undisclosed sum. This could be the catalyst for more consolidation in the space near term. Financial terms were not disclosed, but earlier in May NOW agreed to acquire Qlue and it Services Now Ventures group made an investment in BuildOnMe hoping to foster innovations in artificial intelligent-enabled applications. Freshdesk, a private company, announced the acquisition of data integration startup Pipemonk in January 2017 for an undisclosed amount. After a long battle, EGAN has managed to turn around their business to cash flow positive and in the latest Q3 results announced new SaaS bookings up 47% sequentially and 88% year over year growth making them a takeover target. Goldman Sachs is the primary investor in SugarCRM and consolidating other companies appears to be the path forward. Eptica in May 2016 signed a global partnership with Spice CSM indicating the potential of a consolidation play in the future. In January 2017, a United Kingdom based private company, Mpl Systems, collaborated with Injixo into their intelligent desktop module.
Cheap Money Fueling Growth
When it comes to financing acquisitions, investment banks are very fond of recurring revenue streams and subscription based models. These models are highly predictable and can account for losses in subscribers and even take into account margin pressure from future entrants. Since the SaaS business model revolves around subscription based revenue streams, banks are naturally drawn to them like a moth to light. According to Rory Cutaia "These highly financeable business type make consolidation inevitable." These models rarely fail, which is why investment banks have an affinity for these type of deals.
Cyber Immunity coming to the Cloud and SaaS
Cyber threats today essentially target data, which increasingly is the most valuable asset of a company, whether it is their own data or the data of their customers, partners or suppliers. SaaS providers are seeing this migration of customers to cloud based platforms partly because an in house IT department cannot efficiently keep pace with the known threats let along the unknown threats yet current cyber security solutions are not sufficient. But there are solutions like ValidianProtect that are proving the next level of protection by rendering Cloud, SaaS and Iot applications and their valuable and critical data immune to known and unknown hacker attacks, improper access, theft and zero-day vulnerabilities. Bruce Benn CEO of Validian (OTCPK:VLDI) commented "filters and faster algorithms are not the sole answer because they only prevent against a known attack. What about an unknown attack or a zero-day vulnerability? Current cyber security solutions fail 100% of the time." The next generation of cyber security will need to look for seamless solutions not point solutions or just filter solutions that companies like Palo Alto Networks (NYSE:PANW) seem to provide. Benn stated "A package of next generation firewalls, advanced endpoint protections, and threat intelligence are not enough to secure the data on Cloud platforms or for Saas or the Iot. It is now necessary to protect the complete lifecycle of data seamlessly; transport, storage and all forms of usage from beginning to end in the Cloud, on mobile networks and/or on host devices. The moment you decrypt a document to view it on a compromised system is a simple example of one of the most common vulnerabilities with protection using point solutions. ValidianProtect is now available and protects the data on all mobile devices and Cloud platforms by creating a "realm", which is a virtual closed system that encompasses the application and the data, protecting them against all forms of known and unknown cyber attacks and zero-day vulnerabilities, even if the host device or network is compromised. ValidianProtect simply makes the application and the data immune to the attack, to improper access and to theft. Our approach is new and revolutionary and been in development for over 8 years."
Adoption of this technology by Cloud and SaaS providers could prove viral as integration is rapid; a matter of a few days to a couple of weeks instead of months or years.
Sustainable near and long term growth
There is a paradigm shift happening in SaaS and cloud-based networking that seems almost unstoppable. Growth continues to accelerate helped by the move to cloud-based platforms. Certain focus areas in SaaS like AI and interactive video are gaining ground. Many players in the market have gained critical mass with over 30+ billion dollar market capitalization companies growing in market conditions which are ripe for consolidation. Investment bankers also have a favorable view of subscription based models and this has contributed to some of the consolidation in the market. When investors look at the confluence of all these factors cyber security seems to be at the heart of the engine driving the growth in this sector. Investors should expect above average growth in the near and long term.
Disclosure: I am/we are long CRM, VLDI, ICLD.
I wrote this article myself, and it expresses my own opinions. I am not receiving compensation for it (other than from Seeking Alpha). I have no business relationship with any company whose stock is mentioned in this article.
Editor's Note: This article covers one or more stocks trading at less than $1 per share and/or with less than a $100 million market cap. Please be aware of the risks associated with these stocks.