The financial media continues to take the government's headline unemployment number at face value, attributing the recent slowdown in jobs growth to the fact that the economy is "near full employment." One does not have to buy into any conspiracy theories to realize the economy is not at full employment. The baby boomer impact on overall labor force participation (LFP) is meaningful, but has been exaggerated, accounting for roughly 1 percentage point of the over 3 percentage point drop in LFP rates versus historical norms.
The 55-years+ age cohort includes all retirees, and thus has a significantly lower LFP rate than all other age cohorts (see chart below). But mitigating the depressing effect of baby boomers increasingly skewing the share of the civilian population to older age cohorts is the fact that the average participation rate for that group has risen from 36% to 40% over the last 10 years.
Labor Force Participation Trends by Age Cohort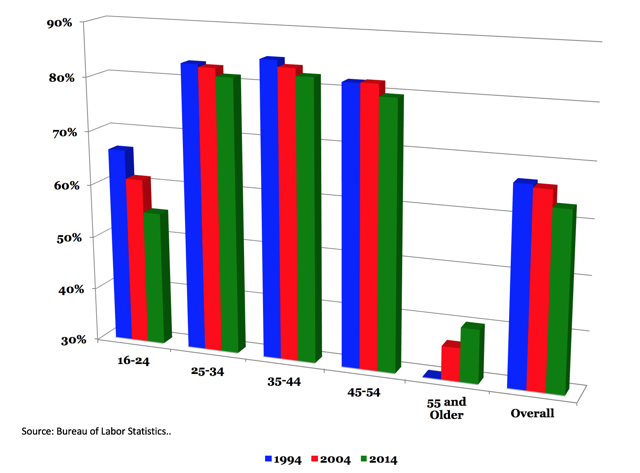 Hence, the increase in population share of 55+ by 6 percentage points over the last decade (see chart below), in a static LFP rate world, would imply a 2-percentage point drop in the overall LFP rate for the civilian population. But when higher LFP rates for older age cohorts is accounted for, "baby boomers" only explain about 0.8-percentage points of drop from the 66.0% LFP rate observed in 2004, to that recorded in 2014 (we estimate an additional 0.5% in the last 2.5 years).
Civilian Non-Institutional Population Composition by Age Cohort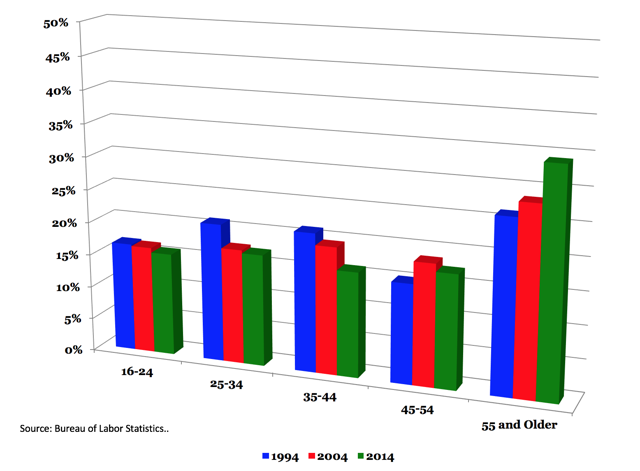 The LFP rate reported in May was 62.7%. We estimate the "normal" LFP rate - when the existing age cohorts of workers, other than those above 55, participate at historical levels, is 64.0%. A difference of 1.3% may not sound like much, but against a civilian population of 254 million potential workers 16 and over, it represents 3.3 million unemployed workers not even counted in the official BLS numbers.
In addition, there are still 5.2 million part-time workers seeking full-time employment, about 1.3 million more than expected in a "full-employment" economy.
At the rate of 215,000 net new jobs per month, the US economy remains approximately two years away from full-employment. That growth will require extension of the 3rd longest monthly streak of net jobs growth (95 months) since WWII, albeit during one of the weakest recoveries measured by cumulative GDP growth. For that to happen, with the Fed in a rate-hike kind of mood, the mavens of the beltway better get on their collective horses on tax and regulatory reform.
Other largely flawed reasons cited for structurally lower LFP rates include:
1. Decreasing participation by women. Female participation rate was roughly flat from 2000 to 2008. Since 2008 participation rates have fallen for all groups, except the 55+ age cohort.
2. More high school graduates attending college. The opposite is true since the financial crisis.
3. An increase in worker disability. Using Social Security Disability Program statistics as a proxy for broader disability trends, there was a significant spike in beneficiaries from 2008 to 2010, representing only 0.3% of the 1.3% participation rate decline in that time. From 2010 to present, when almost 60% of the 3% drop in participation rates occurred, the rise in disability beneficiaries was roughly commensurate with the growth in the working-age civilian population.
4. Rise of the "gig" economy. Uber is the poster-child for the so-called "sharing economy" and many imitators in various industries have either already come and gone or are struggling. But despite its rising litigation budget, and cultural challenges, Uber continues to grow and recently reported having shared data on 680,000 drivers with various regulatory agencies. Most of those drivers may not be active with Uber at any given time owing to the 50% self-reported annual rate of attrition, and much higher driver churn according to external reports. Uber plays the role of "bridge" income provider for many of its drivers who are between jobs, rather than a new career. Moreover, the weighted average hours driven per week was reported to be under 23 in 2014. Of the relatively small percentage of Uber drivers who are full time, most are former black car or taxi drivers, and thus do not represent net job gains in the economy. Airbnb, the other most successful sharing-economy company, does not provide a job at all, but an opportunity to monetize the idle time of existing assets. In short, the gig economy is not likely an explanation for a meaningful share of the unexplained decline in participation rates.
High Job Quits a Good Sign for Economy?
In addition to the "weak jobs growth is a good sign for the economy" narrative, we have the "high number of job quits" is good for the economy theory. A high and rising number of employees quitting certainly constitutes a show of confidence and optimism, but the history of the Quit Rate ("QR") and absolute number of Quits, in the short time the Job Openings and Labor Turnover statistics have been published (since 2000), suggest that higher frequency of quitting tends to be an early indicator of a growing economy getting long in the tooth (see chart below). We do not think a recession is imminent, but drawing favorable conclusions about the US economy's prospects based on QR nearing 2.3% and monthly Quits surpassing 3.1 million is mostly just an example of the long-bias of financial pundits.
Historical Job Quits, Quite Rate and Recessions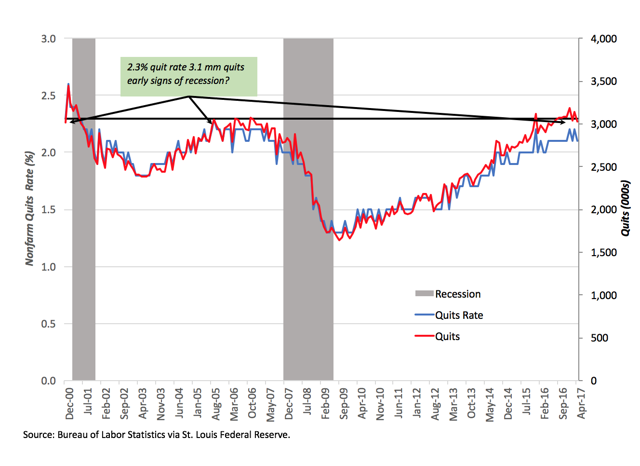 Household Income and Wage Trends Lend no Support to Labor Scarcity Narrative
Finally, much was made of the 5.2% jump in real median household income for 2015, the latest year reported by the US Census Bureau. The Census data is based on a household survey and likely signifies under-reporting in previous surveys more than an inflection in 2015. After all, even the official government headline unemployment rate in 2015 averaged 5.3% and was really 7.8% adjusted for normal LFP. There were also another 6.4 million would-be full-time employees working part-time that year - 2.7 million more than should be observed in a "full employment" economy. The 2015 levels still remain below those observed in 1999.
A less subjective metric on income, though narrower in scope, real hourly wages have not risen historically in the absence of unemployment levels near or below 5%, except for the times when minimum wages were increased. The apparent jump in 2015 was mostly a function of zero inflation in that year. In short, there is no evidence from income and wage trends to suggest labor scarcity
Real Hourly Wages Bounced from Financial Crisis Lows but Still Languishing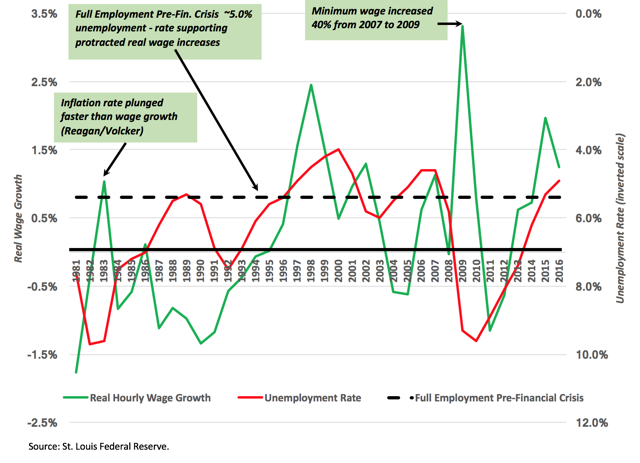 Conclusion
LFP rates continue to hover between 62.7% and 63.0%, and there is no structural or otherwise benign explanation for levels being below 64% or higher. The only explanation is several million workers have given up the "official" search for work and are not counted in unemployment statistics. The real unemployment rate when these uncounted workers are included, is not the sunshine and rainbows BLS number of 4.3%, but 6.1%, with another 1.3 million workers forced to take part-time jobs. It would take close to two years of robust net monthly jobs growth (215,000/month) to actually reach full employment and sustained real wage growth. The only lever available to policy makers to prod private sector capital allocators to ramp up capital spending to grow their businesses faster - the key to GDP, quality job and real wage growth - is reform of an uncompetitive tax and burdensome regulatory regime on US corporations, and perhaps an aggressive infrastructure-centric stimulus package.
Disclosure: I/we have no positions in any stocks mentioned, and no plans to initiate any positions within the next 72 hours. I wrote this article myself, and it expresses my own opinions. I am not receiving compensation for it (other than from Seeking Alpha). I have no business relationship with any company whose stock is mentioned in this article.