A Generation of Renters
It's tough to be a millennial. No generation has entered a tougher housing market than the cohort born between 1980-2000, commonly dubbed the 'millennials'. At 90 million strong, millennials are largest and most educated generation, but also the poorest and most indebted. We find it useful to split the generation into two subsets: older millennials (born 1980-1990) and young millennials (1990-2000), and argue that the economic conditions faced by each subset has been quite different and may lead to different housing preferences.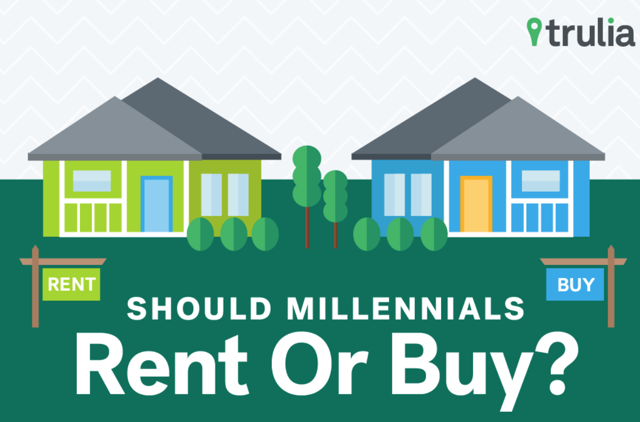 The older millennials, now 27-37 and at their prime first-home age, entered the workforce at the depths of the financial crisis, and although labor markets have improved considerably in recent years, a confluence of factors has put homeownership out of reach for many would-be-buyers. Relatively weak wage growth immediately after the recession, high student debt burdens, delayed marriage/children, and tougher mortgage lending standards have contributed to a generation that needs to rent.
The lingering effects of the financial crisis have also shaped the way millennials evaluate financial decisions. Millennials tend to be more risk averse, far more price-sensitive (rather than quality-sensitive), and put more value on optionality (also known as 'FOMO') and hence are less willing to commit to irreversible decisions. The net result of this is a generation that also wants to rent, as long as the economics of renting versus owning are at least somewhat favorable.
While homeownership rates have trended down across all age categories over the past decade, the effects are most pronounced in the under-35 cohort, which is at its lowest level on record. Roughly 62% of millennial households are renters, up from 50% in 2000.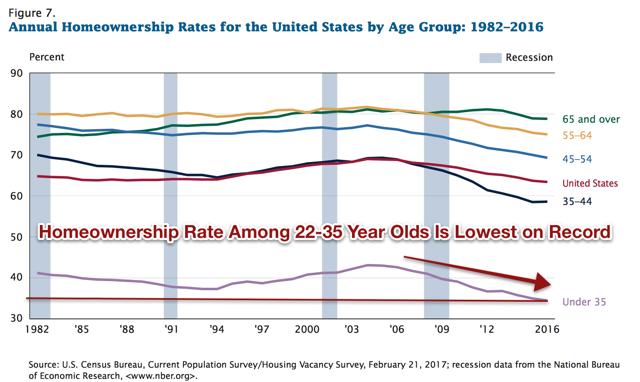 We do believe, though, that as younger millennials enter the housing or rental markets, we may see the trend towards renting slow down moderately, as this cohort will enter the workforce at a time of strong economic growth and real wage gains. The midpoint of this generation, aged 22, is still almost a decade away from prime home-buying age, so their preferences are difficult to predict. While this half-generation will be more economically able to buy, it remains to be seen if they actually want to buy when the time comes. If this cohort values the optionality of renting as much as the older millennials, we may indeed see a continuation of the "rent by choice" attitude, and likely continued rent growth, which would further necessitate the need for renters to immunize themselves from this rental growth.
Rent or Buy? The Importance of Optionality
We recommend using The Upshot's "Buy or Rent" calculator to get a full sense of the inputs and assumptions involved, and we think that many millennials will find that, at current levels, renting is still far more attractive, particularly if they place any value on optionality- the ability to simply pickup and move if they find a new job or desire a new location.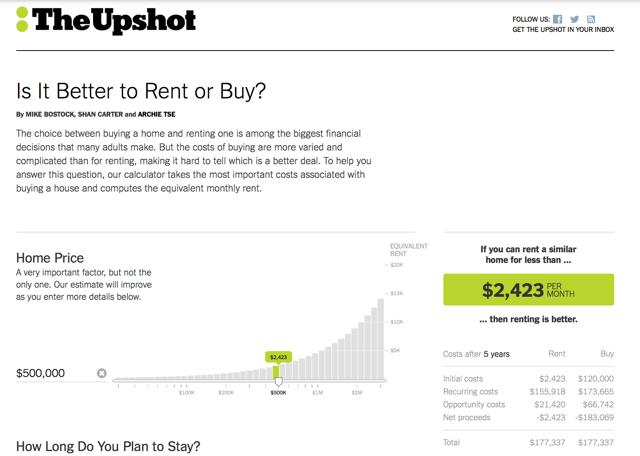 For a fair comparison, it is also important to know what your apartment is actually worth. It's easy to make the economics favor buying if you move from a $500,000 apartment to a $200,000 house, but that would constitute a considerable reduction in the standard of living. As a simple rule-of-thumb, if we assume cap rates in major job-hub cities are 5%, simply multiply your monthly rent by 240. If you pay $2,000 per month, you can assume that your apartment is valued at $480,000.
"How long do you plan to stay" is the most important and impactful assumption, and incorporates this optionality value. You will quickly see that buying becomes exponentially more expensive if you plan to stay in your home for shorter than 5-7 years. We don't know many millennials that want to commit to what they're doing tonight, much less in 7 years. For that reason, we'd conclude that the economics of housing for young people in their 20-30s still favor renting to a significant degree which will continue to put upward pressure on rental rates.
The Rent Is Too Damn High! But So Are Home Prices
Since 2010, both home prices and rental rates have increased considerably, outpacing most measures of income and earnings. Looking at it on a national scale, home prices are higher by 30% since 2010 and rents are higher by 20% while average hourly earnings are higher by 15%. It's important to note, though, that this drastically understates the magnitude of housing inflation for the millennial generation. Housing inflation has been most pronounced in the major 'job-hub' cities that have a disproportionate percentage of millennials including NYC, SF, Miami, DC, and Chicago, where rents are higher by 50-100% in many markets.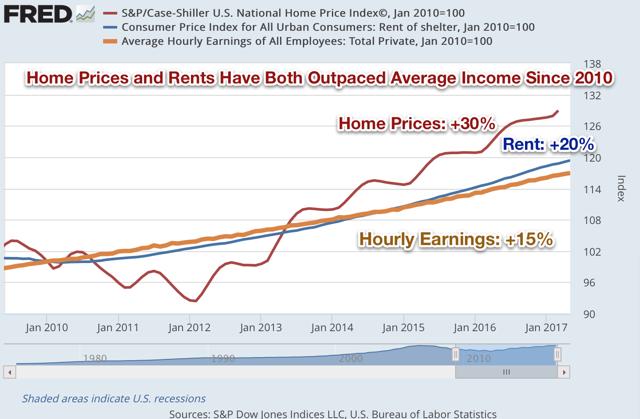 As seen in the chart below from Axiometrics, rent growth tends to follow job growth closely, but by a factor of 2x. Cities that forecast 3% annual job growth can expect 6% rises in rents.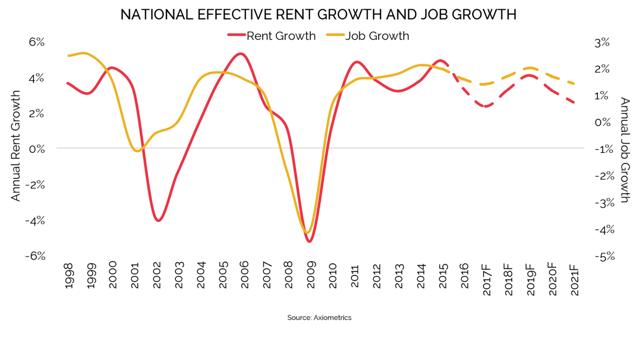 This leaves millennials stuck between a rock and hard place. The rent is too damn high (and may get continue to increase), but so are home prices. So what is one to do?
Asset Liability Management
Asset Liability Management, abbreviated to ALM, is a common investment strategy used by institutional investors (such as pension funds and insurance companies) that have a strict liability schedule, but don't know the exact amount of each payment due to the underlying market risks of those liabilities.
For example, a future inflation-indexed annual payment would be initially unknown and would vary based on underlying market conditions. Essentially, the idea is to create an asset portfolio that has the same market risk as your liabilities. A portfolio is said to be 'immunized' when increases or decreases in the value of the liability are perfectly offset by changes in your asset portfolio.
For renters, the liability, the monthly rent, is 'strict' has its own market-related risk. Over a period of 10 years, the liability will vary significantly based on market rent growth. If we assume 4.5% average rent growth over 10 years, rents in the final year will be 50% higher than if we assumed flat rent growth. Considering the fact that even multifamily experts are unable to accurately predict rent growth over longer time horizons, this is a huge risk!
The challenge of immunization is finding assets that actually match your underlying liability. If we assume your rent is $2,000 per month, simply buying treasury bonds that yield $2,000 per month would work only until your lease reset to a new rate. A broad basket of equities would be even worse as a hedge to this specific exposure.
Rental Immunization Strategy
This is where apartment REITs can be highly effective and allow renters to blend the benefits of ownership with the optionality of renting. Essentially, renters can become synthetic homeowners and benefit from continued rent inflation without a long-term commitment to a single location and structure.
For example, let's assume the renter has $50,000 that he can either put towards a down payment on a house or towards this 'rent/own hybrid' ALM portfolio. For this ALM strategy to work, though, the renter must be able to buy assets that accurately track their own rent growth and that have sufficient liquidity to be able to sell these assets to meet their monthly liabilities.
We studied the correlation between rent growth and apartment REIT performance and found a nearly perfect correlation over a 7-year time horizon. Equity Residential (NYSE:EQR), the largest apartment REIT, has tracked the national apartment index almost tick for tick, with EQR actually coming out slightly ahead.
Most of the diversified apartment REITs like Avalonbay (NYSE:AVB), Camden Property Trust (NYSE:CPT), Essex Property Trust (NYSE:ESS), Mid-America (NYSE:MAA), UDR (NYSE:UDR) or Apartment Investment (NYSE:AIV) will track the national index in a similar fashion.

Of course, simply buying an apartment REIT does not fully hedge the actual risk that the renter faces. The renter is not exposed to 'national' rental inflation, he is exposed to 'local' rental inflation. Without a local rental inflation component, the investor is exposed to significant basis risk because the diversified REITs may not capture divergences in local rental conditions from the national averages.
Enter The Pure-Play Residential REIT Platforms
A new and innovative type of REIT platform has emerged in recent years that directly addresses this deficiency in this 'rental immunization' strategy. Using a blend of diversified apartment REITs and pure-play local residential REITs, the renter can effectively hedge the risk of rising rents while participating in the capital appreciation benefits of homeownership.
On the edge of this new innovation is New York Residential REIT, which is a pure-play Manhattan residential REIT that was launched in May 2017. NY Residential REIT plans to acquire interests in Manhattan residential properties that should, in theory, mirror the local market conditions and directly benefit from rising local rents.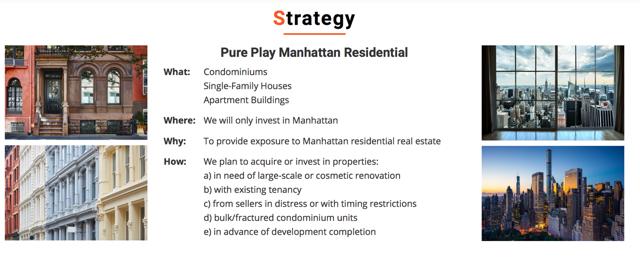 Thus, to implement the 'rent/own hybrid' ALM strategy, the renter would divide that $50,000 between diversified apartment REITs and local pure-play REITs. The weights of each category would depend on liquidity needs, risk-tolerance, and the estimated correlation between national market rents and their particular local market rents. The net result would be a portfolio that responds directly to changing rental rates. Higher rents would be offset with higher returns, allowing the renter to continue to enjoy the optionality benefits of renting and the capital appreciation benefits of owning.
We had the chance to speak with the management team, which includes my good friend, Professor Jonathan Morris of Georgetown University. We learned that the team intends on setting up several more pure-play residential REIT platforms in other millennial-dense cities where exposure to this type of asset class is critical for local renters that continue to be hurt by rising rents.
We see this type of platform as the next major innovation in commercial real estate. Since the dawn of the 'Modern REIT' era, the trend within the industry has been away from broad diversification and towards focused portfolios where management teams have a true competitive advantage. The first iteration of this trend has result in distinct 'REIT sectors' whereby REITs focus on specific asset categories and diversify across geographies. The massive outperformance of the REIT sector relative to other asset categories during this time can be directly attributed to this innovation. We are now beginning to see the second iteration: REITs that are able to focus both on specific asset classes and individual geographies within that asset class.
Of course, smaller non-traded REITs have their own set of risks that investors need to monitor. Scalability and overhead efficiencies are the questions for every small REIT. Through our discussions with Professor Morris and Jesse Stein, we feel confident that this management team is supremely focused on a shareholder-first model. The path towards scaling this platform appears to be well defined and achievable given the robust potential demand we see for this particular type of asset class from local renters in major millennial cities.
Bottom Line
Home prices and rents have both appreciated considerably since 2010. In major cities, millennials are paying between 40-60% of their income towards housing. Home prices are higher by 30% since 2010 and rents are higher by 20% while hourly earnings have increased 15%. In major cities, rising housing costs are far more pronounced.
The economics of buying versus owning are unique to each individual's circumstances, but for most millennials, renting appears to be the better option. The value of optionality cannot be overlooked. We don't know many millennials that want to commit to what they're doing tonight, much less in 7 years. For that reason, we'd conclude that the economics of housing for young people in their 20-30s still favor renting to a significant degree which will continue to put upward pressure on rental rates.
We introduced an 'rental immunization' strategy whereby renters can protect themselves from rising rents while saving up for a down payment at their target horizon when their circumstances are more certain. A new breed of innovative pure-play residential REITs has emerged which allows renters to synthetically 'own' their apartment and benefit from rising rents. We looked specifically at NY Residential REIT. We see this type of platform, pure-play and city-specific residential REITs, as the next major innovation in commercial real estate.
Disclosure: I am/we are long VNQ, MAA, CPT.
I wrote this article myself, and it expresses my own opinions. I am not receiving compensation for it (other than from Seeking Alpha). I have no business relationship with any company whose stock is mentioned in this article.
Additional disclosure: All of our research is for educational purpose only, always provided free of charge exclusively on Seeking Alpha. Recommendations and commentary are purely theoretical and not intended as investment advice. Information presented is believed to be factual and up-to-date, but we do not guarantee its accuracy and it should not be regarded as a complete analysis of the subjects discussed. For investment advice, consult your financial advisor.