Introduction
As a result of interest rates being chronically low for several years, yield-seeking investors have flocked to blue-chip dividend growth stocks. Consequently, finding value in best-of-breed dividend growth stock stalwarts has become extremely difficult. Stated more directly, most blue-chip dividend paying stocks are currently commanding premium valuations. However, that is not to say that all blue-chip dividend growth stocks are unattractive today. With this article, I will be providing a follow-up to an article I published on April 8, 2015, found here when I presented AbbVie (NYSE:ABBV) as a reasonably valued dividend paying stock.
As I will illustrate later, AbbVie has performed very well since that article was first published. However, I believe AbbVie's valuation is even more attractive today than it was when I wrote the initial article. I contend that this is very important and consistent with what I said in the previous article as follows:
"It is not enough to simply identify a great company to invest in. Before investing in any common stock, it is critically important to evaluate and understand the valuation that the market is currently valuing it at. If valuation is too high, you are exposing your money to higher risk while simultaneously reducing your potential future returns. By paying too much for even the best-of-breed company, you are severely limiting the benefit that investing in a quality business is capable of providing you.

Fundamentally speaking, the essence of the potential profit to you from investing in a common stock is derived from the earnings power of the underlying business. True investors are buying into the business, and ultimately will benefit from the profits the business generates on their behalf, as long as they purchase those profits at a reasonable and sound valuation."
AbbVie Has It All: Growth, Value, and High-Yield
Since operating as an independent company, AbbVie has generated over 50% of its total sales and more than 70% of its profit from its flagship drug Humira. However, the company lost its US patent in late 2016 and will lose its patent in Europe in 2018. Consequently, this has created concern in the minds of many investors, which partially explains its attractive valuation relative to other blue-chip dividend growth stocks.
Personally, I believe those fears are overblown for several reasons. For starters, AbbVie has continued to file for and receive several expanded approvals for the treatment of additional conditions that can be treated with Humira. The company has also conducted several studies supporting the efficacy and safety of Humira. Consequently, I believe that many doctors will be reticent regarding moving patients to newer less proven competitive drugs. When a biotechnology or pharmacy company loses a patent, it rarely leads to a total abandonment of a proven therapy. This point is somewhat supported by looking at Humira sales over the last quarter as reported by chief financial officer William J. Chase on their most recent earnings call:
"Humira delivered another quarter of strong sales growth with global sales of $4.1 billion, up 15.8% operationally. In the U.S., Humira sales increased 22.8% compared to the prior year, driven by volume growth in excess of 12% plus price. Wholesaler inventory levels were consistent between the quarters at less than half a month.

Humira's growth has been fueled by robust demand across all three segments: rheum, gastro, and derm. In rheumatology, Humira remains the number one prescribed biologic. In the gastro segment, we continued to see double-digit prescription growth in the quarter despite new competition. Humira holds the market leadership position in treatment-naïve patients for both Crohn's disease and UC, where nearly half of new patients start on Humira. And in dermatology, double-digit volume growth was driven by our market leadership in psoriasis as well as strong adoption rates for HS, which was launched in late 2015."
Nevertheless, prospective investors should be cognizant of the fact that increased competition will eventually take a toll on Humira sales. However, consideration should also be given to the company's promising pipeline. Here is what Morningstar has to say in its current analyst report:
"Investment Thesis 04/04/2017
While AbbVie holds a strong portfolio of marketed and pipeline drugs, the increasing competition to the company's key drug Humira should slow the growth for the company. At over 50% of total sales and a higher portion of earnings (due to higher margin revenue), Humira is a key determinant of AbbVie's performance over the next three years.

With approvals in rheumatoid arthritis, psoriasis, and Crohn's disease, Humira should continue to grow in 2017 in these markets as penetration rates are below 25% on average, but longer-term challenges are emerging. Despite a favorable near-term outlook for Humira in 2017, uncertainty around encroaching competition will likely weigh on investor sentiment toward the company. In particular, new JAK inhibitors and IL-17 antibodies represent major drug advancements in rheumatoid arthritis and psoriasis, which will likely lead to some market share losses for Humira. Also, while Humira's biologic composition may deter generic completion following the late-2016 patent loss in the U.S. and the 2018 patent loss in Europe, we model close to 20% annual revenue declines for Humira by 2019.

Partly offsetting Humira's eventual declines, AbbVie looks well-positioned with the next generation immunology drugs. In particular, pipeline drugs have shown improved efficacy and safety over Humira and other currently leading treatment options."
Additionally, I believe investors should also consider AbbVie's considerable financial resources. Few companies have the financial strength and/or cash flows to cover the estimated $800 million to bring a new drug to market. According to S&P Capital IQ, AbbVie spent approximately $4.4 billion on research to discover and develop new products, indications, and processes and to improve existing products and processes in 2016 alone. It also pointed out that the company has a pipeline of new medicines, including approximately 50 investigational programs in clinical development across such medical specialties as immunology, virology, oncology, and neurology, with additional targeted investments in cystic fibrosis and women's health.
Here is a slide from AbbVie's recent presentation that covers its key pipeline events in 2017: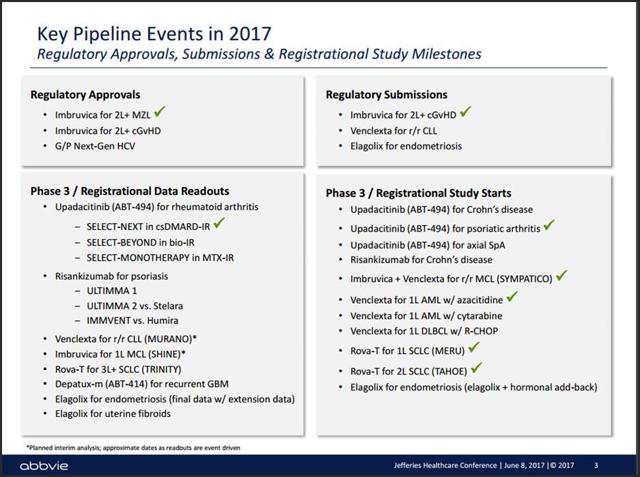 For more insight into AbbVie's pipeline, you can follow this link to its website.
AbbVie By The Numbers - a F.A.S.T. Graphs™ Fundamental Analysis
With the following F.A.S.T. Graphs™ video analysis, I will take a close look at AbbVie based on important fundamental attributes. In the video, I will place special emphasis on AbbVie's debt and its ability to handle that debt and its commitment and ability to continue to grow its dividends going forward. In addition to concerns with future Humira sales, the company's 87% debt to capital ratio is also a concern for many investors.
Summary and Conclusions
I believe there are many good reasons for prudent dividend growth investors to consider, including AbbVie in their portfolios. The company offers the rare combination of above-average growth and above-average current yield which should lead to above-average total returns. Furthermore, I believe the company is one of the few quality dividend growth stocks that is attractively valued in today's market. There are issues to be considered, which I attempted to cover in this article. This speaks to the point that finding an undervalued stock in an overvalued market usually implies something to worry about. In the case of AbbVie, I believe those worries are inflated. Stated succinctly, AbbVie's current low valuation can be more attributed to negative sentiment than to fundamental reality. Caveat emptor.
If you enjoyed this article, scroll up and click on the "Follow" button next to our name to see updates on our future articles in your feed.
Disclosure: I am/we are long ABBV.
I wrote this article myself, and it expresses my own opinions. I am not receiving compensation for it (other than from Seeking Alpha). I have no business relationship with any company whose stock is mentioned in this article.