Alphabet (NASDAQ:GOOG)(NASDAQ:GOOGL) was downgraded in part due to a valuation based on the illogical use of GAAP numbers to value the stock. My previous research highlighted why using adjusted numbers were the way to continue valuing Alphabet.
Along with the general selloff in the FANG stocks, Alphabet is trading down to near $940. For the following reasons, investors should use the dip to buy this stock.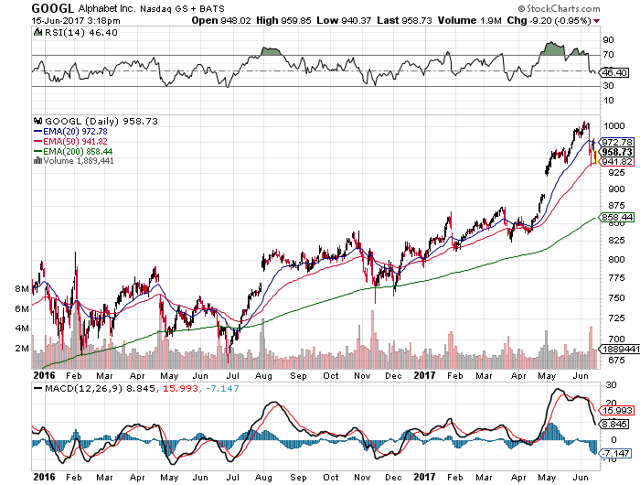 According to Canaccord Genuity analyst Michael Graham, the stock is only worth $1,000 based on an "expensive" valuation already. The analyst suggests Alphabet is worth 24x forward EPS estimates suggesting the analyst is using the GAAP estimates of $40 for 2018.
Along with the Q1 report, Alphabet quit reporting adjusted non-GAAP numbers. Tech stocks are typically valued based on these adjusted numbers that primarily strip out stock-based compensation as well as other non-cash charges such as amortization of goodwill.
The data used by YCharts highlights the difference and the huge problem with valuing the stock. The charting tool originally used the non-GAAP numbers that have 2018 EPS estimates up near $49. The charting service now pulls in data using GAAP numbers that drastically drops the estimates.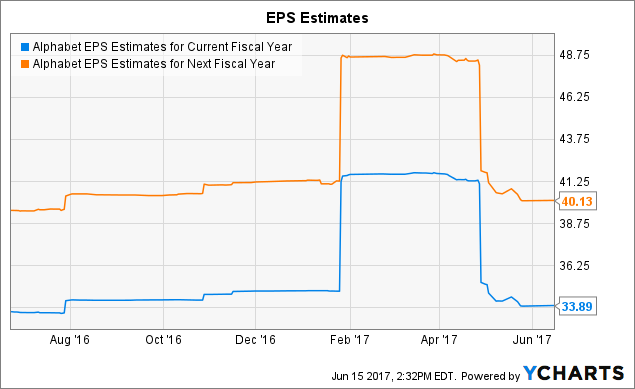 GOOGL EPS Estimates for Current Fiscal Year data by YCharts
The question though is whether this switch in which number is reported should impact the value of the stock. After all, using the $49 estimate for next year places Alphabet at only a 20x P/E multiple.
Going back to Q1'17 numbers, Alphabet reported $2 billion in stock-based compensation expenses. Total operating cash flows jumped to $9.5 billion so the difference is dramatic.
The internet search giant produced operating cash flows of roughly $36.5 billion last year. Capital expenditures were about $10.2 billion leaving free cash flows at an enormous $24.3 billion. A 20% jump for this year generates free cash flows of $29.2 billion.
With an enterprise value of $578 billion, one is only paying roughly 20x free cash flows for the year. This bring investors back to the simple adjusted EPS estimates that does the same calculation as the important free cash flow number.
As a reminder, the reason most tech stocks exclude stock-based compensation costs are that EPS calculations already include the higher stock count. The true impact to shareholders is the higher share count that dilutes the ownership position of existing shareholders. There is no other real cost to investors.
Getting back to Alphabet earning $49 per share in 2018 and the stock is actually cheaper when adjusted for the cash balance of $93 billion. With 702 million shares outstanding, the stock only trades at roughly 16.5x the enterprise value that excludes cash.
The other Canaccord concerns surrounding growth in ad loads for both mobile search and YouTube are valid. Alphabet has seen a recent re-acceleration in revenue growth after a trend of slumping growth that can be attributed to these moves.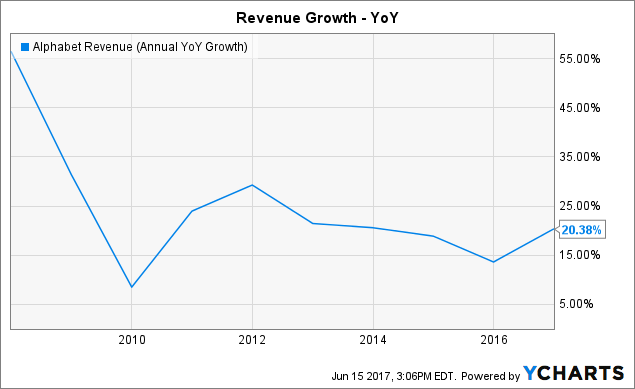 GOOGL Revenue (Annual YoY Growth) data by YCharts
Currency issues played a part in the growth rate dip below 15% back in 2015. Even in the latest quarter, Alphabet saw a nearly 200 basis point hit to the revenue growth rate that was up at 24% on a constant currency basis.
The key investor takeaway is that with revenues topping $105 billion this year, Alphabet faces the reality that growth will inevitably slow down. The stock though isn't expensive using normal free cash flow valuations or standard EPS numbers that actually suggests Alphabet is cheap even assuming slower growth, especially on this dip to $940.
Disclosure: I/we have no positions in any stocks mentioned, and no plans to initiate any positions within the next 72 hours.
I wrote this article myself, and it expresses my own opinions. I am not receiving compensation for it (other than from Seeking Alpha). I have no business relationship with any company whose stock is mentioned in this article.
Additional disclosure: The information contained herein is for informational purposes only. Nothing in this article should be taken as a solicitation to purchase or sell securities. Before buying or selling any stock you should do your own research and reach your own conclusion or consult a financial advisor. Investing includes risks, including loss of principal.