Total Supply/Demand Balance
We estimate that total demand for American natural gas was just over 460 bcf (up 6% w-o-w, and up more than 2% y-o-y). The deviation from the norm stayed positive, and actually increased from around +15.0% to almost +20% (see chart below). This is the biggest weekly deviation from the norm that we have seen since March 17.
As cooling demand intensified particularly in Central and Midwestern U.S., natural gas consumption jumped 7% w-o-w (to 58 bcf/d). But, in aggregate, it was still down almost 2% y-o-y. Exports remained broadly unchanged from previous week. According to our calculations, based on Marine Traffic data, four LNG vessels with a total dry gas capacity of 14.9 bcf departed from Sabine Pass over the past seven days.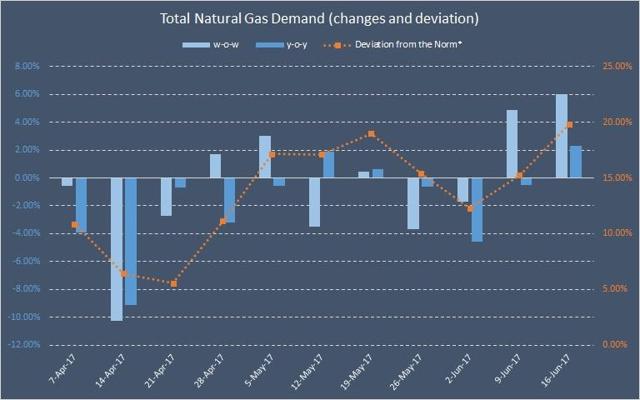 *"Norm" defined as simple average over the last nine years.
Source: Bluegold Research
We estimate that dry gas production has been expanding in annual terms for three consecutive weeks now. We expect this trend of positive annual growth to continue partly due to base effect and partly due to genuine recovery in output. However, we do not expect it to accelerate significantly in the near future. Currently, we project that dry gas production will grow by 1.0% and 1.9% y-o-y in June and July, respectively.
Total supply (production + imports) averaged just under 80 bcf per day for the week ending June 16. Overall, total supply/demand (SD) balance should be positive and is estimated to reach around 96 bcf this week. The volume is almost 30 bcf smaller than a week ago and 27 bcf below the five-year average for this time of the year (see chart below). In absolute terms, and with all other things being equal, this kind of volume is bullish for natural gas prices.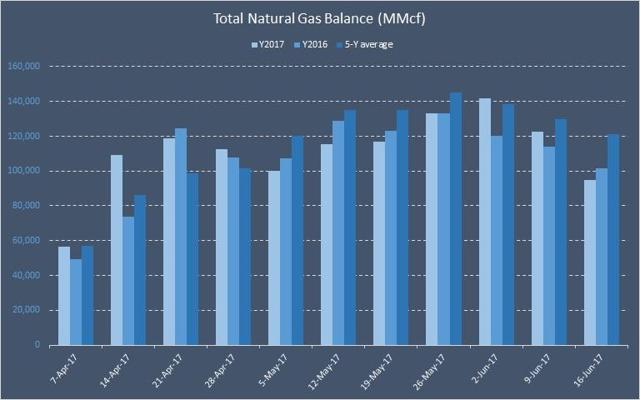 *Note that total SD Balance does not equal storage flows.
Source: Bluegold Research
Storage
This Thursday, the EIA reported an injection of 78 bcf. We expected an injection of 81 bcf (lower than the consensus of 86 bcf). Total storage now stands at 2,709 bcf, which is 228 bcf (or 9.19%) above the five-year average for this time of the year. To see our storage forecasting track record, please click here.
Currently, we expect EIA to report an injection of 60 bcf next week (final estimate will be released next Tuesday). Our latest projection is 3 bcf higher than the comparable figure in the ICE's latest report for EII-US EIA Financial Weekly Index, implying a very small potential for a "bearish surprise." Overall, at this point in time, we expect flows to storage to average 43 bcf over the next three reports. Natural gas inventories deviation from the five-year average should decline from +9.19% today to +5.07% on June 30 (see the evolution of storage forecasts in the chart below).
Notice that we have been revising down our near-term storage forecast. The total for three reports went down from 178 bcf on June 2 to 129 bcf on June 15. However, the price has failed to respond to these bullish revisions (until this Thursday). This Thursday's price action clearly demonstrates that market fundamentals cannot be ignored for too long.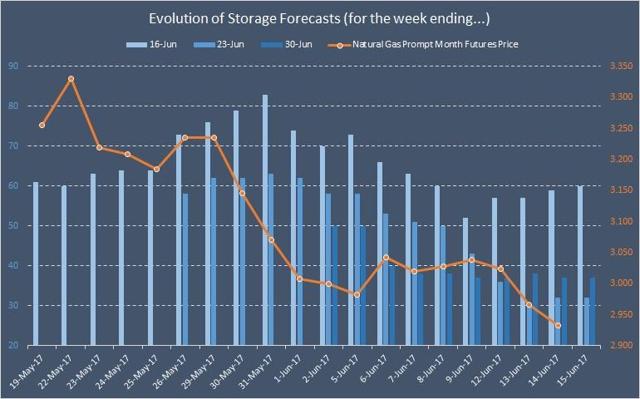 Source: Bluegold Research
Disclosure: I/we have no positions in any stocks mentioned, and no plans to initiate any positions within the next 72 hours. I wrote this article myself, and it expresses my own opinions. I am not receiving compensation for it (other than from Seeking Alpha). I have no business relationship with any company whose stock is mentioned in this article.