As temperatures across the country and homebuilder stocks move higher, homebuilder sentiment saw a nationwide dip in June. According to the NAHB, homebuilder sentiment dipped two points falling from a revised down reading of 69 last month to a level of 67.
The June reading was also three points below consensus forecasts for a reading of 70. The chart of homebuilder sentiment these days looks a lot like other indicators as it is off its recent highs, but still right near the top of its range for the cycle.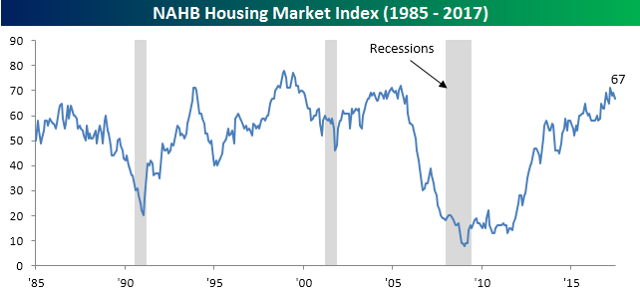 The table below shows how sentiment breaks down in terms of Present and Future Sales, Traffic, and regions. In terms of the national reading of sales and traffic, they all saw equal declines this month falling by two points. On a regional basis, sentiment saw varied moves. In the West, sentiment was down a whopping nine points, which was the largest one-month decline for that region since January.
The South and Northeast regions saw much more modest declines, while the Midwest actually saw a jump in sentiment. The regional breakdown of sentiment is interesting in that sentiment readings in the Midwest, South and West are all closely bunched, but then you have the Northeast out there all by itself in the mid-40s.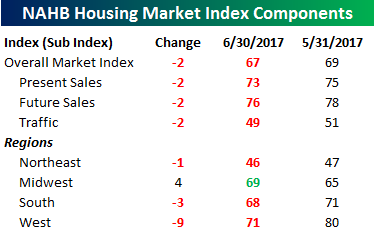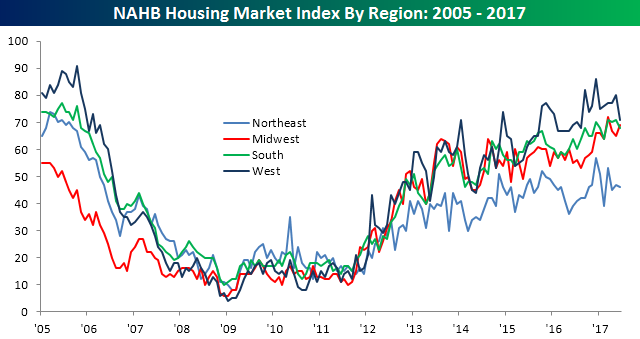 Thanks for reading the article. Follow our account to get our articles as soon as they're posted to Seeking Alpha. To get our full newsletter, sign up for Bespoke Newsletter PRO. Subscribers to that service get access to Bespoke's model stock portfolios, actionable data-driven insights, and in-depth analysis of everything that drives the markets, among other things.