The Fed raised interest rates this week and there is a good chance that will be the last raise for 2017 and likely a lower "dot-plot" chart in the coming months. This means that investors will continue to search for yield over the coming quarters/years.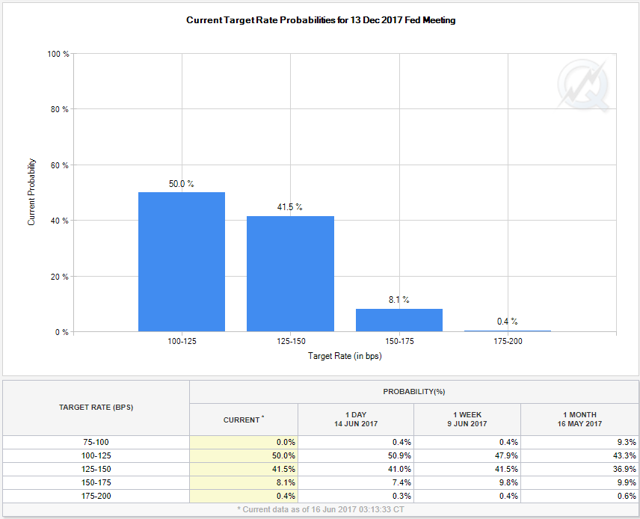 Source: CME Group
This article compares bond ETFs such as the iShares iBoxx $ High Yield Corporate Bond ETF (HYG) and the SPDR Barclays Capital High Yield Bond ETF (JNK) to business development companies ("BDCs").
As mentioned in "High-Yield Bond ETFs Are Getting Crushed by BDCs," BDCs have historically outperformed HYG and JNK and the following chart shows the stock performance for HYG and JNK compared to the UBS ETRACS Wells Fargo Business Development Company ETN (BDCS) over the last five years but does take into account distributions paid.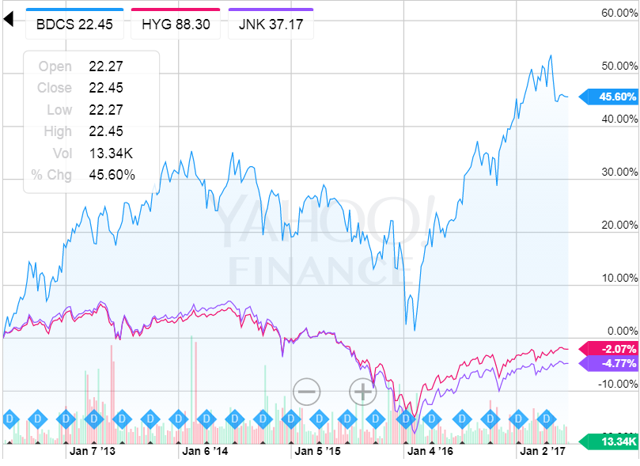 BDCs offer higher yields:
Clearly, BDCs offer higher yields due to the nature of their assets which is why I look at historical yield spreads (discussed later) to assess current market pricing. Even though BDC stock prices have appreciated more than most higher yield investments, they still offer much higher dividend yields with the average currently around 9.7% (much higher than the ETN BDCS with 7.9% due to fund fees and allocations).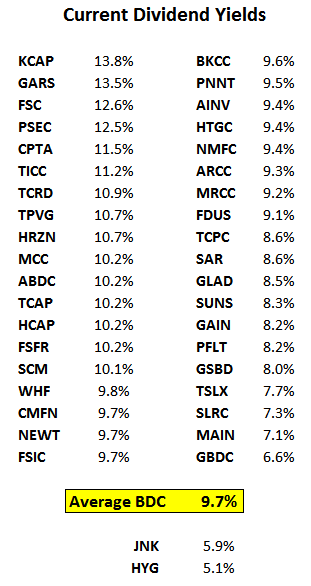 Yield spreads:
As mentioned in "Yield-Based Pricing For The BDC Sector":
"I also take into account the yield spreads between BDCs and other investments including corporate public debt ratings B. Yield spreads are important to monitor as they can indicate when a basket of investments is overbought or oversold relative to other yield-related investments. However, it is also important to point that these spreads change over time depending on perceptions of risk and that these are only averages that then need to be assigned a range for assessing individual investments/BDCs."
The following chart shows the change in yield spreads between corporate public debt ratings B and HYG/JNK.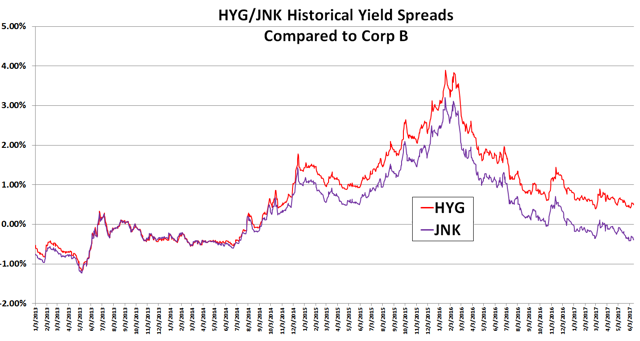 As you can see, they are trending back to 0.00% as overall market spreads tighten. However, HYG seems to be relatively overpriced and likely due to its continued distribution erosion discussed later.
The following chart shows the change in yield spreads between the average BDC compared to HYG and JNK. As BDC yield spreads become wider, I generally consider them to be oversold which is when I make larger purchases as discussed in "BDC Buzz Begins 2016 Purchases" and "Are BDCs at Another Buying Point" and shown in the chart below.
Notice the recent uptick in yield spreads between HYG/JNK and the average BDC? This is due to the recent drop in the average price as shown in the first chart.
HYG and JNK distributions:
The next chart makes me question why investors would invest in a high-yield bond fund with declining distributions and mostly flat price performance over the last five years (see first chart) driving much lower yields and risk-adjusted total returns.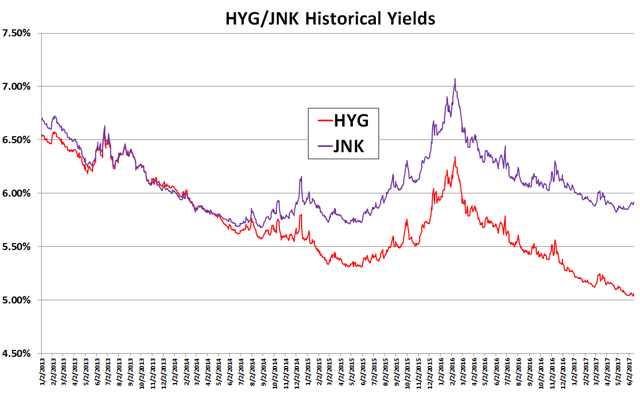 In the next article, I will discuss total return comparisons for HYG/JNK compared to BDCs.
An alternative to bond funds:
As mentioned in "BDCs Are Heading Into Oversold Territory Providing Investors With 9.7% Average Dividend Yields," plenty of BDCs are currently below my Short-Term target prices, providing investors with:
Higher dividend yields
Potential for capital gains
Total returns that are very likely to beat the S&P 500
For investors that are focused on sustainable dividends and capital preservation, please visit my "Sustainable Dividends" platform that now includes live Google spreadsheets with real-time updated pricing and recommendations, easy to use and helpful in identifying actionable opportunities during market volatility.
The following chart shows the average yield spread between BDCs and Corp B. I consider BDCs oversold when yields approach 4.5% higher and overbought when yields are closer to 2.5% higher. The current yield spread between Corp B and BDCs is around 4.1% compared to 3.6% in April, indicating that we are heading into oversold territory.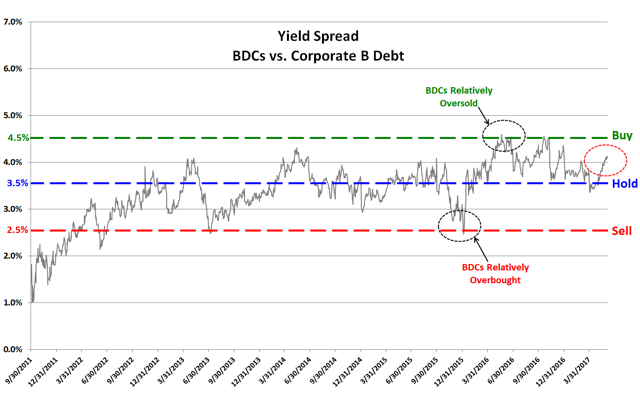 Personal note: I have updated my positions to reflect changes in my holdings, but please keep in mind that this includes stocks and/or Baby Bonds and some are very small (not meaningful positions) for contacting Investor Relations for additional information and honestly disclosing that I am a shareholder. There are over 50 publicly-traded BDCs and I try to cover as many as possible, but I do not have the bandwidth to include each company for each article.
Disclosure: I am/we are long ABDC, ACSF, AINV, ARCC, BKCC, FDUS, FSFR, FSIC, GAIN, GARS, GBDC, GLAD, GSBD, HCAP, MAIN, MCC, MRCC, MVC, NEWT, NMFC, PFLT, PNNT, PSEC, SAR, SCM, SLRC, SUNS, SVVC, TCAP, TCPC, TPVG, TSLX, WH.
I wrote this article myself, and it expresses my own opinions. I am not receiving compensation for it (other than from Seeking Alpha). I have no business relationship with any company whose stock is mentioned in this article.