In part one of this series I discussed one third of my recent decision to add to my triple net REIT exposure. I explained that I would like to take steps to increase the overall yield of my portfolio, but not by sacrificing value. I believe that the high yielding nature of recently beaten down REITs has allowed me to achieve this. I focused primarily on Realty Income (NYSE:O) in part one. O is without a doubt the best in breed company in the triple net space due to its illustrious history of results in terms of both capital appreciation and shareholder returns in the form of its now famous monthly dividend. However, I believe O to be overvalued in the present, which is why I decided to allocate funds towards two of its peers, National Retail Properties, Inc (NYSE:NNN) and STORE Capital (NYSE:STOR).
These two companies, and their lower valuations which I believe will lead to long-term relative out performance compared to Realty Income, will be the focus of parts two and three of this mini-series (originally I thought I would be able to fit both purchases into a follow up article, but upon further review, it made more sense to give them each a focus ticker piece).
National Retail Properties, Inc
So, without further adieu, I will start with NNN.
Like O, this company seems to be widely owned amongst DGI investors looking for REIT exposure. This may come to a surprise to some, but NNN actually has a longer annual dividend increase streak than O, at 27 years compared to the latter's 24 year streak. NNN pays its dividend quarterly, which I think is why many retirees prefer O, which pays monthly, making it easier for them to balance out their income for budgeting purposes; however, as a young man of 27 years I don't share this concern and I'm more than happy to receive 4 payments a year as opposed to 12. NNN is currently yielding 4.7% (as opposed to O's 4.45% yield) after trading down 27% from 52 week highs set in late July of 2016. After trading down from the highs I believe NNN shares are trading at an acceptable valuation of ~16x 2017 core FFO guidance of $2.44-$2.48.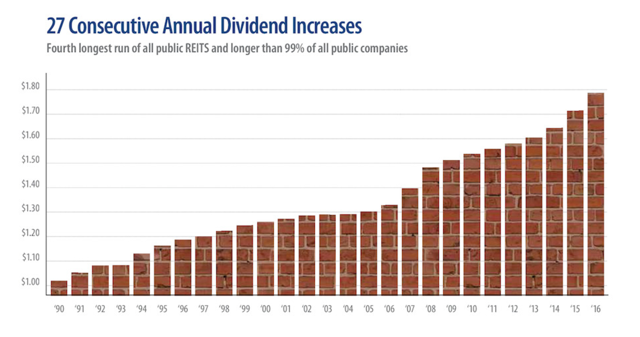 Source: NNN 2016 Annual Report
When I made my NNN purchase a few weeks back shares were trading at $38.32. This is a bit cheaper than they sit today, sorry about that; this article is a bit delayed, like I said in part one of this series, I was busy with a real estate transaction of my own which had to take priority. That said, the difference in price/valuation isn't all that much. I paid 15.5x the midpoint of 2017 FFO guidance and shares are available today for 15.9x the same figure.
I found this 15.5x multiple much more attractive than the 18x multiple that I would have had to pay for Realty Income shares. NNN sports a higher yield and has a longer history of annual dividend increase streaks than O, making it a relatively easy decision to side with the cheaper option in this scenario.
Not only is NNN cheaper on a relative basis when comparing head to head FFO multiples to O, but its current premium is also much closer to its long-term normal FFO multiple, meaning that shares are likely trading closer to their fair valued based upon these long-term averages.
O's 20 year normal FFO multiple is 15.2x. Right now the stock is trading at ~19x, meaning that shares are trading at levels ~23% above their long-term normal multiple.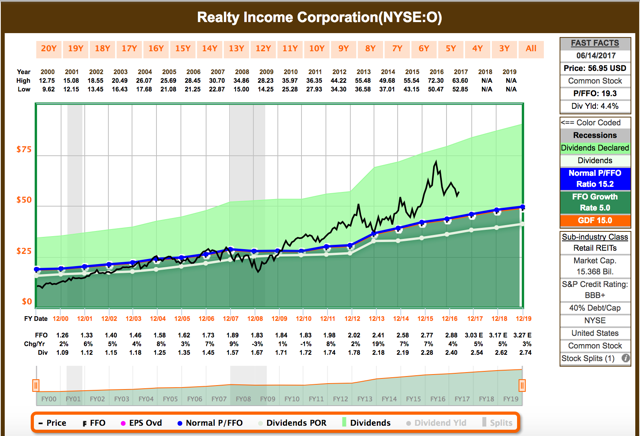 Source: F.A.S.T. Graphs
NNN's 20 year normal FFO multiple is much lower than O's, at 13.8x. As previously stated, the stock is currently trading at 15.9x that figure, meaning that NNN shares are being valued at a level that is ~15% higher than their long-term norm.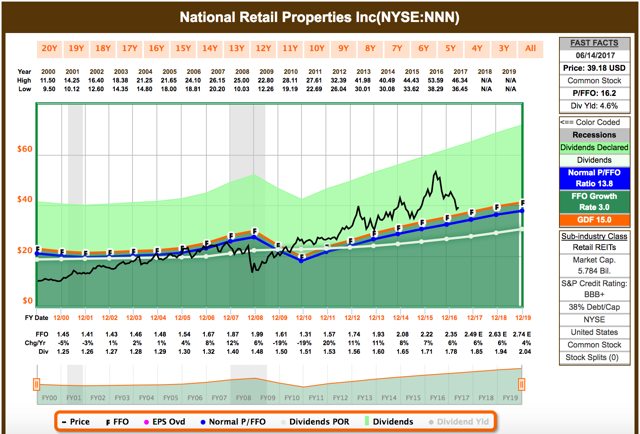 Source: F.A.S.T. Graphs
I admit that over time O has proven itself worthy of this premium valuation. O's annualized rate of return (without re-investing the dividends) is an impressive 12.8% since the beginning on the year 2000. NNN's annualized rate of return (without re-investing dividends) is a tad bit lower at 11.2%.
Now, both of these figures beat the pants off of the S&P 500, which has given investors an annualized rate of return of only 3.9% since the start of the new millennium. Obviously the S&P 500 had to deal with the dot-com crash on the early 2000's which didn't have a huge effect on companies like NNN or O and this plays a role in the relative out performance on the REITs; however, I think this data just goes to show that triple net REITs focused on the retail space aren't simply investments for retirees looking for regular sources of income, but highly effective wealth building vehicles for investors of all kinds.
But, as I said in part one of this series, I'm hesitant to rely on past growth figures produced by these REITs due to the pressure that e-Commerce disruption will likely put on these management teams moving forward. For years, physical real estate was essentially the only show in town in terms of mass market retail. Sure, there have been mail order catalogs for decades now, but I don't think they truly compare to the digital shopping experience. Also, shipping is now quicker and cheaper than ever, reducing, on a relative basis, the instant gratification allure of actually shopping in store to an all-time low. I want to make it clear that I don't think that physical retail is going to disappear, if I did, I wouldn't own any retail focused REITs. However, I do believe that the trend is not the friend on companies like NNN and O, which is why I'm less willing to pay an outsized premium based upon past performance in this industry than I am in many others. This is why I favored NNN and its cheaper relative valuation over O, even though the latter has proven itself to be a better performer in the past.
Another, and probably more important, reason that I chose NNN over O recently was because I actually like the composition of NNN's portfolio better.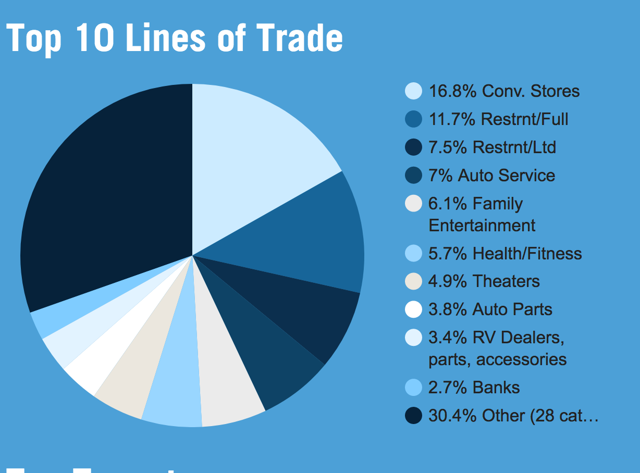 Source: NNN IR website
NNN's largest industry exposure is convenience stores at ~17% of the portfolio. While I imagine that a small portion of sales in this industry could be poached by the likes of Amazon, in the grand scheme of things, I think the 7/11's of the world are fairly isolated from the Amazon threat.
The next two largest real estate allocations are full service and limited service restaurants, coming in at 11.7% and 7.5% respectively. I think the restaurant industry is fairly safe form digital competition as well; I know that the meal delivery services seem to be growing in popularity (I know many in the market are looking forward to Blue Apron's eventual IPO), but ultimately, I think these sales are taking away from the market share of grocery stores and not restaurants.
Next up we have auto services, family entertainment, health and fitness, and theatres, all of which seem to offer services that the digital threat cannot replicate. Auto parts, RV dealerships, and banks round out the company's top 10 industry allocations (which make up for roughly 70% of the company's overall portfolio) and while I do have concerns about the auto part and banking industry in terms of physical disruption, these two industries make up only 3.8% and 2.7% of NNN's portfolio so the risk is relatively low.
All in all, I like NNN's focus on services as opposed to traditional retail. The same goes for STOR, which will be the focus on part 3 of this series.
Conclusion
Even though I like the portfolios of NNN and STOR better than O's due less exposure to industries that seem ripe for continued disruption by e-commerce related forces, my decision to invest in them was primarily a simple numbers game with regard to valuation. I'll leave the REIT management decisions to the professionals, assuming that all three companies have top notch leadership in place that understands the retail landscape better and I do. As a portfolio manger all I can do is weigh the risks versus the rewards in terms of current valuation and future growth prospects, and in doing so, I've decided that NNN is more attractive than the crowd favorite, Realty Income at current levels.
I was happy with my purchase price in the low $38 range. I would be happy to continue to build my position on further weakness with the next target price being ~$35 dollars which would represent that long-term normal FFO multiple that I discussed earlier of 13.8x the midpoint of current 2017 FFO guidance. Looking at the F.A.S.T. Graph posted above, you can see that NNN hasn't traded down to that level since 2010. Because of this, I think the possibility is rather small that we see that $35 price anytime soon. Right now the stock is trading at ~16x FFO which has served at the bottom during recent dips in 2013 and 2015. This support at 16x FFO played a role in my decision making for buying shares at $38, both the fundamentals and technical seem to point towards the fact that my downside is limited at these prices.
Next up: Part 3, where I focus on my recent STORE Capital purchase.
Disclosure: I am/we are long NNN, STOR. I wrote this article myself, and it expresses my own opinions. I am not receiving compensation for it (other than from Seeking Alpha). I have no business relationship with any company whose stock is mentioned in this article.