June 20th is gearing up to be a big date for Advanced Micro Devices (NASDAQ:NASDAQ:AMD). That is the date on which the Company will officially launch its EPYC server product line. For the first time in over a decade, the Company has a compelling set of offerings in the space.
While most Advanced Micro Devices bulls are excited by the Ryzen family of desktop and laptop products, there is no mistaking that the server market is currently a major focus area for AMD. The reason for the server focus is twofold:
Server solutions have the highest ASPs and margins among AMD's target market segments. Given AMD is a much smaller company than Intel (NASDAQ:INTC) and the market opportunity is huge, it is best to address the high end of the market first to maximize the profitability.
Given AMD's small balance sheet (especially when compared to Intel), optimizing for working capital is important. In this context, it is best to lead with a product line that offers the most profitability for an invested dollar. This will allow AMD to scale its revenue and market share more rapidly.
However, gaining server market share is not easy. Based on the Company's experience from the Opteron days, AMD knows that directly attacking Intel in the server space is futile. Server customers are unlikely to validate a new platform and switch to AMD for small incremental performance or cost savings. AMD needs to do something different and bold to capture the business at server customers.
AMD approached the market penetration problem in two ways - CPU superiority and Platform superiority.
CPU Superiority
AMD created a server CPU that competes extremely well with Intel's top-of-the-line server CPU. While neither AMD nor Intel have released the complete specs for their server chips, we know that the AMD's EPYC server product will have 32 cores and 64 threads which coasts past Intel's upcoming Skylake-EP which is expected to have 28 cores and 56 threads. For server applications, the extra 4 cores could lead to very significant performance improvement.
EPYC also flaunts a 64 MB L3 cache compared to Skylake-EP's expected 38.5MB. The larger L3 cache is likely to substantially improve EPYC's performance in many applications.
EPYC also has 8 DDR4 memory channels compared to Skylake-EP's 6 channels. For memory starved applications, EPYC can add significant incremental value. For example, even a single socket EPYC solution could be difficult to beat for Machine Learning applications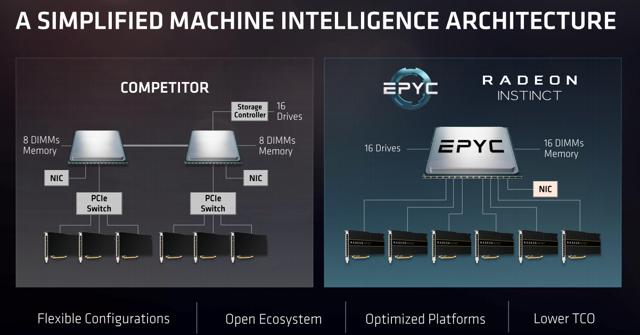 In terms of I/O, EPYC is expected to offer 128 lanes of Gen3 PCIe whereas Skylake-EP is expected to offer only 48 lanes. The large number of lanes in EPYC can facilitate additional graphics, storage, networking, and other functionality natively. This can be a significant advantage in some server designs.
What is unknown is that neither companies have disclosed the speed at which these chips will operate. If AMD can keep its CPU speed in the same ball park as Intel's, then EPYC will be an extremely compelling product. We expect that AMD will be able to do so.
So, how is it that given Intel's supposed process superiority, AMD is able to pack more functionality than Intel in almost every aspect of the CPU?
The answer is a new technology called Infinity Fabric that AMD pioneered. With Infinity Fabric, AMD breaks a large number of server cores into smaller groups. By connecting multiple smaller die solutions together in a multi chip module, AMD is likely to come out ahead in the short and long term.
With Infinity Fabric, AMD no longer in a race with Intel on large die solutions for server chips. We believe this is a critical design choice that AMD made due to the slowing down of the Moore's law. AMD approach is not only simpler than that of Intel but we believe it will offer AMD a much more sustainable long term benefit. Among other things, AMD will benefit from the volume economics of replicating small die devices and also by facilitating a higher overall yield in the process.
Platform Superiority
In addressing the server market, AMD has taken a unique flanking approach based on number of sockets in a server.
While AMD has a very compelling 2 socket solution that appears to be superior to that of Intel's, AMD's research (image below from a whitepaper sponsored by AMD) made the Company believe that it has an even more compelling flanking path to attack Intel in single socket server solutions.
The reason behind the single socket system focus is market research from IDC which suggests that a very large percent of the dual socket servers are being shipped with just one CPU (image below from AMD whitepaper).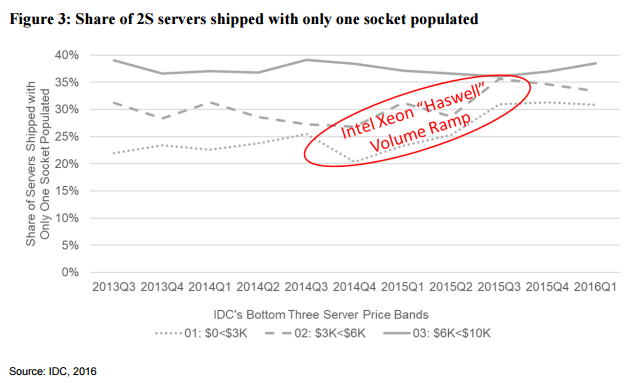 As can be seen from the image above, at the beginning of 2016, 30% to 40% of the dual socket servers were being shipped with only a single CPU.
Interestingly, it appears that the customers who were populating only one CPU are buying 2 socket servers not because they need 2 CPUs but because they need the large amount of I/O or memory that comes with the 2 socket systems.
As can be seen in the "CPU Superiority" section above, EPYC has compelling advantages when it comes to extra memory and I/O capacity.
Consequently, AMD is pitching its high end 1-socket EPYC system against a mid range 2-socket Intel system (See below)
AMD 1 Socket vs. Intel 2 Socket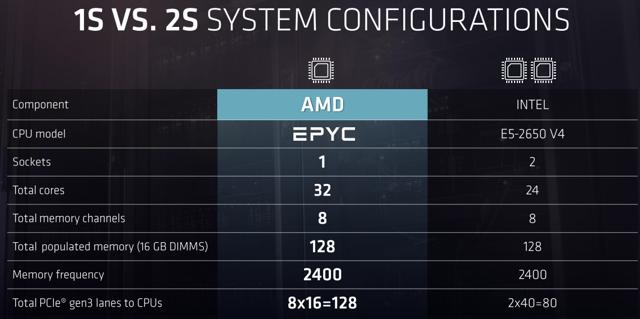 The economics of comparing Intel's 2S server solution to AMD's 1S EPYC solution are a big positive for AMD (see image below).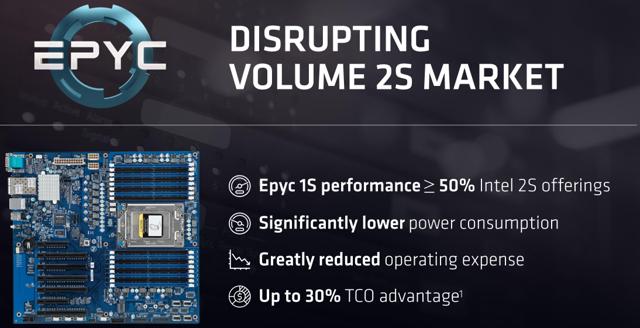 Because of this huge advantage, AMD expects to disrupt the traditional 2S server market (image below)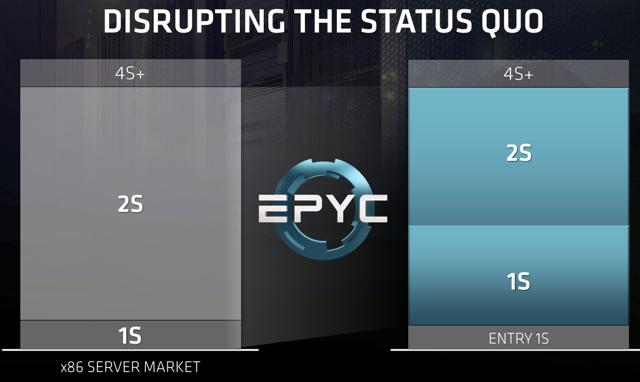 In addition to this single socket strategy, if AMD can also execute well on its Vega GPU platform, AMD will also have major advantages in servers for AI applications.
Early Indications
If leaked information is indicative, EPYC is shaping up to a killer product. It appears that AMD is set to dramatically pull away from Intel. At every price point in the server line up, AMD products appear far superior to Intel products in the popular SPECint benchmark.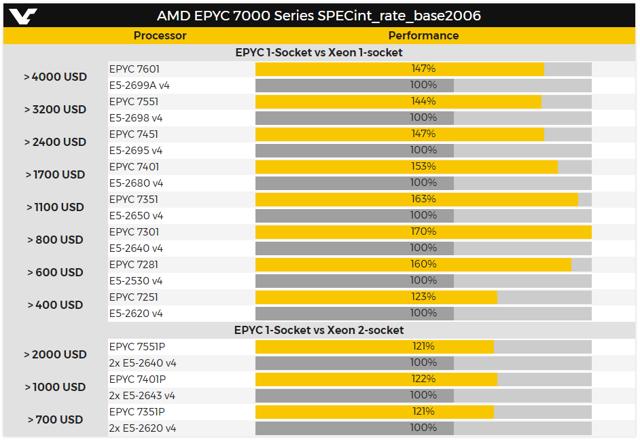 AMD appears so far ahead that it is doubtful that Intel can catch up with AMD even with its next generation server chips. AMD technology group has delivered and now it is time for the sales organization to deliver.
Prognosis
AMD has compelling server solutions that can take meaningful market share away from Intel. However, the market today does not trust that AMD can meaningfully attack Intel when it comes to servers. The server customers are seen as too conservative to accept AMD solutions quickly.
While there is some truth to this, we believe the market is underestimating how quickly the cloud server market can move (as opposed to slow moving enterprise space).
When AMD launches EPYC on 6/20, the launch partners can make a huge difference in AMD's volume ramp. EPYC will be set for a rapid ramp if a major cloud or enterprise vendor adopts EPYC.
Announcement of EPYC adoption by a major cloud consumer of the likes of Google (GOOG) (GOOGL) or Microsoft (MSFT) or Amazon (AMZN) can be a game changer for the stock.
Similarly, adoption by one or more of the top 5 enterprise server vendors would lead to a strong positive outcome for AMD.
We find it likely that AMD will announce at least one big server customer - Microsoft, we believe, is the dark horse.
AMD remains the top semiconductor pick
Our View on AMD: Strong Buy
Our View on INTC: Sell Short
Before it is here, it is on the Renewable Energy Insights subscriber platform. For timely and in-depth research and analysis of solar, wind, and battery industry stocks and developing news, please consider subscribing to our Renewable Energy Insights platform.