Introduction
Kroger(NYSE:KR) reported earnings on June 15, 2017 for the first quarter of 2017. Following weak earnings and the deadly lower forecast, the stock proceeded to tumble 18.89% to its 52 week low at $24.56.
The company's market cap is 27b at the current price.
I am here to give my balanced view on the earnings and Kroger's long term future.
Q1 2017 Results
Starting at the top, overall total sales increased 4.9%. Total sales excluding fuel increased 2.9%.
Same store sales were -0.2% indicating that much of the sales growth came from new locations and from the merger with Modern Health, a specialty pharmacy that Kroger bought last year and combined with its Axium health, acquired in 2012.
Earnings this quarter were $0.32, about half of quarterly earnings in Q1 of 2016. As you can see below, higher costs both on the gross margin front and net costs were primarily responsible for the low operating income and therefore lower net income.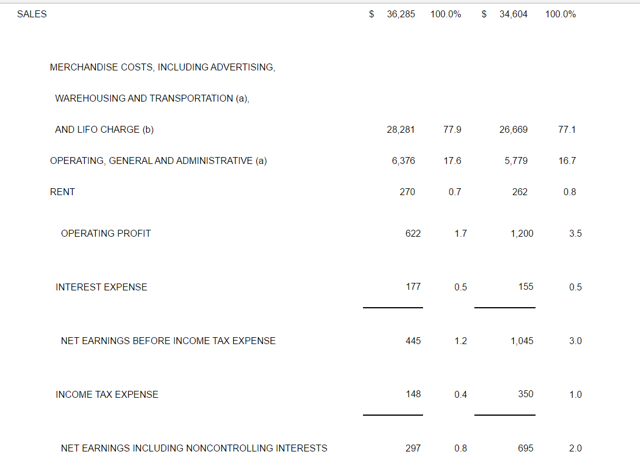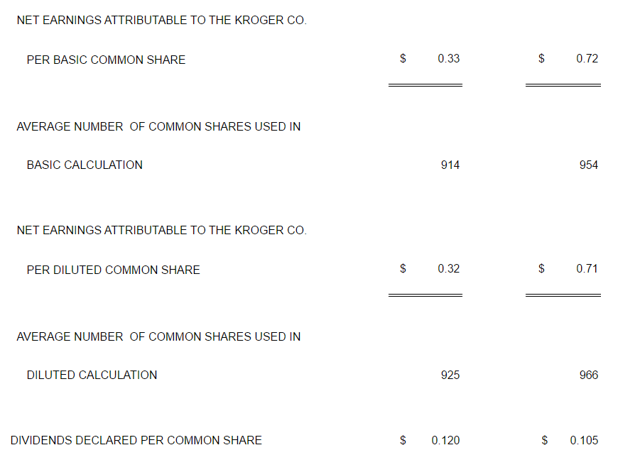 Some of these costs can be related to increased labor costs, as management mentioned that they were bumping up starting wages and hours in certain markets.
One could also assume that as they roll out their digital pick up grocery offering, Clicklist, that this requires more manpower and hours as well.
The biggest thing to note is that Kroger, like many other grocers, continue to invest in lowering their prices across the board, hurting their gross margin in a bid to keep and take customers.
Kroger notes in their prepared comments that since 2000 they have lowered their gross margin and invested over $3.8 billion in lowering prices for consumers.
Shareholder Returns Continue
One of the few bright spots was Kroger's continued shareholder returns.
The company bought back $1.5 billion in stock in the past year and paid out $438m in dividends for a total yearly shareholder return of $2b.
At the now much lower market cap, that is good for a shareholder yield of 7.4%.
In addition to the those direct returns, Kroger made the aforementioned acquisition and continued investing billions into remodeling stores, digital apps, and other initiatives.

I would encourage long term holders and interested investors of Kroger to focus on these stats more than they otherwise would.
What ultimately leads to a successful investment is a business that creates value and increases the value of your shares in the business over time.
A little help from the market in terms of changes in valuation and recognition is needed as well.
Balance Sheet
Kroger's balance sheet did not change much from year to year, although long term debt did increase modestly. Much of this can be attributed to the acquisition mentioned above.
40 million less shares are outstanding thanks to repurchases. Cash and other assets are flat year on year.
About that lower guidance
Kroger lowered their adjusted and regular earnings guidance by about $0.20. The reasons?
Kroger cited deflation was lessening in the quarter but still present and they are hopeful that food inflation returns soon.
They expected a larger LIFO charge for the year, increased costs for wages, and lower margins on eggs and milk as they lower prices on these staple items.
These three items combined for the guidance cut. The question is does this worry me?
Well it is a bit of a mixed bag. I see these increased costs as part of the things Kroger needs to do to compete in an increasing competitive grocery space. This increased competition may be part of why the Street had such a violent reaction to the quarter and sold all related stocks as well.
Aldi does pose a threat as they grow across the US and the low price leader of Wal-Mart (NYSE:WMT) continues to compete fiercely. On the other hand, for the past few years the Kroger story was always about food inflation and a lack of it. The most recent inflation report I saw had food turn positive but the overall trend is difficult to say.
But like I mentioned above, the overall business appears to be doing just fine. The cash continues to flow and Kroger is managing solid shareholder returns in a difficult operating environment.
After today's fall the stock is one of the cheapest on P/E basis in the whole market and also one of the few near its 52 week low.
With the lowered guidance the stock trades at 13.9 times the low end of their predicted earnings range for the next year.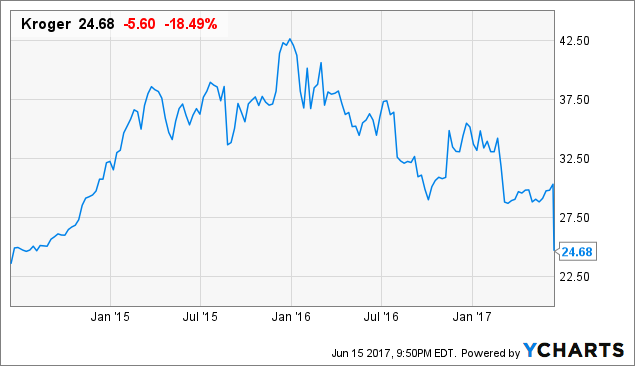 KR data by YCharts
Wal-Mart, Costco (NASDAQ:COST), and most other big box stores except for Target (NYSE:TGT) are well above that.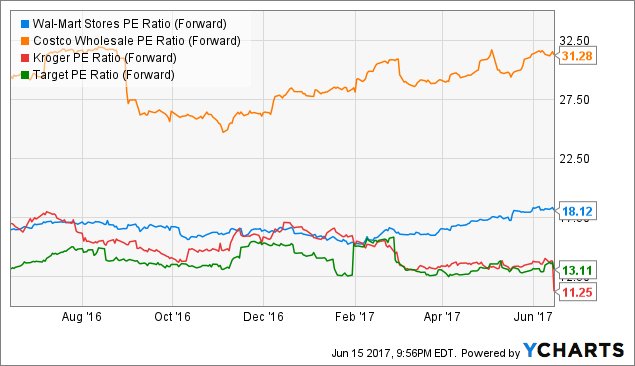 WMT PE Ratio (Forward) data by YCharts
Kroger, much like an oil stock weathering a downturn in commodity prices, is still thriving in a competitive environment with pricing pressures and deflation.
If these things turn around in a few years, Kroger's execution and long term strategy may finally shine through, even as the next few quarters continue to look murky.
Disclosure: I am/we are long KR, WMT.
I wrote this article myself, and it expresses my own opinions. I am not receiving compensation for it (other than from Seeking Alpha). I have no business relationship with any company whose stock is mentioned in this article.