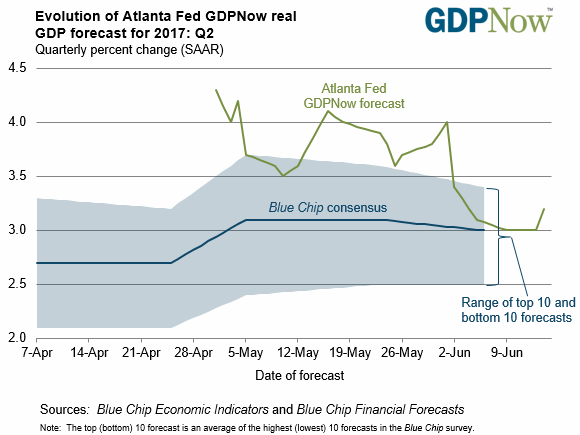 And we're done being bullish.
It was a fun couple of days but I cannot, in good conscience, maintain a bullish stance into the weekend uncertainty. In the past month, the Atlanta Fed has dropped their GDP forecast from 4.3% (which was silly) to 3.2%, which is down 25% yet the S&P has gained 45 point (1.8%) and the Dow is up 340 points (1.6%) and, the updated Fed Forecast from Wednesday's meeting indicates barely 2% growth this year and next - yet we are paying record-high multiples for stocks?
I'm not advocating shorting stocks (other than TSLA, of course), that's how people got destroyed in 1999. I'm just saying if we keep plenty of cash on hand and hedge our longs - we will have lots of money to go bargain-hunting when reality hits the fan - as it has been prone to eventually do, in every other instance of recorded history so far.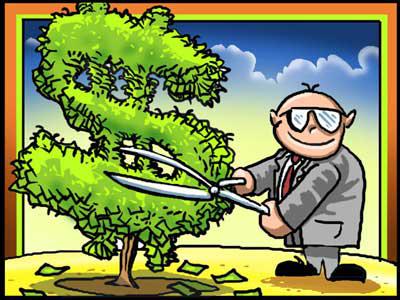 Maybe this time will be different and that's why we have a Long-Term Portfolio that is filled with long-term trades (which are, in turn, hedged by our Short-Term Portfolio) and we only had to make 6 adjustments to 37 positions despite gaining about $100,000 (7.6%) since our April. That was offset by a $25,000 loss in our Short-Term Portfolio, which is what's supposed to happen to our hedges when our longs are doing well.
And that's what I want to stress this morning - protecting your gains with hedges. Hedges are not supposed to make money, they are insurance plays that help you lock in your unrealized gains when the market does correct on you. It's very dangerous to be overly complacent about your profits, they can evaporate very quickly (just ask millions of traders who thought they were rich in 1999 and found out they weren't in 2000).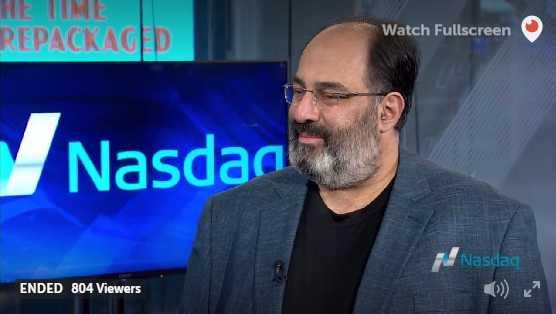 Gains should be appropriate to what you have at risk. When I was being interviewed at the Nasdaq on May 30th, we talked about hedging our Nasdaq-heavy portfolio (I run one for the TV audience there) with some focused hedges which, at the time were:
Buy 10 QQQ Jan $147 puts for $9.50 ($9,500)
Sell 10 QQQ Jan $136 puts for $5.05 ($5,050)
That's net $4,450 on the $11,000 spread with $6,550 (147%) upside potential if QQQ falls below $136 into January expirations (19th). This is the kind of hedge that doesn't pay well on a quick dip but pays very well on a sustained loss of value, which is perfect for hedging your long-term positions.
That spread is already well in the money at $139 and the $147 puts are now $11 and the $136 puts are $5.80 for net $5.20 ($5,200) - up $750 (17%) on a 1.5% dip in the Nasdaq so we have 10:1 leverage on our hedge and no margin is required. I loves those spreads as they can only lose money if the Nasdaq is higher - in which case our longs should be gaining.
We also talked about hedging the Nasdaq Futures using /NQ as it crossed the 5,800 line with tight stops ($100 loss) and again at the 5,900 line and the first time it didn't work and we lost $100 and the 2nd time it didn't work, and we lost $100 but the 3rd time, at 5,900 - it did work spectacularly well and we got a 200-point drop that paid $4,000 per contract for a net $3,800 per contract gain:

Futures trades give you great bang for the buck and an immediate pay-off but they can also burn you badly. Speaking of Futures, yesterday's trade ideas to go long on Oil Futures (/CL) at $44.50, gained $500 per contract at $45 and Gasoline Futures (/RB) at $1.415, which flew up to $1.4615 this morning and that was good for a $2,100 per contract gain.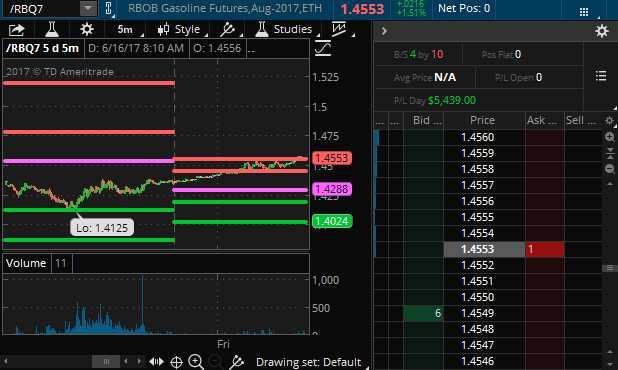 We chose /RBQ7, the August contracts and we cashed them out this morning with a lovely $5,439 gain in 18 hours and now we can have a wonderful weekend - THAT's why we love trading the Futures!
Our favorite index hedge at the moment is the Dow (/YM) at 21,350, those contracts pay $5/point on the way down with very tight stops over that line. If the Nasdaq (/NQ) fails the 5,700 line then look out below and the same with the Russell (/TF) at 1,400 and both happen to be 11 points over their lines. Yesterday I said I liked Silver (/SI) at $16.75 (still there) and Coffee (/KCU7) at $128 and we're already at $128.70 on that one and those contracts are good for $375 for each Dollar of movement.
According to Fortune, President Trump has doomed coffee, which is negatively affected by the myth of Climate Change with 50% of the land used for global coffee production on track to be destroyed by 2050 at our current rate of (fake) temperature increases. As noted by Fortune: " The impact will be enormous, particularly for the 25 million small land-holder farmers who grow coffee in more than 70 countries. Valued at about $19 billion in 2015, coffee is the "second most valuable commodity exported by developing countries."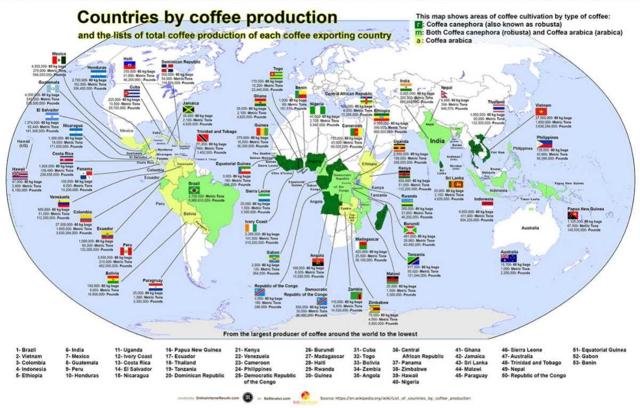 That's been our premise since last year, when we started playing coffee at $100, whenever it dips we like to buy some and we're only one drought away from $150.
Have a great weekend,
- Phil
Disclosure: I am/we are long JO, SQQQ, TZA, DXD, SDS, USO, UGA, WPM, SLV, GLD. I wrote this article myself, and it expresses my own opinions. I am not receiving compensation for it (other than from Seeking Alpha). I have no business relationship with any company whose stock is mentioned in this article.
Additional disclosure: Positions as indicated but subject to RAPIDLY change (currently mainly cash and an otherwise slightly bearish mix of long and short positions - see previous posts for other trade ideas).