Business Overview
Nike (NYSE:NKE) is a sportswear company that designs, promotes and sells footwear and apparel and possesses 4 brands: Nike, Jordan, Converse and Hurley. Under the reported business segment, Nike brand including Jordan and Hurley, represented 94% of revenue in FY16. The rest was credited to Converse.
In fiscal 2016, Nike recorded $32.5bn revenue, 65% from footwear, 30% from apparel, and 5% from equipment sales. Nike also licenses its trademark, but the revenue generated is nearly negligible. Recorded 13% constant currency growth in FY16, the growth mainly came from footwear and apparel sales, with growth at 15% and 11% respectively, while equipment sales registered a slightly decline at 2%.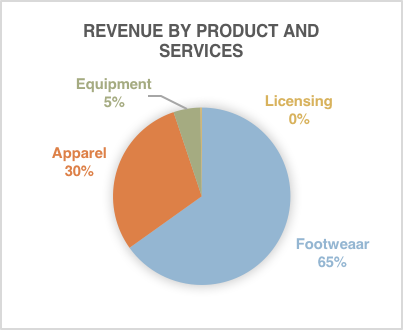 Source: Company filings, FY2016
Let' s move to geographical split. Half of Nike' s revenue comes from North America, where Nike has a major lead against Adidas (OTCQX:ADDYY) and UA (UAA). Emerging markets, including China, count for a third of the sales.

Source: Company filings, FY2016
From the sales channel prospective, Nike recently ramp up its effort to facilitate direct to consumer (DTC) sales, namely, the online channel and self-own stores including factory stores (lower price points) and in-line stores (more premium products). From 2014 to 2016, DTC shares from 20% rose to 26%. The rest of sales is mainly sales to wholesale partners.

Source: Company annual reports
Industrial Analysis
Globally, sportswear sales are the bright star among various apparel categories. From 2011 to 2015, sportswear continued to lead the global apparel sales. In 2016, sportswear apparel grew 6% and footwear grew 10%, showing the strong athleisure trends across the world.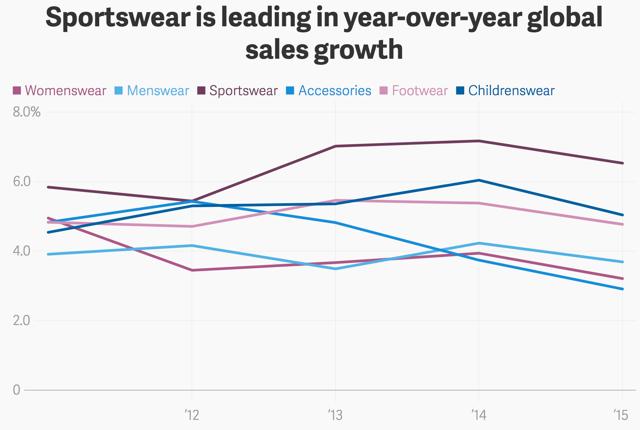 Source: Quartz, data from Euromonitor
This trend is resulted from multiple factors. First of all, people now weigh experience over others. And as sportswear companies started to combine function and fashion together, people began to shift their spending to the category. But other than fashion, there was a more fundamental reason for athleisure to rise and to stay - the fact that people's health consciousness is constantly rising as people are living longer and they now crave to live longer in a better way and better shape. This is evidenced by the shift from fast food to organic food and growing fitness center participation.
To clarify this view, we can see from sports participation rate across the world. High school sports participation rate in the U.S. is rising; in UK, people do more jogging and cycling partly because more technology supports the sports; and in China, growing sports become the government's priority to drive GDP growth.
High school sports participation rate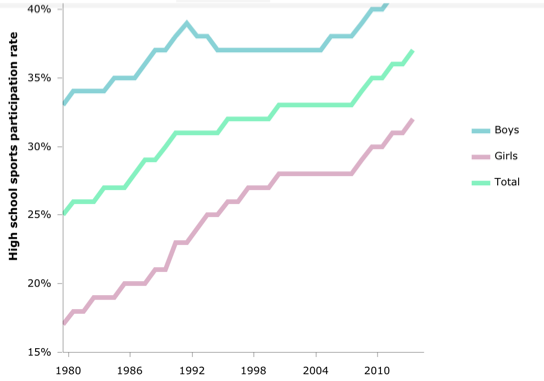 Source: Morgan Stanley research
Fitness center/health club revenue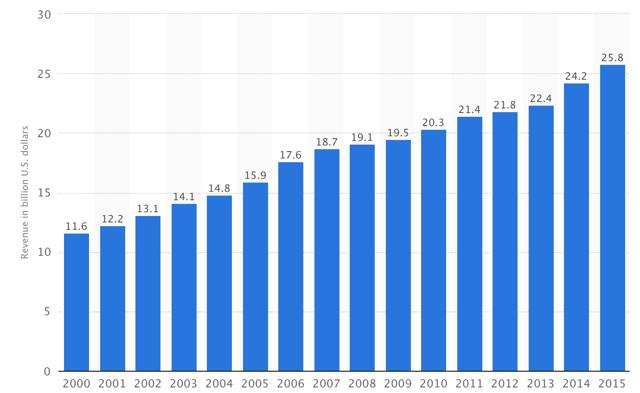 Source: Statista
Under this context, sportswear in each region is expected to have good growth prospective, with projected CAGR through 2020 in US at 3~4% according to various sources, in China at 11% according to SGS, and globally at 4.42% according to Research and Markets.
Compared the performance of Nike and the industry in the past five years, in which Nike achieved 60% growth in revenue and the industry size grew 47%, I believe Nike can at least grow on par with the industry in the next few years, if not outpacing it. I think the following competitive advantage should underscore my opinion.
Competitive advantage: Brand, Scale, and Technology and Innovation
I believe Nike mainly have 3 competitive advantages that will help it go through today's challenging markets, namely, Brand, Scale, and Technology and Innovation.
First, Nike's brand value is ranked constantly number one among various sportswear brand. It is valued at $29.6bn in 2017 by Forbes, significantly higher than competitors such as Adidas and Under Armour, which is valued at $7.9bn and $5bn respectively. As the calculation is based on EBIT minus 8% of invested capital and taxes then multiply its PE ratio, the higher brand value actually reflects Nike's higher ROI given that Adidas 5-year average P/E ratio is much the same with Nike. Plainly speaking, because of the brand value, Nike and generate higher return than its competitors. The brand value should be more important in the age of e-commerce than before, because people now don't go to department store and find something they are interested in, rather, they will just follow their favorite brands on social media or their website and see if there is something great coming out. Thus, the brands that are already implanted in people's mind will have the most advantage in the market.
ROI comparison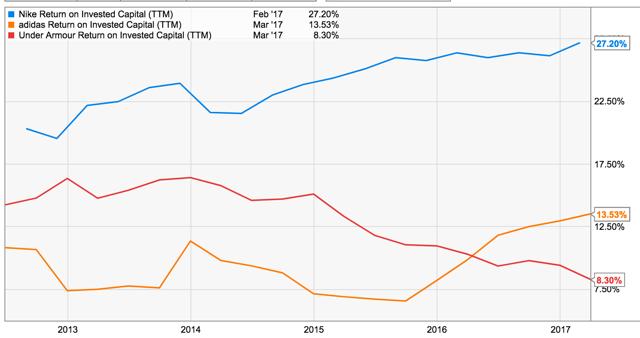 Source: YCHARTS
Second, the sheer scale will contribute to Nike's bottom line and enable Nike with more flexible operation. We can see despite Nike's recent slowdown in sales, its EBIT margin remains high, with large gap with Adidas and UA. This is despite Nike is known for its massive endorsement programs, i.e. signing the most NBA players (or almost all) and becoming the dual leaders in sponsorship with Adidas in UEFA. Therefore, Nike has plenty of room to maneuver if it wants to rejuvenate sales without hurting its bottom line too much.
EBIT margin comparison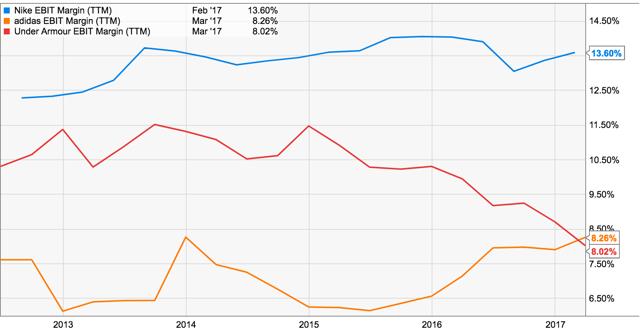 Source: YCHARTS
Finally, technology and innovation might be Nike's strongest weapon of all. Nike is famous of its abundant patent reserve. Globally, Nike has 19,500 effective patents, among which 4,200 are in force. In the US along, it has 5,060 patents recorded in 2015, dwarfing defense giant Lockheed Martin and Ford, let alone its competitor Adidas and Under Armour. These patents cover wide areas. Not surprisingly, footwear is the number one category. Apparel, golf, data, and manufacturing are all focused strategic area. Recently, we can especially see that the innovation around footwear and manufacturing start to take effects, with new products such as Vapormax and ZoomX, and with manufacturing revolution progressing.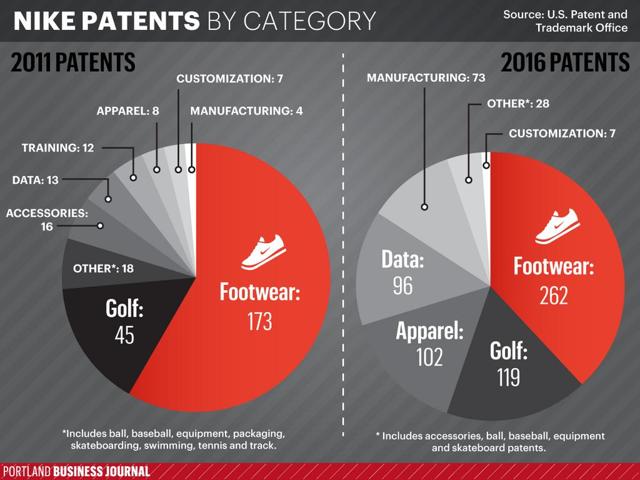 Source: Portland Business Journal
Strategy, growth and challenge
Strategy: Innovation, manufacturing process and DTC
Nike's current strategy, unveiled in 2015 investor's day, was to enhance its consumer experience and expand margin based on its competitive advantages. It planned to ramp up product innovation to create demand, and in the meanwhile raising its average selling price. And through manufacturing revolution, Nike planned to expand its gross margin as less labor is needed and less material wastes will incur. Next, Nike wanted to accelerate its direct to consumer sales in the one hand to enhance shopping experience through better store designs and online sales, and in the other hand to better understand consumer behaviors to adjust its inventory and product designs. The management reiterated its plan during the last earnings call, despite changing its name to "triple double strategy", focusing on Innovation, Speed and Direct. The broad idea was the same.

Also in the 2015 investor day, Nike guided its 2020 financial targets. Geographically, it aimed to achieve high single digit annual growth in N.A., and $6.5bn annual revenue in China converting to a 14.5% CAGR. DTC sales were planned to reach $16bn or 19.2% CAGR, with e-commerce targeted at $7bn or 40.4% CAGR, and this implied that sales to wholesaler would have 11% CAGR through 2020. Finally, gross margin was planned to have 30~50 bps expansion annually.
Challenge: Sales slowed down in almost all dimensions and margin contracted due to competition and rising labor costs plus forex headwind
The seemingly bright targets looked a little bit shaky in FY17. In currency neutral terms, N.A. only grew at 4% and Greater China at 18% for the first 3 fiscal quarters and were further slower in the 2 2nd and 3rd quarter. DTC sales and e-commerce also slowed down in the 3 rd quarter at only 13% and 15.3% yoy growth rate. Sales to wholesale performed even worse at only mid single digit growth while the required CAGR at low teens. Gross margin also contracted due to higher labor costs and foreign exchange. All the results pointed to the sign that Nike could hardly make its initial targets.

Source: Company 10-Q

Source: Company 10-Q
Some factor contributed to Nike's challenge. First, the retail landscape wasn't good, as sportswear retailers such as Dick's and Footlocker (FL) struggled in recent quarters and the bankruptcy of Sport Authority also disrupted the markets. But this couldn't be the excuse as we saw that Adidas delivered stellar result in N.A. under the same retail environment. So why is Adidas coming back? 3 elements together contributed to the success: Product, Kayne West, and Social media. New boost midsole combined with Primeknit makes the new product Ultraboost and it is widely promoted by the superstar Kayne West and also various celebrities on social media such as Instagram. Soon the shoes resonated among the social media platform. This also helped Adidas to become the most liked brands on Instagram in 2015. To squeeze more profit out of this sudden success, Adidas decided to use this new midsole in various of its product lines including NMD and Yeezy. Again, this proved to be a great success. This was how Adidas combated its competitors and went through the retail headwind.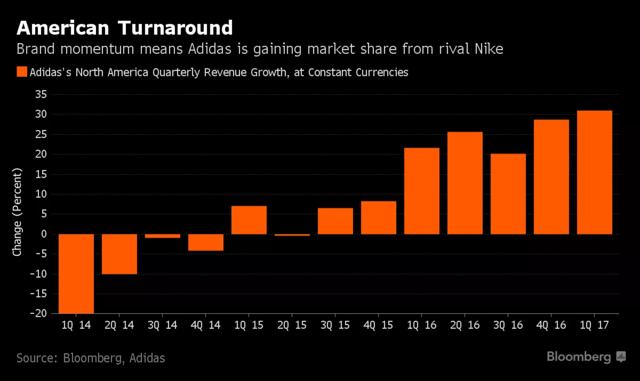 Source: Nickkicks.com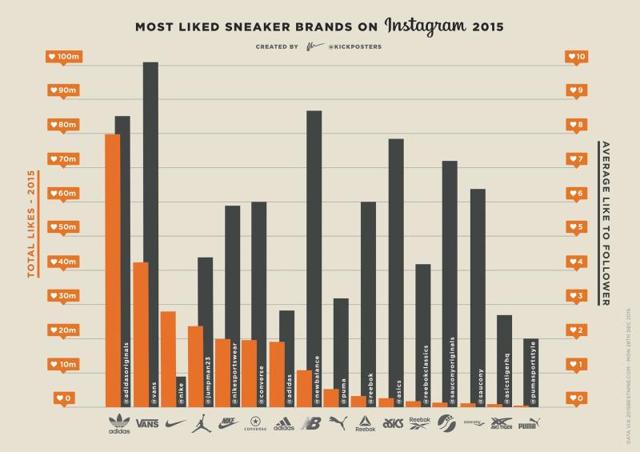 Source: KCIKPOSTERS
Opportunity: Strong fundamentals and continuous investment in social media , technology, and DTC will pull Nike out of the mire.
So does this mean that Nike already lost its chance to achieve its ambitious target? To fully accomplish the plan might be difficult, but in my opinion, Nike does have nice chance to rejuvenate its sales. Let's first see Adidas' successful formula, Product innovation + Celebrity promotion + Social media campaign. Nike doesn't lack any of the three. There was just the new innovation Vapormax that got released in March. It was first used in Nike's running shoes, but it remains to be seen if it will be used in other categories such as Sportswear and Jordan brand.
As for the social media, Nike has the most Instagram follower, 3~4 times more than Adidas and Adidas Original accounts. While once dwarfed by Adidas Originals in terms of total and average likes, I observed that Nike has done some effort to catch up. As "adidasoriginals" IG account has 20 million followers and "jumpman23" has only 12 million, the total likes of each posts recently are much equivalent at 150~200 thousands. And from the total posts perspective, though "adidasorignials" has 3,400 posts, and "jumpman23" has only 1,100, from May till today they both had about the same amount of posts. I do think this is a sign that Nike is working on its social media campaign and will help Nike and the Jordan brand to regain some popularity among the social media users. Additionally, e-marketing is also cheaper and more effective than traditional ones, one reason why the demand creation expenses trends downward recently.
As for the celebrity promotion, I don't doubt the amount of celebrities who will wear Nike's products, either volunteering or paid. So, I won't question that Nike will once again create some hype in the markets. It is just a matter of time.
Some might worry that Adidas will continue to eat into Nike's market share, but I think that it is much difficult for Adidas to maintain its strength now. As we can see from Google Trends, both Adidas NMD and Ultra Boost searching popularity somehow declined in 2017. Furthermore, I evaluate Adidas popularity is more of a fashion "fad", rather than a sustainable trend. As people's interest in "Adidas running" isn't at all growing, compared to the growth of interest in Ultra Boost. This tells us, people who wear Ultra Boost wear for fashion, not for sports. Despite interest in "Nike running" also declined in 2016, it is still twice of the popularity of Adidas running, supporting the more sustainable growth for Nike. Therefore, I projected Nike's revenue CAGR will be higher than today's growth rate, in the range of high single digit.


Source: Google Trends
Move to the gross margin side. While rising ASP continued to help margin, labor cost inflation and foreign exchange headwind caused the margin contraction for the last few quarters. There was also some off-price sales as Nike underwent through the inventory cleaning process. However, none of these are going to affect the company in the long run. As I mentioned above, Nike has been investing rapidly in manufacturing process and was set to adopt automation technology sooner or later. Recently, Morgan Stanley analyst just predicted nearly 20% of production for Nike and Adidas will be made by automated factories by 2023. This will not only contribute to the top-line growth but also mitigate the effect of rising labor costs in emerging countries. As for the forex, the management guided that there will be more impact in FY18. So forex headwind might still persist in the foreseeable future, but it should sooner or later normalize. So moving to FY2020, I projected gross margin to be stable or slightly increase due to higher price point, better inventory management, offset by normalized forex headwind.
And there is one more thing to be mentioned - the DTC opportunity for margin expansion. I simply calculated how the margin will look like if Nike and Footlocker's operations are combined together, assuming Nike now operates in a no-DTC model. Per $100 sales for Nike can be converted to $151.3 sales in DTC model with higher gross margin and operating margin. It is easy to see that there is great opportunity for Nike to gain margin as the DTC mix climbs up. Also noted, Nike's DTC sales have surpassed Footlocker's total sales - one more reason to be optimistic about the margin outlook.

Source: Company annual reports FY16
Valuation: expecting 6% to 12% annual gain to 2020, factoring in revamped revenue growth, higher margin, and higher multiple
For valuation, I choose the EV/EBIT multiple to evaluate the company's value to exclude potential non-sustainable tax effect while taking the required investment into account. On June 13, Nike was traded at 18.56x multiple, just about the 5-year average. Recent weakness contributed to the declining multiple.
EV/EBIT charts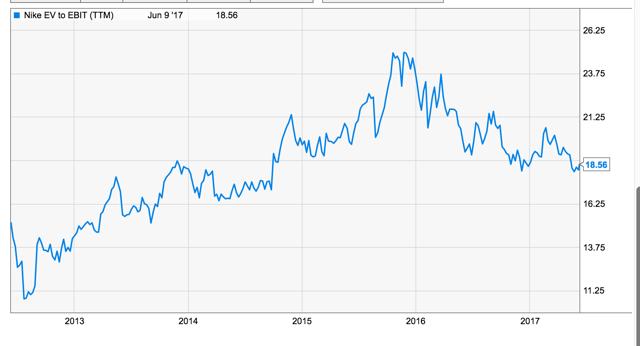 Source: YCHARTS
I then used 3 parameters - revenue growth, EBIT margin, and EV/EBIT - to estimate the potential gains if you buy the stock and hold until the end of FY2020. Below I provided 3 scenarios for your reference.
EBIT margin charts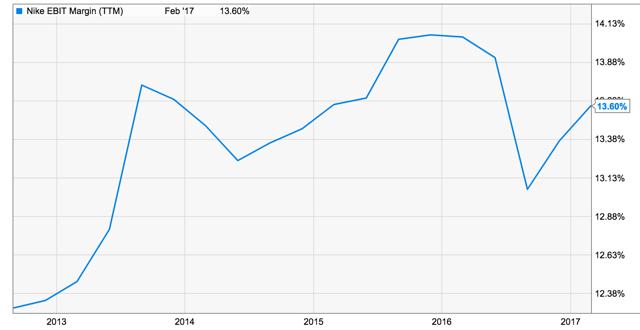 Source: YCHARTS
Worst scenario
While I don't expect this to happen, in this case, I projected Nike's revenue growth remains weak at the CAGR of mid single digit, and EBIT margin falls to 13%, and thus will have lower multiples. This will be resulted from failed product traction, higher currency impact and less effective management. The result will be -1% ~ -25% total lost, translated to -7% annual loss.

Expected case
In this case, Nike's revenue will recover its momentum with new products. Better manufacturing process supports margin expansion and DTC mix continues to rise. I projected revenue CAGR will be at high single digit, EBIT margin expanded to 15%, supported by inventory management, cost reduction and DTC mix. In this case, I expect multiples to be higher at 17x ~ 21x. This will be translated to total upside potential from 26% to 60%, or 6% to 12% annual gain.

Corporate target case
If Nike eventually follows the corporate target. It will grow revenue at around 11% CAGR, EBIT margin at 17%. This will result in a high multiple that has been seen in late 2015 at 21~24x. This will be translated to total upside potential from 98% to 98% to 143%, or 19% to 25% annual gain.

Bottom line
So in the end, whether the current valuation is reasonable or not all depends on how you believe in the company and how you interpret the information in the market. In Nike's case, the most important thing is that how do you believe the company will continuously make good products. And honestly, I don't see why it can't. Innovation is always Nike's strength. Competition is always there and it is hard to believe Adidas will continue to gain significant market share from Nike with its fashion-based growth driver. e-Commerce might kill the traditional retailers, but in the long-run it lets big brands connect consumers more easily and thoughtfully without an intermediary dealer. Also, the automation trend is unlikely to stop. These are all reasons to hold Nike as a long-term investment.