This research report was produced by Colorado Wealth Management Fund, Founder of The Mortgage REIT Forum, with assistance from Big Dog Investments.
And then there was one!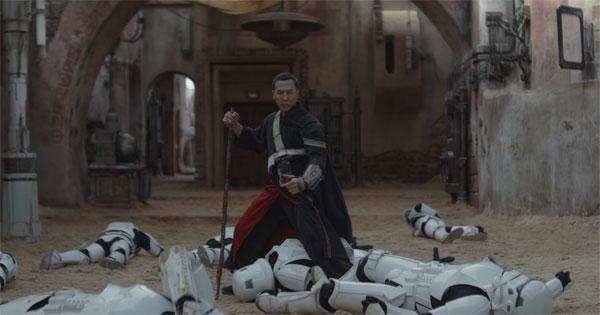 In a galaxy far, far away...
Okay — in the world of climbing preferred share prices — Anworth Mortgage Asset Corporation (ANH) has the best I've seen. I have seen ANH-C as a buy for months now and have been holding onto them since late March.
My Theory
My theory is the agent working for the company recently moved their asking price up slightly from about $24.85 to about $24.95 which is still low enough to keep shares artificially cheap before the ex-dividend date hits. The ex-dividend date is in late June, and this allows investors to receive a gain by buying before the ex-dividend date, getting the dividend, and closing out their position. The expected capital loss would be less than the dividend amount. How is this possible? Market inefficiencies happen often around ex-dividends dates for preferred shares in the mREIT sector. They happen even more often when an mREIT's agent is actively issuing a high volume of new shares around the ex-dividend date.
Why would the agent do this?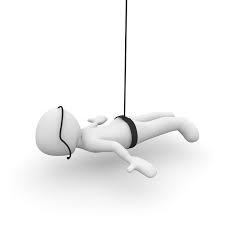 The agent is paid commission on the shares they sell. Their role is to get the job done, not to get the absolute highest price.
My job is to find the best high dividend investments.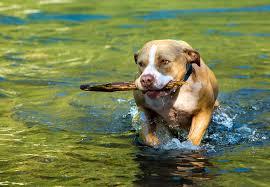 All the prices are going up!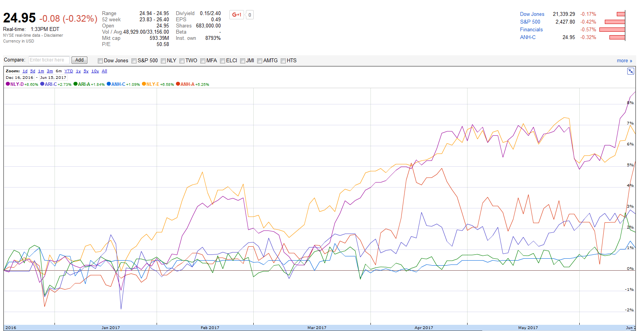 Wait a minute…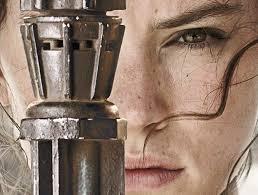 Taking a closer look, the blue line really hasn't climbed at all. The blue line would be ANH-C. The other line which hasn't moved up all that much comes from Apollo Commercial Real Estate Finance (ARI). I have a hold rating on ARI-A, but if it were to drop another $0.16 I'd have a buy rating. Annaly Capital Management (NLY) has had great opportunities in their preferred shares in the past, but with rising prices and no call protection, I'm starting to see them as a sell or a possible hold. NLY-D and NLY-E are both on this chart as yellow and purple and you can see their preferred shares prices have been skyrocketing.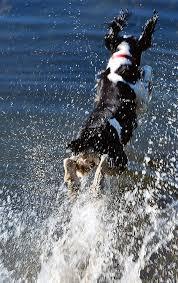 ANH primarily invests in non-agency RMBS and agency adjustable rate mortgages. Compared to preferred shares in most mortgage REITs, ANH-C carries less credit risk than average. As you will see later on, this and other metrics make up for the lower dividend yield of 7.77%. I'd rather have a safe and steady 7.77% then carry materially more risk just to get to 8%.
Let's see those numbers:

NLY has three preferred shares over $26.00. NLY-E is the only preferred share I believe has great hold value. Keep in mind, that doesn't mean I think you should buy it now and hold. For those already invested in the preferred share, I still believe it's a good preferred share to be invested in. Investors in NLY-C or NLY-D could make the jump to NLY-E for a better dividend yield. ARI has two preferred shares. ARI-C is $0.17 away from me having it at a sell. ARI-A is $0.76 away from a sell and a great hold currently. I personally have shares in ARI-A and don't have any plans to sell them unless the price rallies materially.
ANH-C is the lowest price on the list quite significantly right now at $24.95. It isn't often that I believe shares are a strong buy, but ANH-C has a strong buy rating from me and as stated earlier I have owned said preferred shares since March.
Bring me more metrics!

ANH-C dominates as far as call protection with a next call date on 1/27/2020. The other preferred shares are either callable now (preferred shares holders are usually given a 30-day notice for when they will be called) or will be within a few months. Some may argue how much call protection is worth, but it's absolutely worth something. Common equity over preferred equity is at least decent for all these preferred shares. I like to see at least 5, and ANH-C is at 7.09. ANH-C carries a dividend yield of 7.77% which isn't among the highest in the sector, but at a low price of $24.95 and around 2 ½ years of call protection it's a clear winner.
ARI-A has a current yield of 8.43% and is a good preferred share to hold. With the price being over $26.00 there is some call risk, below $25.89 the risk/reward profile improves materially.
My style
Preferred shares suit my style because I'm a defensive investor. I don't care about getting as many gains as possible during a bull market. What I do believe is important is not taking horrific losses during a bear market. Preferred shares have poor liquidity, but they carry low volatility and I can choose what price I'm willing to pay for them.
My portfolio plan
In addition to preferred shares, I'm trying to find strong companies and waiting for them to fall to a valuation I'm comfortable with. Retail has seen some price drops. I believe the death of retail is way overstated. I like the valuation of Target (TGT) and Washington Prime Group (WPG). Wal-Mart (WMT) and Costco (COST) have both been on a tear and the valuations are becoming materially less appealing. I watch all four companies for a good price point to buy in and don't believe any of them will turn into a Sears Holdings Corporation (SHLD).
Dividends!
Mall REITs do have some risk factors, but I believe they aren't as bad as the market is portraying.
I'm very interested in the strong dividend yield from CBL & Associate (CBL), DDR Corp. (DDR), Simon Property Group (SPG), and Pennsylvania Real Estate Investment Trust (PEI). Other REITs I'll be keeping my eye on are Omega Healthcare Investors (OHI) and STAG Industrials (STAG). AGNC Investment Corp. (AGNC) and Annaly Capital Management are always on my radar.
If an investor didn't want to invest in individual companies I'd recommend taking a look at the Vanguard REIT equity index ETF (VNQ). If the real estate sector is too volatile for an investor and they are willing to go after a smaller dividend yield then I'd go with either the Vanguard Dividend Appreciation ETF (VIG) or the Vanguard High Dividend ETF (VYM).
Dividend Champions
I'm currently watching the price for Exxon Mobil (XOM), National Retail Properties (NNN), and Realty Income Corp (O). I've owned NNN in the past but sold it at what I thought was a high valuation. I currently own Altria Group (MO) and Philip Morris International (PM) which have given me great returns. I purchase a lot of Johnson & Johnson (JNJ) products which I'm sure most people do.
More Defense
I've been compiling a list of consumer staples I may want to purchase. I like the Vanguard Consumer Staples ETF (VDC), but with current valuations, I'd rather purchase individual companies. There are a few I'm interested in purchasing. Two of them are Coca-Cola Company (KO) and PepsiCo (PEP). The only reason I don't have them currently is because I think they are currently valued extremely high. PEP and KO are trading at PE ratios over 25 and 30 respectively. If they came down to about 20 I'd make them part of my portfolio.
Utilities can also be a good addition to make a portfolio more defensively allocated. I don't have utilities in my portfolio currently, so I think the Vanguard Utilities ETF (VPU) or the Utilities Select Sector SPDR ETF (XLU) could be a good addition.
Conclusion
I believe ANH-C has been the most consistently attractive preferred share I could find for months now. I've seen a rise in prices on average across preferred shares in the mREIT sector. ANH-C hasn't risen out of my buy zone, but most preferred shares have rallied beyond the ideal entry prices.
Disclosure: I am/we are long MO, WMT, TGT, PM, FSIVX, FSITX, BMNM, WPG.
I wrote this article myself, and it expresses my own opinions. I am not receiving compensation for it (other than from Seeking Alpha). I have no business relationship with any company whose stock is mentioned in this article.
Additional disclosure: No financial advice. Investors are expected to do their own due diligence and consult with a professional who knows their objectives and constraints. CWMF actively trades in preferred shares and may buy or sell anything in the sector without prior notice. Tipranks: No ratings in this article. Also long: ANH-C, GBLIL, CMO-E, ARI-A, CBL-D. These preferred share tickers won't fit in the disclosure box for the new article uploader.