I had to go back to my Seeking Alpha article archives and find that on December 9, 2015, I wrote: My Favorite Stock If I Could Just Own One For Five Years. Within the piece, I argued that Whole Foods (WFM) then at $30 was a much better investment than Kroger (NYSE:KR) then at $41. Readers can verify for themselves that I was highly skeptical of Kroger's then valuation. Lo and behold, the sell side was falling all over themselves to upgrade Kroger and argue that Kroger was a great buy in the low $40s. I have seen this movie so often and that is why I love to bet against the crowd and the sell side in particular.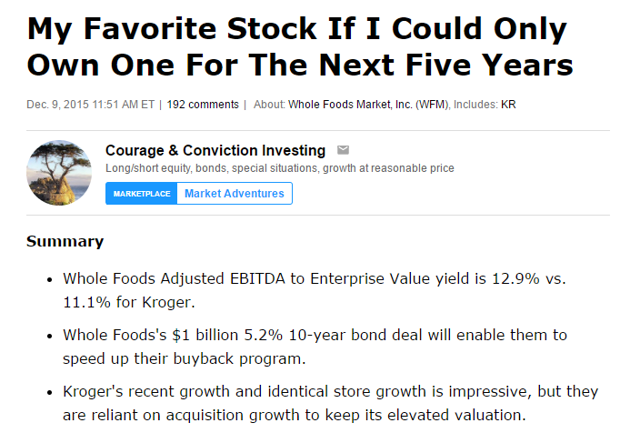 Here is my conclusion from the article.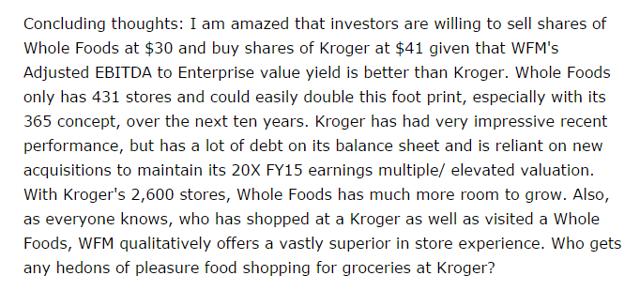 Fast forward to present date and Kroger took a Mike Tyson (in his prime) uppercut on the chin and was down yesterday 19% on massive volume of 76.5 million shares.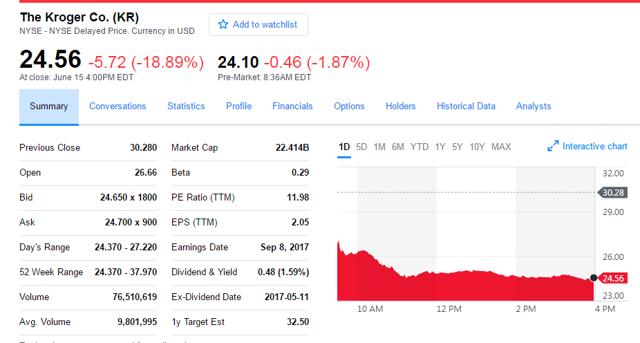 There are already a number of contributors that have opined and reviewed Kroger's results, so that isn't where I am going with this piece.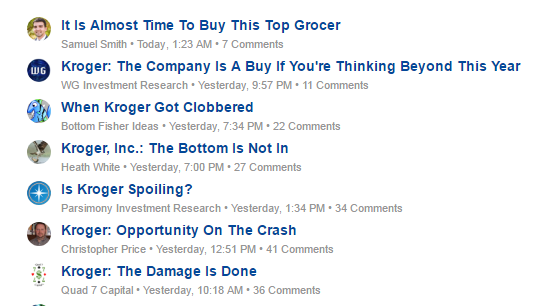 The point of my piece is that there can be a lot of money made when you bet against the crowd and use put options. In my premium site, Market Adventures, I have written quite a bit about the power of put options. We haven't caught something like Kroger, yet, but I am confident that we eventually will. Incidentally, in April 2007, Nassim Nicholas Taleb wrote The Black Swan. I read the book cover to cover in late 2008 or early 2009 (my memory isn't that precise) and I distinctly remember:
A) THERE ARE NO EXPERTS! (And yes, that means the sell side)
B) You can make a lot of money if you run a portfolio that only invests in deep out of the money calls or puts, where you seem crazy to the conventional world. My mind and personality are geared this way, which is terrible for a successful career in corporate America, but well equipped for this type of investing/prudent speculating strategy.
For example, ahead of Thursday's results, if an investor could have bought the following Kroger June put options, they would have made some stellar returns. Keep in mind, you need a portfolio type approach and you have to be committed to making many of these bets, as 80% of them will expire worthless. However, the winners should far exceed the losers, if you are any good at this game.
In terms of Kroger, you could have bought the KR June $29 puts for $0.30 per contract. If you did and held through yesterday's close, you made 15X your money ($4.50 / $0.30).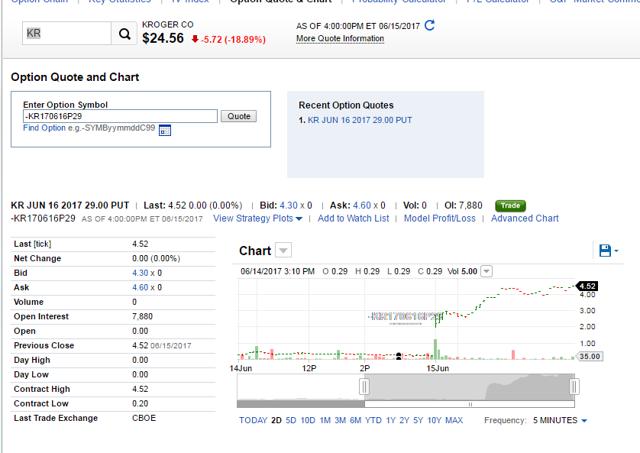 Source: Fidelity
If could have bought the KR June $28 puts for $0.10. If you did, you made 35X your money.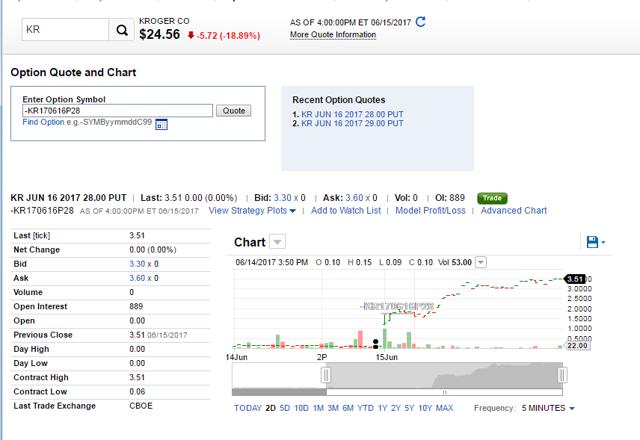 Source: Fidelity
If you bought the KR June $27 puts for $0.07 then made 35X your money. By the way, at 1pm on June 14th, 450 of these puts traded for $0.07.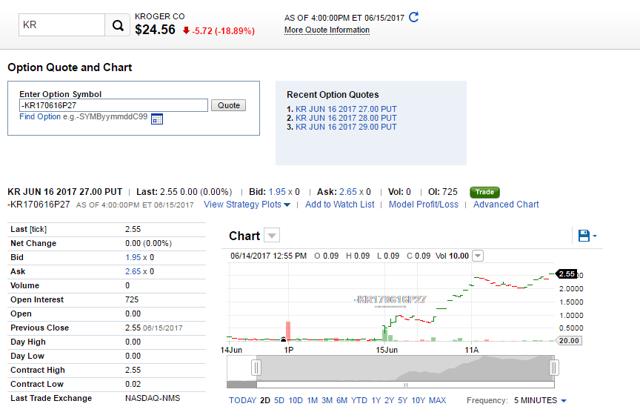 Source: Fidelity
And finally, you could have bought the KR June $26 puts for $0.05. If you did, you made upwards of 31X your money. By the way, there was a magical 450 of these puts that traded on June 14, 2017.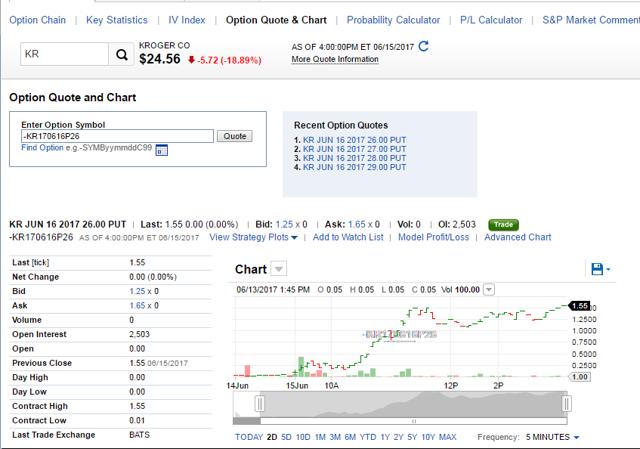 Source: Fidelity
By the way, I am pretty good at identifying and betting against stocks that are loved by the sell side. The hard part is the timing. Back on February 1, 2016, I called Foot Locker (NYSE:FL) my best short idea for 2016. This was an against the grain call, as the sell side loved FL due to its past success and valuation.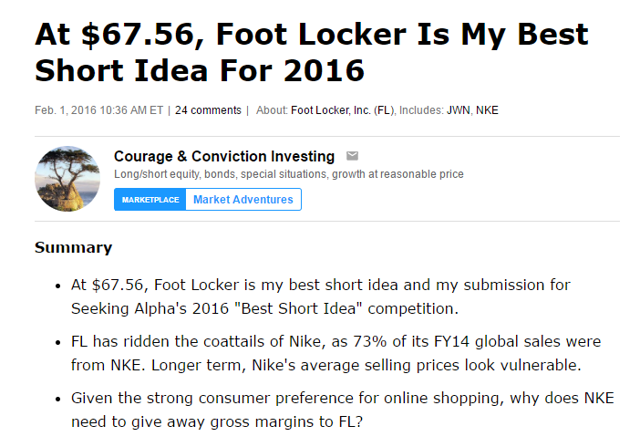 Source: My Foot Locker article
Lo and behold, just yesterday, Nike announced it was considering one the my key bearish points that they would go direct to the consumer and cut out Foot Locker. I was early, but I pride myself on being a big thinker. Rest assured, I am only surprised that it took them so long to deploy this strategy. These Harvard MBAs that head up strategy departments need to start taking GNC vitamins to improve their mental agility.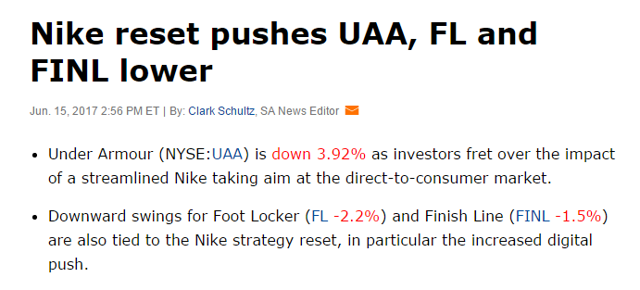 If you have enough courage and conviction, consider joining me and other like minded investors hunting for big game wins through an options strategy.
Disclosure: I/we have no positions in any stocks mentioned, and no plans to initiate any positions within the next 72 hours. I wrote this article myself, and it expresses my own opinions. I am not receiving compensation for it (other than from Seeking Alpha). I have no business relationship with any company whose stock is mentioned in this article.