Investment Thesis
After talking with the renowned hedge fund manager Ray Dalio, Tony Robbins released to the world to construction of his 'All-Weather' portfolio.The key components and weights of this strategy are the following:
30% in U.S. stocks
40% in Long-term U.S. Treasury Bonds
15% in Intermediate-Term U.S. Treasury Bonds
7.50% in Gold
7.50% in Broad Commodity basket
The result is a heavily diversified group of investments that work to lower volatility and enhance returns over the long-term. However, in contrast to a portfolio with say a 60:40 equity to bonds ratio, the upsides aren't as large but when the tables have turned we certainly don't see some of the biggest losses.
The Big Issue
Although old news, the increase in volatility across the US economy caused by events such as the Donald Trump election and OPEC is unmistakable. The short-term price volatility in the energy markets this spring has succeeded to scare off investors with Figure 1 showing a new trend in selling commodity ETFs since March, despite the price of oil staying within its recent range. But to add to this, the rocky road ahead now that the US is no longer a part of the Paris agreement. I'm sure that many people will agree with me that oil is still very much in choppy waters. With prices staying well below those seen in 2014 at $100 a barrel, this is not an alarming move from investors. Now addressing the sector, we have historically seen some quite poor performance particularly in 2015 and then 2016 brought its best yearly gain since 2010. Is 2017 the year to begin re-investing in standard commodities? It could well be; however, I think there could be a better alternative.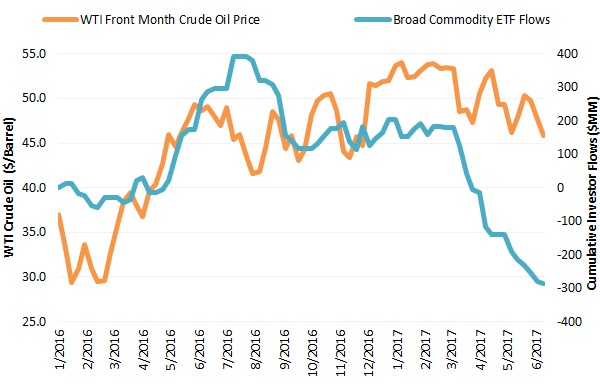 (Figure 1 - ETF Daily News)
Wet Weather ETFS
Exposure to agriculture commodities as a hedge to inflation is a great way to diversify the portfolio since food prices are often among the first to rise when prices begin to climb. In general, agriculture commodities have historically had a low correlation to stocks and bonds, so their addition can help reduce the overall risk in your portfolio. Precisely the aim of Dalio's all-weather fund. The underlying fundamentals are considered very solid, and the demand is expected to steadily increase following the trend of global population.
Portfolio Performance
By using ETF/ETNs, we can form a proxy for the structure that Dalio proposed. With the performance of the following being strong and their exposure coving pretty much the whole sector, these are a fairly accurate in representing real-time performance.
Correlation increases during periods of high volatility. In January 2016, correlation reached as high as 0.97 between the S&P 500 and the price of crude oil. This was the highest degree of correlation in 26 years. Again, with reference to OPEC you can see why I would wish to eradicate oil exposure. The correlation of the portfolio with the US market sits at 0.36 offering large amounts of protection to investors in case of a sizable stock market crash/ correction. The sales pitch about the effectiveness of this strategic allocation assumes that money will rise and fall across the different sectors, but due to the diversification we should gain overall.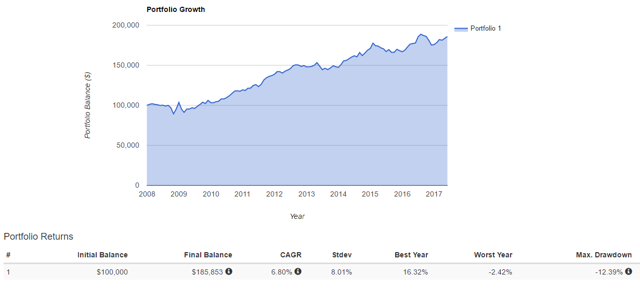 (Figure 2 - Portfolio Visualizer)
Now analyzing the drawdowns, its peak at 12.39% isn't worrying at all in comparison to the near 30% downsides seen from a 60:40 portfolio. So overall, although you may end up with a higher return using this equity heavy strategy, is it worth the gamble of a potential 50% downside (even if it has only a small probability, given enough time it will happen.)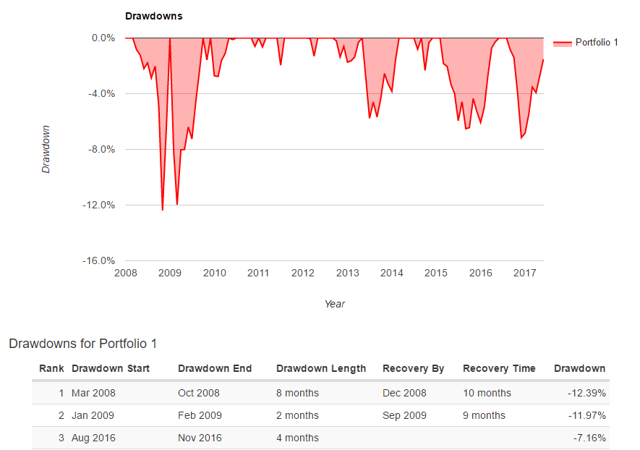 (Figure 3 - Portfolio Visualizer)
Conclusion
Although the all-weather portfolio strategy is well established and many investors have commented on its success, I think it is important to note that although it has worked out nicely during back testing this does not imply future success. My aim with this strategy was to see if we could have an asset allocation in which we had great diversification as well as its success driven by the weather. You could of course take this to the next level and say that we are only going to invest in agricultural equities, but then you take away the portfolio stability. My main drivers for researching into this further very much stemmed from events such as Donald Trump pulling out of the Paris agreement despite the undeniable evidence for global warming. The world's natural resources are being jeopardized by overpopulation and industrial growth, and there are a growing number of geopolitical tensions globally. If you think about it logical, temperature and agriculture will always affect our daily lives, making this an almost failsafe bet for the future.
Disclosure: I/we have no positions in any stocks mentioned, and no plans to initiate any positions within the next 72 hours.
I wrote this article myself, and it expresses my own opinions. I am not receiving compensation for it (other than from Seeking Alpha). I have no business relationship with any company whose stock is mentioned in this article.