In a recent article I detailed why FedEx's (NYSE:FDX) dividend potential was just beginning; despite already increasing the dividend at a high rate for the last 15 years. Basically it comes down to two things - a willingness and ability - with the ability being derived from both a low current payout ratio and the propensity for solid earnings growth to come.
To give you some examples, FedEx currently pays out 17% or so of anticipated profits. If that payout ratio were to get up to 40% after 10 years with 8% earnings growth, the dividend could grow by 18% annually for the next decade. Even if per share earnings were to stagnant, the dividend could still increase by 9% per year. The idea being that FedEx's low payout ratio is a resource that could be utilized for dividend growth down the line.
We've already seen this robust growth come about in the past, but it's not hard to imagine it moving forward on either an earnings or dividend basis. As the economy grows, and especially as more goods move about, FedEx does not need to increase market share in order to capture growth. Instead, the company needs to continuing executing.
Pair this with a low current payout ratio, leaving ample room for share repurchases. In the last three years FedEx has used an average of nearly $3 billion annually towards retiring shares. Perhaps this robust pace does not continue payout-wise (the company currently earns about $3 billion a year) but there is still plenty of "organic" room for per share growth to outpace company-wide growth, in turn eventually helping along the potential for payout expansion as well.
Some might see this and think it's all well and good, but there's a sticking point: the low starting yield. As I write this shares of FedEx trade hands near $210 against a $0.50 quarterly dividend. That equates to an annualized yield of just 0.95%. Not exactly the type of income that many are hoping for.
Many investors think about this low yield in one of two ways: either 1) live with it and recognize the dividend growth trade-off (low yield now, potential for high growth later) or 2) say "too low, what's next?" and move on.
Yet I'd contend that there is a middle ground. And better yet, you can tailor it to your income desires. There are quite literally options available to you.
I'll present an illustration. Here's a look at some available call options for FedEx for the January 2018 expiration: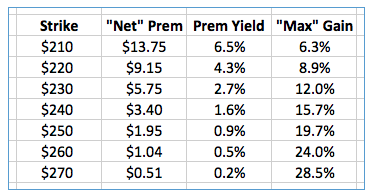 Note that I have no affinity for this expiration date (many prefer shorter-term agreements), but it does work to provide an example.
The first column indicates the strike price, or the price at which you could agree to sell shares of FedEx in increments of 100 shares. The next column indicates the immediate cash flow (per share) that you would receive for making the agreement. This number takes the most recent bid less $0.15 per share for frictional expenses and fluctuations.
The third column highlights the premium yield that this would represent and the final column indicates the "maximum" gain, not including any dividends received along the way. Keep in mind that the above numbers are for the next seven months and not a full year.
This table finds the intermediate ground between not enough income and not being able to own the security at all. Of course this is not a free lunch. The above agreements may or may not turn in superior performance. However, there is a bit more tailoring to your personal preferences that you can achieve.
I'll give you an example. Suppose you'd be happy to partner with FedEx, but you would like to generate a bit more income. You believe in the prospects of the business (at the current valuation) but you'd also be content to generate say a 20% return in the coming seven months and find an alternative for your capital.
An option similar to this shows up in the $250 strike price. You could buy shares near $210 today and simultaneously agree to sell that stake at $250 in the next seven months.
Now one of two basic things happens: either that agreement is exercised or it is not. And in both cases, you begin with $195 in upfront cash flow (per agreement) that is yours to allocate or spend as you please.
If the option is not exercised, you will continue holding shares of FedEx and collect the dividend along the way. Your results would be precisely the same as someone who simply bought and held, plus the upfront cash flow from the option proceeds. In this way, if the option is not exercised, this route will always be superior to an investor who only bought and held.
Now many will point out (correctly) that making this agreement will not prevent you from a loss; which is true. If shares later trade at say $150, you still have the "extra" option premium, but your overall return will still be negative. Slightly better than buying and holding only, but still negative.
Personally, I don't classify this as a risk of the option agreement. To be sure it is a risk of equities in general, but there's no added risk on this side from agreeing to sell at a higher price. Indeed, the upfront option premium actually offsets some of the potential harm.
The larger risk, in my view, is what happens on the upside.
If the option is exercised, this would mean that you're forced to sell at a per share price of $250. The risk here is that shares could later trade at say $270 or $300 and you'd be "stuck" selling at $250. That's a real risk and ought to be considered beforehand.
Yet at the same time, you can tailor this to a level whereby you'd be happy with either outcome. In this particular case you would have roughly $1.95 in upfront per share option proceeds, $250 in sale proceeds and perhaps dividends along the way as well. Your total return would be on the magnitude of 20% over the course of seven months. While you "risk" losing out to an even higher return, I'd consider this no great tragedy (personal investor psychology may differ).
And naturally you can generate higher upfront cash flows by agreeing to sell at a lower price. Or a higher "maximum" gain by generating less upfront cash and agreeing to sell at a higher price.
The point is not about a particular strike price or expiration. The point is that you're not stuck with the alternatives of just buy, hold or sell (or ignore altogether). Instead there's a secondary consideration of "own and agree to potentially sell at a higher price." This is obvious in the options market, but it's overlooked quite frequently in the equity world.
As such, before automatically passing on a security like FedEx due to its "low" yield, a secondary test ought to be whether or not you can manufacture a satisfactory agreement on your own. This secondary examination may often come up short as well, but it could also open up many additional income possibilities that escape a cursory first glance.
Disclosure: I/we have no positions in any stocks mentioned, and no plans to initiate any positions within the next 72 hours.
I wrote this article myself, and it expresses my own opinions. I am not receiving compensation for it (other than from Seeking Alpha). I have no business relationship with any company whose stock is mentioned in this article.