Have Courage To Short Stocks Now?
Summary
The Fed is ignoring the message from the 10Y Treasury Yields.
Even the 10Y T-Bonds are still not fully pricing the significantly reduced chance of Trump reflation.
The stock market leadership has sold-off already.
The most recent developments are very supportive of a bear case for the stock market (NYSEARCA:SPY).
1) The Federal Reserve is completely ignoring the message from the 10Y Treasury Bonds. The yields on 10Y Treasury Bonds have been falling, while the Fed is continuing to rise short term interest rates. As a result the yield curve has significantly narrowed - which is bearish for stocks. In fact, the yield curve spread in now at the cycle-low level near 0.8%.

2) What's more important is that the Fed used the opportunity to increase interest rates during the Trump reflation trade - or expectations that the Trump fiscal stimulus would boost the economy and inflation. These were expectations, but based on the recent performance of the 10Y Treasury Bonds (NASDAQ:TLT), as well as the US Dollar (NYSEARCA:UUP), the market DOES NOT expect the Trump reflation anymore. However, neither the Fed policy not the stock market valuations reflect this disappointment.
3) The recent developments with the Trump-Russia investigations have further reduced any chance of expected timely fiscal stimulus - which is possibly not even fully reflected in the 10Y Treasury Bonds. As a result, the yield curve could quickly flatten if the yields on 10Y Treasury Bonds break the important level at 2% and approach the pre-election levels near 1.5%.
4) Most importantly, the stock market leadership has sold-off right after the Comey testimony. This should not be ignored, and not automatically treated as a dip. Whoever sold the FAANG stocks and the semiconductors (NASDAQ:SOXX) (NASDAQ:SMH) is unlikely to rush in and immediately buy back - if nothing but for the tax reasons.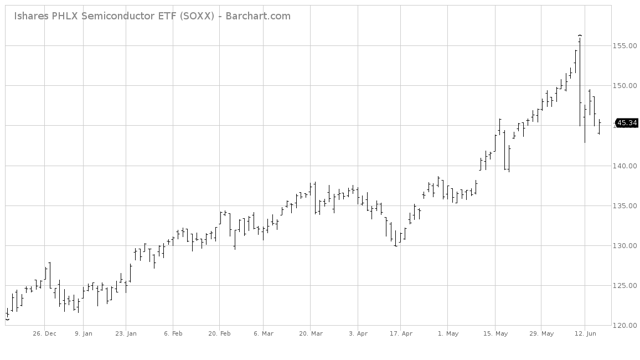 So, we have a materially deteriorating macro situation, with respect to monetary and fiscal policy, in addition to the sell-off in stock market leadership. It seems like a great opportunity to short.
However, bear in mind - the yield curve is still positive. Thus, anybody who shorts now is risking being early. It is still sort of a contrarian trade. As a result, the risk of a short squeeze into a blow-off top is still very high.
Will follow and update as the situation unfolds.
Disclosure: I/we have no positions in any stocks mentioned, and no plans to initiate any positions within the next 72 hours. I wrote this article myself, and it expresses my own opinions. I am not receiving compensation for it (other than from Seeking Alpha). I have no business relationship with any company whose stock is mentioned in this article.
Additional disclosure: Intended for accredited investors.