Intro - Elon's Tweet's Give More Clues About India Launch
On Wednesday afternoon (June 14th), Tesla (NASDAQ:TSLA) CEO Elon Musk posted the following tweet: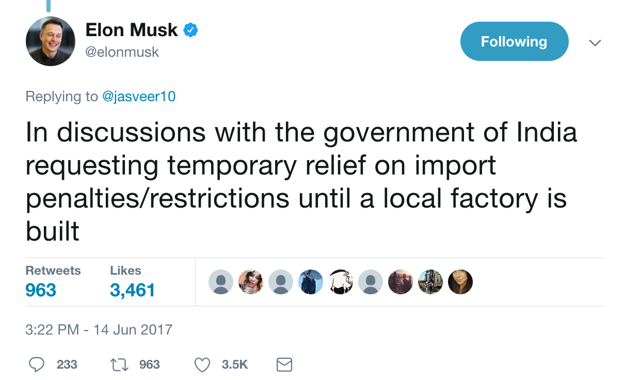 This follows persistent rumors about Tesla launching in India, with the Model 3 as its first product in sometime late 2017, or early 2018.
Prior to this tweet, Musk acknowledged the biggest roadblock to entering the country was meeting India's strict sourcing requirements.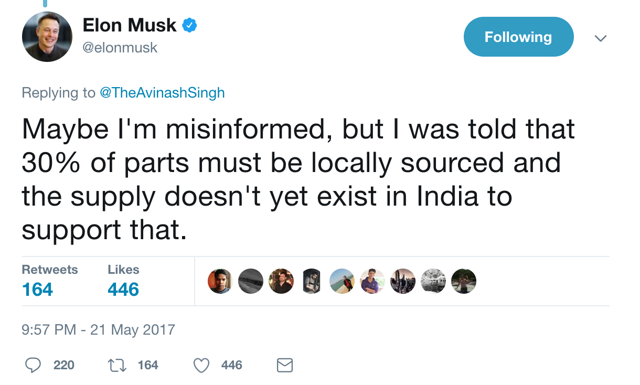 Now it appears as if Tesla is working closely with the Indian government to be granted "temporary relief" on any import restrictions, until a factory is built.
This is exciting news for both Tesla investors, and potential Indian customers.
It's no secret that Elon Musk wants to build several more Gigafactories, and India is a likely candidate to receive one down the road.
If a temporary agreement is reached, it would allow Tesla to gauge demand for its vehicles in the country, before committing to build out a full Gigafactory.
India's Exciting Potential
With a rapidly growing population of 1.3B, that is slated to surpass China by 2028, the opportunity in India will be massive as the country's middle class develops.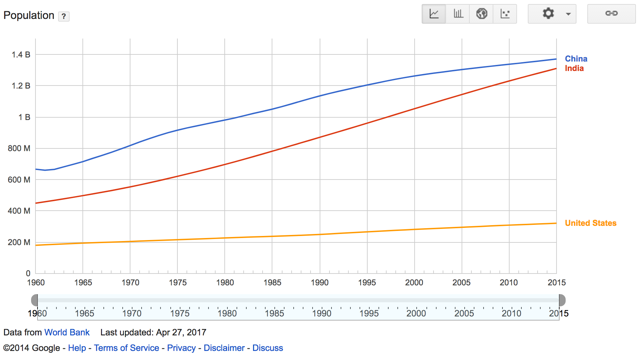 Although India's GDP is still relatively small compared to China or the US, it's growth potential over the next decade is what makes it such an exciting market.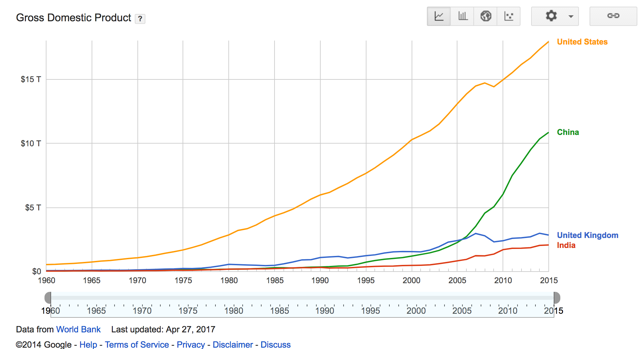 India's GDP growth rate has been growing at an accelerating pace for several decades.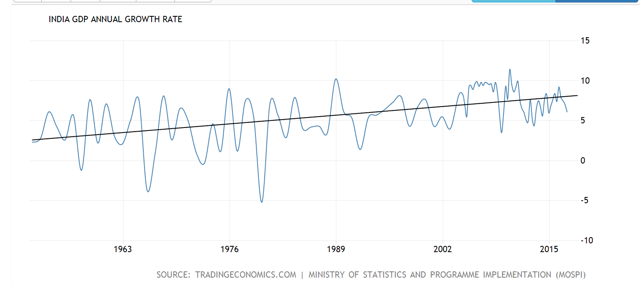 In fact, in 2015, India began growing faster than China.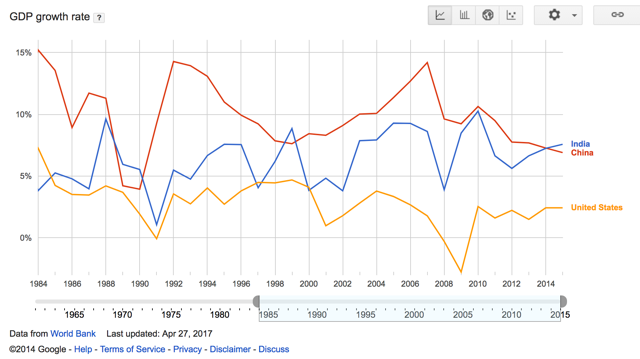 Fueled by a large and increasingly educated population, India's middle class will be a growth sweet spot in the global economy over the next 10-20 years.
In addition to positive demographic trends, India's government is already putting legislation in place to support renewable energy and transportation technologies.
It was recently announced that by 2030, India wants to be selling only electric cars, in a bid to combat pollution from combustion engines.

This willingness to push electric vehicle technology appears to be already benefiting Tesla, as the government is apparently taking strides to relieve typical import restrictions on the company (per Elon's tweet).
India's potential is no secret. The combination of quickly emerging economic powerhouses and business-friendly government is attracting many US tech companies.
For example, Amazon (NASDAQ:AMZN) has committed to investing $5B in the country as part of its ambitious growth plans and Google (NASDAQ:GOOG) (NASDAQ:GOOGL)has been investing heavily in the country for years.
Conclusion - Keep An Eye Out Of Tesla To Launch In India Soon
India's combination of a rapidly growing population and increasing access to education, will lead to continued rapid GDP growth for years to come.
Although initial demand for luxury electric vehicles (EVs) will be small in the region, it's important for Tesla to establish itself in India. The country's goal of selling only EVs by 2030, will allow it to develop one of the world's largest market for EVs over the next decade.
The classic Tesla cult following that we saw line-up for days to put down a Model 3 reservation, appears to already be strong in India. The India Times reported that many high-profile entrepreneurs were tweeting about putting down reservations back in 2016.

Given Tesla allowed Indian consumers to place Model 3 reservations, and Elon tweets have guided for a 2017 launch into the country, we are likely to concrete details soon. Stay tuned.
Disclosure: I am/we are long TSLA.
I wrote this article myself, and it expresses my own opinions. I am not receiving compensation for it (other than from Seeking Alpha). I have no business relationship with any company whose stock is mentioned in this article.