That was a shock. Last night I was writing a piece on Kroger (KR), based on the premise Amazon (AMZN) would be interested in acquiring a food retailer. I was spot on but guessed the wrong retailer. Amazon announced this morning it is buying Whole Foods (WFM). Investors have been worrying that the brick and mortar model is inherently less efficient than an online one. Amazon has just disproved this fact. At least with groceries, Amazon has decided they need stores. This should be good news for Target (TGT), not bad… So why is a 9% crash warranted? It isn't… I've taken this opportunity to re-enter my position in Target this morning…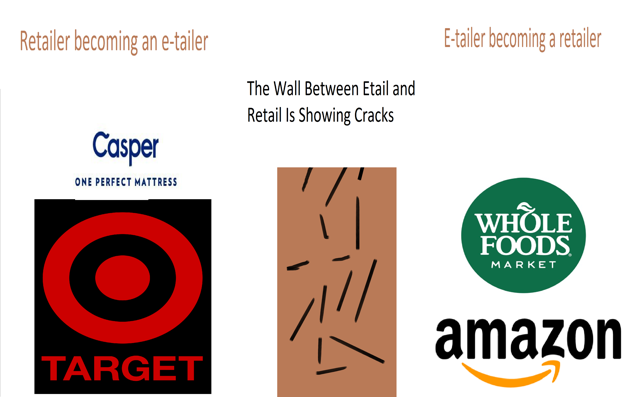 Source: My excellent MS Paint talent
Target crashing makes no sense
It seems like Target's stock can't win some days. Investors have long lamented that Target does not sell enough produce and that Wal-Mart (NYSE:WMT) is eating their lunch (pun intended) in the space. Today, Amazon buys a grocer heavy into produce and Target is down twice what Wal-Mart is… That's a buying opportunity if I've ever seen one... What's utterly baffling to me is Target is not direct competitors with Whole-Foods. Whole-Foods is an upmarket grocer and Target is… not much of a grocer. I'll speak to how I think Target should compete in grocery later. The craziest thing about this to me is Amazon's move is vindicating omnichannel as the future… Amazon longs laughed at brick and mortar and now Amazon has proven there are inherent efficiencies in an omnichannel model… Who's one of the top omnichannel retailers in the world, Target!
Now that we're looking at apples to apples…
Maybe this move will allow the market to objectively look at what Target is relative its peers. Target and Amazon are both omnichannel retailers now. Amazon does also own AWS, but for this discussion, it is not relevant…
I've created a valuation metric that I've found useful for looking at retailers, price to online sales. This should be an easy win for Amazon easily, right? Yes, but that's no longer the whole story… Target booked $688 million in online sales during Q1, more importantly, that number is up 21.5% from last year. Amazon booked $20.99 billion in online sales, with 22.6% growth. Target trades at 38.8x Q1 online sales, while Amazon trades at 22x.
Amazon clearly is destroying Target in online sales, what about total sales? Target posted $16 billion in Q1 revenues through all channels. AmaFoods (my new name for Amazon+Whole Foods) booked $26 billion. What's the difference in market cap between these two entities? Amazon is only about 20x bigger… If we're looking at
Shareholder rewards
Another key component of making a company investable is shareholder rewards. As of this morning Target is trading with about a 5% yield (assuming $50 a share, it has been a volatile session). Amazon has never once paid a dividend. Target invests heavily in buybacks and has shrunk their float from 850 million shares in 2008, to 582 million today. Amazon since 2008 has grown their float from 424 million to 484 million shares and has never bought back a single share…
Target made $5.02 per share (excluding debt retirement costs) in 2016. Amazon made $4.9. Target and Amazon make roughly the same per share and even have similar numbers of shares outstanding, but Amazon's is 20x more expensive.
Margin of safety
Amazon holds a Baa1 (negative) bond rating from Moody's, while Target carries an A2 (stable). Both have been recently reaffirmed. Companies that are facing impending doom don't usually carry the same bond rating as Poland (A2)… Of course, Amazon has the luxury of being able to issue insanely expensive stock, but would that be there should there be a recession? Amazon's growth model has involved operating at a loss and issuing cheap equity historically. Target does not rely on tapping the markets to operate…
It's always worth pondering what happens should Amazon or Target stumble. Target maintained its earnings during the 2008-2009 recession valiantly. We do not have a history of Amazon as an e-tailer through 2009, but it's an educated assumption that a growth stock with 200x earnings will fall A LOT harder than one at 10x with a 5% yield during a market correction.
The path forward for Target
I expect to see a tough path forward for grocers like Sprouts and Kroger. They do not benefit from the omnichannel capabilities of Target and Amazon (or even Wal-Mart). My hope is that Target buys Sprouts… Target has long been accused of having a weak grocery (especially produce) section. Operating a Sprouts store-within-a-store, like Target has with CVS, Starbucks, Casper and Pizza Hut would shore up this offering. Sprouts also operates in the Southern US, while Whole Foods is more in the North East. Sprouts is not a direct competitor with Target. Sprouts stores could also operate as a pickup point for Target orders. This would put TarSprouts on an equal playing field with AmaFoods and cause a further headache for Kroger and Wal-Mart.
How to view Target and Amazon
I see Target and Amazon on two different ends of the retail channel running towards the centre. Amazon is an e-tailer moving to omnichannel and Target is a retailer moving to omnichannel. They're both heading in the same direction and experiencing robust online sales. Target has accelerated in moving into e-tail by investing in Casper Sleep. Amazon is moving into retail with the aforementioned Whole Foods buy.
Conclusion
It is now clear Target and Amazon are moving to the middle ground, an omnichannel model. Target is actually ahead of the curve as it already has a profitable store base. How much of a premium are you willing to pay for two companies headed in the same direction? Take this opportunity to pick up Amazon's latest fire sale, Target stock...
Disclosure: I am/we are long TGT.
I wrote this article myself, and it expresses my own opinions. I am not receiving compensation for it (other than from Seeking Alpha). I have no business relationship with any company whose stock is mentioned in this article.