It has become an issue that risk conscious investors must consider. An increasing number of investors are piling into the short volatility trade today. They are doing so the same way that people were flipping houses a decade ago and buying up tech stocks at the turn of the millennium with the perception that shorting volatility is a cannot miss money printing machine. And many are doing so with leverage. Unfortunately, those who are flooding into the short volatility party are doing so at a time when the CBOE Volatility Index, or the VIX, is already at historical lows. All of this raises an important question. What does the average investor need to do, if anything, to protect against the inevitable rise in volatility, and thus the unwinding of this short volatility trade, at some unknown point in the future?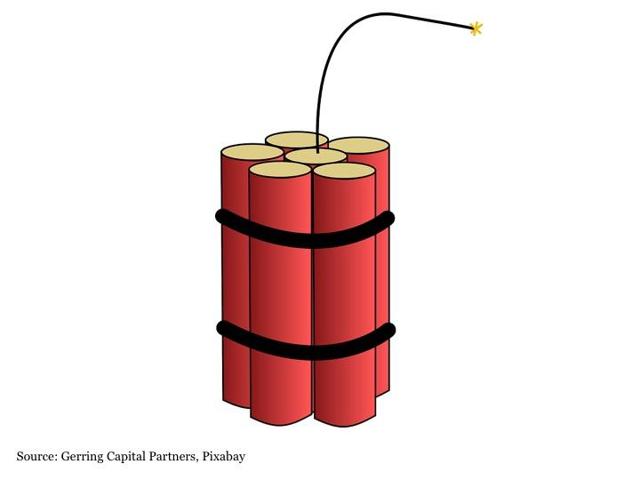 Why It Matters
OK. So speculators have descended on some specialized corner of the market to try and capitalize on the latest "too good to be true" trade. Why should the average investor that's using index funds in their 401k care? The same reason that investors needed to care when everybody and their dog was piling into dot.com stocks. And the same reason that investors needed to care when investors were using zero down loans to buy up a portfolio of real estate properties to flip to the next buyer at a higher price. Because global capital markets are interconnected. And if one area of the market becomes disrupted, it can spread like wildfire across the entire system.
Winners And Losers
The short volatility trade (NASDAQ:XIV) is like a keg of dynamite sitting at the heart of financial markets. Once it explodes, it is likely to come with meaningful collateral damage that could quickly spread across asset classes.
The asset class likely to be most directly impacted is global stocks in general (NASDAQ:ACWX) and the U.S. stock market (NYSEARCA:SPY) in particular. In fact, given that the VIX is a reading that shows the market's expectation of 30-day volatility on the S&P 500 Index, it is very likely that it will be a sharp and unexpected correction in the stock market itself that lights the fuse that explodes the short volatility (NYSEARCA:SVXY) powder keg. And once this eventual disruption takes place, the trade has the potential to compound on itself like a blaze in a fireworks factory with lower stock prices (NASDAQ:QQQ) resulting in higher volatility thus sparking more volatility short covering thus pushing volatility even higher and placing potentially further downside pressure on stocks.
For while increased volatility is supposed to cut both ways, those questioning the relationship between higher volatility and lower stock prices can look to recent history for scores of examples where plunging stock prices and a higher VIX go hand in hand. More on this point in a minute.
So how can investors work to protect themselves against a sudden unwind in the short volatility trade? Strategies such as long volatility (NYSEARCA:VXX) are an idea, but the problem here is that one must get the timing exactly right. Otherwise, the price decay in these products that use rolling futures contracts to try and loosely track the VIX will erode the value of your investment into oblivion. And the same could be said to a certain degree for inverse strategies such as shorting the S&P 500 Index (NYSEARCA:SH), for a relentlessly rising stock market in the meantime has the value of these strategies steadily deteriorating all along the way.
Instead, most investors seeking to protect against a sudden unwind in the short volatility trade need an investment that has the ability to rise in its own right in the meantime.
The long-term U.S. Treasury (NYSEARCA:TLT) is a prime candidate in this regard. While it may not necessarily generate positive returns to completely offset the magnitude of the decline on the stock market side, the potential also exists that it may offset any such declines and more. Either way, it provides a way to hedge against such an outcome while still providing the potential to generate capital appreciation in the meantime.
For those who may question the ability of long-term U.S. Treasuries to appreciate over time, consider the following total returns chart for the S&P 500 Index and the iShares 20+ Year Treasury Bond, or TLT, since 2005. Put simply, the total returns experience has been comparable over this longer-term period of time.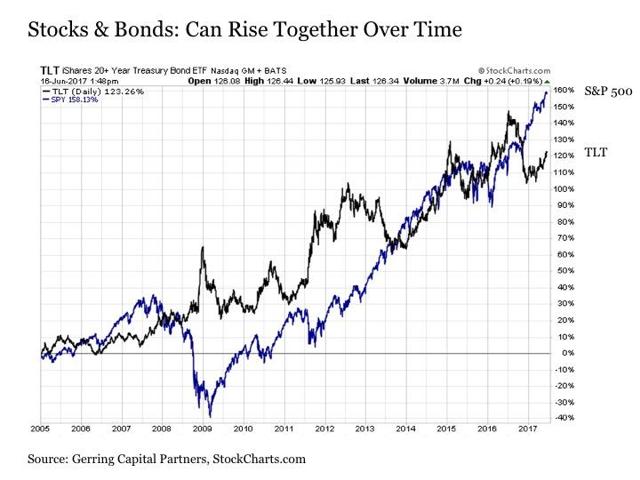 But where long-term U.S. Treasuries can add value for an investment portfolio seeking to hedge against the unwind of the short volatility trade is the following.
Consider the last time we saw even a momentary extreme spike in volatility from below 11 to above 53 back in August 2015. While U.S. stocks dropped by more than -10% along with this spike in volatility, long-term U.S. Treasuries gained by a bit less than +10%. And as the stock market thrashed back and forth and volatility remained elevated in the months that followed, U.S. Treasuries continued on their upward trajectory.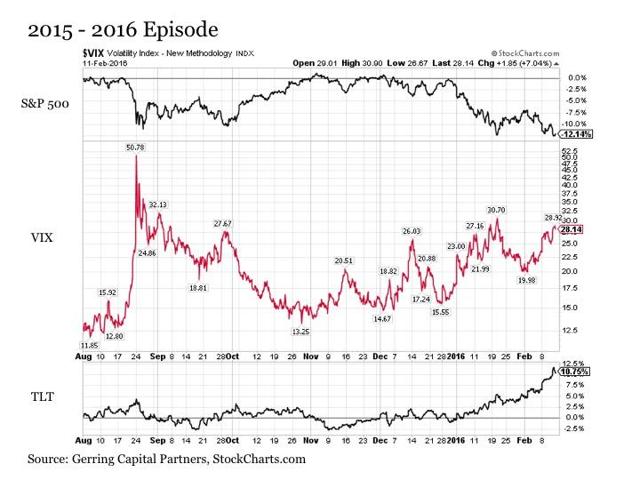 Or consider the summer of 2011 when volatility suddenly spiked from around 15 to as high as 48 and stayed elevated through much of the remainder of the year. While U.S. stocks (NYSEARCA:DIA) fell by more than -15% during this episode, long-term U.S. Treasuries gained by as much as +35%.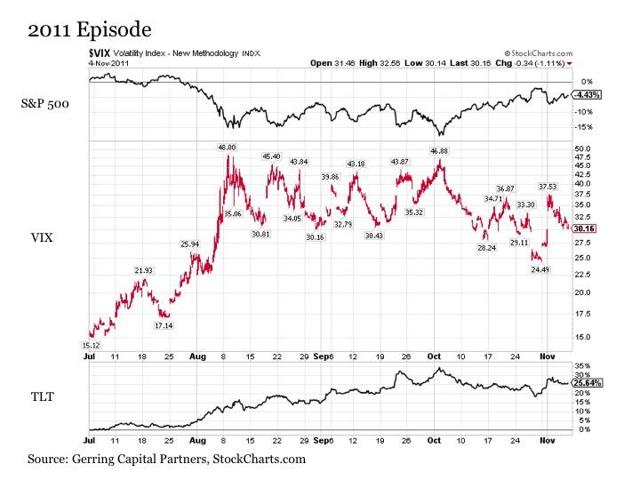 Another was the flash crash episode from May 2010 when the VIX suddenly spiked from just over 15 to as high as 48 and remained elevated for the next couple of months. While the S&P 500 Index dropped by more than -10% during this episode, long-term U.S. Treasuries gained by more than +10%.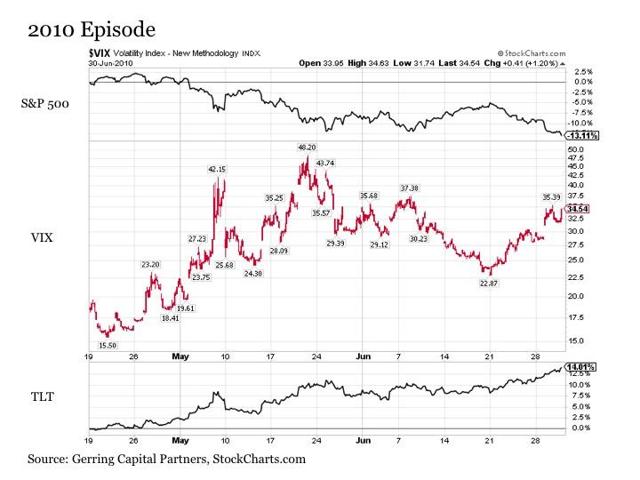 Finally is the recent granddaddy, which was the spike in the VIX from just below 20 to as high as nearly 90 during the fall of 2008. The VIX remained elevated for the many months that followed into early 2009. While the S&P 500 Index (NYSEARCA:IVV) dropped by more than -40% during this episode, long-term U.S. Treasuries rose by more than +30%.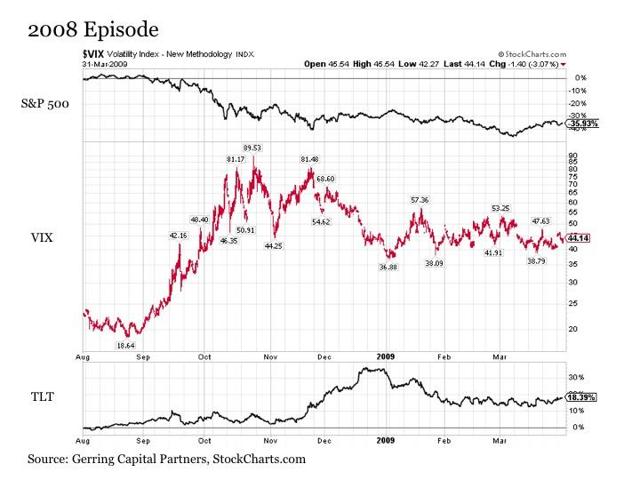 Thus, long-term U.S. Treasuries have a track record of generating meaningfully positive returns during sudden rises in stock market volatility and associated declines in stock prices.
The Dark Side Of The Short Volatility Trade
What of the short volatility traders themselves? How will they fare during the next stock market downturn and spike in volatility? The oldest of the exchange traded products that short volatility date back to the summer of 2010, so they remain largely untested in a sustainably declining stock market that is almost always accompanied by heightened volatility and VIX futures in backwardation, which favors VXX over XIV unlike the environment we have seen in recent years with VIX futures in contango.
Thus, the best example we can consider was the relatively mild case during the 2015-2016 episode where the VIX spiked from just above 10 to over 53 in about two weeks time. As shown in the chart earlier in the article, the VIX did remain elevated for many months through early 2016 but came all the way back to 13 in late October along the way. Overall, a garden variety VIX shock case accompanying a relatively mild correction on the S&P 500 Index just over -10%.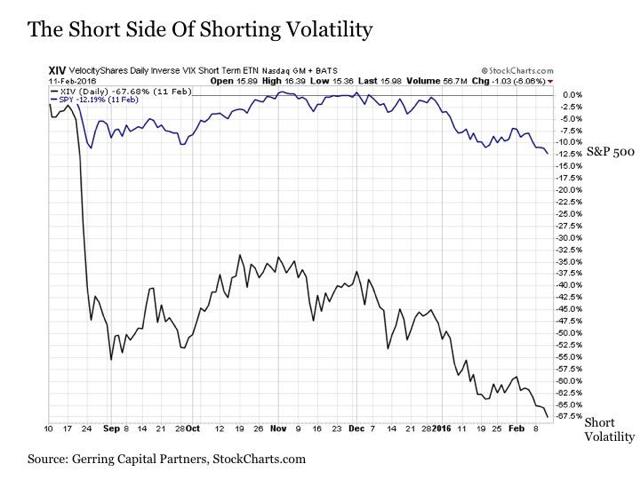 So how did unleveraged short volatility traders simply holding the VelocityShares Daily Inverse VIX Short Term ETN fare during this time period? They almost immediately lost about half of their investment. And over the course of the next six months, they lost a third more to be down more than -67% on the trade. Once again, this is an unleveraged short position, and it is downright ugly. Perhaps some can tolerate these types of losses over such a short period of time, but those with absolute iron in their belly are very few and far between. For those who are short volatility with leverage, simply forget about it, as your effectively cooked with losses of these magnitude.
The above scenario for short volatility traders once again took place during what was otherwise a relatively mild stock market correction during what has been an ongoing bull market. Imagine what these results might look like when we enter into the next bear market.
The Bottom Line
If you are short volatility in today's market, be careful out there. And for those who are seeking to hedge against the potential fallout effects associated with the unwind of what has become an overcrowded volatility trade, an allocation to the long-term U.S. Treasury market may be worth consideration.
DIY Investing Summit 2017 - Special Online Event on June 27-28: Please join us for the Mid-Year DIY Investor Summit coming up soon in late June. Seeking Alpha has partnered with Brian Bain from Investor In The Family once again to bring together nine top investors to share their best strategies and investments for finishing strong in 2017. I am honored to be taking part in this latest Summit with a group of leading contributors that includes Brad Thomas, Bret Jensen, J Mintzmyer, William Koldus, Mark Hibben, Ian Bezek, Lawrence Fuller and Double Dividend Stocks.
Free registration for this special online event starting on Tuesday, June 27 is now open. Please click on the link below if you are interested in registering and learning more.
Learn More & Register For The Mid-Year DIY Investing Summit
Thanks and I look forward to meeting up at the Mid-Year DIY Investing Summit.
Disclosure: This article is for information purposes only. There are risks involved with investing including loss of principal. Gerring Capital Partners makes no explicit or implicit guarantee with respect to performance or the outcome of any investment or projections made. There is no guarantee that the goals of the strategies discussed by Gerring Capital Partners will be met.
Disclosure: I am/we are long TLT.
I wrote this article myself, and it expresses my own opinions. I am not receiving compensation for it (other than from Seeking Alpha). I have no business relationship with any company whose stock is mentioned in this article.
Additional disclosure: I am long selected individual stocks as part of a broadly diversified asset allocation strategy.