Weekly Review
The REIT ETF indexes (VNQ and IYR) finished the week higher by 1.4% as the 10-year yield declined 5bp and flirted with the lowest levels of 2017. The S&P 500 (NYSEARCA:SPY) fell 0.7%. The homebuilder ETFs (XHB and ITB) were higher by 0.9% on the week despite weak . The commercial construction ETF (NYSEARCA:PKB) gained 0.2%.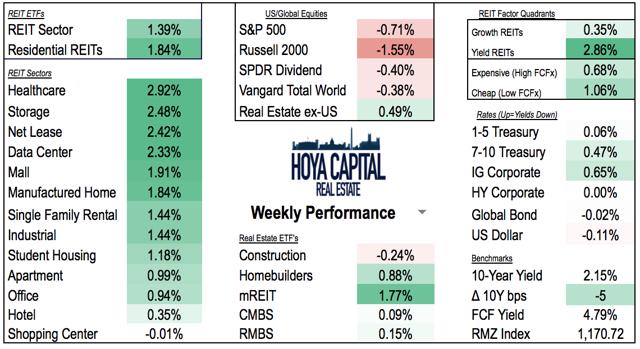 (Hoya Capital Real Estate, Performance as of 12 pm Friday)
Across other areas of the real estate sector, mortgage REITs (BATS:REM) finished the week higher by 1.8% and the international real estate ETF (NASDAQ:VNQI) gained 0.5%. 10-year yields are back near 2017 lows as inflation data has continued to be weaker than expected and the GOP pro-growth policies appear increasingly unlikely in 2017.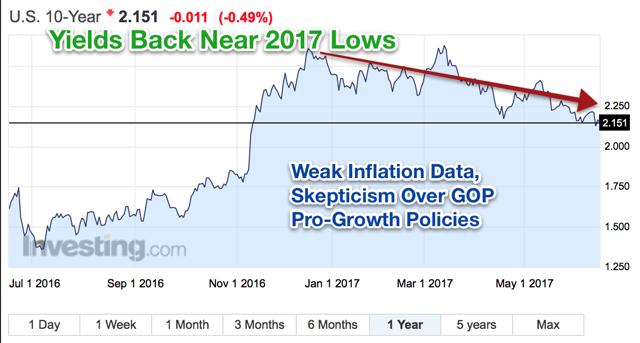 REITs are now higher by 2.8% YTD on a price-basis and higher by roughly 5% on a total-return basis. The sector divergences are also quite significant: the Data Center sector has surged 24% while the retail-focused REITs have fallen double-digits. REITs ended 2016 with a total return of roughly 9%, lower than its 20-year average annual return of 12%.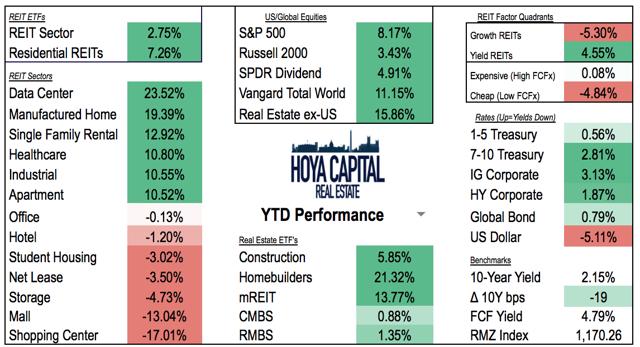 Winner and Losers on The Week
The biggest news of this week came on Friday as Amazon announced plans to acquire Whole Foods, its first significant move into brick and mortar retail. The initial reaction sent Amazon shares higher and shopping center REITs lower.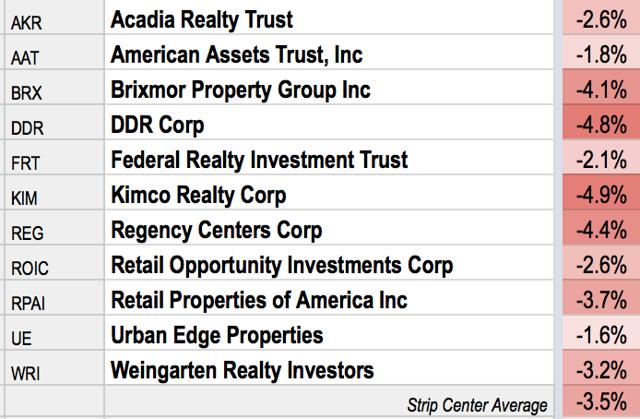 The initial reaction to the news was expected, given the halo-effect around Amazon. We have a different take, and actually see this as a sign that Amazon concedes that it cannot continue to operate exclusively in the e-commerce realm and must use the traditional omni-channel approach that nearly all retailers have been utilizing for more than a decade. The 'story' around Amazon was that it did not need a brick and mortar presence to compete. The hefty premium that Amazon paid for Whole Foods is a strong indication that they see value in the brick and mortar channel and that the last-mile delivery conundrum continues to trouble e-commerce-focused retailers. We see this move as a positive catalyst for shopping center real estate. Shopping center REITs quickly rallied more than 1% off these morning lows but remain lower by more than 2% as of this writing.
The six best performing REITs this week were DuPont Fabros (NYSE:DFT), National Retail (NYSE:NNN), Extra Space (NYSE:EXR), HCP (NYSE:HCP), Ventas (NYSE:VTR), and Store Capital (NYSE:STOR).

The six worst performing REITs were Taubman (NYSE:TCO), RLJ Lodging (NYSE:RLJ), Macerich (NYSE:MAC), Retail Opportunities (NASDAQ:ROIC), Washington REIT (NYSE:WRE), and First Industrial (NYSE:FR).

Economic Data
Every week, we like to dive deeper into the economic data that directly impacts real estate.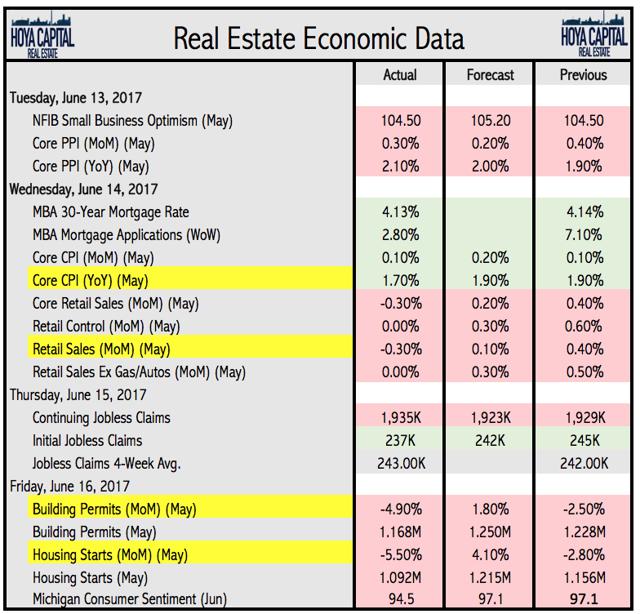 (Hoya Capital Real Estate, HousingWire)
Housing Data Disappoints, Pullback in Multifamily
May housing starts and permitting data released this week were weaker-than-expected across the board, the second consecutive month of significant weakness. This data is notoriously volatile, though, and warm winter weather may have pulled demand forward. The longer-term trends of lower multifamily and sputtering single family development, though, are becoming more pronounced. May's data showed the second lowest level of multifamily permits since 2014.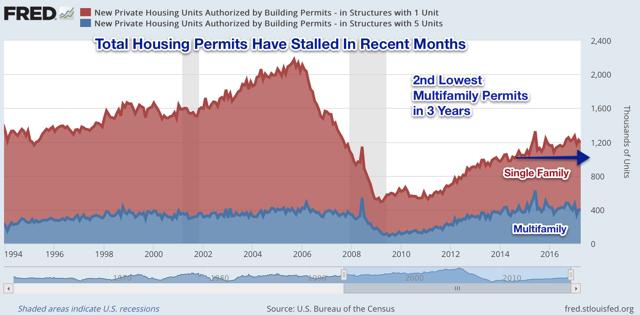 Housing starts data showed a similar trend. May multifamily starts were at the second lowest level since late 2013. All regions besides the West have seen a sustained slowdown in 2017.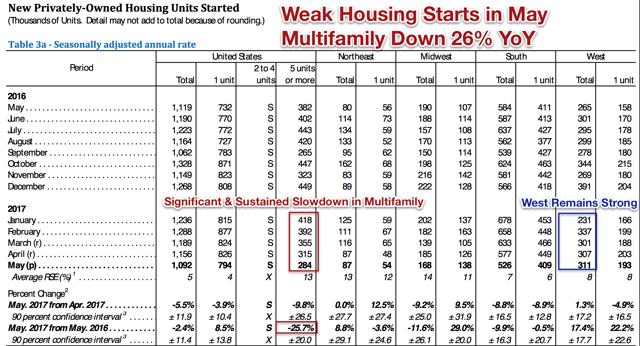 Based on this housing starts data (assuming roughly 18 months of construction time), completions should peak near 400k during this summer and gradually tail off through 2018. High levels of new supply have held back rent growth this year despite robust demand.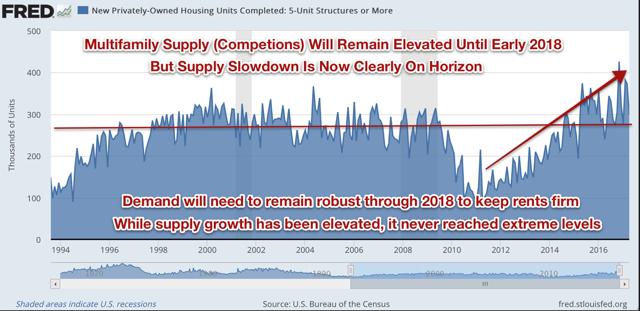 Homebuilders remain confident, though, and see strong demand for single family sales now and six-months forward. On a regional level, the West (71) was the strongest region followed by the Midwest (69), and the South (68). The Northeast (46) is by far the weakest region for homebuilding.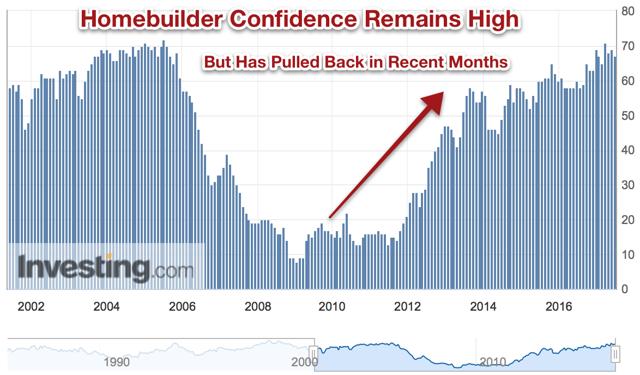 Retail Sales: Weak, But Consumer Remains Strong
April Retail Sales came in slightly shy of expectations and broke a streak of eight consecutive months of positive growth. Retail sales ex auto are higher by 3.8% YoY, but fell 0.3% MoM.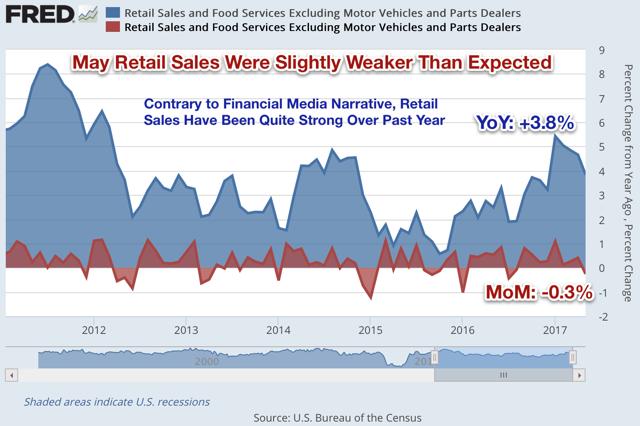 Retail sales have actually been pretty good over the several years. This is hardly the "retail apocalypse" that you hear on TV. As we projected late last year, as motor vehicles sales slow following banner years in 2015 and 2016, consumers have allocated more disposable income towards traditional retail goods.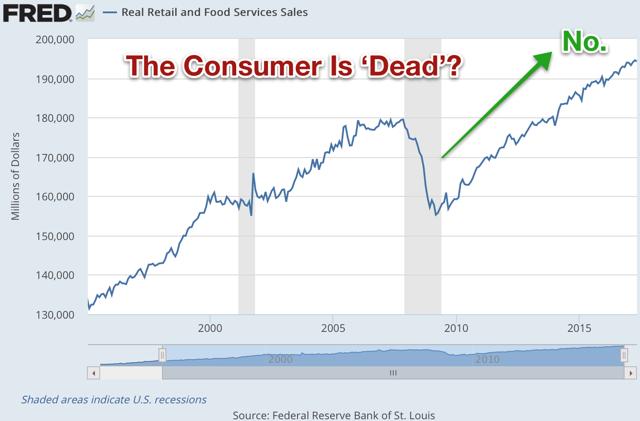 Diving deeper into the data, we see moderate weakness across most categories. Nonstore retailers (e-commerce) was slightly weaker than trend, slowing its YoY growth from 12% to just over 10%. Clothing sales and furniture had a very good May.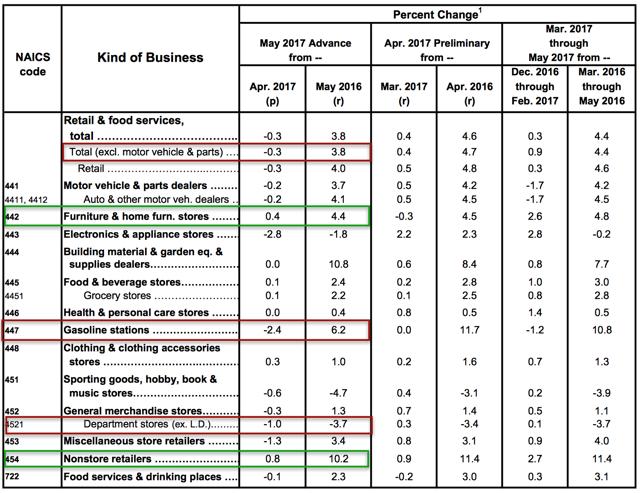 Inflation: Continuing to Trend Lower
CPI and PCE inflation continues to trend down. Core CPI came in at just 1.70% YoY, the lowest rate since late 2015. PPI was slightly hotter than expected, but Core PPI remains under 2.1%.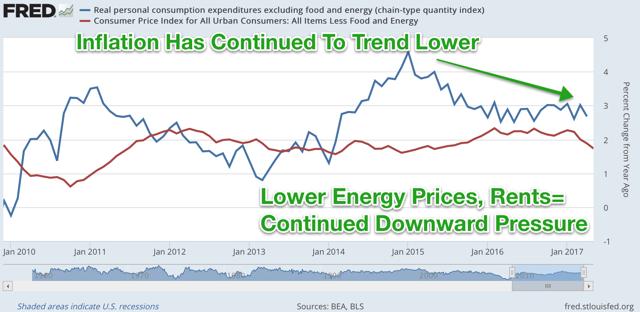 Shelter inflation accounts for nearly 30% of CPI, and the robust growth in rents since 2013 has explained much of the recent rise in inflation. We track the rent growth spread over inflation below, which shows that at its peak, rent inflation was over 3% higher than the overall level of inflation. In fact, in early 2015, rent inflation was the only thing keeping overall inflation in positive territory. The robust levels of multifamily completions that will sustain through 2017 should bring this rent spread down towards zero, which will have the effect of keeping overall inflation rather low.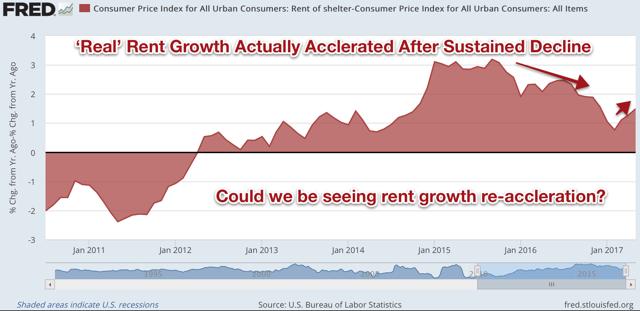 Combined with lower oil prices and the potential for lower healthcare costs, we see more downside pressure on inflation than upside pressure from tight labor markets. These three components (rents, energy, healthcare) are primary drivers of inflation. Lower inflation would be positive for fixed income securities and keep interest rates lower for longer.
Bottom Line
In our data center recap published this week, "As Tech Stocks Tumble, REITs Become 'Big Data' Powerhouses" we discussed that Digital Realty (NYSE:DLR) announced plans to merge with DuPont Fabros. The combined company, the largest data center REIT, will be a cloud computing powerhouse.
In our industrial recap, "Industrial REITs continue to thrive from Amazon's Growth," we discussed that industrial REITs have been the prime beneficiary of the growth in e-commerce over the past decade. Demand for high-quality logistics warehouse space near high-density metro areas has been robust.
Finally, we published a special report, "Buy or Rent? For Millennials, There's a 3rd (and Better) Option." We introduced a 'rental immunization' strategy. Renters can protect themselves from rising rents while saving up for a down payment at their target horizon when their circumstances are more certain. A new breed of innovative pure-play residential REITs has emerged which allows renters to synthetically 'own' their apartment and benefit from rising rents. We look specifically at NY Residential REIT.
Be sure to also check out our REIT Rankings that we updated last week on Net Lease, Mall, and Healthcare REIT sectors.
We encourage readers to follow our Seeking Alpha page (click "Follow" at the top) to continue to stay up to date on our REIT rankings, weekly recaps, and analysis on the REIT and broader real estate sector.
Disclosure: I am/we are long VNQ, SPY, EXR, DFT, DLR, STOR, REG, TCO. I wrote this article myself, and it expresses my own opinions. I am not receiving compensation for it (other than from Seeking Alpha). I have no business relationship with any company whose stock is mentioned in this article.
Additional disclosure: All of our research is for educational purpose only, always provided free of charge exclusively on Seeking Alpha. Recommendations and commentary are purely theoretical and not intended as investment advice. Information presented is believed to be factual and up-to-date, but we do not guarantee its accuracy and it should not be regarded as a complete analysis of the subjects discussed. For investment advice, consult your financial advisor.