Colombia's thirst for natural gas has been expanding at a rapid rate and in comparison to its South American neighbors its reserves of around 4.8 trillion cubic feet are quite small. Despite these relatively low reserves Colombia was natural gas self-sufficient up until 2016 when booming demand and supply constraints forced it to import natural gas for the first time ever. This heralded the end of decades of self-sufficiency creating a significant opportunity for natural gas producers.
Of greater concern for Colombian policy makers is that a combination of a sharp uptick in demand coupled with growing supply constraints is causing demand to significantly outstrip supply. A key driver of this is the impact of the El Niño weather pattern on hydrology in the country and more broadly in South America.
You see, Colombia is highly reliant upon hydro power generation with 64% of its installed capacity being hydro and around 70% of all electricity produced coming from hydro. Such a high degree of dependence on hydro means that it is vulnerable to changes in hydrology such as those caused by the El Niño weather pattern which has caused water levels to fall significantly.
The impact that poor hydrology is having on electricity generation in Colombia becomes apparent when reviewing the performance of Brookfield Renewable Partners (NYSE:BEP). It owns the country's third largest electricity producer Isagen. For the last two years since purchasing the hydro focused electric utility from the Colombian government it has reported actual generation that has been below the long-term average.
These low water levels coupled with Colombia's dependence on hydro-electricity has led to power shortages across the country and sparked concern over energy security. This phenomenon associated with climate change has forced the government to divert more natural gas to thermoelectric power plants causing the demand for natural gas to rise.
According to Colombia's Comptroller General Edgardo Maya:
The combination of factors such as El Niño, the shortage of natural gas, the financial situation of companies and operating stress make today a risk scenario, and should be relieved to avoid an electric shortage . . .
The link between GDP and growing electricity demand
Colombian demand for electricity is forecast to grow quite strongly over the next decade with gigawatt hours consumed expected to rise by just over 43% by 2027. The rapid growth of Colombia's economy, the direct linkage between GDP growth and its expanding manufacturing sector, which is the single largest consumer of electricity nationally, will support such strong demand growth.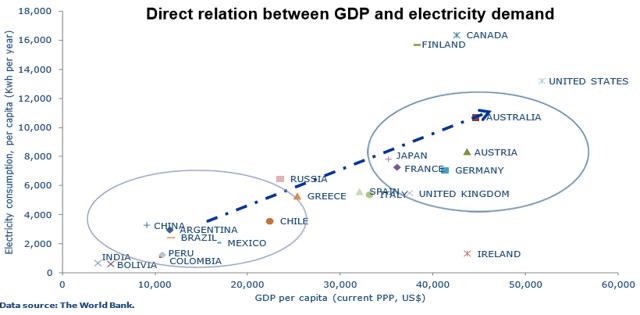 Source: Enel Generacion.
The only means of filling the gap triggered by this growing demand for electricity and the shortages created by poor hydrology is to increase the output from gas fired thermal electric plants. This will instigate a considerable surge in the demand for natural gas in Colombia.

Source: EMIS.
There also the potential for the supply shortfall to widen further because there has been a sharp decline in investment in Colombia's petroleum industry, predominantly because of the prolonged slump in crude and natural gas prices. This along with high operating costs domestically and internal security issues has made it an unattractive destination for energy companies.
Declining natural gas supplies
Not only is this magnifying the supply issues but has led to a sharp drop in exploration and development, which means that declining gas reserves because of production are not being replaced. These declines are already being seen across existing fields. Three mature fields Chuchupa, Ballena and La Creciente located in the north-eastern department of Guajira have collectively experienced a 20% reduction in natural gas output.
This along with the energy sector being an important driver of economic growth and earner of much needed export revenue the Colombian government in recent years has moved to bolster investment in the beleaguered sector. It has done this through tax breaks and reduced capital requirements among other things. This it is hoped will boost production and see the country capable of meeting its energy needs and returning output to the one million barrels daily mark.
It has led to an increase in offshore shallow to deep water exploration on Colombia's Caribbean coast that has seen some significant discoveries in recent years. Key among them is Anadarko Petroleum (NYSE:APC) and Ecopetrol's (NYSE:EC) Gorgon-1 discovery in early May of this year which is the largest natural gas find in Colombia in 28 years. In combination with the Orca-1 discovery made by Petrobras' (NYSE:PBR) in 2014 has led to speculation that Colombia is in a position to develop a natural gas production cluster that would improve efficiencies and reduce costs through shared facilities and infrastructure.
Nevertheless, while this could go a long way to solving Colombia natural gas shortage it will be at least until 2022 before full production commences.
To address these supply shortfalls and threats to energy security the government commissioned the construction of the Cartagena LNG regasification facility which commenced operations in 2016. It does appear how that this facility is seen a solution to meeting peak demand from gas fired power plants rather than addressing the existing shortfall in supply. Bogota has also flagged the possibility of another plant being constructed on Colombia's west coast which is not expected to commence operations, if constructed before 2024.
What is the trade?
That means the shortfall now being experienced will continue for the short to medium-term. This has created a significant opportunity for Canacol Energy (OTCQX:CNNEF) which has positioned itself as a leading onshore natural gas producer in Colombia.
It has two producing and three exploration natural gas blocks in the Lower Magdalena Basin which is located close to Colombia's Caribbean coast. The producing Esperanza and VIM-5 blocks reported an impressive $25.74 and $24.56 operating netback per boe respectively for the first quarter 2017.
That market is responsible for around 37% of all natural gas consumption in the country and is currently suffering from significant supply constraints for natural gas. Given the proximity of Canacol's onshore natural gas production it makes it a natural market for the upstream energy producer. The natural gas shortage, particularly on Colombia's Caribbean coast, has allowed Canacol to lock in contracts for its natural gas that average $5 per mcf of gas sold, which is an impressive 64% higher than the spot price.
Canacol has formed a special purpose vehicle to construct a new private gas pipeline connecting its gas facility located at Jobo to the Promigas operated pipeline at Sincelejo. The pipeline is forecast to be completed by December 2017 and will transport 40 MMscfpd to Canacol's customers in Cartagena. It also will lift the company's production flow rate to 130 MMscfpd and expand to 230 MMscfpd by 2018, giving its earnings a healthy lift.
Disclosure: I/we have no positions in any stocks mentioned, and no plans to initiate any positions within the next 72 hours.
I wrote this article myself, and it expresses my own opinions. I am not receiving compensation for it (other than from Seeking Alpha). I have no business relationship with any company whose stock is mentioned in this article.
Editor's Note: This article discusses one or more securities that do not trade on a major U.S. exchange. Please be aware of the risks associated with these stocks.