I have said for a while that most companies fare better internationally if they establish their own company instead of going through distributors.
One other such market is Iran.
Of all the market so far surveyed, Iran is the most difficult and at the same time the most promising. With sanctions being lifted, albeit slowly, demand for foreign goods - and this includes toys - is absolutely certain to skyrocket. But first, a few thoughts about the country and why Iran is the way it is.
Iran is unique. Iran is home to one of the world's oldest continuous major civilizations, with historical and urban settlements dating back to 7000 BC. Iran, unlike its Middle Eastern neighbors, has never been part of the Ottoman empire and has as a consequence never been colonized by the French or the British or anybody else. Iran is a Muslim country and the home of the Shia branch of Islam. The majority of the Iranian population are Iranians [or Persians], not Arabs.
Iran is large and a regional power. In terms of size and its population of more than 80 million, Iran is the largest country in the Middle East. Being the Shia core country, Iran wields great influence over those of its neighbors who have a large Shia population - Iraq, Yemen, Lebanon and Syria [note that Syria is ruled by Shia adherents but the majority of its population is Sunni]. It is - in spite of past and still existing sanctions - an economic power. Its GDP of US$438 billion is in its neighborhood only exceeded by Saudi Arabia [US$646 billion] and Turkey [US$718 billion].
Iran is difficult. Firstly, the Iranian toy market is governed by the tenets of Islam which imposes laws of behavior often different from those in Western countries. For example, Barbie, Ken and the Simpsons are banned in Iran for religious reasons.
Secondly, although 100% foreign ownership is, by law, permitted in many sectors in Iran and selecting an Iranian partner is not mandatory in order to conduct business in Iran (apart from in the upstream oil and gas sector), many companies seek to engage an Iranian partner when establishing a business in Iran, either through an acquisition, or a joint venture. Selecting a partner or a counterparty with which to do business in Iran has its own challenges and risks. A number of individuals and entities still remain on the US and EU Specially Designated Nationals sanctions lists so it is important to carry out sufficient due diligence to ensure that one is not entering into business with a sanctioned party or an entity that is controlled by a sanctioned party. However, in a market in which reliable information is not readily available, this can be a challenge.
What complicates things further is that "US Persons" (a category that includes US citizens and residents, and US companies and their foreign subsidiaries) are still prohibited from engaging in transactions with Iran or an Iranian national. The sanctions also apply to non-US persons with property and assets in the US. Iran-related bank transactions are not permitted to pass through the US financial system, making payments into and out of Iran difficult.
Simply doing business as a foreign entity in Iran is very hard. The best way to demonstrate this is to take The World Bank's 2017 ranking of ease of doing business in certain countries and compare them. Note that the best ranking is 1 and the worst is 190:
| | | | | | |
| --- | --- | --- | --- | --- | --- |
| Activity | Iran | China | USA | India | Sweden |
| Overall | 120 | 78 | 8 | 130 | 9 |
| Starting a Business | 102 | 127 | 51 | 155 | 15 |
| Construction Permits | 27 | 177 | 39 | 185 | 25 |
| Getting Electricals | 34 | 97 | 36 | 26 | 6 |
| Registering Properties | 86 | 42 | 36 | 138 | 10 |
| Getting Credit | 101 | 62 | 2 | 44 | 75 |
| Protecting Minority Investors | 165 | 123 | 41 | 13 | 19 |
| Paying Taxes | 100 | 131 | 36 | 172 | 28 |
| Trading across Borders | 170 | 9 | 35 | 143 | 17 |
| Enforcing Contracts | 70 | 5 | 20 | 172 | 22 |
| Resolving Insolvency | 156 | 53 | 51 | 136 | 19 |
[For further reading on the other three countries shown above - China, India and Sweden - please go to https://www.klosterstrading.com/our-spaces/media-articles/ which will link you to the Seeking Alpha articles]
The Iran Toy Market.
The Iranian toy market is composed of two parts. The first are manufactured toys imported legally, or smuggled into or manufactured in the country, valued in total at retail at $500 million in 2016.
The latter is toys made in small workshops or handmade toys which are typically sold in bazaars, by peddlers and maidani [street vendors] plus small shops in the 70,000 villages and is estimated at another $100 million last year. Most of these toys are plush, soft dolls or wooden toys.
As for the former - manufactured toys - $5 million of toys were imported every month into Iran last year legally according to Mohammad Hussein Farjou, secretary of the Council for Toy Supervision, an arm of the Institute for Intellectual Development of Children and Young Adults (IDCYA).
This added up to $168 million at retail and represented one-third of the total toy market in line with the calculation below:

According to the Headquarters to Combat Smuggling of Goods and Foreign Exchange, 47% of the toys sold in 2016 were contraband which represented U.S.$235 million at retail. Virtually all of the smuggled toys are of Chinese origin and are either knock-offs of European/American brands or are very generic toys such as fashion dolls and toy vehicles.
Finally, 20% of all manufactured toys sold in Iran last year came from local factories which are again not licensed to produce under Western IPs but are mainly focused on providing generic and low-priced toys under a variety of Iranian trademarks.
In summary, the Iranian toy market accessible for Western products is pretty much restricted to the U.S.$168 million portion of the market that is imported legally - mainly from the United Arab Emirates, specifically from Dubai. Dubai is the traditional hub for business with Iran and a crucial gateway for articles and goods. More than 75% of Iran's trade in the Gulf is carried out via Dubai and this includes legally imported toys.
These legally imported toys are sold virtually exclusively in the urban areas of Iran where retailing was one of the most dynamic industries during the last five years. Modern grocery channels such as hypermarkets expanded rapidly at the expense of traditional independent outlets and internet retailing and direct selling registered strong growth. However, after everything is said and done, bazaars still represent the vast majority of toy retail even in cities such as Teheran and Mashdad. These bazaars manage and control the distribution of the majority of consumer goods. This network includes key importers and wholesalers, which are still a necessity for the majority of manufacturers due to the high number of outlets and the weak culture of modern retail practices among Iranian consumers.
At this point there are only two chains that deal in imported toys - Refab with 160 stores and Toy Toy with 5 stores. Refab is a hypermarket chain that includes a small assortment of toys, whereas Toy Toy is a specialty chain totally dedicated to imported and branded toys. Between them they have a market share of about one-third of the $168 million indicated above. There is one important online retailer of toys - Digikala. A second but much smaller online retailer is Bamiloo. The revenue of the two in 2016 is estimated at $10 million, of which at least 90% was done by Digikala.
There are also two wholesalers specializing in the distribution of legally imported toys to small retailers - ToyToy [under the JB Toys name] and Global Brands. Of the two, ToyToy is the bigger and they have between them between 25% and 30% of the market.
This is how the IranianToy Market for legally imported products is estimated for 2016: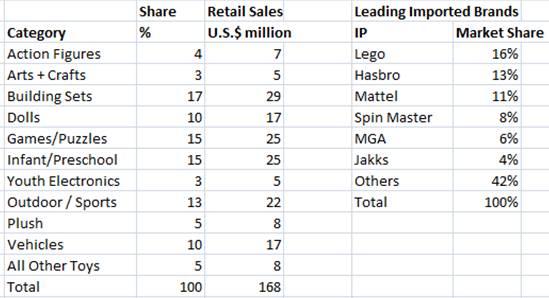 Source: Klosters Retailer Panel
Note that growth of the toy market as defined above is estimated between 10% and 15% for 2017.
Of the entities engaged in the legally imported toy market, ToyToy/JB Toys is the most interesting in that the company combines two activities and is significant in both - retail through its own stores and wholesale to other retailers. To discharge both functions well is obviously a major challenge in a market such as Iran and this is how the owner of both companies is explaining his approach to it:
We import all our products ourselves and do not buy from others in Iran. Because of the US sanctions against Iran we act in the role of Sub Distributor for regional distributors located in other countries. We are working with many of them and almost 95% of what you see on ToyToy is for both retail and distribution. But our main focus is on Spin Master (TOY.TO), Hasbro (NASDAQ:HAS), Jakks Pacific (NASDAQ:JAKK), MGA, Wow Wee, The Think Way toys, Collecta, Rastar, Gonher,TY ,Moose, Ecoiffier, Smoby. We use our own employees for all activities - retail as well as wholesale. We spend up to 5% of our sales on advertising. We spend on Events, Giveaway Gifts (dvds, etc.), Press Advertising, Social Medias, etc. It is effective and works for us. We have established retailer relationships throughout the country and know our market of branded toys very well, aided by a professional sales team both in the stores as well as in the wholesale activity. We also have lower operational costs because of economy of scale which allows us to work with lower margins which in turn benefits our retail customers. In summary, we have a wide distribution network over all major cities of Iran and the ownership of the biggest toys retail chain. We are interested in all kind of new toys especially robotic hi-tech toys.
There is little doubt that Iran as a toy market offers incredible promise. Equally, there is little doubt that Iran is an incredibly complex market to do business with as long as current sanction constraints continue to apply. There is no other toy market of this size where none of the large and medium-sized toy companies have a direct relationship with the leading retailers. However, to establish such a relationship calls for a totally different supply chain model. Normally, the toy company obtains a purchase order from the retailer and then pushes the merchandise through its supply chain from the factory in China to the retailer's warehouse. In Iran, this is not the case. Firstly, the toy company has to find a way to talk to the retailer directly without being compromised in the context of whatever sanctions apply to the case. Once there is an ongoing conversation and an agreement as to what the retailer wants to order, the order and then the goods will need to be pulled through the supply chain via the commercial links the retailer has with the outside world all the way back to the factory. If the agreement with the retailer includes a credit facility, the manufacturer will have to make sure that this credit facility is being applied to all steps on the way.
A number of my financial clients I spoke to believe that the unilateral sanctions imposed by the United States cannot persist given the fact that the leading European powers, as well as China and Russia, build economic relationships with Iran.
In other words, things will change also for American companies and the toy company which establishes a direct relationship with a credible Iranian distributor will have a very significant advantage over its competitors who deal with Iranian retailers at arm's length via regional intermediaries outside Iran.
Disclosure: I/we have no positions in any stocks mentioned, and no plans to initiate any positions within the next 72 hours.
I wrote this article myself, and it expresses my own opinions. I am not receiving compensation for it (other than from Seeking Alpha). I have no business relationship with any company whose stock is mentioned in this article.
Editor's Note: This article covers one or more microcap stocks. Please be aware of the risks associated with these stocks.