John Mackey, Whole Foods (WFM) CEO, said just the day before Amazon (NASDAQ:AMZN) bought his company for $14 billion, that activist investors like JANA Partners are 'greedy bastards' only interested in a sale of the grocer. He was right. But, while Whole Foods investors get bailed out by Amazon, the move may have created an even greater opportunity. For one, it saves Kroger (NYSE:KR) from itself, i.e. being tempted into buying Whole Foods (KR doesn't need WFM - something I've talked about here) and two, it created a huge buying opportunity in Kroger.
JANA got involved earlier this year with a 9% stake in Whole Foods and started pushing for a sale. They'll make over $300 million on buyout, with Whole Foods shares now up nearly 40% in 2017.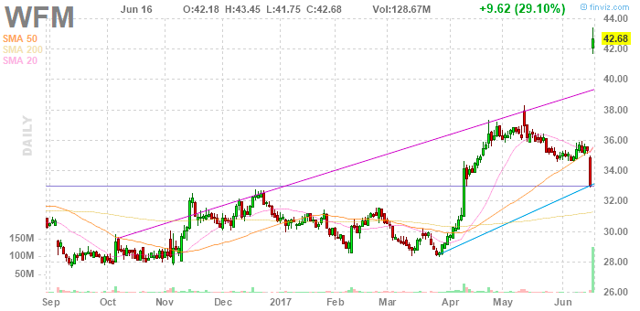 Meanwhile, with the Whole Foods buyout, the rest of the grocery industry has been left in shambles. Amazon's stock jumped over 2% on the news - booking an over $11 billion gain in its market cap. Part of this comes as Amazon brings a lot of negotiating power to the table for Whole Foods, and this will be an easy way for Amazon to finally get into the grocery and grocery delivery business - likely using Whole Foods over 400 stores as distribution centers. Plus, Amazon can use the stores as a retail storefront for its other products. And it gains an installed base of higher income shoppers and households and prime real estate in affluent neighborhoods. So, the 2%+ jump in Amazon's stock price should not come as a huge surprise.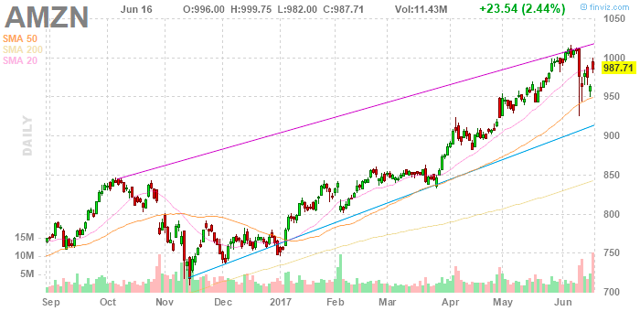 Meanwhile, while the market was buying up Amazon, they were dumping the rest of the grocery industry. And I mean the entire industry. More than $25 billion in market cap was wiped out between the five largest grocery retailer - Wal-Mart (NYSE:WMT), Target (NYSE:TGT), SuperValu (NYSE:SVU), Sprouts Farmers Market (NASDAQ:SFM) and Kroger.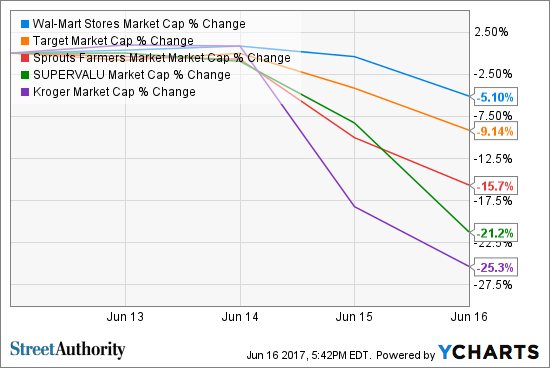 Amazon is attacking both ends of the market. The Whole Foods buyout puts it on par to compete with the likes of Sprouts and The Fresh Market, while getting involved with government assistance will put it in greater competition with market. Amazon is looking to add the 20% of the population on government assistance as customers. Amazon is lowering its price of Prime for these people, as well as accepting food stamps on grocery items.
But, the middle market is still pretty wide open. It'll be the players with the biggest footprint that win out here, with Kroger being positioned nicely despite the overhang of a impending "price war." Kroger shares have fallen nearly 30% in the last week on the Amazon-Whole Foods news and a weak earnings report (plus weak guidance). Still, everything is a buy at a certain price, with Kroger now trading at nearly 10 times next year's earnings.
While an Amazon-Whole Foods puts pressure on Costco (NASDAQ:COST), given the overlap in Costco memberships and Prime memberships, and on Wal-Mart and Target given the fact that Amazon can now cross-sell other products (like electronics and household goods) with groceries, the only major worry for Kroger right now is pricing. Amazon loves to compete on price, but that's also inherently the opposite of Whole Foods 'premium' business model. Kroger is still growing same-store sales and has a large leg up on Whole Foods, with 3,000 stores compared to Whole Foods' 400. I wouldn't be surprised if Kroger did look to do its own form of industry disruption, as I believe there is an opportunity to quickly get a leg up in the delivery market if Kroger were to buy the likes of Instacart (the grocery delivery business valued at $3.5 billion - although it does have a five-year partnership with Whole Foods).
All in all, Kroger avoided a major distraction by not buying Whole Foods.

Source: SA article
But now they have to capitalize on the distraction that other players in the grocery space will face. Focusing on what they do well, including rolling out more organics and growing its higher-margin private label business, will be key. Kroger could turn out to be the big winner in this 'Amazon buys Whole Foods' news.
Disclosure: I/we have no positions in any stocks mentioned, and no plans to initiate any positions within the next 72 hours.
I wrote this article myself, and it expresses my own opinions. I am not receiving compensation for it (other than from Seeking Alpha). I have no business relationship with any company whose stock is mentioned in this article.