Rethink Technology business briefs for June 16, 2017.
Apple hires Sony Television executives for original video content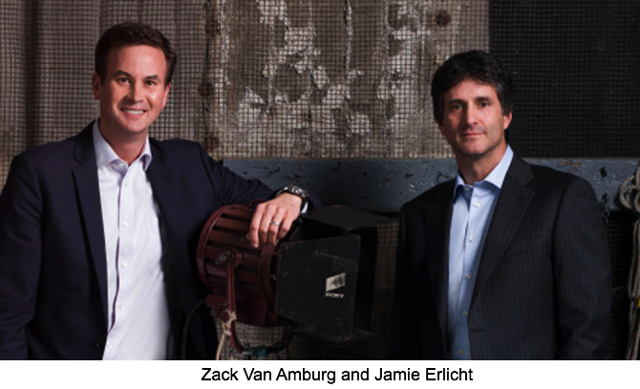 Source: Variety
Apple (NASDAQ:AAPL) has announced that Jamie Erlicht and Zack Van Amburg will be joining the company "in newly created positions overseeing all aspects of video programming" and reporting to Eddy Cue. They'll join Apple when their current contracts with Sony (NYSE:SNE) Pictures Television expire in August.
At Sony, they were responsible for developing series such as Breaking Bad, The Crown, and Rescue Me. Although the WSJ used the term "poaches" to describe Apple's actions, in fact, the transition appears to be too orderly and amicable for such a description.
Sony Pictures Entertainment Chief Executive Tony Vinciquerra stated:
While we are sad to see them go, we are excited by the opportunity to work with them as partners in the future.
And yes, it does work that way some time. A highly placed executive moves to another company, and that serves to grease the skids for a business relationship between the two. It certainly did when Stephen Elop moved from Microsoft (NASDAQ:MSFT) to Nokia (NYSE:NOK) as CEO. Which also goes to show that such moves are no guarantee of success for either company.
In the case of Sony, it has every reason to be excited, as does Apple. Erlicht and Van Amburg have a taste for the edgy, iconoclastic programming that works so well when unfettered by the strictures of broadcast TV.
It's a dark sensibility that Apple desperately needs. With the exception of Sean Combs' documentary, Apple's very limited offerings, Planet of the Apps, and Carpool Karaoke, have been so wholesome.
Apple goes the anti-Daryanani route
No one really doubts that this is just the start of Apple's original programming efforts. With over $250 billion in cash, Apple can outspend any rival in content creation. But first it needed to hire some people who knew how to spend the money, and that is the role of Erlicht and Van Amburg.
In Los Angeles, where the two will be based, there are plenty of production houses, scripts and talent ready to receive that money. The trick is to sift through it all and find the properties that are worth developing, and the right talent to do the work. Erlicht and Van Amburg have proven themselves in this regard.
In hiring them, Apple is steering much closer to the Netflix (NASDAQ:NFLX) approach of organically growing its original content rather than just buying a media company. Not long ago, Amit Daryanani of RBC Capital Markets put forth the notion that Apple should buy Disney (NYSE:DIS). In a note to Rethink Technology subscribers, I called this a "terrible idea".
Not that it is a bad idea for Apple to develop original content. I just didn't think that buying Disney was the right way to go about it. The hiring of Erlicht and Van Amburg is much less expensive than the roughly $250 billion Daryanani estimated that Disney would cost. It also entails far less risk. And since much production is done overseas, Apple will be able to spend some of its overseas cash without repatriation or the associated tax.
I've pointed out that for streaming media services, content provides the only viable discriminator since the technology and services are basically the same for all the streaming companies. Apple needed a streaming video service to flesh out the suite of services it offers its customers, ergo, it needed to develop original content. But content with credibility.
Apple's entry into streaming video has a number of interesting consequences for companies such as Netflix. With over a billion active devices of all types, and its very, very, deep pockets, Apple's ability to grow its subscribers may be greater than any other streaming service.
I think it's entirely plausible that Apple could grow its streaming media (video and music) business to be larger than Netflix. In 2017 Q1, Netflix had total revenue of $2.636 billion and 98.75 million total memberships. For Apple's fiscal 2017 Q2 (ending in March), its revenue from services alone was $7.041 billion. If Apple had another $2.6 billion in streaming revenue in the quarter, that would have boosted revenue by 5%.
Since the advent of Apple Music, I've been saying that it was just a precursor to a general streaming media service that would include TV and movies. Apple has moved fairly slowly, but I respect that. It's being very circumspect with how it spends its cash. Rather than just going out and blowing it all on a flashy high-profile acquisition, it is carefully laying the foundations for future growth.
Apple is part of the Rethink Technology portfolio and is a recommended buy. In Brian Bain's DIY Investing Summit, I describe in detail the investing philosophy and decision making behind the Rethink Technology portfolio. For a limited time, readers can hear the interview for free when the Summit goes live on June 27-28 by clicking this link.
Apple Music trails Spotify in total users, and why that's a good thing
Spotify has announced that it has over 140 million global active monthly users. In his rather bizarre post, Brian Benedik, VP and Global Head of Sales, highlighted the utility of Spotify's service as an advertising and sales platform:
As our global monthly active user number continues to climb, more consumers engage with us across their day and devices. Through this engagement, we are constantly learning about our audience through streaming intelligence-our rich, first-party data. We believe these differentiated insights create innovative experiences for our audience, personalized to their wants and need states. Spotify is leading the way in this new era of personalization, and now we can do more than ever to connect brands with their target audiences.

Spotify's streaming intelligence provides psychographic and behavioral audience insights which go way beyond traditional demographics. Through billions of hours of on-demand, mobile-first listening on the Spotify platform, we've learned that music reflects people's real-time moods and activities and captures unique understanding of moments in their lives...

We are just beginning to explore what these amazing insights can do for brands. It's an exciting time for our Spotify global advertising business.
Okay, I guess I can understand the desirability of personalization, but tailoring ads to the moods inferred from listening patterns? I'm sorry, that's just plain creepy.
Being ad free has its advantages. Apple Music also comes to you from a company that respects privacy, rather than exploiting the loss of it. Apple Music has only 27 million subscribers, as there's no free, ad-supported tier. However, as I pointed out in March, information published by the Recording Industry Association of America (RIAA) indicates that Apple's influence is out of all proportion to its subscriber number.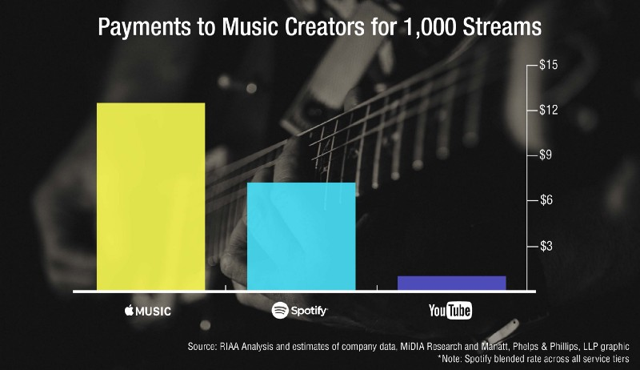 The fact that the company is paying artists more than Spotify probably indicates that Apple's Music revenue (per song) is higher than Spotify, as well as more profitable. The situation seems to be analogous to iPhone profitability, where Apple regularly takes the lion's share of smartphone industry profits.
Disclosure: I am/we are long AAPL.
I wrote this article myself, and it expresses my own opinions. I am not receiving compensation for it (other than from Seeking Alpha). I have no business relationship with any company whose stock is mentioned in this article.