May housing starts were much weaker than expected (1,092K vs. 1,220K) and, on the surface, suggest that the housing boom that started back in 2011 has run its course. However, continued gains in the prices of homebuilders' stocks suggest that the May print was an outlier, driven mainly by weak multi-family starts, and that there is a rotation underway from multi-family to single-family home construction that continues to be strong. Calculated Risk has more details.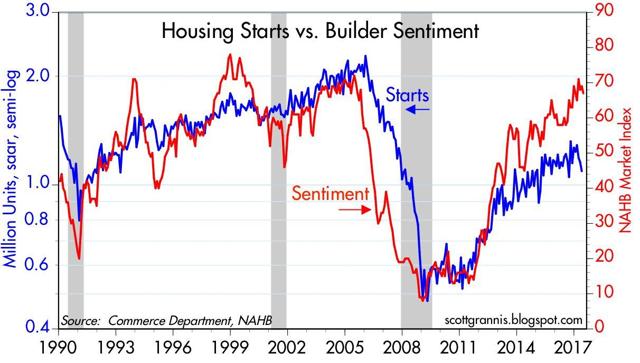 The chart above compares starts to an index of homebuilders' sentiment. Sentiment among those closest to the housing market continues to be healthy, even though starts have been roughly flat for the past two years. Homebuilders see things improving, not stagnating as starts would suggest.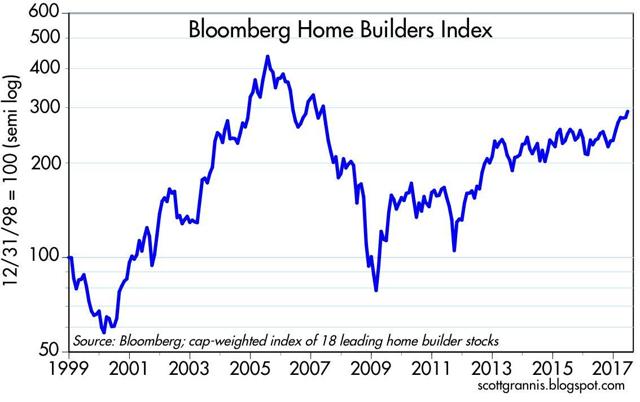 The stock market appears to agree. As the chart above shows, the stocks of homebuilders continue to rise in price. This confirms the sentiment index referenced above.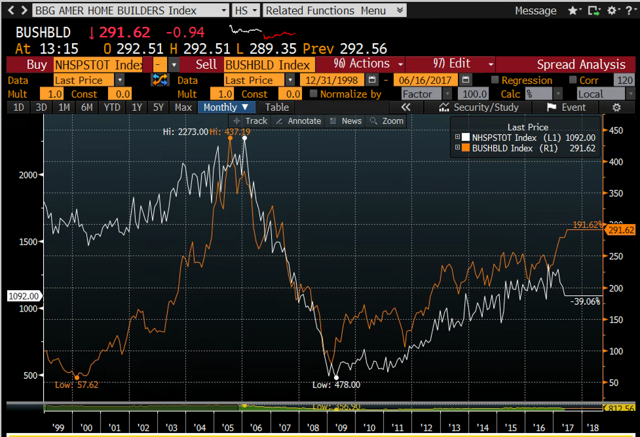 The chart above compares housing starts (white line) to the index of homebuilders' stock prices (orange). The two are highly correlated, and it appears that the index of stock prices leads housing starts by at least several months. Note that the orange line turned down six months prior to the early '06 downturn in starts, and in 2009, it turned up significantly almost a year before starts did.
At the very least, this suggests that it would be premature to conclude that the recent weakness in reported housing starts marks the end of the housing construction boom.