The S&P/TSX Composite Index has dramatically underperformed global markets this year even as Canadian earnings and economic growth have rebounded. Shifting trade winds are likely playing a role.
After making rather bellicose statements on the campaign trail, the U.S. administration has taken a highly transactional approach to foreign policy and international trade since taking office. Having backed out of the multilateral Trans-Pacific Partnership immediately, President Donald Trump's economics and trade team has had its eye on countries posting large bilateral trade imbalances with the U.S. (see the chart below).
But rather than taking a punitive approach, the White House has proven to be more open to negotiation. For example, Washington has so far looked the other way on China's trade surplus in exchange for assistance denuclearizing North Korea.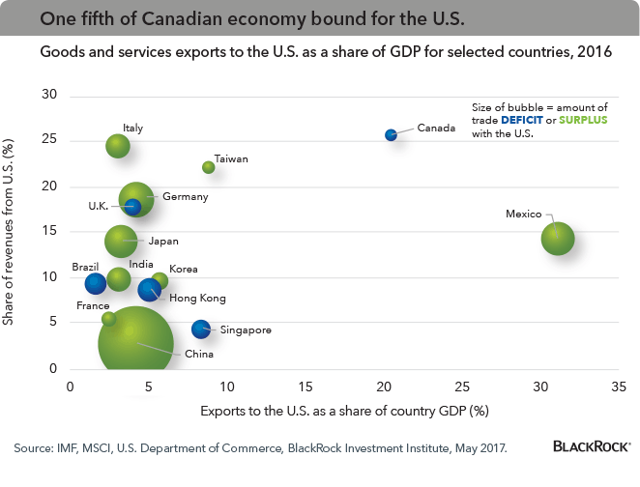 However, it would be a mistake to assume that all is well on the trade front, as we point out in our new report, Politics not quite as usual. A transactional approach could undermine longstanding free trade principles and agreements. Plus, Trump has turned his eye on Canada after giving China a free pass. The White House appears to have grabbed the opportunity to look tough on specific cross-border trade spats without fear of reprisal.
Softwood lumber tariffs could have happened at any time, under any administration. What was different was the rather dramatic announcement. The appointment of Robert Lighthizer as U.S. trade representative points to an administration that will dig into the 1980s trade toolkit: a focus on bilateral relationships and the potential to secure voluntary export restrictions from America's trading partners, higher tariffs on selected imports into the U.S., and deals to buy more U.S. goods.
As trade skirmishes over dairy and softwood lumber were beginning to pollute the waters, the administration notified Congress on May 18 of its intent to renegotiate NAFTA, starting a 90-day clock for Congress and the White House to consult on their goals in this process. Canadian and Mexican trade officials are simultaneously deciding what their respective interests are. Old economy issues (softwood lumber, dairy, energy) will be ever-present in NAFTA negotiations, but also important to Canada will be discussions on services, labour mobility and trade in the digital economy.
The trade stakes are high heading into NAFTA negotiations, which are set to begin as early as mid-August. Renegotiation is likely to be a long, drawn-out process. Canada is much more reliant on trade with the U.S. than vice versa (see the chart above). One in five Canadian GDP dollars is an export to the U.S., and Canadian companies derive one in four revenue dollars from sales in the U.S. Canada has successfully deepened its trade ties with other regions, including Europe, but lack of diversification and general dependency on the U.S. means that Canada will have to work hard to agree to a deal with the U.S. if it hopes to avoid the economic collateral damage that will likely ensue if the trade pact disintegrates.
On a positive note, as we note in our new report, a U.S. border adjustment tax that would essentially tax U.S. importers appears unlikely given the fractured state of public policy in the U.S. Additionally, a quiet rollback of regulations is an underappreciated force.
Case in point: Trump's decision to greenlight the Keystone XL pipeline offers some additional economic benefit to Alberta and Saskatchewan energy producers who are still suffering under the weight of low oil prices. Lastly, escalation of trade conflicts looks unlikely this year. Synchronized growth around the world today is an anodyne force helping to restore incomes and lost jobs. Perhaps the time to really worry is when the global and U.S. economies enter the next recession.
That said, trade concerns are real and add to other factors that have been restraining the Canadian equity market. We expect the Bank of Canada to watch trade developments closely and will look through the rapid pace of growth in Canada's economy during the first quarter as it sets monetary policy. Lower rates for longer, improved earnings and cheaper forward multiples all bode well for Canadian stocks, but structural domestic economic concerns such as a housing bubble, high household debts and declining international competitiveness restrain our enthusiasm. The potential for trade policy headaches reinforces that view.
This post originally appeared on the BlackRock Blog.