Price action over the prior week
The metals complex pulled back this past week, as we have been outlining in our analysis.
Anecdotal and other sentiment indications
Each time the Fed has increased rates recently, the metals have seen a strong rally. So, as we approached the next Fed pronouncement in June, many expected that a Fed rate hike would again cause a rally in metals.
But, as I so often warn investors, correlation is not the same as causation. You see, just because the Fed rate hike in the past coincided with a rally in the metals complex, it does not mean that the rate hike caused the rally. In fact, those rallies actually shocked many investors, since rate hikes were supposed to cause a drop in the price of metals. And now, the metals have dropped after the latest Fed rate hike, making investors scratch their heads even more.
However, at each of those prior rate hikes, we were expecting a rally in the metals complex, whereas at this rate hike, we were expecting a drop in the complex. How is it that a Fed rate hike can "cause" a rally sometimes in the metals and at other times a drop?
This highlights another trap I warn investors about. You see, the substance of the news or Fed action does not provide directional guidance for a market. Rather, news may act as a catalyst, but the substance of that news is not instructive regarding direction. That is why we so often see markets fall on good news or rise on bad news. And this is why some rate hikes seemingly "cause" a rally in metals and others a drop.
As another example, I can no longer count how many times I have seen analysts suggest that the stock market rallied because of a good jobs report, and only weeks later the same analysts claim that the stock market dropped because of a bad jobs report. We have all seen this happen in the market, yet almost all investors accept the explanation at the time and just move on.
We see investors doing the exact same thing regarding stocks they follow. When they see a stock rally after good news has been announced about that stock, or when they see a stock fall after bad news has been announced about that stock, they are quick to suggest how the news clearly moved that stock. Yet, when the stock rallies after bad news has been announced or falls after good news has been announced, they simply scratch their heads and move on. They have to ignore these events in order to maintain their fallacies of how markets work.
At some point in your investment career, I hope you adopt an intellectually honest perspective of markets which does not require you to ignore certain events that do not make sense within your perspective. If the facts do not fit your theory, then it is your theory that you must question, rather than ignoring the facts.
Avoiding an intellectually honest perspective will only cause losses in your account. At some point, you will have to recognize that markets and stocks often move opposite of the common expectations based upon the substance of the news. And when you do, you will likely adopt a much more sophisticated perspective of markets, which will assist you in maintaining on the correct side of the market much more often than the whipsawed news followers wearing their blinders.
As an example, I personally did not care what the news was going to be in the metals market over the last month or so. Rather, my preferred expectation was to see the VanEck Vectors Gold Miners ETF (GDX) test the 24 region and then pull back towards the 21.50-22 region. Moreover, I maintained this expectation no matter what the Fed was going to do. And yes, even though the metals market rallied each time the Fed had recently raised interest rates and the common expectation was for another increase in rates, my metals expectation remained the same, as you can see from this chart.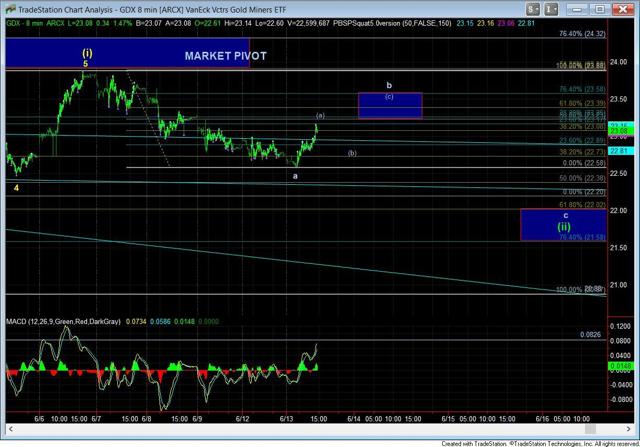 I can assure you that adopting a more intellectually honest perspective of how markets work will do wonders for your investment account as well as for your peace of mind. In fact, almost all the members of my trading room have reiterated the sentiment expressed by this member:
"As good as the analysts are here, the best part about joining this site is being able to ignore news. I used to eat up Zero Hedge/Markewatch/etc and it got me nowhere. I sleep like a baby now :)"
Price pattern sentiment indications and upcoming expectations
As you saw from the chart above, the market has now pulled back towards our bottoming target. And as long as the GDX does not break the May low of 20.89, we are set up for a very powerful rally in the coming months.
Housekeeping Matter
It seems that Seeking Alpha has changed the way it tags articles. So, while my articles used to be sent out as an email to those that follow the metals complex, they are now only being sent out to those that have chosen to "Follow" me. So, if you would like notification as to when my articles are published, please hit the button at the top to "Follow" me. Thank you.
Lastly, I will be on vacation for the next few weeks, so I may not be as engaged on Seeking Alpha, as any extra time I have will likely be devoted to my trading room. Also, I will be visiting Israel in the coming weeks and am considering having a get-together in Jerusalem and was wondering if anyone will be there who would be interested in joining me for a get-together on July 4th.