In my previous article, I outlined the bullish case for AUD/USD based on fundamental undervaluation. Indeed, the Aussie dollar is up 142 pips (or 1.90%) in the past 24 trading sessions. While classical fundamentals still remain supportive of a bullish trend, we are likely to face a bumpy road ahead.
Fundamental Analysis
Australian Bureau of Statistics spooked the bulls (and encouraged the bears) when on June 8 it reported that trade surplus shrank 82% to just A$555 million, while expectations were for an almost A$2 billion print. The blow came just a day after data showed the economy grew at the slowest annual pace since 2009 in the March quarter. A deeper look at the figures, however, reveals that a sharp decline in economic activity was almost entirely due to a drop in exports of coal and other commodities as a result of a massive cyclone hitting Queensland, the country's biggest coal region. In other words, it was a one-off, weather-related event, not a structural shift, that caused weakness in fundamental data. Traders have all the reasons to expect a better September quarter as shipments have already resumed.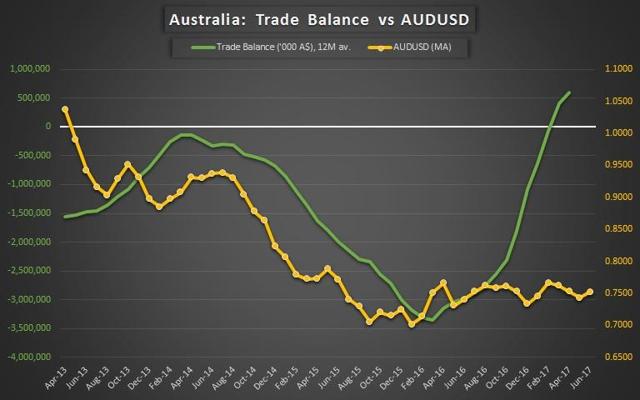 Source: Australian Bureau of Statistics
Even after soft April figures, the 12-month average balance in trade is still marching higher (see the chart above), while the AUD/USD exchange rate is yet to catch up (even after a 3.3% rally from the June low).
How realistic it is to expect the Aussie dollar to continue to appreciate? I believe fundamentals definitely support the exchange rate of at least 0.70 and probably above 0.72. Therefore, I have upgraded my trading range for the next six months from 0.72-0.78 to 0.73-0.79.
RBA's monetary policy is still more dovish than the Fed's, but that is not news to anyone. Traders should remember that the market is forward-looking and is driven by expectations. The biggest moves in currencies are likely to take place in the anticipation of an event, not after the event. Indeed, the latest economic data suggest that the RBA may very well be the next major central bank to start raising interest rates.
Conditions in the labor market have improved dramatically over the past couple of months, with unemployment falling to 5.5% (almost a four-year low) despite rising participation rate. I already said in the previous article that inflation pressures are building up. Unfortunately, official CPI figures are published only once per quarter, whereas traders prefer a more frequent update on this key economic indicator. I look at the Melbourne Institute Monthly Inflation Gauge report to get a sense of the more recent price developments. Their June report confirmed a "trimmed mean" inflation rate at 2.1% y-o-y. That means that it is back within the RBA's target band, which is 2% to 3% for core inflation.
Having said all of that, I do not believe that AUD/USD will appreciate in a smooth, uninterrupted fashion. After all, the general economic picture is not entirely rosy. Declining commodity prices may restrain the Aussie dollar's rise. Indeed, major indices have been declining for three consecutive months (see the chart below), while oil prices already hit a seven-month low on Friday. At the same time, last week's FOMC decision to raise rates has left almost no premium for passive holding of the Aussie dollar against the U.S. dollar. In reality, there is still a 0.25-point differential in interest rates, but in the world of retail trading, most brokers will ignore it.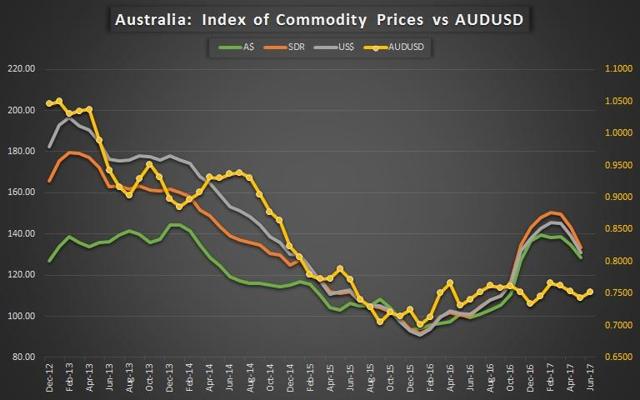 Source: RBA
Technical Analysis
The uptrend in AUD/USD that started on January 11, 2016, seems to be controlled by a set of Fibonacci channel levels. However, the exchange rate has failed to break above a 50% trend-based extension target at around 0.7620 for three consecutive days now. The bull trend is likely to resume but not until consolidation has set it. I will advise to buy the dips at the 0.7600-0.7590 area. I will then target 38.2% Fibo channel and 61.8% Fibo trend-based extension target at around 0.7690 (see the chart below).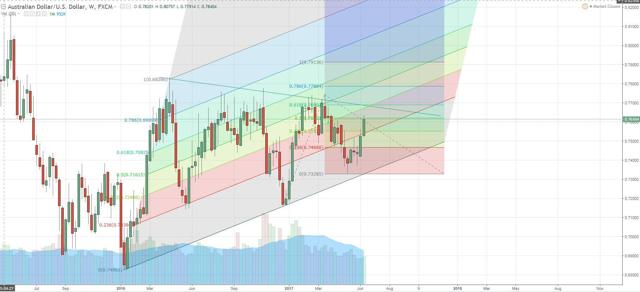 Disclosure: I/we have no positions in any stocks mentioned, and no plans to initiate any positions within the next 72 hours.
I wrote this article myself, and it expresses my own opinions. I am not receiving compensation for it (other than from Seeking Alpha). I have no business relationship with any company whose stock is mentioned in this article.