My goal is to produce an article about each of my portfolio holdings at least once a year. This is my first full article about International Business Machines (NYSE:IBM), which is 2.00% of the market value of my retirement income portfolio and provides 2.13% of the portfolio's income. I initiated a position in IBM in March 2015 at $160.02, and proceeded to "average down," buying shares as low as $121.19 in January 2016. The cost basis is $140.44.
In this article, I briefly highlight IBM's long history and the value of leadership through a period of enormous change, beginning with Tom Watson, Sr., in 1914. I did something different in preparing for this article. I spent considerable time reading and analyzing the CEO's letters to shareholders in IBM's annual reports from 2009-2016. These are available for download in pdf form, and I invite you to read them for yourself if you are a shareholder or contemplating owning shares of IBM. I went into this study with a negative bias, actually hoping I would be convinced to sell the shares. My view is a bit more nuanced now.
IBM is "betting the ranch" on cognitive computing in the form of Watson. This is part of the "strategic imperatives" launched in 2013. Without question, a decision about whether to hold IBM shares should be based on one's confidence in these strategic imperatives.
Seasoned investors are rightly skeptical of corporate themes, initiatives, "road maps to the future," and the like. Given the seemingly slow progress IBM is making, it's easy to disparage their "strategic imperatives" as just another gimmicky corporate slogan.
However, the undertaking IBM launched in 2013 is not plastic surgery. It's a radical surgery on the body of the company, a thorough re-shaping of the business. If ever an investment required due diligence, this is it. I offer my take on the strategic imperatives, my view of what's next for IBM, and my investment thesis.
The business of business machines
IBM's origin goes back to the 1880s. IBM was incorporated in 1911 as the Computing-Tabulating-Recording Company (C-T-R), the result of a 3-company merger. C-T-R was based in New York City and had 1,300 employees, with offices and plants in Endicott and Binghamton, NY; Dayton, OH; Detroit, MI; Washington, D.C.; and Toronto, Ontario.
A tabulating system was invented and built by Herman Hollerith for the U.S. government's use in the 1890 census: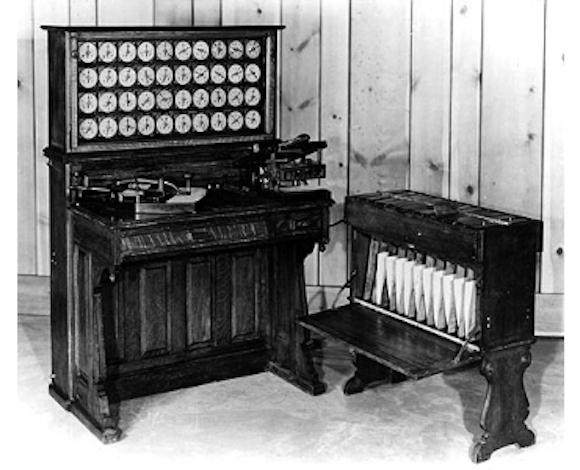 In 1914, Thomas J. Watson, Sr., 40, National Cash Register's number two executive, was hired by C-R-T as general manager. Within a year, he was president. He focused on large-scale, custom-built tabulating solutions for businesses. In four years, revenues more than doubled to $9 million.
By 1924, with three manufacturing plants in Europe, C-R-T became International Business Machines. During the Great Depression of the 1930s, many businesses closed, but Mr. Watson's workers produced a large inventory of equipment. The Social Security Act of 1935 brought a contract to maintain 26 million workers' records.
The machine below converted a paper tape code to punched card code. In 1941, the U.S. Army Air Corps received the first 10 units: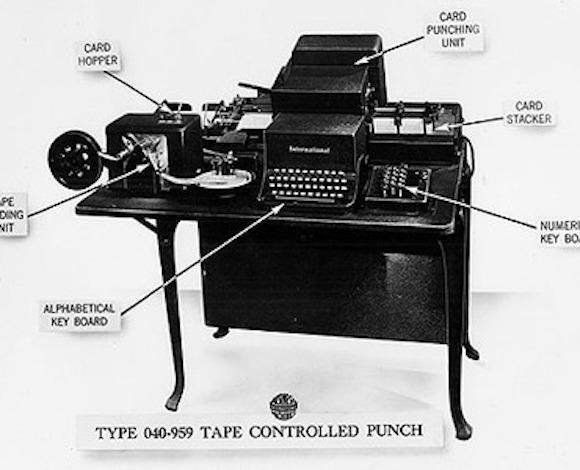 In 1944, IBM introduced the first machine to automatically execute long computations. After World War II, IBM developed the Selective Sequence Electronic Calculator, the Electronic Calculating Punch, and the Card-Programmed Electronic Calculator.
Thomas Watson, Jr., succeeded his father as president in 1952 and as CEO in 1956. He foresaw computers' importance in business and moved IBM from a medium-sized maker of tabulating equipment and typewriters into a computer industry leader.
In the 1950s, IBM replaced electromechanical switches with vacuum tubes in computers, thus executing 17,000 instructions per second, used primarily in government, research, billing, payroll and inventory control. By 1959, transistors began to replace vacuum tubes, so that a mainframe performed 229,000 calculations per second and was used by NASA to simulate Apollo moon flights: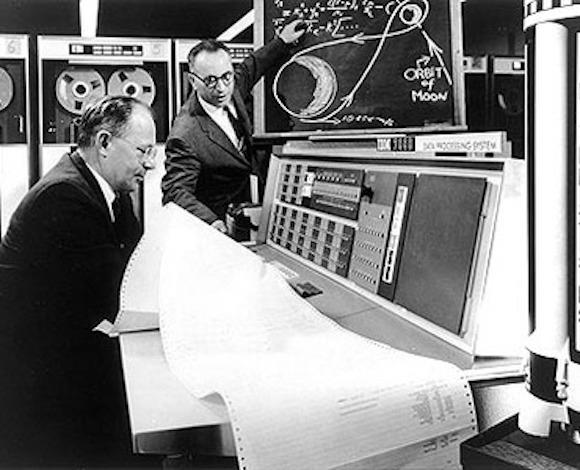 In 1957, IBM introduced the FORTRAN (FORmula TRANSlation) computer language based on algebra, grammar and syntax rules, and the Random Access Method of Accounting and Control (RAMAC), the first disk storage system. In less than a second, the RAMAC's "random access" arm could retrieve data from 50 spinning disks.
The floppy disk, introduced in 1971, became the standard for storing personal data. In 1973, IBM's supermarket checkout station used glass prisms, lenses and a laser to read product prices, and banks began to offer IBM's early Automatic Teller Machine.
Beginning in 1981, the IBM Personal Computer or PC was used in homes, small businesses and schools. It offered 16 to 256 kilobytes of user memory, one or two floppy disks and an optional color monitor. For the first time, IBM outsourced component production. The processor came from Intel (NASDAQ:INTC) and the disk operating system (DOS) came from a 32-person company called Microsoft (NASDAQ:MSFT).
During the 1980s and early 1990s, the focus was on the desktop and personal productivity rather than on business applications across the enterprise, so business purchase decisions were made by individuals and departments, not where IBM had built customer relationships. By 1993, the company's annual losses reached $8 billion. IBM considered splitting their divisions into separate businesses.
In 1993, Louis V. Gerstner, Jr., became the first CEO from outside IBM. The former chairman and CEO of RJR Nabisco rebuilt IBM's product line and cut costs. Gerstner resisted pressure to split up the company. IBM's earlier work with servers prepared the company for the rise of the Internet. Gerstner saw that network computing would drive the next phase of industry growth and it became the heart of IBM's strategy. IBM reestablished itself as a technology innovator.
In 2001, IBM introduced a new generation of servers - the eServer - for meeting entirely new, unprecedented demands on the underlying infrastructure supporting e-business.
(Historical information and photos from the IBM website)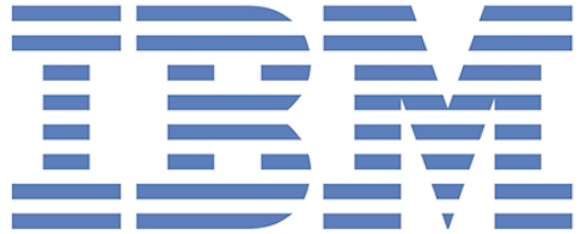 (IBM logo image from designhill)
The value of leadership
Thomas J. Watson, Sr., led the company from 1914-1956, followed by his son, Thomas J. Watson, Jr. Former IBM executive Peter Greulich has written ten Seeking Alpha articles about IBM. He has written books about IBM, particularly the strong legacy of Tom Watson, Sr. In 2010, when IBM developed what they believe is a breakthrough analytic tool, they named it "Watson." In 2011, Watson famously defeated Jeopardy champion Ken Jennings.
IBM is banking on Watson's leadership in artificial intelligence or, more accurately, cognitive computing. Danny Vena's January 2017 Motley Fool article, "IBM Is Betting Its Future on AI," said:
"Watson is a system based on artificial intelligence (AI). Computer simulations of the human brain, called neural networks, mimic humans' capacity to learn. Using massive amounts of data and complex algorithms, an AI system gradually learns to recognize similarities and distinguish differences. It is taught to recognize patterns within massive amounts of data.

"IBM has been betting heavily on Watson by leveraging its AI platform and data analytics for a variety of business applications. The company's CEO has said that, in the next five years, every major decision -- personal or business -- will be made with the help of Watson. Several recent high-profile partnerships illustrate how IBM has been approaching this goal, and the strategy appears to be gaining steam."
Will IBM's "strategic imperatives" turn around their declining numbers? Will Genni Rometty follow IBM tradition and retire this year? Who will succeed her? Perhaps these are questions that can be answered only by Watson. Has anyone asked Watson?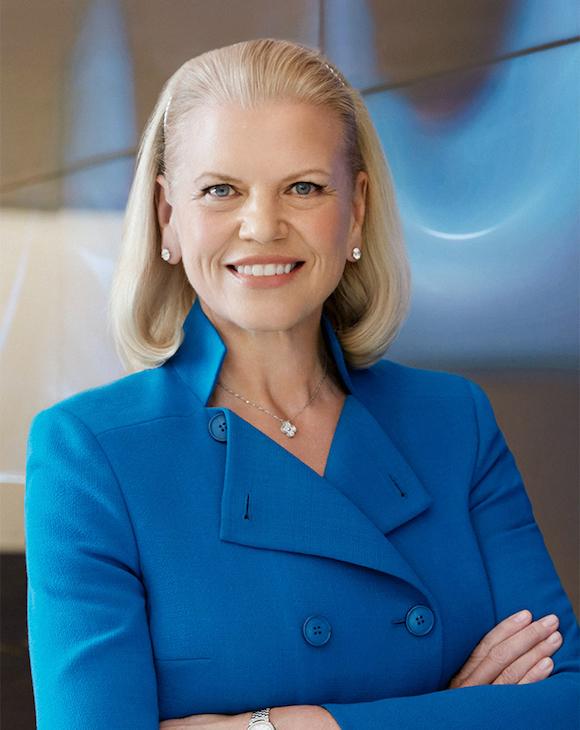 (Photo of Ginni Rometty from the IBM website)
Virginia "Ginni" Rometty, 59, is Chairman (since October 1, 2012), President and Chief Executive Officer (since January 1, 2012). Since joining IBM in 1981, she has held a series of leadership positions, most recently senior vice president and group executive, IBM sales, marketing, and strategy. Earlier she was senior vice president, IBM Global Business Services, where she led the integration of PricewaterhouseCoopers, creating a 100,000+ global team. (See Bloomberg for a full biography.)
Ms. Rometty will be 60 on July 29. After Tom Watson, Sr., retired a few weeks before his death in 1956, the next seven CEOs retired at age 60 - except for John Akers, who was forced to resign at 58. This tradition has led to much speculation about when Ms. Rometty will retire. There has been no announcement. Some eyebrows were raised last month when Warren Buffett announced that Berkshire Hathaway (NYSE:BRK.A) (NYSE:BRK.B) had sold one-third of their IBM shares.
CNBC reported on May 5, 2017 that 46% of IBM's shareholders voted against raising Ms. Rometty's salary 60% to $33 million:
"Her $33 million paycheck this year puts her ahead of tech CEOs like Microsoft's Satya Nadella ($18 million), who is successfully steering the company back towards growth, as well as leaders at fast-growing tech giants like Alphabet's Larry Page ($1), Apple's Tim Cook ($9 million) and Amazon's Jeff Bezos ($2 million)."
Criticism abounds. Michael Hiltzik's January 2016 Los Angeles Times article, "IBM's CEO writes a new chapter on how to turn failure into wealth," was followed by a January 2017 article, "IBM's CEO had a decent year - but she still doesn't deserve her pay." Adam Hartung's April 2017 Forbes article, "Why You Do Not Want To Own IBM: Growth Stalls Are Deadly", says IBM's next CEO should come from outside the company.
A quick glance at recent IBM articles on Seeking Alpha reveals a wide range of opinions, from Robert Riesen's "6 Reasons IBM is Worth the Risk" (June 10, 2017) to Arne Alsin's "7 Reasons Why I'm Short IBM" (May 26, 2017).
Some companies indicate their CEO succession intentions years in advance, by surfacing two or three candidates or by promoting a President/Chief Operating Officer who has served several years with the outgoing CEO. IBM doesn't have a clear heir apparent. The company's "Senior Leadership" web page lists 17 senior vice presidents. The one with the most visibility to investors is Chief Financial Officer Martin Schroeter, 52, who handles IBM's quarterly earnings calls. I have been among Ms. Rometty's critics for three reasons: 1) IBM's much-heralded turnaround has seemed slow to me; 2) Ms. Rometty rarely participates in quarterly earnings calls (which I could understand if things were going well); 3) IBM let their S&P credit rating drop another notch, from AA- to A+. IBM lost their AAA rating in 1993.
The saga of IBM's strategic imperatives
In 1999, CEO Lou Gerstner asked, "Why do we consistently miss the emergence of new industries?" A strategy group identified 29 technologies and businesses that IBM had developed but failed to commercialize. IBM developed the first commercial router but Cisco (NASDAQ:CSCO) dominated the market. The company identified six major reasons it had missed new technology and market opportunities:
IBM rewarded execution directed at short-term results and not strategic business building;
The company was preoccupied with current served markets and existing offerings;
The business model emphasized sustained profit and EPS improvement rather than accelerate growth;
The firm's approach to gathering and using market insight was inadequate for embryonic markets;
IBM lacked established disciplines for selecting, experimenting, funding, and terminating new growth businesses; and
Once selected, many new ventures failed in execution.
This analysis and discussions among senior management led to a series of recommendations to facilitate exploitation in mature markets and exploration in growth areas. An Emerging Business Organization initiative was launched in 2000. Between 2000 and 2005, EBOs added $15.2 billion to IBM's revenue.
Tom Watson's 1914 decision to focus on large-scale, custom-built tabulating solutions could be called a strategic imperative. The Emerging Business Organization project could be called a strategic imperative. However, as far as I know, IBM first used this term in 2013 and this will be - for better or for worse - the legacy of CEO Ginni Rometty: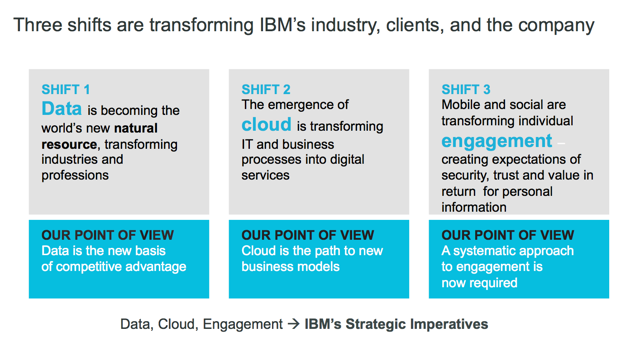 (Strategic Imperatives diagram from a June 2016 Investor Presentation, archived on the IBM website)
In 2010, IBM adopted a five-year Road Map to the Future (2015) in the 2010 Annual Report letter to shareholders by Chairman, President and CEO Sam Palmisano:
Operating Leverage - a continuing shift to higher-margin businesses and improving enterprise productivity;
Returning Value to Shareholders through share repurchases and dividends;
Four Growth Priorities (named a year earlier): 1) growth markets; 2) analytics; 3) cloud and next-generation data center; and 4) smarter planet.
The 2011 Annual Report included a letter from Ms. Rometty, the just-installed President and CEO, which said: "We are well on track toward our 2015 Road Map goal of at least $20 in operating earnings per share."
The 2012 Annual Report was Ms. Rometty's first as Chairman, President and CEO. Her letter said: "Operating earnings per share were up 13 percent, putting us well on track to our 2015 Road Map objective of at least $20 of operating earnings per share."
The 2013 Annual Report makes no mention of a 2015 Road Map, although the 2015 $20 operating earnings goal was reaffirmed. (The analyst community and interested shareholders would not let the company forget this goal.) Diluted operating earnings per share in 2013 were $16.28, a new record. This marked 11 straight years of operating EPS growth, but it was accomplished by a reduced share count and favorable tax items. The letter said, "While 2013 was an important year of transformation, our performance did not meet our expectations. Our operating pre-tax income was down 8 percent. Our revenue in 2013, at $99.8 billion, was down 5 percent as reported and 2 percent at constant currency."
Ms. Rometty executed a "pivot" in 2013, away from the ill-advised 5-year plan she inherited from Sam Palmisano. This annual report reveals Ms. Rometty's awakening. She had been a "good soldier," dutifully reporting on the "Road Map to the Future." Perhaps she had a hand in its creation - I don't know the back story. In any case, each year the "2015 Map" received less attention and was abandoned in 2013 - year three of the 5-year plan.
If you have time to read just one IBM annual report, make it the 2013 Annual Report. Ms. Rometty's letter to shareholders announced that "IBM is executing a bold agenda. It is reshaping your company, and we believe it will reshape our industry." Ms. Rometty introduced three "strategic initiatives," and at this point, IBM clearly was now her company.
IBM's first strategic imperative: To make markets by transforming industries and professions with data. This was a response to "Big Data." Ms. Rometty said the world generates "more than 2.5 billion gigabytes of data every day, and 80 percent of it is 'unstructured' - everything from images, video and audio to social media and a blizzard of impulses from embedded sensors and distributed devices."
IBM's second strategic imperative: To remake enterprise IT infrastructure for the era of cloud. This was driven by the delivery of IT and business processes as digital services - the emergence of cloud computing in the world's information technology infrastructure. Ms. Rometty estimated that by 2016, more than one-fourth of the world's applications will be available in the cloud, and 85 percent of new software is now being built for cloud.
IBM's third strategic imperative: To enable "systems of engagement" for enterprises. This is crucial because "proliferating mobile technology and the spread of social business are empowering people with knowledge, enriching them through networks and changing their expectations."
The 2014 Annual Report summarizes and refines the strategic imperatives as:
Help transform industries and professions with data;
Remake enterprise IT for the era of cloud; and
Reimagine work by helping clients build systems of engagement, underpinned by the imperative of security.
Operating EPS in 2014 was $16.53, up 25 cents from 2013. Ms. Rometty's letter made no mention of the 2015 Road Map or the earlier goal of $20 in operating earnings per share.
The most time consuming part of this article was a careful reading of IBM's CEO letters in the 2009-2016 annual reports. It helped me gain a better perspective of the origin and execution of the "strategic imperatives." It demonstrated the futility of a five-year plan in our rapidly changing world. The "Road Map" first articulated by CEO Sam Palmisano in 2010 now seems quaint and naive, particularly for the leader of a company that should have understood the exponential change happening in technology.
This study also showed me that IBM's management was unprepared for the seismic technological changes that were already occurring and were about to escalate exponentially.
The 2015 Annual Report stated that IBM was reinventing itself "in an IT industry that is fundamentally reordering at an unprecedented pace. In important ways, our industry is unrecognizable from what it looked like just a few years ago. So is your company." (This underscores the futility of a five-year plan.)
This is how it looked to Ms. Rometty at the end of 2015:
"Two years ago, we laid out our strategic plan to transform IBM, in order to ensure that we meet the changing needs of our clients and capture the highest-value opportunities for our investors. As part of this, we divested commoditizing businesses that provided diminishing value to our clients and contributed revenue but little or no profit. We restructured other businesses, of which hardware was the largest-businesses vital to our future but in need of reinvention. At the same time, we dramatically accelerated the growth of our strategic imperatives-Data and Analytics, Cloud, Mobile, Social and Security-to help our clients become 'digital.'"
By this time, it had become clear to IBM's management that the digital business was converging with "a new kind of digital intelligence," which for IBM is Watson. "We call this Cognitive Business."
By 2015, descriptions of the imperatives were sharper and management's message was clear enough for a non-tech person to understand. Here's part of the 2015 letter:
"Data is the world's new natural resource, and it is transforming all industries and professions. IBM has been building and acquiring the capabilities necessary to lead in data and analytics, deepening our industry expertise and growing partnerships and ecosystems. Today, our data and analytics business is the industry leader, generating revenue of $18 billion in 2015."

"...80 percent of the world's data ... is unstructured: everything we encode in language-from textbooks and formulas to literature and conversation- plus all digital video, audio and images."
Sometimes IBM's references to Watson are a bit eerie. The company speaks of experts in various fields that are "teaching" Watson about the myriad problems (in the medicine, for example) that Watson can help them solve:
"Cognitive systems can ingest it all, and they can understand its meaning, through sensing and interaction. They can reason about it, generating hypotheses, arguments and recommendations.

"And unlike any computing system we have known, they are not programmed. Rather, they learn-from training by experts and from their own experience.

"Cognitive includes-but is broader than-artificial intelligence, machine learning and natural language processing. And its embodiment is Watson.

"We can literally build cognition into everything digital. With Watson, every digital application, product and process can understand, reason and learn.

"What started as one Watson unit is now a growing family: the core Watson team, which continues to build new capabilities and nurture its expanding ecosystem; and individual Watson businesses, aimed at particular industries or professional domains, such as IBM Watson Health and IBM Watson Internet of Things.

"Watson is being trained by the world's leading practitioners and researchers in multiple fields of life sciences, medicine and healthcare.

"Cognitive is the only way to ingest and extract value from the new natural resource of data in all its forms, so that it can be turned into competitive advantage and societal value. And cloud is the platform on which these solutions are designed, built, tested and deployed in the world."
With little fanfare, and with no mention of the earlier $20 per share goal for operating earnings, Ms. Rometty simply stated: "We achieved operating earnings per share of $14.92 a share."
The 2016 Annual Report condensed some of IBM's earlier thinking about rapidly changing technology in these few words:
"Every profession in every industry in every part of the world is changing, simultaneously. You are drawing on a wealth of new data, knowledge, insights and tools. You are being equipped to rethink your job, and freed to do your life's work. We have reinvented IBM for this moment-to fuel your dreams with Watson, with IBM Cloud, with deep expertise, with trust."
Operating earnings in 2016 were $13.59 per share, down $1.33 from the prior year. The long transformation continues, but Ms. Rometty said IBM's "strategic imperatives have reached critical mass. At $33 billion, they now contribute 41 percent of IBM's revenue. With double-digit growth, we're on pace to achieve our goal of growing these businesses to $40 billion by 2018." One lesson for me from reading these annual reports is that a two-year goal makes much more sense than a five-year goal.
The 2016 Annual Report explains with very practical examples how Watson - IBM's cognitive computing tool - is changing the shape of business, particularly health care.
F.A.S.T. Graphs shows at a glance IBM's downward trajectory in recent years, as well as the price recovery from the $120s in 2015 to the $180s in early 2017.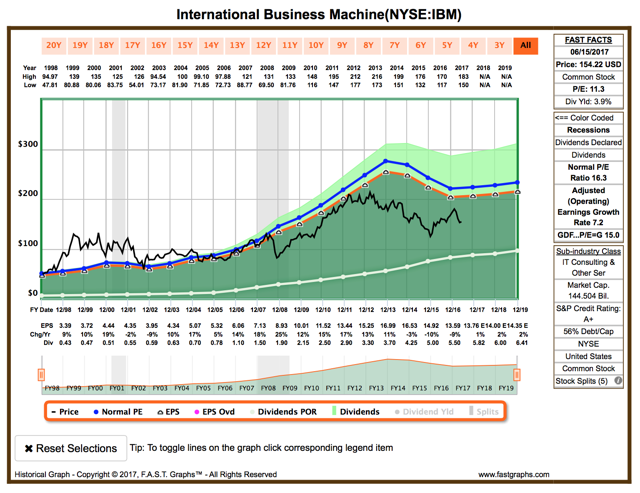 (Graph from F.A.S.T. Graphs)
The Better Investing company research report on IBM shows the steady decline in net income over the past five years and the more dramatic decline in sales. It also shows the steadily rising high yield and payout ratio for 2012-2016. In the face of all this, dividend growth has continued.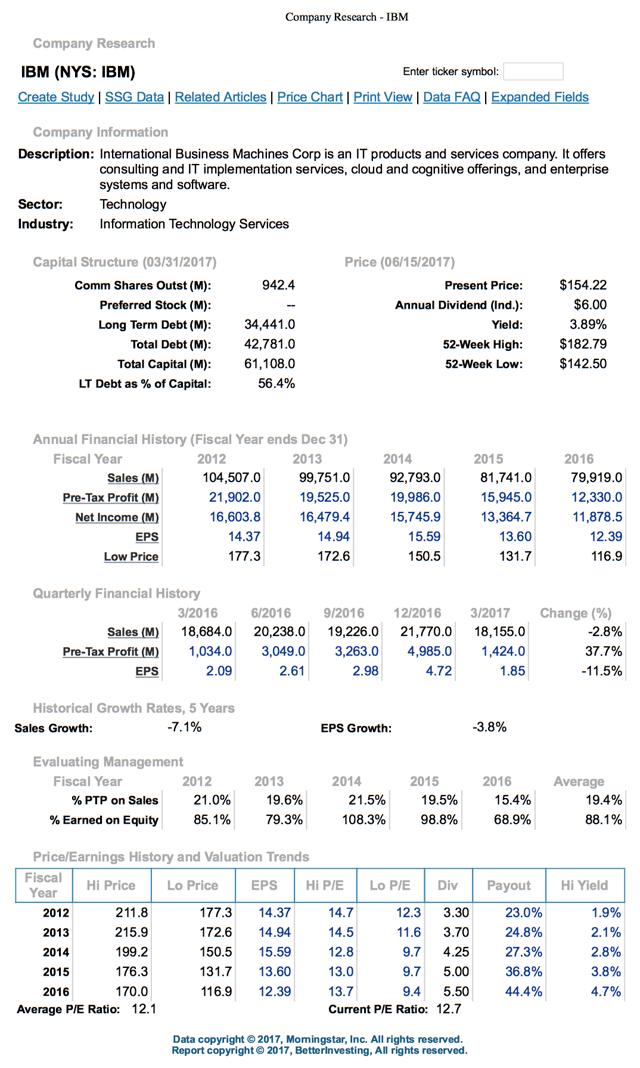 (Company Research Report from Better Investing)
What's next for IBM?
Earlier in the article, I asked several questions:
Will IBM's "strategic imperatives" turn around their declining numbers?
Will Genni Rometty follow IBM tradition and retire this year?
Who will succeed her?
Has anyone put these questions to Watson?
It seems clear to me that the strategic imperatives will make IBM a more profitable company than they otherwise would be if they had not undertaken this radical transformation. I agree with the thesis articulated by Ms. Rometty, including these salient points from her 2015 letter to shareholders:
"Data is the world's new natural resource, and it is transforming all industries and professions."

"Cognitive systems can ingest it all, and....generating hypotheses, arguments and recommendations.

"And unlike any computing system we have known, they are not programmed. Rather, they learn-from training by experts and from their own experience."

"Cognitive includes-but is broader than-artificial intelligence."

"...we can literally build cognition into everything digital.

"What started as one Watson unit ... continues to build new capabilities and nurture its expanding ecosystem....

"Watson is being trained by the world's leading practitioners and researchers in multiple fields...."
Prior to this study, I bought into the fairly common assumption that Ms. Rometty will retire soon, perhaps at the end of this year after she turns 60 next month. Three things make me skeptical:
Given her less than universal popularity, if she was retiring soon, I think it would have been announced by now.
The Board of Directors appears to be solidly behind her.
From my study of the evolution of the strategic imperatives, it appears that the end of 2018 would be a more natural time to make a change. That would mean a possible announcement at the end of calendar year 2017. In her letter to shareholders in the 2016 Annual Report, Ms. Rometty noted that the strategic imperative businesses "now contribute 41 percent of IBM's revenue. With double-digit growth, we're on pace to achieve our goal of growing these businesses to $40 billion by 2018." Given the debacle of the five-year "road map" she inherited, she has been circumspect about goals (no doubt because of the "continuous transformation" she describes) At the end of 2016, she gave a two-year goal for revenue. It appears that by the end of 2018, IBM will have well more than half of its revenue from the strategic imperatives. They will have achieved "critical mass."
As for who will succeed Ms. Rometty, I have no idea. I'll leave it to people with more knowledge of the company and the industry. As a shareholder, I hope they will appoint a non-executive chairman. Perhaps they will continue the pattern of keeping Ms. Rometty in the chairman role for a year or so. I personally prefer a structure in which there is a non-executive chair in place (not temporarily), and a chief executive officer, and a president. Some companies make good use of that arrangement where the president typically succeeds the CEO and the CEO becomes a non-executive officer.
I also don't know if they've put these questions to Watson, but if it's as good as they say it is... I'm thankful IBM's first CEO wasn't named Hal.
I'm long IBM and here's my investment thesis
I plan to continue to hold my shares of IBM. I would be willing to increase the portfolio percentage from the present 2% allocation if the strategic imperative businesses continue to grow as indicated; if IBM ceases to rely on share buybacks to generate EPS growth; if they can reverse the trend of credit rating downgrades; if they can stop the trend of higher payout ratios; and if they have a successful CEO transition.
I might sell shares or close the position if the dividend appears to be in danger of being frozen or cut; if there is another credit downgrade; if the debt level continues to rise; or if the next CEO comes up with a five-year plan.
As things now stand, my current target price for adding shares is $142.86 (which, at the present $6.00 annual dividend, would be a 4.2% yield).
I'm always eager to learn from the Seeking Alpha community. Your responses enrich our conversation. How do you see IBM's future?
My goal is to write one article a week, usually about one of the holdings in my retirement portfolio. You can access a list of previous articles here.
To be notified of future articles on a real-time basis, just click "Follow" at the top of this article, then choose "Follow this author" and "Real-time alerts."
It's not my intent to advocate the purchase or sale of any security. I offer articles and blogs to provide ideas for stocks to study and to share a journal of my effort to design and build a retirement portfolio that puts a priority on relative safety, a history of dividend growth and solid future prospects. Your goals and risk tolerance may differ, so please do your own due diligence.
Disclosure: I am/we are long IBM, MSFT, AAPL, ADP, CSCO, TXN, JNJ, MMM, WMT, MRK, PFE, PG, KO, NSRGY, GE, RY, TD, GPC, GWW, SPG, PSA, VFC, PPL, DUK, SO, WEC, O, VTR, SKT, BIP, BCE, AGR, EPD, PEGI, HASI, WP, BEP, APLE, MRCC, UL, BIF, VTI, VEA, VWO, VYM, VOE, VNQ, VPU.
I wrote this article myself, and it expresses my own opinions. I am not receiving compensation for it (other than from Seeking Alpha). I have no business relationship with any company whose stock is mentioned in this article.