The global smartphone market is expected to slow considerably over the next few years as a result of market saturation in key markets such as the United States and Europe. The number of first-time iPhone buyers is rapidly shrinking in these markets, and most sales are from upgrades.
(Source: Business Insider)
In China, Apple's (NASDAQ:AAPL) second-largest market, sales are slowing for reasons such as regulatory hurdles and increased competition from local brands such as Huawei, Oppo and Vivo. These competitors offer much of the iPhone's features at lower prices. iPhone shipments in China dropped 23% in 2016 compared to the same period a year ago, marking Apple's first annual decline in the country.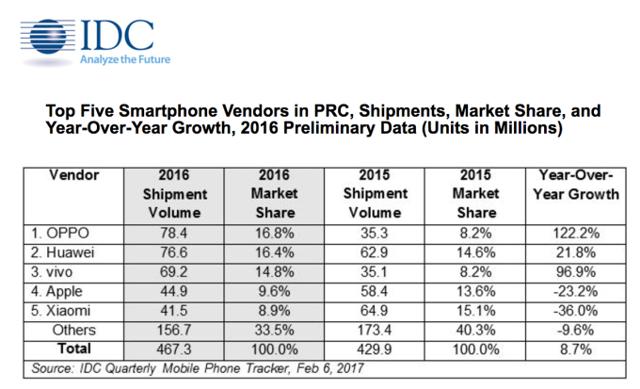 (Source: IDC)
India is the world's fastest-growing smartphone market. It overtook the United States last to year to emerge as the world's second-largest smartphone market by users. India's smartphone market grew 18% in 2016, compared to the global smartphone market which grew 3%. The country's smartphone user base grew to over 300 million in December 2016, which is less than 50% of total mobile phone users (which is about 700 million), indicating a market with significant growth potential. In fact, India is predicted to generate 1 billion smartphone sales over the next five years.
Samsung (OTC:SSNLF) currently is the market leader in India's smartphone market, accounting for 26% of the market.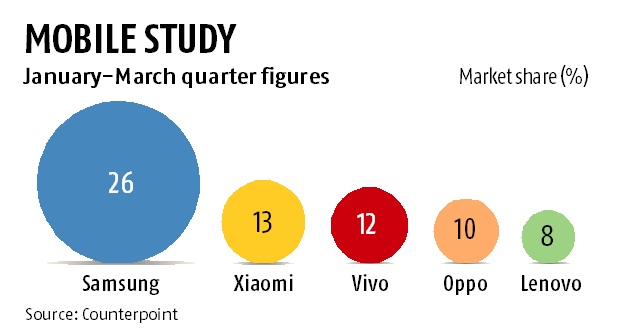 (Source: Business Standard)
While Samsung occupies first position, the rest of the top five was dominated by Chinese brands Vivo, Xiaomi (BATS:XI), Lenovo Group (OTCPK:LNVGY) and Oppo Electronics.
Apple captured 10th position in the smartphone rankings during the fourth quarter of 2016. Its market share in India's smartphone market is less than 5% (this compares with China, where the company holds a 9.6% market share as of 2016, a drop from the 13.6% share it held a year earlier).
Apple's strength is in India's premium smartphone segment, where it is the market leader with 2.5 million phones sold in 2016.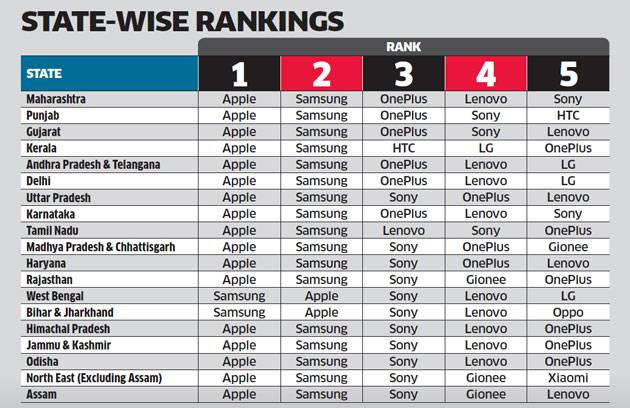 (Source: The Economic Times)
During the first quarter of 2017, India's smartphone market grew 15% YoY. In the same period, the premium smartphone segment registered faster growth of 35% YoY.
While the growth figure is impressive, of India's 300 million smartphone user base (as of December 2016), just about 4%, or 12 million, is comprised of premium smartphones.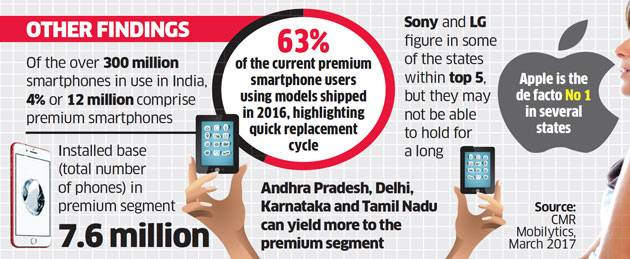 (Source: The Economic Times)
This represents a relatively tiny market for Apple at the moment, compared to China where Apple sold over 40 million units in 2016. Despite this, India is an important market for the company. Sales of iPhones in India grew 50% in 2016, compared to China where sales dropped 23%.
However, India is a price-sensitive smartphone market, and Apple is a premium product. Almost 75% of smartphones sold in the country are below the US$150 price point, and as of last year, there were over 70 brands selling smartphones priced at less than US$100.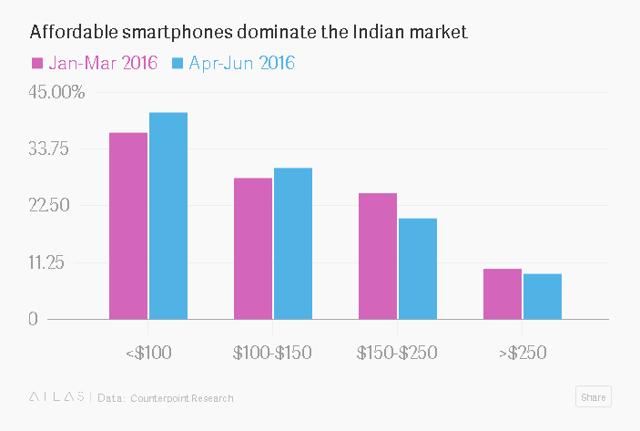 (Source: Quartz)
Most of Apple's product sales in the country are older-generation models; of the 2.5 million iPhones sold in 2016, almost 55% were older models. A report found that the Apple iPhone 5S (which is over three years old, having launched in September 2013) is the top premium smartphone in India as of March 2017.

(Source: Livemint)
India has about 700 million mobile phone users, of which about 300 million are smartphone users. This means about 400 million mobile phone users are still using feature phones, and they may upgrade to smartphones in the near future. However, these first-time smartphone buyers are likely to purchase smartphones at the bottom end of the price scale.
A survey conducted by research firm Counterpoint found that two-thirds of the 1,500 mobile phone users surveyed plan to upgrade to a new device within the next year. This shortens the average 24-30 month upgrade cycle to less than 20 months. The trend is driven by consumers wanting 4G mobile phones with more advanced features. 30% of those surveyed were considering phones with a fingerprint sensor and a better front-facing selfie camera. This trend is positive for India's smartphone market. However, in the near term, the beneficiaries are likely to be handset makers in the sub-US$200 segment, such as Lenovo, Xiaomi and Indian brands selling handsets at rock-bottom prices, such as Micromax.
It is highly unlikely that Apple would ever compete in the low-end handset market (unlike Samsung, which does compete in this market segment, having rolled out its cheapest smartphone in India last year priced at less than US$ 70). Apple's cheapest phone (the iPhone SE) is more than five times that price, retailing in India at over US$350.
Tim Cook admitted iPhone prices are high in India. This is partially due to duties and taxes, as well as India's weak currency. Customs duties are calculated over the total price of the product, shipping charges and handling charges. Accessories within the box are reportedly taxed separately. After customs duties, the product is charged VAT (Value Added Tax) at the borders of various states in India.
A report from Deutsche Bank said that India is among the most expensive places in the world to buy an iPhone, with prices averaging 31% higher than those in the U.S. The iPhone 7 was over US$400 more expensive there than in the U.S. The upcoming iPhone 8 is expected to be no different. Considering the fact that India's purchasing power is considerably less than in the U.S., it is not surprising that only a tiny fraction of the country's smartphone users can afford the latest iPhone.
Apple has begun locally manufacturing iPhones in India through a Taiwanese contract manufacturer Wistron's plant in Bengaluru, which could help make the devices more price-competitive. Most of the production will be of older models, such as the iPhone 5s and iPhone SE.
Experts have predicted that the price of Apple's iPhone SE could go down by as much as 10-12% if it is manufactured locally. With the model priced at around US$350, local manufacturing could reduce the price to about US$308. This price is still likely to be relatively expensive by Indian standards, considering that per capita income is roughly US$1,600 a year (compared with China, where per capita income is about US$8,000), and about three-quarters of smartphones sold in India are in the US$150 and below price range.
However, the price reduction puts the phone just within the "mid-range" (US$125-310) smartphone segment in India, which is currently witnessing very strong growth. During the first quarter of 2017, smartphone shipments grew 15%, and smartphones in the mid-range segment saw the highest growth of 158% YoY during the same period.
Thus, Apple could capture market share in the near term, which would increase the iOS base in India and add users into the Apple ecosystem.
The strategy could also benefit the company in the longer term, since the bigger the iOS base, the brighter the prospects. India's smartphone market is still at a very nascent stage of growth. The country has a young population (almost half are aged 25), and Apple is an aspirational brand in India. The company's products are "sticky," and by using lower-priced, currently more affordable older models as a starting point, Apple is widening India's iPhone user base. In the longer term, as the market gradually matures, per capita income rises and the premium smartphone segment grows, these users could upgrade to newer iPhone models.
Disclosure: I/we have no positions in any stocks mentioned, and no plans to initiate any positions within the next 72 hours.
I wrote this article myself, and it expresses my own opinions. I am not receiving compensation for it (other than from Seeking Alpha). I have no business relationship with any company whose stock is mentioned in this article.