Equus Total Return (NYSE:EQS) is a fund on the rocks. Its recently announced merger and reorganization has come to a grinding halt, NAV just saw a nasty decline, the outlook is grim and the fund is not investment grade material. Even so, it presents an opportunity for value investors that just got a little sweeter.
The fund has announced the repayment of one of its portfolio investments. This is not an unusual event other than that this particular investment, $2.0 million in senior secured notes, was in default, uncollected and an unrealized loss hanging on the books. The repayment does come at a cost - Biogenic Reagents has had to liquidate - but that is another story.
Repayment includes the full $2.01 million of value claimed by EQS as well as $407,000 in accrued interest. The payment increases the EQS cash hoard by 23% and the inherent value of the portfolio as a whole. In terms of NAV, the repayment is worth nearly $0.18 per share of tangible cash.
In my previous article, "Out In The Cold With No One To Merge With," I broke NAV down into the performing and non-performing portions of the portfolio. At that time, the performing portion did not include the Biogenics Reagent investment and was worth about 91% of the net. Now, with the transfer of Biogenics from non-performing to realized, the performing portion of the portfolio has risen to roughly 96.75% of reported NAV, or $2.96.
The share price fell more than 21% in the wake of the merger deal falling apart. This has re-opened the discount to NAV to -25% and the discount to the tangible and performing portion of the portfolio to -23%, both attractive from the value perspective.
The opportunity is that the fund will enter into a new merger agreement, decide (finally) to liquidate or something else to reinvigorate the market and drive share prices back up to NAV. This happened over the course of the first quarter of this year in anticipation of the MVC/USG&E (NYSE:MVC) merger, and it can happen again.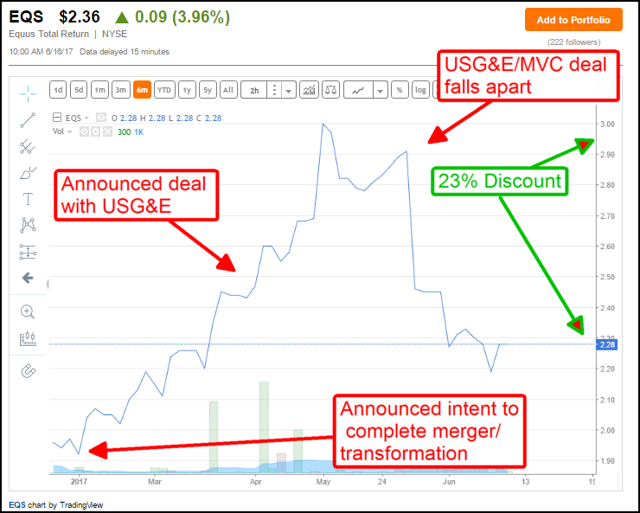 Disclosure: I am/we are long EQS.
I wrote this article myself, and it expresses my own opinions. I am not receiving compensation for it (other than from Seeking Alpha). I have no business relationship with any company whose stock is mentioned in this article.