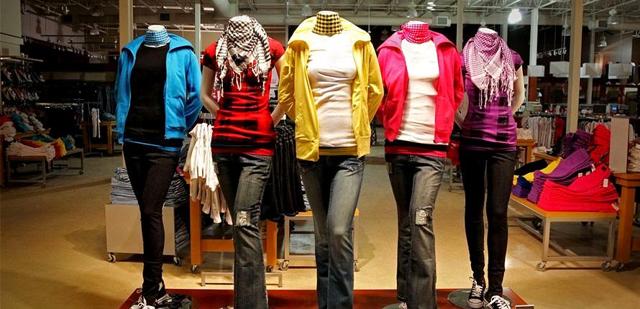 Bottom-fishing is a dangerous sport. Yet, it is often irresistible for investors who can't pass up a good bargain.
Many apparel retailers appear cheap right now. They often have high cash balances and no debt. However, investors would do well to keep in mind other obligations, including operating leases and purchase obligations, as these limit the flexibility of the company to scale operations and change strategy. Furthermore, as the cycling of fashion trends accelerates, those retailers saddled with slow-moving inventory will likely see continued poor sales results as merchandise becomes outdated.
In this article, we'll look at some key considerations for those who are considering investing in some of the beaten-up apparel retailers, including Express (NYSE:EXPR), The Buckle (NYSE:BKE), American Eagle (NYSE:AEO), Urban Outfitters (NASDAQ:URBN), Zumiez (NASDAQ:ZUMZ), Abercrombie & Fitch (NYSE:ANF), Guess (NYSE:GES), and The Gap (NYSE:GPS).
New FASB changes and what they mean for apparel retailers
FASB is moving to include operating lease obligations on the balance sheet starting January 2018. While this does not change anything about the underlying economics of the business, it will make explicit liabilities that have been hidden for years.
To estimate these impacts on apparel retailers, one can look at current valuations and adjust the valuations for the value of operating lease liabilities.
Why lease accounting is so important
An operating lease is recorded as an operating expense, whereas a capital lease is recorded as a liability on the balance sheet. The expenses associated with the latter are incorporated in both the Depreciation and Interest line items, while the expenses associated with the former are incorporated in the SG&A section.
This is important because the treatment of leases distorts important valuation metrics like the EV/EBITDA and EV/EBIT ratio.
| | | |
| --- | --- | --- |
| | EV | EBITDA |
| Capital Lease | ↑ | ↑ |
| Operating Lease | ↓ | ↓ |
Investors seeking to buy the "cheapest" retailers need to include the operating leases into price multiples.
Operating leases are, in fact, a financing expense, and the change in FASB is a step to recognize this. Thus, in order to calculate the true multiple of a retailer, one ought to adjust both EBITDA and EV as follows:
EV/EBITDA = (Market Cap - Cash + Debt + PV of Operating Lease Obligations) / (EBITDA + Operating Lease Payments)
This adjustment results in some surprising distortions across the sector:

Notes on methodology: I adjusted the PV of all operating lease commitments using a cost of debt assumed to be 4%, a period of .5 years for the next 12-month commitments, a period of 2 years for commitments in years 1-3, and a period of 4 years for commitments in years 3-5. PV of lease commitments greater than 5 years was calculated using an annuity method, assuming yearly payment equal to the average yearly payment in years 4 and 5. For more on this methodology, see Damodaran's valuation of lease obligations. Additional note on lease expenses: Most companies do not break out lease expenses, electing to include them in SG&A. To arrive at adjusted TTM EBITDA, I used lease obligations as of January 2016 as an estimate of TTM lease expenses. This underestimates true lease expenses, as it does not include the full impact of any leases that were renewed during the year.
Companies that seem surprisingly cheap, like Express, fall in line with sector averages when adjusted for lease obligations. The Buckle, Abercrombie, and American Eagle become especially cheap when considering the relatively lower lease obligations. Guess becomes less expensive when considering the relatively low lease obligations but remains the priciest of the group.
The timing of lease obligations gives clues about the survival of the company
Operating leases are the primary reason many retailers go bankrupt; however, they are also the reason growing retailers are fantastic investments. When a retailer is growing, it requires little capital investment because it records all leases as operating expenses. Because this is a fixed cost, as same-store sales grow, margins also grow, which allows the company to earn a large return on capital.
However, when same-store sales decline, margins are compressed because the retailer still has to pay the same lease expense. When margins become too compressed and the company isn't generating enough cash to pay off its operating leases, it may be forced into bankruptcy to get out of its lease agreements.
The emphasis of the retailers in the past year has been on shrinking footprint as fast as possible. This is easiest to accomplish when operating leases come due for renewal.
When the lease is up for renewal, the company has an ability to close down the unprofitable stores and keep the profitable ones. This is increasingly important, as we are seeing a divergence in the performance of "A" malls and "C" malls. While "A" malls may be able to survive this rout, the "C" malls are looking increasingly unlikely to make it through. A key to survival will be closing down the "C" mall locations rapidly and focusing on the store experience in "A" mall locations.
Therefore, one of the most important metrics to pick out the winners and losers from this retail bloodbath may be the number of operating lease obligations due in the next 3 years. If a company has a large number of long-term leases, this could be a recipe for disaster.
I've compiled the following table of some apparel retailers to understand which companies may be survivors.

Relatively fewer long-term lease obligations at Abercrombie & Fitch, American Eagle, Guess, and The Buckle make these operations more likely to successfully shrink their footprint in the coming years.
Inventory and Purchase Obligations give clues about which retailers will adapt to the "Fast Fashion" disruption
Online sales isn't the only disruption to the apparel retail industry. "Fast fashion" companies like H&M and Zara have disrupted the industry with their rapid supply chains. These companies are able to bring styles from the runway to stores in a matter of weeks, whereas retailers were used to having 6-9 months to bring a style to stores.
One of the clues for which retailers will be able to adapt is the Days Inventory figure. This shows how many days of inventory are currently sitting in stores. The other clue would be the amount of purchase obligations outstanding. Large purchase obligations commit a company to a certain style for the next several months despite changes in fashions.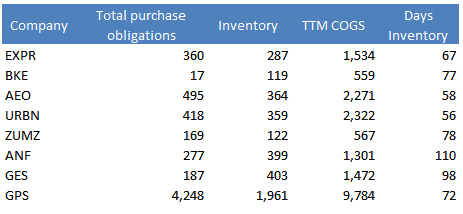 The Buckle stands out with extremely low purchase obligations. Two-thirds of The Buckle's sales come from distribution of brand name apparel rather than distributing its own private-label merchandise. This gives it flexibility to delay purchasing decisions.
Urban Outfitters and Guess also appear to have relatively low levels of purchase obligations relative to annual COGS.
Urban Outfitters and American Eagle stand out with the highest turnover in the retail space. On the other end of the spectrum, Abercrombie & Fitch has an astonishingly bad turnover rate.
Putting it all together
Investors going bottom-fishing in the retail sector would do well to be mindful of the timing and size of lease obligations, as well as the flexibility of the company to adapt to changes in styles. Companies that remain flexible and have low amounts of obligations ought to be able to make it through this rout in the sector and may see a re-rating of multiples on the other side.
The Buckle appears to offer a good value and does not appear in danger of going bankrupt anytime soon. Importantly, the company is also very flexible, with low levels of purchase obligations because of its distribution-focused business model.
Though Urban Outfitters isn't relatively cheap and has a high proportion of long-term leases, its higher levels of inventory turnover and low levels of purchase obligations ought to allow it to remain flexible in a "fast fashion" environment.
Those looking to sell short the sector can benefit from considering lease obligations and flexibility as well. The most expensive and least flexible names appear to be Guess and The Gap.
The absolute level of lease obligations at Guess is quite high relative to EBITDA, and though it has low future purchase obligations, Guess has one of the lowest levels of inventory turnover.
The Gap is relatively expensive and stands out with high levels of long-term leases and large purchase obligations. Though its inventory turnover lies in the middle of the sector, if fashions change quickly, The Gap will have trouble adapting, as its purchases have been made so far in advance.
Let me know what you think about operating leases, inventory, and the fast-changing world of fashion in the comments below. If you see any other apparel retail companies that you find interesting (brick-and-mortar or e-commerce), let me know below!
Disclosure: I am/we are long BKE.
I wrote this article myself, and it expresses my own opinions. I am not receiving compensation for it (other than from Seeking Alpha). I have no business relationship with any company whose stock is mentioned in this article.