My first reaction when I saw Amazon's (NASDAQ: AMZN) $13.7 billion acquisition of Whole Foods (NASDAQ: WFM) was: "I knew it!" See, I've been watching Amazon's growth from the sidelines for years, and I've been eyeing Wal-Mart Stores Inc (NYSE: WMT) as a potential investment for nearly as long a time. My thesis -- granted, a commonly held one -- is that Wal-Mart is the only player that has the infrastructure, retail/inventory/logistical know-how, brand, and financial capability to challenge Amazon's growing dominance of the retail landscape.
My primary concern was always that Wal-Mart Stores Inc is "burdened" by a huge capital investment in thousands of massive retail stores, and that shifting these stores into distribution facilities or abandoning them altogether would be a costly operational nightmare. Of course, this fear was based on the assumption that Wal-Mart would have to transform into a primarily online marketplace (like Amazon) in order to effectively compete. That fear now appears unfounded.
So you can imagine the validation I felt when Amazon went out and bought a business model based entirely on physical retail space. You can also imagine how pleased I was to see the market predictably punish Wal-Mart shares on Friday because -- all of a sudden -- "the competitive threat within perishable goods/grocery just got real!"
News flash: there's been intense competition in grocery for decades. But you wouldn't have guessed that from Wal-Mart's shares, which traded down nearly 5% Friday, the equivalent of roughly $10 billion of market value gone.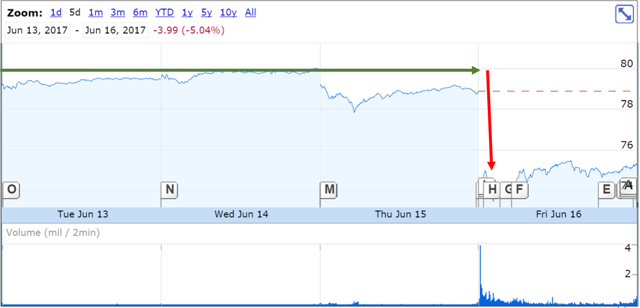 Source: Google Finance
This acquisition was an acknowledgement that physical retail space is critical, and not just in grocery/perishables.
I don't buy the "competitive threat" argument that drove Wal-Mart shares down Friday. In my view, Friday's acquisition of Whole Foods by Amazon was an acknowledgement that having physical retail locations is critical to building a financially viable retail operation, and not just in the grocery segment. I think Amazon's acquisition rationale has other initiatives and elements baked in, something as simple as acquiring hundreds of customer pick-up locations near where the majority of Amazon customers work and live (urban professionals). Whole Foods locations will provide that.
In fact, there have to be non-grocery rationales at work here, for this acquisition to make sense. Whole Foods has a significant non-perishable section that competes directly with Amazon. I've bought toilet paper, tooth paste, paper towels, nuts in bulk, dried goods, you name it from Whole Foods. And now I buy all of those products from Amazon Prime. So in order for an acquisition of this "redundancy" to make sense, there have to be efficiencies or growth opportunities in non-perishables that Amazon is expecting to exploit...and those efficiencies/growth opportunities must be dependent on having physical retail locations!
In other words, this acquisition may not only be about the grocery/perishables business. Amazon may be addressing other issues it's having as a result of their "online-only" business model. If that's the case, it has significant implications for a company like Wal-Mart, which may be better positioned that previously thought.
Whatever the acquisition rationale, Amazon won't tell you.
We can't really know Amazon's acquisition rationale fully, because Amazon's press release only indicates that Whole Foods has been "delighting" customers for nearly four decades. I think we can all agree that "delighting customers" is not worth $13.7 billion. No conference call with analysts or press was held. But that's OK; Amazon traded >2% higher on Friday, adding roughly $10 billion in market value.
Whole Foods and Wal-Mart don't compete with each other geographically
How often do you see a Whole Foods and Wal-Mart near each other? Answer: rarely. Wal-Mart's tend to be located on the outskirts of town, so that middle- and lower-middle class consumers from suburban and rural areas can drive under ten miles to shop there. Meanwhile, Whole Foods tend to be located in populated urban areas, where wealthy consumers live and work. As a real estate investor who travels the country each month, and shops in both Whole Foods and Wal-Marts as a result, I have seen this dynamic first-hand.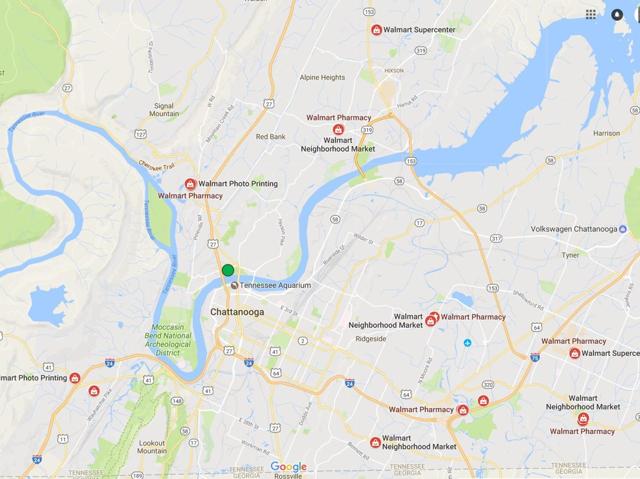 Source: Google Maps
In early June, I was in Chattanooga, TN, so thought I would use that area as a case-in-point, because it's representative of what I see around the country. In the map above, you can see several Wal-Mart supercenters ringing downtown Chattanooga (which is marked by "Chattanooga"). That big green dot in the center is the one Whole Foods in town, right across the bridge from downtown Chattanooga and clustered amongst condo buildings and communal office spaces. The people who shop there may never set foot in Wal-Mart; Whole Foods is closer, higher quality (in their eyes), and they have the income to afford the higher price point. Similarly, middle and lower-middle class consumers in the 'burbs don't drive into the city to go to Whole Foods when they have a less expensive option with greater variety nearby.
Another way of looking at this dynamic is via the number of store locations in coastal versus interior United States. Whole Foods has 18 locations in New York state, nearly half of which are in the New York City metro area. The number of Whole Foods in Buffalo? None. Rochester? None. California, meanwhile has over 80 Whole Foods locations. But Kansas? Four Whole Foods. Kentucky? Two Whole Foods.
Meanwhile, Kansas and Kentucky have 189 Wal-Mart locations between them. 'Nuff said.
Whole Foods and Wal-Mart don't compete over the same end-consumer
Which leads me to my next point: this acquisition reinforces the idea of "two Americas," within the context of Amazon vs. Wal-Mart. The Whole Foods acquisition is a doubling down on the upper-middle- and upper-class urban professional, which is both Amazon's and Whole Food's bread and butter. Wal-Mart is not even an option for these consumers. A real competitive threat would have seen Amazon purchase a grocer located in the 'burbs and/or rural areas, where Wal-Mart thrives with suburban and rural consumers. But the two are sticking to the consumer they know and that know them. That bodes well for Wal-Mart.
Whole Foods is simply too small to compete with Wal-Mart
As of December 31, 2016, Wal-Mart operated 4,177 stores in the U.S. (excluding Sam's Club), of which 670 already have an online Grocery business. Whole Foods, on the other hand, operates a mere 465 stores across North America and the U.K. Wal-Mart is 10x as large as Whole Foods in the U.S. and Wal-Mart has >1.5x the number of locations where you can order groceries online. Yet $10 billion of Wal-Mart's market value was erased on Friday.
I get it; Amazon is the "great disruptor"
Investors give Amazon the benefit of the doubt with everything. As soon as Amazon enters a business, every other operator is "under siege." But Amazon's experience is primarily with non-perishable, consumer goods, and that is a vastly different supply chain and operation compared to grocery/perishables. I would have been far more concerned for Wal-Mart Stores Inc if Amazon built their own grocery operation from scratch, because that would imply that having a primarily online strategy was possible (like FreshDirect, for example) and efficiencies could be realized that way. But that's not what Amazon is doing; they're acknowledging the necessity of physical retail space in grocery, which, in my view, mitigates a significant part of Amazon's advantage online.
There is more going on here than meets the eye
Mr. market took the easy way out on Friday, punishing Wal-Mart as if Amazon's grocery ambitions was new "news." Instead, I think Amazon's acquisition of Whole Foods strengthens the bull thesis for Wal-Mart by supporting the idea that Wal-Mart Stores Inc is better positioned to compete than previously thought. For example, Wal-Mart is far ahead of Amazon in terms of incorporating physical retail space into the company's online sales strategy, simply due to the fact that Amazon has not had retail locations (until now).
Maybe Amazon needs to become more like Wal-Mart in more ways than the market is giving credit for.
I took what Mr. Market gave me, and went long Wal-Mart on Friday.
Disclosure: I am/we are long WMT.
I wrote this article myself, and it expresses my own opinions. I am not receiving compensation for it (other than from Seeking Alpha). I have no business relationship with any company whose stock is mentioned in this article.