Facebook (FB) has a substantial economic moat. The sheer size of the audience and the interaction on a daily basis is staggering. DAUs moved to 1.28 billion on average last quarter (an improvement of 18% year-over-year). The continued growth and user retention is the intangible asset, in my opinion.
Facebook is a giant that does not have any direct competition. Sure, you have other social platforms, but nothing like Facebook; after 13 years in business, nothing seems to be taking users from Facebook. People are addicted.
The company has evolved into a top platform that businesses rely on. They need to stay in the eye of the consumer, and by using Facebook this allows them to connect to new (and old) customers. Without Facebook, a lot of large companies would struggle to generate online traffic and interaction.
An opportunity arose to buy Facebook on sale, investors snapped it up
When observing stock price fluctuations recently, it can be depressing for most investors. However, you have to emulate the great investors of our time and focus on the long-term prospects of a company. The recent decline of 7% should have presented an opportunity, not worry. The stock popped up from $144.6 to $149.25 after the decline and then continued to get bid up.
Facebook has been an unbelievable company, it has generated over $30 billion in sales in the past twelve months alone, and Wall Street expects revenue to grow a further 62% by 2018.
This is a stock that has a tremendous amount of potential upside. Facebook alone has a network of 1.9 billion people, the company has a competitive advantage by owning some of the best-loved apps, such as:
Messenger

Instagram

WhatsApp
This unchallenged popularity secures Facebook's place in holding a substantial chunk of the online ad market for the foreseeable future.
Global smartphone growth is essential, and it is expected to grow
Mobile ad revenue contributed approximately 85% of advertising revenues during Q1 2017. This is an enormous number when you look at revenues from the two reported areas.
Advertisements

Payments and other fees.
The last reported quarter showed that revenue from payments and other fees was $175 million - that represents only 2% of revenue, a good number but it is nothing compared to the $7.8 billion generated through ad sales.
Of that $7.8 billion, 85% came from mobile advertisements, you can see why it is necessary to track smartphone sales.
Smartphone usage and growth are crucial to the long-term prospects of Facebook. The number of smartphone users worldwide is expected to be around 2.87 billion by 2020, that is roughly 38% of the global population.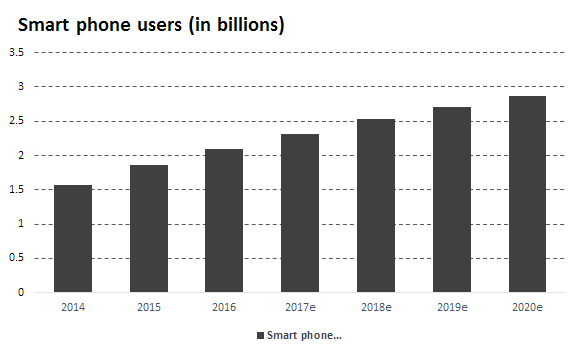 - data statista.com
To try and make the world more globally connected, Facebook has a rather enigmatic project set up to connect everyone to the internet. Ultimately these people will be active Facebook users one day, along with the rest of us. Although, it does declare the project is nonprofit.
The internet is essential to growing the knowledge we have and sharing it with each other. And for many of us, it's a huge part of our everyday lives. But most of the world does not have access to the internet.

Internet.org is a Facebook-led initiative with the goal of bringing internet access and the benefits of connectivity to the portion of the world that doesn't have them.

Imagine the difference an accurate weather report could make for a farmer planting crops, or the power of an encyclopedia for a child without textbooks. Now, imagine what they could contribute when the world can hear their voices. The more we connect, the better it gets. - Internet.org
It is a cheap stock when you look at FB's future. You have other similar social network/app stocks trading at huge multiples with a hope that one day they will finally turn a profit. Why gamble on garbage when you can see a clear front-runner before your eyes.
Dividend investors should keep in mind that Facebook does a good job in reinvesting that retained earnings, so I wouldn't be expecting a dividend anytime soon. Some of the investments like Oculus are not as mainstream and as profitable as one would hope. But hopefully, with the success and popularity of PlayStation VR, this will put more spotlight on this new VR industry.
Low chance of low margin
Facebook is a high margin business with sustained low costs (for now at least), the EBITDA margin appears to be holding around 50%. This confirms Facebook is as highly profitable businesses even when compared to rivals.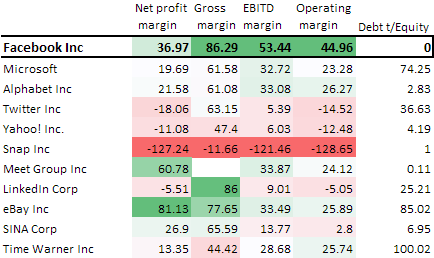 - data from Google
When you look at Facebook closely you really begin to see how impressive this company is, Facebook not only has the highest margin but the lowest debt.
Instagram (Facebook's well-known purchase) recently passed 700 million active users globally and that growth is set to continue. Unfortunately, Facebook does not offer segment data so it is difficult to get some numbers regarding individual segment activities. The only segments Facebook shows is the geographical data. Instagram is not as aggressively monetized as Facebook, but revenues are growing, according to Fool.com.
Instagram offers some key advantages over traditional advertising on Facebook, the visual nature of Instagram and the layout compliments the user's natural habits on the App. Instagram boasts 1 million advertisers and 8 million business profiles. 12.5% of business profiles are actively paying for advertisements through Instagram.
Presumably, one day we will get a full data breakdown from Facebook, Instagram, Messenger, WhatsApp, and Oculus. This would be useful data to have.
Key revenue drivers in 2017-2018
Two important drivers are user growth and ad load. User growth is obvious; ad load can only be pushed so much before people get tired of seeing ads.
Luckily, Facebook's ads are quite discreet and many users don't understand that it is an ad they are actually seeing; they assume it is a page or post their friends have liked recently.
Facebook centers its business on user engagement. This differentiates the social media platform from others. It is financing research and development on a large scale and pushing innovation; research expenses eat up 21% of revenue, this has declined over the years and revenue growth has been strong.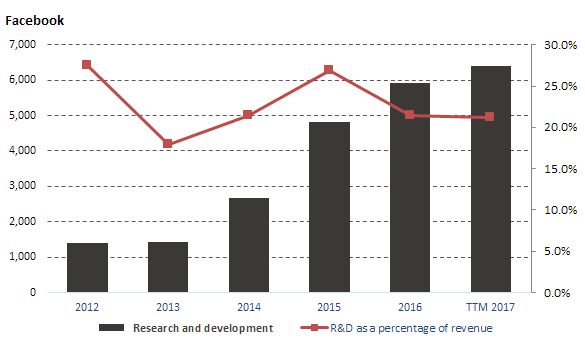 Not long ago, Mark Zuckerberg announced a "video first strategy" that heavily promotes live videos and Facebook 360 video tools; you may have noticed a lot more 360 videos and images on Facebook as of late. Video as a whole is something Facebook is pushing, an obvious attempt to grab YouTube market share.
Desktop revenues are expected to slow during 2017 due to more people using ad block. Ad block on mobile does not really signify a problem.
With regards to revenue, we continue to expect that our ad revenue growth rates will come down meaningfully over the course of 2017. We expect that ad loads will play a less significant factor in driving revenue growth after mid-2017. We also expect desktop ad revenue growth rates to slow in the third quarter when we begin to lap our efforts to limit the impact of ad blockers. - David M. Wehner - Facebook, Inc.
Valuing Facebook
I have previously written about Facebook and included my DCF valuation, you can find this here. my target is $175 now. Valuation results for Facebook are based on future expected earnings, with a relative valuation.
These valuation results for Facebook are based on future expected earnings, with a relative valuation in mind.
Valuing Facebook from NAV or NCAVPS and dividing that per share doesn't really show (or offer) any real vision, in my opinion. The hero of value investing Benjamin Graham valued companies in a different time, a time when assets were a heavy focus for investors; as the scrap value of a company could be used to determine a worse-case scenario and provide a floor.
In the modern day, however, this asset tedious approach is somewhat nullified with tech. Facebook currently has $68 billion in assets, and a large part of that is cash and equivalents. So if we take away the cash and other non-physical assets and look at what could be liquidated, that leaves us with $20.7 billion, per share = $7.18.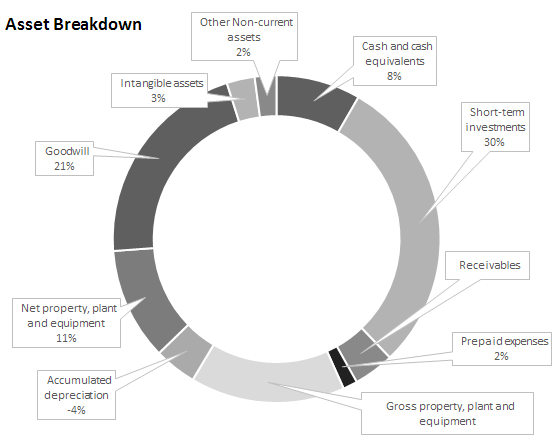 With my future earnings forecasts and relative comparable valuations, the new $175 target with multiples can be seen below.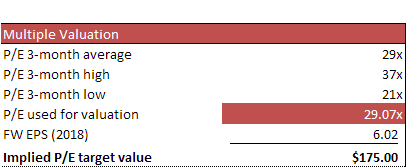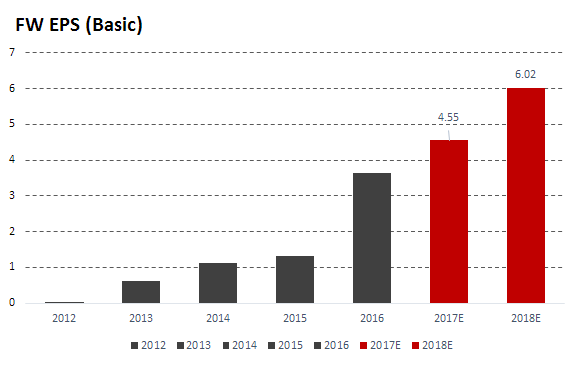 These estimates for the $6.02 EPS are concluded from a few of the following points.
Facebook should be able to hold long term above average revenue growth without oversaturating user experience with ads.

No direct competition and disruption will arise in the next 24 months.

Continued growth in Instagram ad revenue, with a sustained goal to monetize WhatsApp and Messenger.

The US economy maintaining unemployment at or below 4.5%.
*Any changes to the above points would cause model assumptions to shift
Final note
If you are an investor and do not currently own Facebook it would be a smart purchase to add some shares. Facebook is, in my opinion, impenetrable and will hold a vast amount of ever growing users for the foreseeable future. I recognize that other companies over this time will appear and be popular, but for users to dump Facebook for another platform is highly unlikely.
When people delete Facebook (everyone has that one friend) it is not long before you see them back, people are addicted. From an advertiser's perspective, this is ideal.
Companies now accept that to stay viable you have to use Facebook to interact with customers. If you own a new startup and want to get your product seen, the best place to pay for advertisement space would be Facebook.
Other "top social" apps are the ones Facebook owns. Could Facebook buy Snapchat (SNAP) if FB's stories don't take off as planned? Possibly, Snapchat is trading at $21 billion, Facebook has $32 billion in cash and short-term investments. But why waste $21 billion when you could just embrace Snapchat style features for essentially free? When compared to $21 billion anyhow.
That is the only other real competition that Facebook sees, and that is not even a threat. Facebook has been unchallenged for 13 years.
Facebook is the Coca-Cola (KO) of tech.

Disclosure: I am/we are long FB.
I wrote this article myself, and it expresses my own opinions. I am not receiving compensation for it (other than from Seeking Alpha). I have no business relationship with any company whose stock is mentioned in this article.