Rarely do opportunities present themselves where one can get high-quality at a cheap price.
Though I am a harsh skeptic of the crowd and the 'efficient market hypothesis', markets are priced fairly 95% of the time.
But sometimes there is that 5% where prices get out of whack...
This is exactly what happened recently with the VanEck Vectors Juniors Gold Mine ETF (NYSEARCA:GDXJ) and the stocks it holds.
A little background on this whole situation in case you missed it.
Back in April, the GDXJ announced it would have to rebalance its holdings since it had grown too large for its index. The GDXJ had significant holdings of several individual stocks which were at the maximum threshold.
Said otherwise, this was the curse of their own success.
Due to regulations, the ETF needed to unload some of these smaller positions or overtime growing demand would have them owning over 20% the shares outstanding of many juniors. Several were already at the maximum threshold allowed.
The solution? Allow the GDXJ to diversify its holdings with larger cap, more liquid, gold stocks.
As The Globe and Mail recently explained, in layman's terms that means after that point GDXJ will be able to buy gold stocks whose market caps range from $75 million to $2.9 billion; that's up from the previous range of $75 million to $1.6 billion.
Ever since this announcement was made, there has been a collapse in junior gold stocks. Investors were intimidated by the short time period they had to unload large blocks of shares. They also must now worry that the GDXJ will not focus on the juniors anymore and simply target larger cap miners.
But this exact fear and sell-off is what creates such an opportunity for speculators.
Look at the price of the GDXJ and its larger cap brother, the VanEck Vectors Gold Miners ETF(NYSEARCA:GDX) since April. During a time where gold has held itself relatively steady, these indexes have suffered greatly.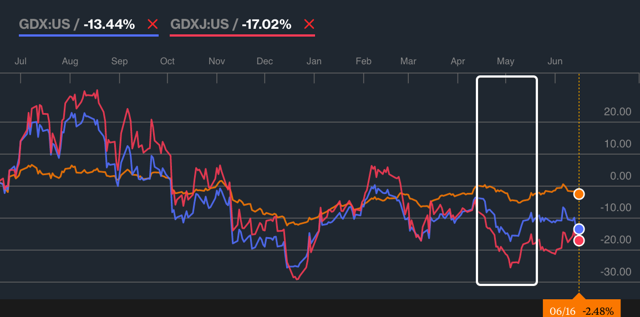 The GDX is still down almost 14% against the SPDR Gold Trust (NYSEARCA:GLD). Even worse, the GDXJ is down 17%.
True, they have recovered some lost ground since then, but they still lag against gold. Therefore, a divergence still exists between the price of gold and the gold miners. The chart shows that such wide separations between the indices and the GLD eventually converge.
But taking it a step further, what of the stocks that had their shares dumped from the GDXJ?
After careful study, my list of five oversold, unloved, and high quality stocks are:
1. Teranga Gold Corp(OTC:TGCDD)
2. Klondex Mines(NYSEMKT:KLDX)
3. Asanko Gold(NYSEMKT:AKG)
4. Gold Resource Corp(NYSEMKT:GORO)
5. Sandstorm Gold Royalties(NYSEMKT:SAND)
These are healthy gold companies and are trading well below the April 12th GDXJ rebalancing.
Because the market has already priced in the GDXJ outflows, these five stocks have limited downside going forward.
Observe the chart I made. . .

Being a harsh contrarian, simply buying because of the forced liquidation by the GDXJ is attractive enough.
These five equities have substantially underperformed relative to the GLD and senior gold equities, such as Barrick Gold (NYSE:ABX).

It is mid-June and most of these equities are still significantly discounted.
Best of all, nothing was fundamentally wrong with any of these companies. They were plagued by external factors.
Imagine if Nordstrom was having an immediate sale and you were able to buy great quality clothes at significant discounts. As low as 15% off and as high as 57% off. Nothing is wrong with the clothes. No news about their quality changing or anything negative. All that happened was Nordstrom had an inventory issue and needed to liquidate and rebalance their departments.
Wouldn't shoppers be elated with such opportunities? Of course they would.
"Don't be afraid of this, use it as your opportunity," Frank Holmes of US Global Investors, said recently. "Because some of these stocks have been sold down indiscriminately when they are reporting phenomenal fundamentals. The retail investor … and the smart institutional investor can pick away on some of the stocks."
This gives courageous speculators a window to buy quality names at a bargain price.

All five are near their 52-week lows because of the market's pessimism.
Last year I read a book from the anti-academic, serial-skeptic, and former hedge fund manager Nassim Taleb. It was called "AntiFragile" and part 4 was exceptionally insightful.
The section made the argument that investors, as well as everyday individuals, need to find positive asymmetry. Or otherwise, the long-side optionality. Don't hook yourself to things that have limited upside and unlimited downside. Always allow for yourself more upside than any downside. And finding asymmetric (low risk, high reward) situations in investing only presents itself in special opportunities.
With this in mind, I believe using a barbell strategy for this 'GDXJ Rebalance' situation is optimal.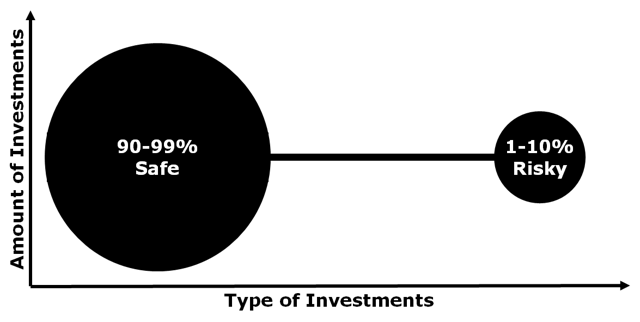 By giving myself limited downside, I am buying when the stocks that have been oversold and have nothing wrong fundamentally. Eventually the fear will fade, heavy short sellers will cover, and I expect these stocks to recover as the gold price strengthens overtime.
Using only 10% of a portfolio to buy a basket of these 5 stocks I listed gives one significant upside. And little downside even if they were to fall much further in the short term.
Just as Taleb and Charles Munger believe, when you find the uncommon special situation that gives you significant optionality and asymmetry, bet heavily.
Disclosure: I am/we are long GLD, GDXJ, TGCDD, AKG, KLDX, SAND, GORO.
I wrote this article myself, and it expresses my own opinions. I am not receiving compensation for it (other than from Seeking Alpha). I have no business relationship with any company whose stock is mentioned in this article.
Additional disclosure: Further, Instead of owning GDXJ stock I own long dated "out of the money" CALL OPTIONS. This limits my downside further and gives me unlimited upside for an extended period of time if the ETF outperforms.