Shares of The Cheesecake Factory (NASDAQ:CAKE) closed down over 9% for the week after telling investors the company is expecting a Q2 comparable same store sales (comp sales) decline of 1% instead of its previously guided 1-2% growth. Many in the financial community, including a few contributors on this site, have pointed to the sell-off as an opportunity to buy a well-established chain at a discount. However, investors must question if the value they will receive from their investment remains the same as it was before the guidance update sent shares tumbling.
Assessing The Brand's Strength
In other words, was the sell-off justified? Being able to buy a company at a cheap price does not create opportunity for an investor if the company isn't valuable at the price: a low P/E is only a steal if the company's strategic plan is cause for excitement. To that end, it is necessary to consider if The Cheesecake Factory will be able to return to flat to slightly positive comp sales growth to maintain cash generation at existing stores, while it adds cash flows from soon-to-be-opened stores.
The Cheesecake Factory's announcement comes after delivering 29 straight quarters of positive comp sales growth, a result of addressing a white space in the dining market through a differentiated menu that combines a delightful dinner with delicious dessert. But the company's surprise announcement seemingly marks the end of this consistent outperformance. Given that comp sales are perhaps the best gauge investors have for evaluating how well a company's brand is resonating with consumers, perhaps The Cheesecake Factory is falling out of favor with consumers.
That's the story the market is trying to push forward, at least. The reality is that comp sales have been descending over the past eight quarters (shown below) as the basis for comparison grew larger and larger, limiting the amount of growth physically attainable in any given store.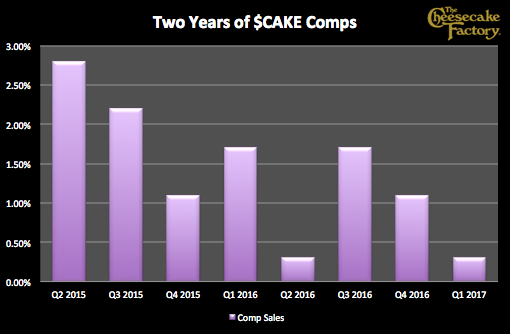 Data Source: Company Filings, Chart Generated by Author
The company's combination of dessert and meal innovations enabled The Cheesecake Factory to outperform peers even as much was made of declining mall traffic. The chart below highlights The Cheesecake Factory's comp sales dominance for each of the past eight years, suggesting the company exercised a robust advantage over peers. Also providing encouragement for investors is that this trend has hardly slowed down in recent years.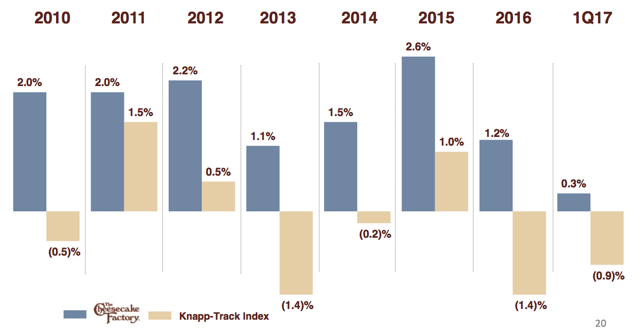 Source: Company Investor Presentation
As recently as last quarter, the company outperformed the overall comp index by 120 basis points, clearly suggesting that The Cheesecake Factory is still winning an outsized share of the portion of consumers' wallets dedicated to eating a nice meal away from home. What made The Cheesecake Factory such an intriguing investment opportunity since its inception is its ability to drive a higher check by drawing people into not only eat dinner but finish with its desserts. In the Q2 2015 earnings call, the company went into detail describing this advantage, "dessert sales have steadily grown for the past two years, positively influencing our sales mix. The vertical integration of our bakery enables us to create innovative, high-quality desserts for our restaurants and is one of the competitive advantages that help us produce industry-leading AUVs."
This advantage remains as strong as ever, despite what the company's shares selling off would suggest. In fact, dessert sales now represent an industry-leading 16% of the company's total, according to a June Investor Presentation. Not only does dessert continues to give the company the competitive advantage detailed in 2015, it now poses a new advantage: delivery and store space optimization. As the company's continued growth begins to press limitations on expanding comp sales (a restaurant can only seat so many people in any given night), dessert offers the company a special value proposition for delivery and creates a path to driving same-store sales higher.
This strategy was covered by management in the Q2 2016 earnings call in which CEO David Overton said, "We are also piloting a delivery service with a third-party partner in a select group of restaurants. To-Go already comprises about 10% of our sales and delivery is another way to provide the convenience our guests are looking for. We have expanded the pilot to most of California and will continue to monitor the performance as we evaluate the possibilities of a national delivery rollout."
Delivery and take-out remain an opportunity to recover comp sales in spite of the company's recent guidance update. But perhaps more importantly, analyzing a key chart taken from the company's recent investor presentation (shown below) reveals that the company is firing on all operational cylinders and dominating in the minds of consumers, as The Cheesecake Factory is able to more efficiently optimize its units to drive higher volumes, even at a lower average ticket than higher-end peers. Lost in the company's recent downward guidance revision was the fact that the company continues to outperform peers and post positive comps in many regions, with CEO David Overton saying "we have continued to outperform the casual dining industry quarter to date, with over half of our regions posting positive comparable sales for the period, including key markets of California, Texas and Florida."

Source: Company Investor Presentation
Although comps are likely to remain a challenging source for growth in today's restaurant environment, the company's opportunities for future growth includes the opportunity to operate a total of 300 domestic stores, up considerably from the company's current domestic, company-owned store count of 207. Canada, home of world-famous and Cheesecake Factory-loving rapper Drake (in a recent song, he asks a love interest "why you gotta fight with me at Cheesecake? You know I love to go there), remains a lucrative opportunity as well, demonstrated by an "overwhelming response" to the company's first Toronto location.
The Cheesecake Factory also listed the "internal development of a fast casual concept" as a goal during its June Investor Presentation, something that could be lucrative given the brand's reputation with casual diners. Worth noting is that if the company's two other concepts are any indication, the fast casual concept will follow a path of measured risk taking and slow expansion: The Cheesecake Factory presently operates only thirteen of its Grand Lux Cafe concepts and just one RockSugar Pan Asian Kitchen.
Valuation and Conclusion
As for the valuation, The Cheesecake Factory is certainly on sale compared to its historical price as others have mentioned. Following eight years of trading at a premium to the general market, The Cheesecake Factory is now being offered at a cheaper valuation than the S&P 500 and at a steep discount to its own eight-year average Price to Earnings (P/E) and Price to Cash Flow (P/CF) ratios. Whereas the S&P 500 expanded its valuation multiples recently, The Cheesecake Factory went in the opposite direction, enabling investors to enter at a historically cheap price.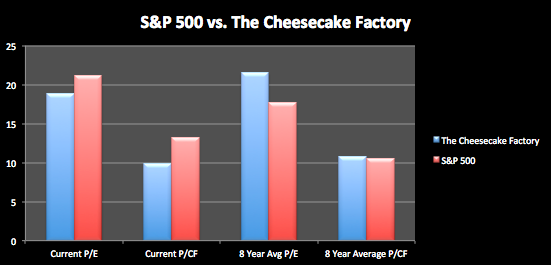 Data Source: Morningstar, Chart Generated by Author
But, again, what matters is not the price of the shares but the value being offered at the price. In The Cheesecake Factory, investors indeed appear to be receiving great value, manifested by comp sales that continue to outperform peers and numerous avenues for expanding store count. Because The Cheesecake Factory continues to delight consumers and deliver best-in-class results, I am placing a BUY rating on the basis of an unjustified sell-off of a consumer-dazzling, cheaply-valued restaurant with room for growth.
Disclosure: I/we have no positions in any stocks mentioned, and no plans to initiate any positions within the next 72 hours.
I wrote this article myself, and it expresses my own opinions. I am not receiving compensation for it (other than from Seeking Alpha). I have no business relationship with any company whose stock is mentioned in this article.