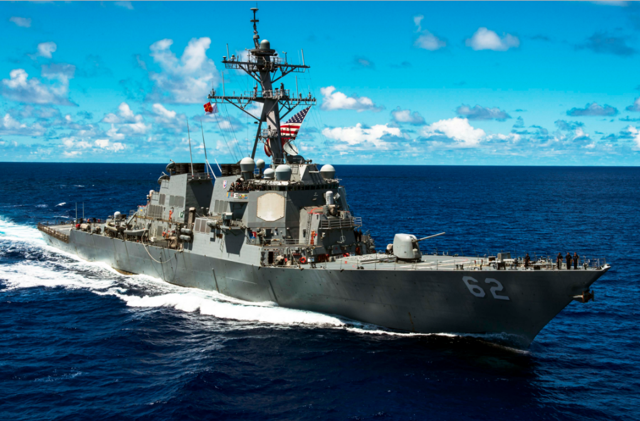 The USS Fitzgerald in 2014
The World Got A Little More Dangerous This Weekend
At about 2:30am local time on Saturday, a U.S. Navy Arleigh Burke-class destroyer, the USS Fitzgerald, collided with a merchant ship off of the coast of Japan. Let's talk about what happened and its implications.
Above is a photo of the Fitzgerald in better days; below is a screen capture from helicopter video of the ship post-collision taken by Japan's NHK News Web. At the time of this writing, 7 crew members were missing and 3 injured. According to NHK, via translation, the destroyer was struck by a Philippines-flagged container ship called the ACX Crystal, which sustained only minor damage.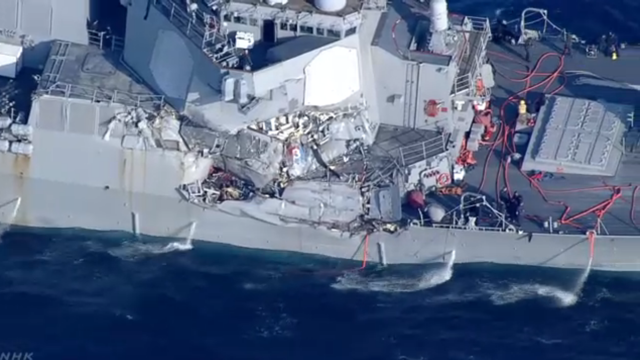 Why This Matters - Basic Level
Guided-missile destroyers are the U.S. Navy's multipurpose surface combatants. Among other missions, they protect American aircraft carriers, which are the U.S. Navy's capital ships. They are equipped with the Aegis Weapon System. According to the Navy,
The heart of the system is the AN/SPY-1, an advanced automatic detect and track, multi-function phased-array radar. This high-powered radar is able to perform search, track, and missile guidance functions simultaneously, with a track capacity of more than 100 targets.
Aircraft carrier battle groups are how the U.S. Navy projects power around the world. Aegis-equipped destroyers like the Fitzgerald are responsible for tracking and neutralizing incoming threats to carriers, such as anti-ship missiles. If an Aegis-equipped destroyer got hit by a container ship, how will it defend itself, or an aircraft carrier, against a hypersonic missile?
Whether this collision was due to technical or human error, either way, the U.S. Navy's reputation for formidability just dropped a little.
Why This Matters -- Big Picture
Arguably, the greatest accomplishment of U.S. armed forces since World War II has been U.S. naval supremacy in the Far East: there were proxy and border wars in the three decades after World War II, but, for the most part since, rival powers including Japan, China, and South Korea have since turned their energies to economic development and trade, benefiting workers in Asia and consumers and partners of Sony (NYSE:SNE), Toyota (NYSE:TM), Alibaba (NYSE:BABA), Apple (NASDAQ:AAPL), Samsung (OTC:SSNLF), Hyundai Heavy Industries (OTC:HYHZF), and many other companies around the world.
Thanks in part to the U.S. Navy deterring major-power wars and keeping the sea lanes open, the rise of China has been mostly peaceful. But recently, experts, such as Charles Glaser in Foreign Affairs have questioned whether its rise will continue to be mostly peaceful (free registration required to read: "Will China's Rise Lead To War"). As others have noted before, the rise of great powers has historically led to war.
To be clear, I am not predicting any imminent outbreak of hostilities between the U.S. and China. Hopefully, that never happens. But I do think the Fitzgerald disaster has slightly increased the chance of a future conflict. Imagine this scenario several years down the road: an economic downturn in China leads to political discontent. China's leaders consider escalating a conflict with Taiwan or Japan or the Phillipines over some disputed islands, as a way to rally nationalist sentiment at hope. Chinese admirals, remembering the vulnerability of one of our Aegis-equipped destroyers, miscalculate, and a territorial dispute spirals out of control.
Wouldn't War Present Other Opportunities For Investors?
It may be a callous question to ask, given the human tragedy of war, but since this is an investment site, we should consider it. Would a war with China lead to opportunities in armaments manufacturers, such as General Dynamics (NYSE:GD), whose Bath Iron Works subsidiary built the Fitzgerald? Or General Electrics (NYSE:GE), which built its engines? Or Raytheon (NYSE:RTN), which builds its cruise missiles? Or Lockheed Martin (NYSE:LMT), whose Sikorsky subsidiary builds the helicopters the destroyer carries?
Maybe not, if our destroyers can be taken out of action by container ships. Maybe a future conflict between the U.S. and China will be fought via sponsored insurgencies, cyber attacks, or in some other way. Maybe there will be little to be gained for investors, and much more to lose, as the international trade powering Alibaba, Apple, and the rest dries up.
Maybe We'll Get Lucky
Maybe we'll get lucky. Maybe there will be a "Peace Of Trumphalia" after all, though so far the Trump administration appears incapable of accomplishing much.
How To Think About This As An Investor
You've probably heard of Berkshire Hathaway (BRK.A, BRK.B) vice chairman Charlie Munger's concept of 'Latticework of mental models'. Add this to yours. A point we've made recently (Misconceptions About Crash Protection) is that our next market crash might not be followed soon after by another bull market. It's possible we might have a long bear market instead. We simply don't know. A conflict between the U.S. and China, whether a new Cold War or something worse, could make such a scenario more likely.
Disclosure: I/we have no positions in any stocks mentioned, and no plans to initiate any positions within the next 72 hours.
I wrote this article myself, and it expresses my own opinions. I am not receiving compensation for it (other than from Seeking Alpha). I have no business relationship with any company whose stock is mentioned in this article.