Welcome to the weekly recap edition of Oil Markets Daily!
WTI finished the week lower by -1.88%.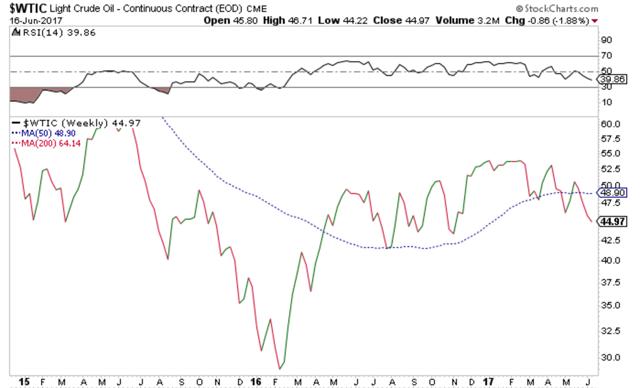 EIA reported another less-than-expected crude storage report this week, which saw prices plunge from over $46/bbl to less than $45/bbl (keep in mind contract roll in futures).
We wrote a report on Tuesday (June 13, 2017) to premium subscribers on the topic of API vs. EIA data.
Below is what we found with the raw data compiled from 7/7/15 to 6/9/17.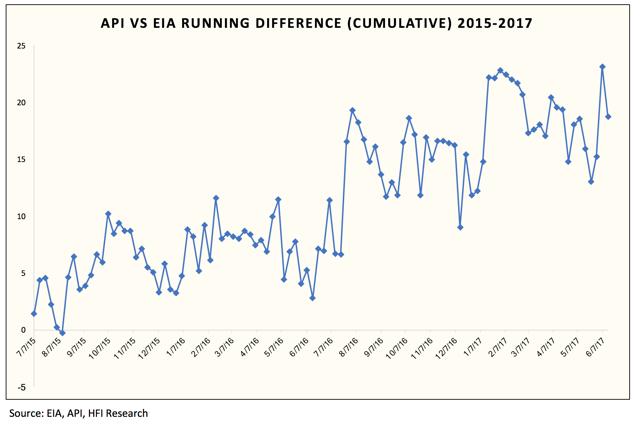 Total running difference between API vs. EIA from 7/7/15 to 6/9/17 is 18.75 million bbls. Total running difference is the difference from what API has reported on crude storage versus what EIA has reported.
Over that same period, correlation between the two is 80.8%, with the average difference (difference on a week-to-week basis) being 180k bbls and a standard deviation of 2.98 million bbls.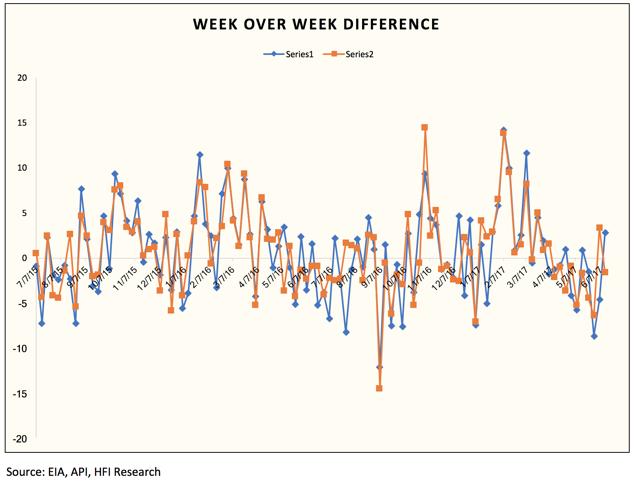 Now that everyone's familiar with the difference, here's what we found. If we reset the running average error (cumulative difference between week-over-week reporting differences) at the end of each calendar year, the running average error (calendar basis) is 6.82 million bbls.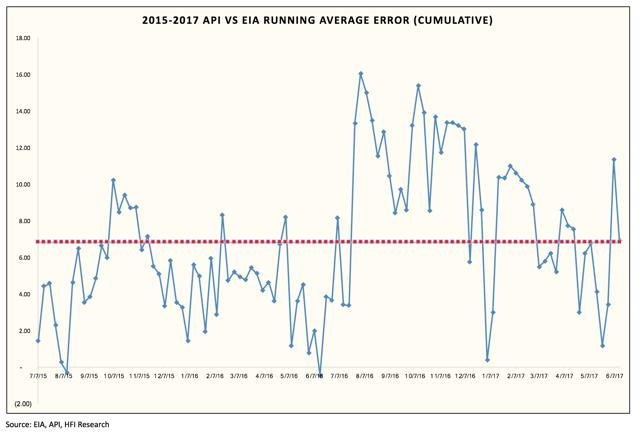 What this means for traders and investors is that the average running error difference has been 6.82 million bbls, and whenever the cumulative running average difference exceeds this average, it usually reverts lower.
For example, on Tuesday we wrote that it's very likely that EIA's crude storage figure will be lower than what API reported, which was for a build of 2.75 million bbls. EIA then reported -1.66 million bbls, to bring the running difference back to 6.92 million bbls, or closely in line with the historical average.
Here's a look at the raw data: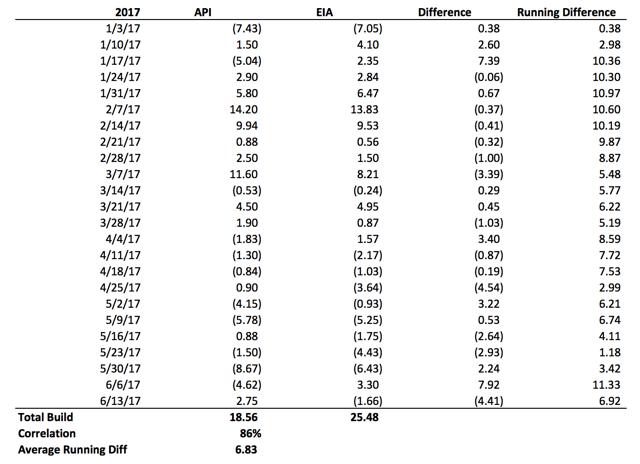 How should investors use what API reports on Tuesday?
Historically (with limited data), API has done a great job reporting close to what EIA reported. There has always been a difference between the API and EIA reports, as API (in our data time frame) has underreported the total build in crude storage. Investors and traders can use the running average error to see if we are moving to extremes relative to the historical average for a hint at what's to come in the following week's report. With the running average error now close to the historical average, API's Tuesday report next week will give important clues as to what EIA will report.
For oil market analysis and energy equity research, see here for more info.
Disclosure: I/we have no positions in any stocks mentioned, and no plans to initiate any positions within the next 72 hours.
I wrote this article myself, and it expresses my own opinions. I am not receiving compensation for it (other than from Seeking Alpha). I have no business relationship with any company whose stock is mentioned in this article.